Penn State women's volleyball held its 14th weekly media availability of the 2022 season Tuesday morning before practice at Rec Hall.
Head coach Katie Schumacher-Cawley and graduate senior outside hitter Kashauna Williams answered questions ahead of the Nittany Lions' final road match of the season against Northwestern (17-13, 6-12 Big Ten) Wednesday at 8 p.m. ET.
No. 11 Penn State (22-7, 11-7 Big Ten) climbed three spots in this week's AVCA rankings after beating No. 9 Minnesota 3-1 last Friday at Rec Hall and losing to No. 3 Wisconsin 3-2 the following night. The Nittany Lions had won five matches in a row before falling to the Badgers.
Williams, who hails from Los Angeles, California, and graduated from Long Beach State, leads the Nittany Lions in kills by a wide margin, with 352 this season (Zoe Weatherington, with 255 kills, ranks second). Williams also has 52 total blocks, 47 digs, seven assists, and three aces. She's played some of her best matches against Penn State's ranked opponents this season, averaging 4.05 kills per set in those nine contests.
Williams, who has four 20-plus-kill performances so far this season, earned one of 38 spots on the U.S. collegiate national team this summer, training alongside many of the best players from her age group June 19-25 in Anaheim, California. The transcript from Williams' September 6 press conference can be found here.
Williams boasts an impressive jump serve that earned Penn State two crucial aces against the Badgers, drawing some of the loudest roars from the crowd all night. She surpassed 1,500 career kills against the Golden Gophers and currently sits at 1,533 with two matches left in the regular season. Penn State will host No. 19 Purdue on senior night Friday at 7 p.m. at Rec Hall.
Editor's note: Due to Thanksgiving break, I was the only reporter who attended this week's media availability. The transcript of questions and answers, lightly edited for clarity, can be found below.
Katie Schumacher-Cawley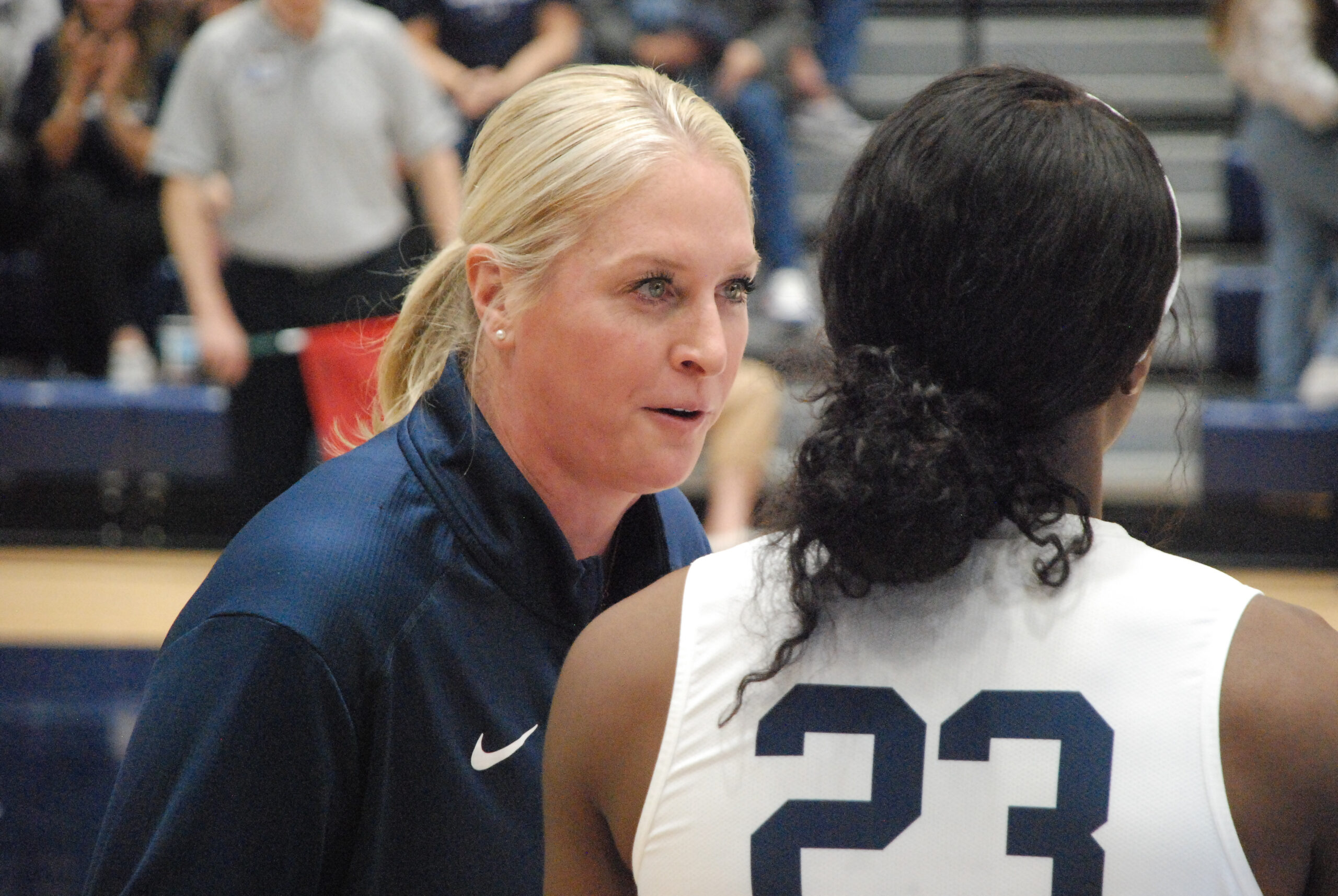 What are your thoughts on your high school team (Mother McAuley in Chicago) winning its 16th Illinois state championship recently?
"Oh, it's great. I'm happy for them. It's a great group. I've known those coaches forever. It's a competitive school. It was nice to see them back down state and winning."
What do you think it will be like going home to the Chicago area for tomorrow's Northwestern match?
"I'm really excited. I'm looking forward to seeing a lot of my family and friends, and some of my former players who are coming. I always look forward to going back there."
What stands out to you about Northwestern this season?
"I'll tell you what, I know they've had some injuries and they've had a little ups and downs, but I think they're a team that's gotten better as the season went on, minus their injuries. But they're competitive. Obviously, I think Temi [Thomas-Ailara] is an exceptional player who can take over a match. The libero, [Megan Miller], is a great player. I think they're a great team. We need to play well to beat them."
We saw Kash Williams in the back row and serving a little bit more last weekend. What does she bring in that aspect?
"Kash has a great serve when it's on. She's been working on that in practice. For us, it's nice to be able to keep her in at some point to be able to serve and hit out of the back row. It's a nice bonus that we have with her, whether we keep her in or not."
How do you feel about some of the different rotations you guys have tried so far this season?
"We're still trying some. We're still trying to figure out what the best way is for us to start and what matchups we want and things like that. But whatever we put out there, it's something that we've worked on. The girls will be ready to go."
How important is it to have depth on offense with multiple players being able to contribute double-digit kills?
"I think that's been so great for this group that we don't have to rely on one person getting kills all the time. I think our middles have been exceptional the last couple weeks. Zoe [Weatherington's] been really good here the last couple matches and is getting better and better. With Alexa [Markley] and Kash, I think everyone has gotten better and is taking ownership in their skills and providing some points."
Alexa Markley was honored as Big Ten Freshman of the Week again. What stands out about her and what she's been able to do?
"I'm happy for Alexa. I think that she's had a great season so far, and I hope that she continues to get better in the gym. It carries over in the matches for her. I think she works really hard and she's an exciting player to watch."
How do you feel about the play of your defensive specialists lately?
"I think they've been doing a fine job. We talk about passing all the time, and I put a lot on them in practice. The expectations for them in the match, with passing and serving and being able to dig some balls, I think the last couple weeks they've really turned a corner and have done some good things."
What have you seen from your assistant coaches this season and how have they helped improve the team?
"I think Dan [Gwitt] and Brian [Toron] both have kind of paved their way and are doing different things, whether it's with film or players in the gym. I'm thankful for everyone we have on staff, from Sydnie [Mabry] and Tina [Readling] as well. I think everyone plays a big part in this team's success this year. I think everything they do is to help the group, and the girls know that."
What are some things you're proud of the team for doing or accomplishing this season?
"I think getting better. I think it's something that we talk about every day in the gym is you have to be able to get better. The teams that are successful at the end of the season have gotten better. I think just having focus in practice and pushing each other and doing a great job in the weight room and in the training room. For me, I've been talking to them, it's about everything that they do, and not just when they show up for practice."
How have Katie Hurta and Mandi Morioka been coming along in practice after being out for a little while?
"Good. I think they're finally full-go back in practice. I think it's been up and down for them. I think it's hard to be out and to come back, but I think they both have done a great job, and they're competing in practice and kind of finding their way again."
How valuable is it for the middles to have Taylor Trammell in their ear as a coach of sorts on the bench?
"I think Taylor is a tremendous asset on and off the court. I think she provides a lot of good energy and great feedback for everyone."
What does a typical match day look like for you? What does your routine look like?
"I like to get up and work out in the morning. It's usually nice and quiet. I'll watch a little bit more film in the morning and sometimes catch up on a few phone calls, just more of a relaxing day for me. Pretty much once I get to the office, then it's busy, because people are always coming in and out. For me, I like to work out, watch film, and have my tea."
What does it mean to you to have the support of your family and friends at matches?
"It's great. I'm so lucky. I'm lucky to have the family and friends I do, who have been so supportive my whole journey coaching. There have been people everywhere in my corner. I'm just appreciative of that."
Kash Williams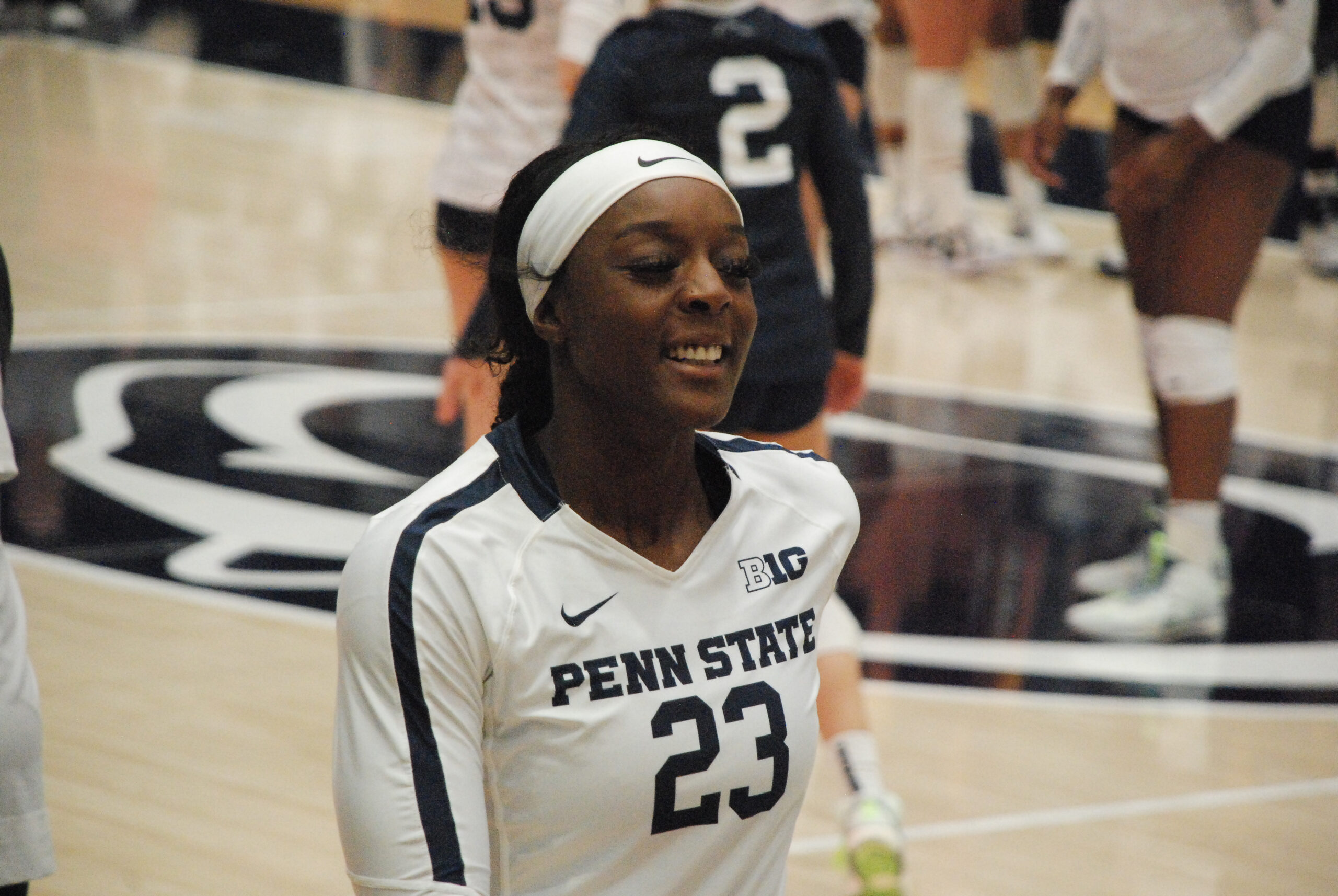 I saw somewhere that you started your volleyball career a little bit later than others. How did you get your start in the game?
"At first, I started playing basketball, and then I realized it wasn't really the sport for me. I kind of got bored of it, I'm not going to lie. But when I tried out for volleyball, it just felt natural and my coaches believed that I could be a good player. They put in extra time and work with me. Since I saw that I was doing pretty well at the start, I continued that, and I guess it just worked out. But I was more one of those kids who just played outside. I didn't really think about playing sports."
You and Mandi Morioka both played for the Mizuno Long Beach club program. What stands out to you about her?
"Mandi's a great teammate. I'm much older than her, but since we played in the same club, I was able to watch her grow in her sport in volleyball as well. It was kind of a coincidence that we ended up being on the same team in the same year, but yeah, she's a great teammate, she's a great player. Overall, she's hard-working."
How has your beach volleyball background helped you indoors?
"I guess living on the West Coast people automatically assume you play beach volleyball. I didn't really play beach volleyball, but when I did play beach volleyball, it was just for fun, nothing competitive. When I went to Nebraska [in spring 2018], in the offseason we had to play beach, like, sand, but that's about it of training I really did. I wasn't really a beach player."
What kind of hobbies or passions do you have when you're not playing volleyball?
"I like fashion. I love being outdoors. I don't really have a specific one. I'm very impulsive, so whatever I feel like doing at that moment in time with my friends or family, that's what I end up doing. I like going on adventures and just hanging out with my friends, just chill vibes."
I saw on Instagram that you drove across the country to get to Penn State. Was that your first time doing that? How did the trip go for you?
"I went with someone who helped me and alternated driving across the country. I was the driver at night and the other person was driving during the day. It was my first time driving myself across the country, but that wasn't my first road trip across the country."
What was it like seeing some of the different parts of the country that maybe you hadn't seen before?
"Well, there were three different routes I could have taken. I actually took the longer route, because I didn't really want to go through Arizona and the desert-like states, because I'm already from California. I felt like I wanted a different scenery. The other one was going through the Midwest. I didn't really want to do that. Nothing much to see there. So, I went through Colorado. It was just so beautiful. I was recording. I had gotten a film camera. A lot of core memories were made on that trip, so I'll have that forever."
We saw you a little more in the back row and serving last weekend. What do you think that brings to the team?
"I think it helps the team a lot when I'm serving and playing back row. We just have an extra option in the back row. If [Anjelina] Starck's not in, I'm hitting in the back row. I started [playing volleyball] late, like I said. I was a middle at first, so I wasn't really a passer from the start. Every day, I try to get better at passing and serving. Now that it's kind of getting implemented at the end of the season, I don't even mind that, as long as it's helping my team grow and my abilities to be a better passer and server."
What stands out to you about Alexa Markley? What do you enjoy about playing with her?
"I call Alexa my twin. We literally call each other twins. I don't know, something about her and the way she plays kind of reminds me of myself when I was a freshman. She jumps really high, she's aggressive, she's big. She just brings great energy on the court. I love her as a teammate."
What are your thoughts on Maddy Bilinovic and the defensive specialists?
"Maddy and the defensive specialists, they all work so hard. Honestly, I can't even do the things that they do. I really dap them up for that, because they're doing their part, and that's what the game is about. Doing your part and making sure that you bring up the team, and that's what they always do. They always communicate with the front row. They always bring the energy on the court. When we play with good energy and the crowd is going, we're unstoppable. They're a very big factor in our energy on the court."
Where do you think you've improved the most this season?
"I think I've improved the most on my passing and my jump serve. Jump serves are very high-error serves, and I feel like I've gotten better at my consistency with the jump serve. As you can see, sometimes in the game, I'll just randomly go back there and serve if my coach tells me so. If I'm being told on the spot to go do a jump serve, it's really nerve-racking, but I've learned to keep the ball in and be a little bit more consistent when I'm jump serving in a game. I work on that in practice. Passing-wise, I've just been really focused and very technical in my passing. What I found that helps me with my passing is to just be calm, because I get a little nervous sometimes, because I don't do it a lot. Since I have been lately, I've been feeling more confident, and when I'm confident in my passing, it just always works out."
What are your thoughts on the campus atmosphere here with the cold weather, unlike L.A.?
"Right now, I have a dry throat. My nose is dry and my eyes are dry. Everything is so dry. I'm not used to it. My body's not used to it. But I came out here for a reason. I wanted a different scenery and atmosphere. I don't really mind the cold, because I have jackets. I've always had big, comfy jackets, even being in L.A., where it's hot. And I have a husky [named Sadé]. I actually like it. It's not too bad. I mean, I haven't gotten the bad part about it yet. I think the coldest it's been is 18 degrees. I heard it gets colder than that. I don't know if I'm ready for that yet."
What are some of your goals and what's the team's mindset heading into the final two matches of the regular season?
"Our goal, as a team, is just to play hard. We might as well. We have nothing to lose. Our goal is just to win every single game and just go balls to the wall every single time, every single point. Every second that we're on the court, we're going to play our hardest, because we know our full potential. We've been there. We've played top teams and we've been close every single time, even if it's losing by two or three points, like Ohio State or Wisconsin the other day. We're there. We know our full potential and we're just going to keep going hard and see where it ends up."
What do you think it will be like having Thanksgiving with the team? What's your favorite dish?
"It's a little bit new to me that I'm not going to be spending Thanksgiving with my family. They haven't made it clear exactly what we're doing, but I know we're going to be together, and we're going to be eating and stuff. My favorite dish, personally, is Jamaican food. Oxtail with rice and peas. That's my favorite dish. And macaroni."