Penn State women's volleyball held its third weekly media availability of the 2022 season Tuesday afternoon before practice at Rec Hall.
Head coach Katie Schumacher-Cawley, graduate senior outside hitter Kashauna Williams, and junior libero Maddy Bilinovic fielded questions ahead of the Nittany Lions' trip to Minneapolis, Minnesota, this weekend for the Big Ten/Pac-12 Challenge. No. 20 Penn State will play No. 11 Stanford Friday at 6 p.m. ET and No. 18 Oregon Saturday at 5:30 p.m.
Williams is currently third on the team with 52 kills — and has reached double figures in four matches — despite not playing in Penn State's season-opening sweep of UConn. Williams had 11 kills and hit .375 in Penn State's sweep of LSU Saturday to help the Nittany Lions improve to 6-0.
Bilinovic set a career high with 21 digs in the win over the Tigers. Bilinovic is third in the Big Ten with 4.29 digs per set (90 total) and is tied for seventh in the conference with .48 aces per set (10 total). The Independence, Ohio, native is one of the more consistent and versatile liberos in the Big Ten, and her serving has been impressive so far this season.
Katie Schumacher-Cawley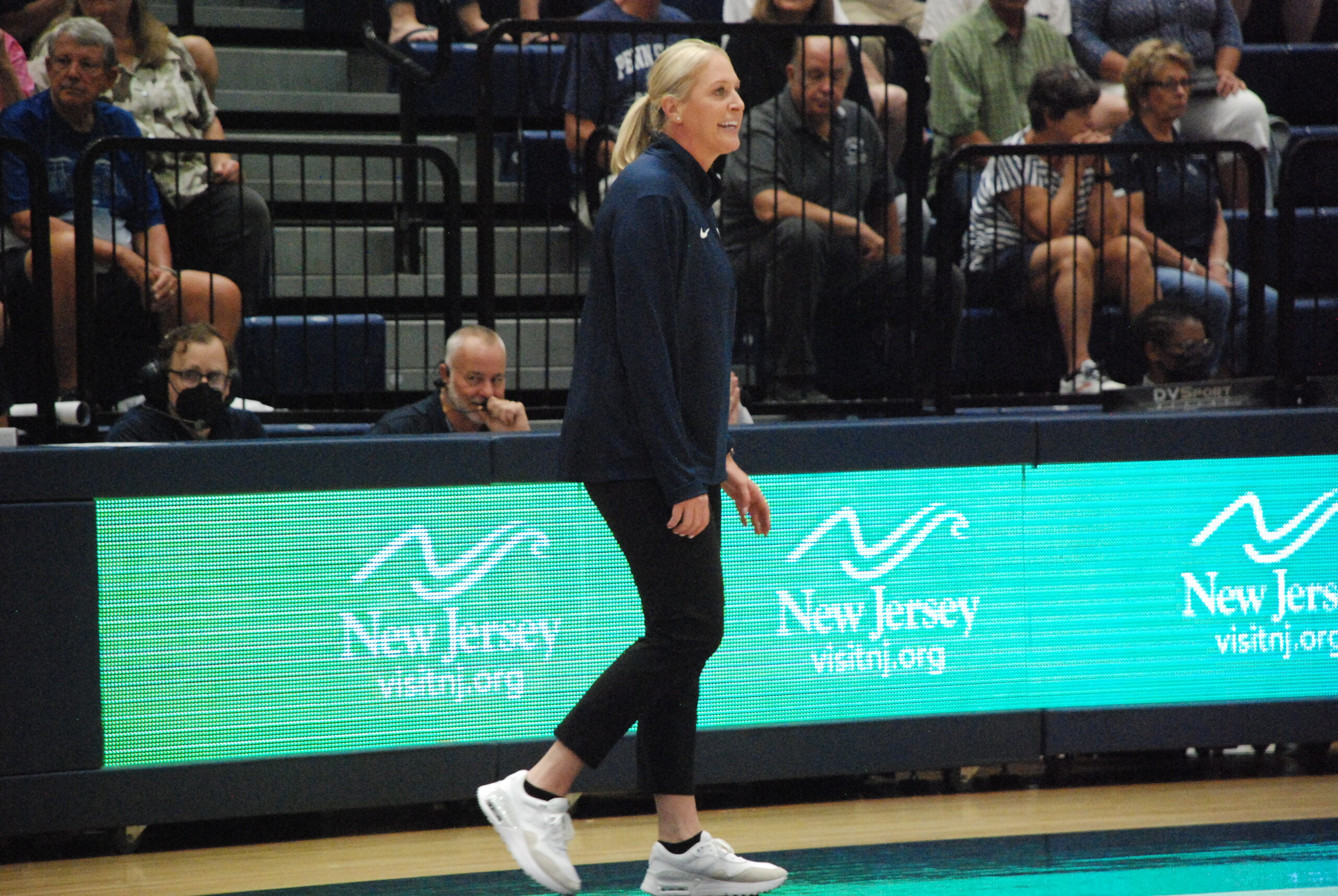 What were some of the positive takeaways from the weekend? What do you think the team did well?
"Well, we won three matches. I think I said to you guys before, I think it's hard to win. The team pulled together, fought off some set points, and found a way to score. I thought we competed."
What have you learned so far about your team this year?
"We talk every day in practice that you have to be ready to go. I thought Katie Clark came in and did a great job. I thought Erika [Williams] played well when she had a chance to play. But I think that we've gotten better each set, and that's what we're looking for. With two days of practice this week, we need to take advantage of our time in the gym these next two days and get ready to go."
How important is it for your players to take care of their mental health and how does that affect their performance?
"Absolutely. We are always on board with mental health. I think that they're very fortunate that they have resources here on campus that are always available to them. Adrianna [Napoletano], who is our sports psychologist here at Penn State, she met with them pretty much every other week in the spring, then once we started preseason. She's always available to them. I know a lot of the girls on their own reach out to her and seek advice and things like that. It's something that we stress. I'm always like, 'We have to take advantage of these tools and resources to help you both on and off the court.' I think it's, not just for volleyball, but I think for their daily life, it's good to have someone else besides the staff and maybe their teammates to be able to talk about some issues that they have."
What does it mean to you to have the team be role models for your daughters?
"Oh, I think it's great. The team's awesome. My kids love these girls and think that they're funny, and obviously, with their TikToks and Instagram and all that stuff, I think it's a big deal — not just for my girls, but for this community. They work summer camps, and a lot of the local kids who come to the games, they look up to them and think that — not only are they super cool, but they're really good volleyball players. I think it's part of your duty as a student-athlete here. All of the special things that the team gets, I don't think it's too much to ask to give back to things in the community."
What are you hoping to see from your team this weekend with two ranked matchups?
"To compete, to play great volleyball, and to embrace the challenge of two ranked teams. A lot of them, this will be the first time that they've played at Minnesota on their floor. I think the atmosphere and being on Big Ten Network is what it's all about. It's great experience for them. But to be able to be focused and play at a high level."
How excited do you get playing a team like Stanford with the history between the two programs?
"Oh, I think it's great. Stanford volleyball, Penn State volleyball, there's been some really big battles between those two teams. I think it's always going to be like that. I just want us to be as prepared as we can be to give our best."
What are some things that stand out about this year's Stanford and Oregon teams?
"I think that they've all been playing ranked teams, play at a high level, and have some experienced players. And they're always ready to compete. I think Stanford has some great attackers and a phenomenal setter. I know they'll do some good things, and same with Oregon. I think that our ability to make changes and serve aggressively, those things, and playing defense is going to be huge for us."
Leisa Elisaia picked up Big Ten Setter of the Week. What does she mean to this team more than just being able to pass the ball effectively?
"I think she's a veteran player. I think she's pretty calm and collected on the floor, and I think that provides stability for the players. She puts the time in. She does a lot of extra reps and gets herself in the gym and gets prepared, so I'm not surprised. I think she's going to only get better and better as the season goes."
Can you talk a bit about Anjelina Starck's performance last weekend?
"Anjelina, I think she's a great player. She's an even better teammate. She really worked hard this summer at getting stronger in the weight room to be a little bit more physical at the net, and I think that she's done a great job. We ask a lot of her. We ask a lot of her to hit and block and to be able to pass and play defense and all of those things. I think that she's done a phenomenal job at the start of the season."
The team's had some success serving so far. How important is it to create that pressure?
"All the time. The girls will tell you, we serve every day. We serve and pass every day. We do pressure serving. They know how important it is. When you're playing any match, the margin of error is so close, you have to be able to score some points and find a way. Serving is something that you can control, so we focus on that a lot."
You talked about establishing connections as a team. How do you think the team is building that connection, especially with back-to-back road trips?
"I think they're great teammates. I think they're really good to one another. I think that started this summer when they were all here taking classes and working out. I think they've done a good job with that and continue to push each other in the gym. It's good."
What do you enjoy most about recruiting and getting to know the prospects and their families?
"Yeah, you know, I think that's just what it is — getting to know them besides just watching them at club tournaments, because you don't talk to them there. I think getting to know them on the phone and Zooms, and once you get them on campus, really getting to know their families. Because I think Penn State's a special place. We want to get the best fit here. I think it's getting the players who we know want to be a part of Penn State, but also will be a great fit on and off the court."
What are some of the main things you want to highlight and want the recruits to see when they come on campus?
"I mean, obviously, Rec Hall. I think it's one of the best places in the country to play and compete, but I think it's just the community that surrounds it. From our academic advisors to nutritionists to strength coaches to trainers and our psychologist, she's always in on our meetings. I think just to be able to meet everyone who makes an impact on the program is crucial, because I believe that we have the best around."
Kash Williams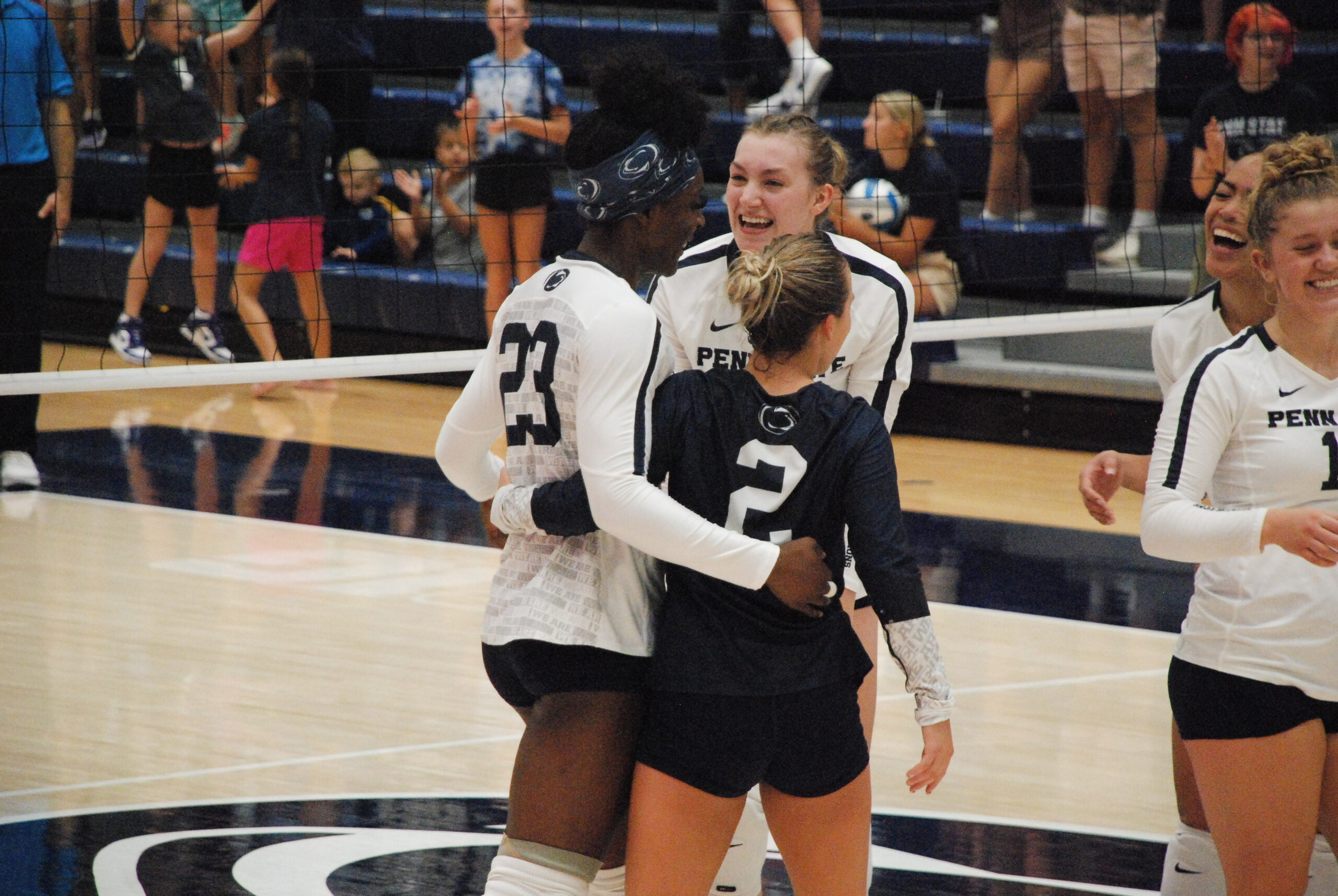 What was your experience like with the U.S. collegiate national team this summer?
"Being with a couple of the best volleyball players in the country, it felt really good to be around that atmosphere. I feel like it was a great experience being coached by the Olympic coaches. Overall, the intensity of the practices just had me so hype for Penn State, because we hadn't started the season yet. It was really exciting. I was happy to be there."
What was working well for you during last weekend's matches?
"I think just being patient overall. Sometimes I get anxious, so I think being patient, just reading everything — the set, the pass, the serve. Being patient was working well for the team. When we got in hectic plays and the other team would go on runs, we just came together and breathed. We just trusted the process, we were being patient with the process, so everything was good at the end."
How do you manage your mental health and the pressure that's on you as a student-athlete? How do you cope with all of that?
"I think self-talk for myself is the most important thing, just because you have to talk positively in your mind in order to achieve greatness. I think when I'm talking to myself and telling myself I can do great things or am just being positive in general, it helps me a lot. Just good self-talk."
Is there a point in the season where you feel like you struggle the most with your mental health?
"Actually, so far, it's been pretty good. Obviously, sometimes it might go down a little bit, but when those happen, you just have to bounce back. Sometimes I just lay on my floor in my living room and just, like, Zen, I don't know. But for the most part, yeah, I just have positive self-talk and I pray. I go toward religion, and it works for me."
What was it about Penn State and Katie's message to you that made you want to come here?
"They recruited me in 10th grade, so when they hit me up again at this time in my life, for the second time, I just felt like there was a pull. They're just really nice, and it felt like they genuinely cared. A lot of coaches, they don't really care about their athletes. I feel like, deep down, they cared about everything that I was asking for and what I needed. When I got here, they were pumped about everything I needed. I don't know, it just genuinely felt like they actually cared about me. That's what pulled me toward Penn State instead of other teams."
Two more big matches this weekend against ranked teams. What are you looking forward to most?
"I'm looking forward to the competition. Stanford, they're really big, so we're just going to have to see. I mean, we've been winning every match, so this is going to be a real test I think for our team. We're doing everything we need to do. I don't know, they're just big. I'm ready. It's a competition. That's what I'm looking forward to the most."
Maddy Bilinovic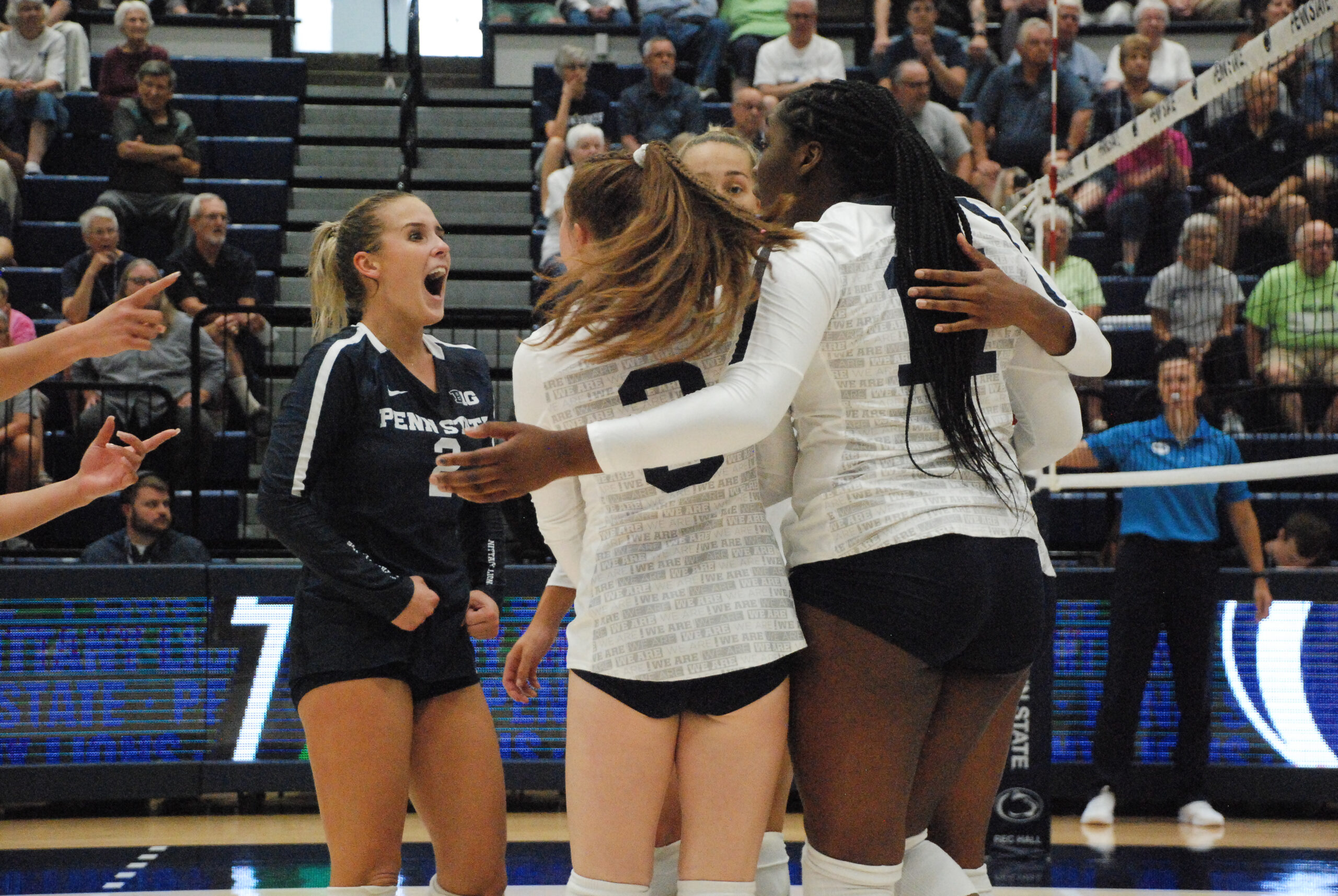 What were some of the highlights of the weekend for you?
"Highlight of the weekend was being 3-0. I think that we faced some good competition. I think that we did a good job of sticking to the scouting report. It was just a good team win all around."
What's it like for you bringing all of that energy on the floor and motivating your teammates?
"That's kind of just always been my position. Basically, in life and sports, I just grew up like that. I mean, I have a pretty loud voice, so I feel like I have to be in that position of always hyping people up, especially behind the hitters. They have to know it's open, and if I'm behind them, they'll know."
How do you manage your mental health and the pressure during matches?
"Mental health is, obviously, a big piece for not only non-athletes, but especially for student-athletes. I think that, as times get tough in the season, we've been doing yoga a lot, so really implementing the breathing habits and slowing yourself down, slowing your mind down, so everything around you, especially game-wise, you feel a little more comfortable with that aspect."
Leisa had a pretty great weekend for you guys. What does she do well?
"I think Leisa is just really molding into her role more and more each day. I think that it's an awesome honor to get Big Ten Setter of the Week, and I think that's well-deserved out of her. I think that, again, she's always working on connections with her hitters. And I think her communication skills are getting a lot better."
As a high-energy player, how do you think you're going to carry over that energy to two ranked matches this weekend?
"I think that our energy as a team is going to be super important for these next two matches. I think that it has to come from everyone. All 17 of us, we always talk about that. It's not just focused on the six who are on the court, it has to be an all-17-player win. I think that, if we're loud, especially on the road, it's definitely going to benefit our play."
What are you most looking forward to about playing Stanford, a team with a lot of history like you guys?
"I think it's always a super awesome experience to play Stanford, for that reason. They're just a really good program. And, obviously, they're a ranked team above us. It's good to play these two ranked teams coming up and just see how well we compete against these teams."
What stands out to you about Gillian Grimes and Cassie Kuerschen?
"I think they're doing awesome. I think that it's a big relief to have somebody sub into the game and you 100 percent trust them, so I know that I don't have to be doing too much and taking balls away from them out of their zone. So I think the trust aspect is there."
What are some things you know about college volleyball now that you didn't as a freshman?
"I'm still learning every day. I think that the biggest thing is just to always stay mentally in it. You have to realize that some days will be better than other days, but it's just the matter of fact of getting up every day and giving your 110 percent."
Other than the 3-0 weekend, what was your experience like in Baton Rouge?
"It was super fun. My dad was actually able to come down, so it was really nice to see him. And the food. The food was super awesome."
What was it like checking out Mike the Tiger?
"It was fun, yeah. I honestly didn't even know that Mike the Tiger was a thing, so when everyone said, 'Let's go see the tiger,' I was like, 'There's a tiger in a cage that we're about to go see live?!' So I thought that was super cool."