Penn State women's volleyball alumna Bayleigh Hoffman, a defensive specialist who graduated from the university following the 2018 season, returned to Rec Hall last weekend for the Penn State Invitational as Loyola's new assistant coach.
Hoffman, who hails from York, Pennsylvania, and played her high school volleyball for Dover Area High School, began her collegiate career at Louisiana-Monroe before transferring to Penn State. Hoffman played in 19 matches for the Nittany Lions as a senior, recording eight digs and four aces.
After enrolling at Penn State, Hoffman had the chance to play with Roberta Holehouse McGuiney, who was a two-time national champion libero for the Nittany Lions from 2005-08, and she convinced Hoffman to contact Russ Rose about walking onto the team.
"She was like, 'You should contact coach. Do it. Why not?' That was kind of the whole thing," Hoffman said in an interview with Onward State in 2018. "I tried out last January. Coach said, 'This is tough. This is really hard. Is this something that you want to do?' I said, 'Let's find out.' So here we are."
Loyola head coach Alija Pittenger hired Hoffman to join her staff shortly before the 2022 season. Following Penn State's 3-1 win over the Greyhounds Saturday morning, DigNittanyVolleyball caught up with Hoffman on the court for an exclusive interview reflecting on her Penn State career and how coaching has been going so far.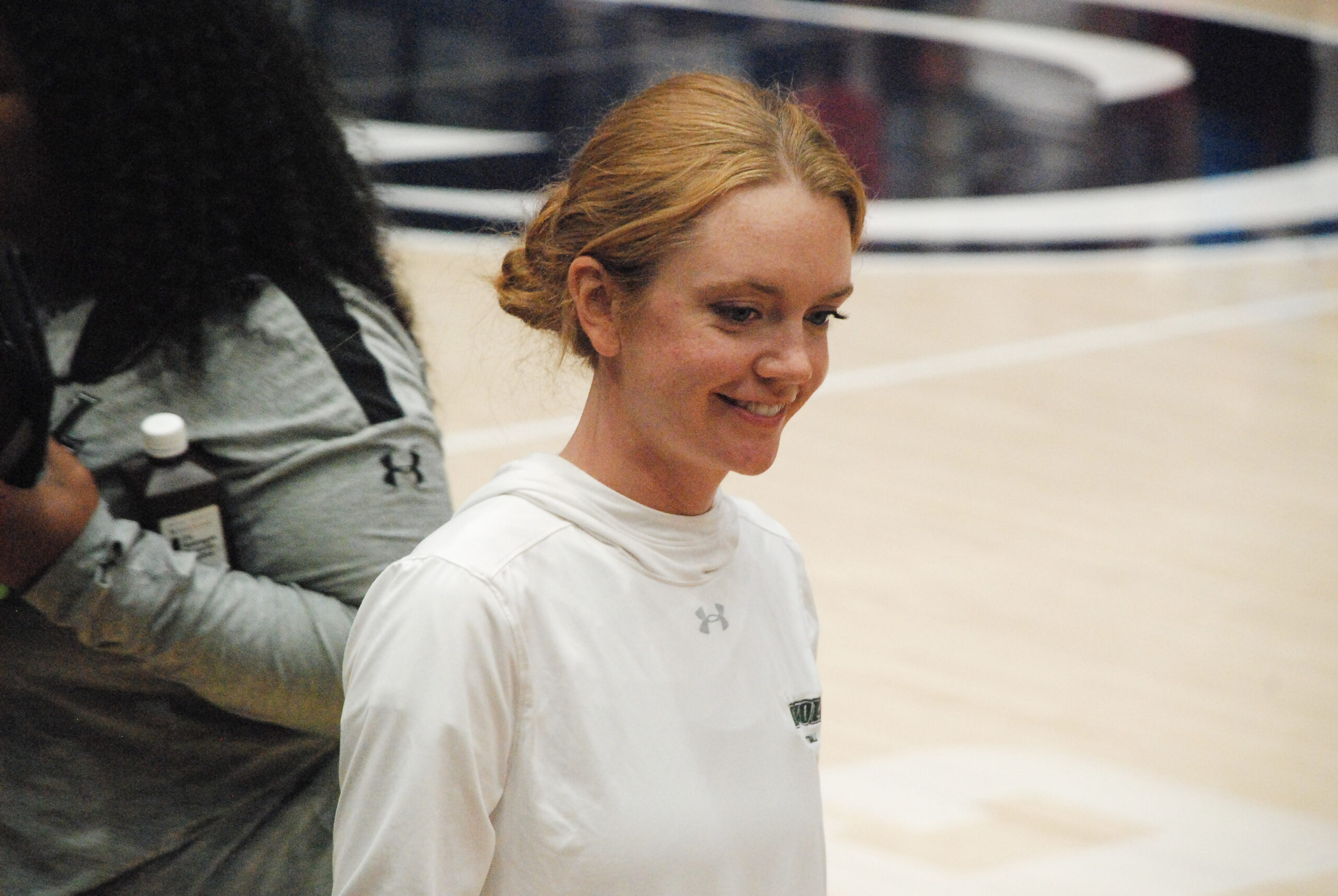 What was the experience like being back in Rec Hall?
"It was a blast. Just being back in the gym was a really good time. Being on the other side of the net was an interesting thing – on the front of the bench, I'll joke with myself a little bit, versus the end of the bench. But no, it was a great time. I'm really proud of our girls for coming in here and taking advantage of a really tough first preseason [weekend] in one of the most intimidating environments and atmospheres. Rec Hall brings its own game. It was great to be back."
Where did your coaching career take you after Penn State and what did it take to get here?
"After graduating from Penn State, I started coaching at a Division III school in Elizabethtown College. I coached club at Spooky Nook Sports. I did that for about three years, and then I applied and got the job at Loyola."
What were some of the positive takeaways from your Penn State career?
"I think I learned a lot about myself and so much more about the game that I just didn't have before. Playing under coach Rose and Katie, those were some of the luckiest experiences that a kid can have. I'm incredibly grateful to this program. I think it taught me a lot about integrity and just life more so than volleyball. I carry those lessons and those little one-liners from coach, and all the encouragement from Katie, I carry that every day. The skills and confidence that I learned here I'm still using every day."
What are your thoughts on Katie taking over the program?
"I think Katie is going to be great. I'm very grateful to her. Katie being from the program and just being able to step into that role, already knowing the atmosphere, the gym, the community – she played here, she coached here, she has the background. I think a lot of people have a lot confidence in her. I think that confidence is well-earned by her. Yeah, I'm really, really excited to see what she does with the program."
What are some things you thought Penn State did particularly well today?
"Serve-pass is always good here. That was always a big focus of ours, and it was nice to see that that is still something that has been carrying on and really focused on. And again, just their level-headedness, keeping control of what they can control, moving on from points, good or bad, and then just looking for that next fight, that next battle, how they can win those. With the group of kids who are here, you can still see all the tradition that's been built in the past, and it's just really neat to see."
What's it been like working for Loyola and making those relationships with the team?
"Oh, Loyola's been great. I kind of hit the ground running three weeks ago with preseason. I'm super grateful to coach [Alija] Pittenger for bringing me on staff. I'm already learning a ton from her. The girls have been super welcoming right off the bat. It feels like I've been here for three years instead of three weeks. I'm having a really great time, learning a lot, and I think contributing to an already pretty good program."
What are some of your philosophies as a coach? What do you hope to bring to this team?
"So, the biggest coaching philosophy is just being able to use our sport in a way to build really good relationships, and hopefully teach and help build players and teammates and all those things. [I want to] help build them past volleyball, because we only have them for four years, so making sure that they're ready to go once we're done with them and that they're confident in themselves and they're ready to take on the real world. I think that's something that I really picked up from Penn State, too."
What are some of your goals as a team this season?
"Our goals as a team are just continue to hit the court together hard every day, continue to build those good relationships. We're really getting into trying to stay aggressive and go hard all the time, no matter what adversity we might be facing or anything like that. Definitely building relationships. We lost a little bit, so building back what we lost, and then having no excuses going into what we're doing this season. Everyone's goal is to make their conference tournament, everyone's goal is to go to the NCAA tournament, but we're going to try to break that down and have little, mini goals, and just work one thing at a time."
Do you have any shoutouts or want to thank anyone throughout your career who's helped you get to this point?
"Yeah, Russ Rose, Katie Schumacher-Cawley, my dad, Brett Hoffman, George Trabosh, David Fischer, Dennis Hohenshelt, and my former teammates."