15 Points
by Lionsfan
1. History Repeats Itself (Fourshadowing?)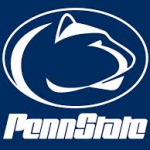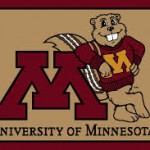 On Saturday night in Minneapolis, something that has only happened once before in the (soon to be) 54-match, 22-year series history between Penn State and Minnesota will happen again: The two teams will square off in a battle as Top 4 teams — #1-ranked Penn State vs. #4-ranked Minnesota.
The other time?  October 2, 2004, when the rankings were reversed: #1 Minnesota topped #4 Penn State in State College in a five-set thriller: 34-36, 30-28, 30-27, 26-30, 15-11.  Later that season, then #6 Penn State repaid the favor over the then #5 Gophers in four sets in Minneapolis. Minnesota went on to play for the national championship that year.
Penn State holds a 45-8 edge in the series, with four of the last 11 matchups going to five sets. Minnesota is #1 in the latest RPI rankings, while Penn State is #5.  The Gophers hold a one-game lead over the Lions in the conference race — their only Big Ten loss coming in State College in September.
Massey Ratings has the match as a 3-1 win for Penn State (68% probability).  Go Computers!
2. Texas Takes Big 12 by the Horns
The Big 12 title may have been decided Wednesday night, as #5-ranked Texas defeated # 10-ranked Kansas in Lawrence, 3-2  (20-25, 25-20, 30-28, 22-25, 15-9) in a sold out Horejsi Family Athletics Center. The two teams had been tied atop the conference with 10-1 records, and this was the second Top 10 battle between the two schools. The Longhorns now hold a 35-8 advantage in the series.  Kansas will host upset-minded Texas Christian on Saturday, it's toughest remaining match, while Texas will travel to Iowa State.
3. Seattle Showdown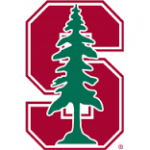 All of the Pac eyes will be on Seattle this Thursday evening for a marquee matchup between #3 Washington and #6 Stanford. The Cardinal leads the all-time series 51-13, and came out victorious in a five-set win in Maples last month—handing Washington only its second loss of the season. Stanford lost in Seattle last year in four sets, and lost in five sets there in 2013 and 2011. Washington holds a one-match lead over third-place Stanford and UCLA in the Pac standings. The match can be seen on ESPNU.
4. Auburn Shocks Gators
Auburn's surprise five-set win over then-#11 Florida snapped a 41-match losing streak to the Gators that dated back to 1990. Florida led the series 44-1 before Sunday's loss, and were 40-0 under Mary Wise against the Tigers. The win was also Auburn's third win ever over a ranked team in program history—and the first since 2013, when the Tigers defeated #10 Nebraska. The loss has Florida in fourth place in the conference at 10-4, two games behind leaders Kentucky and Texas A&M, and one behind Missouri (who plays at Kentucky on Sunday in another key conference clash). The loss dropped the Gators to #15, and their chance of a Top 4 seed for the tournament now looks slim.
5. More Conference Confusion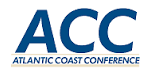 Who's going to win the ACC? Who the heck knows?!! #22 Louisville avoided more conference chaos by hanging on to defeat red-hot Pitt in five sets to maintain its one-game lead over Florida State (which lost for the second time in three matches, at Miami) and rising North Carolina (winners of seven in a row, they have climbed back into the poll at #25 after a nine-week absence). This weekend, Louisville travels to Miami and Florida State, while Carolina hosts Pittsburgh—all crucial matchups for NCAA berths and potential seeds.
6.  National Letter of Intent Signing Day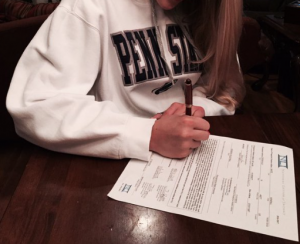 Yesterday was National Letter of Intent Day.  A good day to be a Rich Kern subscriber (a pay service, but worth it).  Or, if you're a Penn State fan, to check out DigNittanyVolleyball.com, where we listed two signings: 5-7 DS Kendall White, and 5-8 DS Allison Farrell.  For more on Penn State Women's Volleyball recruiting, check out our Recruiting Matrix.
7. BTN Women's Volleyball Extravaganza
BTN went all-out for Big Ten Women's Volleyball last evening, with its Big Ten Women's Volleyball Extravaganza — in which all 7 conference matches were televised during three hours of whip-around coverage.  Our vote: Northwestern's student announcers were by far the best.  Iowa's should keep plugging.
8. Terps Triumph (then don't, but things are looking up)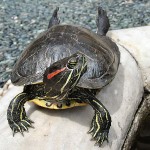 Maryland entered last week having just won five conference matches since joining the B1G last year: Three wins over fellow newbie Rutgers, and one win each over Northwestern and Iowa. The Terps gained respect—and put Turtle fear into Penn State fans—last Thursday, winning a set and almost forcing a fifth against the Lions. But the bigger shock came the next night, when Maryland swept Ohio State—the program's first win over a ranked opponent since a 3-2 win over No. 22 Florida State on Oct. 17, 2010. The loss dropped Ohio State two spots to #14, and to a tie for fifth place in the conference with Purdue.
Last night, Maryland played Purdue tough, but ultimately fell to the Boilermakers 3-1 (22-25, 25-22, 22-25, 15-25).  The Terps, who lost two of their best players to injury before the season started, look to be on the upswing.
9. Badgers Rising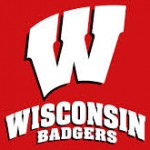 Is there any team hotter right now than Wisconsin? The Badgers have won seven in a row—including three wins over ranked teams and a win last night at Michigan.  They face Iowa on Saturday, then take to the road for crucial matches next week (Illinois and Ohio State). Wisconsin rose two spots to #11.
10. Illinois Back on Track (Then Isn't)
After losing six of eight matches—a streak that saw it fall from #7 to #21 in the rankings—Illinois won four in a row and climbed back to #16 in the poll. Unfortunately for the Illini, they didn't fare as well in last night's match against Ohio State, as they lost to the Buckeyes 3-1 (16-25, 25-17, 25-18, 25-23).  Illinois' RPI had climbed to #17, opening up the possibility of a potential seed returning.
11. A Little Less B1G
With losses last week at Wisconsin and Minnesota (the latter a particularly competitive match), Michigan dropped its third in a row and fifth in its last five.  (The Wolverines also lost last night to Wisconsin in Cliff Keene Arena, which is not now, but formerly was, a pool). That dropped the Wolverines out of the poll, ending the Big Ten's streak of seven consecutive weeks with eight teams ranked. The conference still has seven ranked teams (all in the Top 17), still more than any other conference. The Pac-12 has six, but has four teams in the Top 9—one better than the B1G, which has four in the Top 11.
12. Rams Tough
With a win Thursday over San Jose State, Colorado State can clinch a share of its seventh straight Mountain West title. Since dropping back-to-back matches at Texas and Texas A&M, the Rams have won 15 straight and are 14-0 in conference. They moved up two spots to #13 and have been ranked in 41 consecutive polls, the third-longest streak in program history. The Rams have also been ranked in 276 total polls, good for 14th all-time in the NCAA. CSU has reached as high as #9 this season.
13. RPI Watch
The most recent RPI rankings:
Minnesota, 2. Southern California, 3. Texas, 4. Florida, 5. Penn State, 6. Kansas, 7. Washington, 8. Nebraska, 9. Wisconsin, 10. UCLA, 11. Ohio State, 12. Stanford, 13. Kentucky, 14. Iowa State, 15. Missouri, 16. Texas A&M, 17. Illinois, 18. BYU, 19. Louisville, 20. Western Kentucky, 21. Florida State, 34. Purdue, 36. Michigan, 38. Northwestern, 49. Michigan State
14. Bracket Predictions
The top 14 teams in the RPI above seem pretty locked in for seeds. The last two seeds should see one of Texas A&M or Missouri, and one of Louisville or Florida State…with Illinois and BYU also still in the hunt. Here are my bracket predictions:
San Diego Regional: 1. Southern Cal, 2. Florida, 3. Stanford, 4. Illinois
Des Moines Regional: 1. Minnesota, 2.Wisconsin, 3. Kansas, 4. Iowa State
Austin Regional: 1. Texas, 2. Nebraska, 3. UCLA, 4. Texas A&M
Lexington Regional: 1. Penn State, 2. Washington, 3. Ohio State, 4. Kentucky
15. Lionsfan's Top 25 (as of results through Sunday 11/8)
1. Southern Cal, 2. Washington, 3. Minnesota, 4. Penn State, 5. Texas, 6. Nebraska, 7. Stanford, 8. UCLA, 9. Wisconsin, 10. Hawaii, 11. Kansas, 12. BYU, 13. Ohio State, 14. Florida, 15. Illinois, 16. Colorado State, 17. Purdue, 18. Texas A&M, 19. Florida State, 20. Arizona, 21. Arizona State, 22. Kentucky, 23. San Diego, 24. North Carolina, 25. Louisville