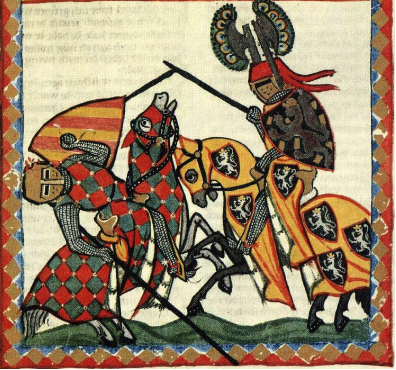 This table is pretty straightforward: the current Final Four teams are listed first, followed by the NCAA Champions, listed in order of best record, then the second place teams, and then the semi-finalists.  All of the columns are sortable — meaning you can click on the arrow at the top of each column to reorder it. 
We don't draw any specific conclusions from the data, other than things like it's better to win all your matches.  Weighty stuff like that. 
Though we've checked the table several times, there may be errors.  We assure you, they are unintentional.  We welcome any corrections.   
Won Lost Records (Matches and Sets): Final Four Teams from 1998 to 2010
| Year | Team | Conference | NCAA Finish | Wins (Matches) | Losses (Matches) | Wins (Sets) | Losses (Sets) |
| --- | --- | --- | --- | --- | --- | --- | --- |
| 2008 | Penn State | Big Ten | First | 38 | 0 | 114 | 2 |
| 2009 | Penn State | Big Ten | First | 38 | 0 | 114 | 8 |
| 1998 | Long Beach | Big West | First | 36 | 0 | 108 | 8 |
| 2003 | USC | Pac 10 | First | 35 | 0 | 105 | 8 |
| 2000 | Nebraska | Big 12 | First | 34 | 0 | 102 | 13 |
| 1999 | Penn State | Big Ten | First | 36 | 1 | 110 | 15 |
| 2006 | Nebraska | Big 12 | First | 33 | 1 | 101 | 14 |
| 2005 | Washington | Pac 10 | First | 32 | 1 | 98 | 10 |
| 2002 | USC | Pac 10 | First | 31 | 1 | 95 | 12 |
| 2007 | Penn State | Big Ten | First | 34 | 2 | 104 | 18 |
| 2001 | Stanford | Pac 10 | First | 33 | 2 | 101 | 21 |
| 2010 | Penn State | Big Ten | First | 32 | 5 | 103 | 20 |
| 2004 | Stanford | Pac 10 | First | 30 | 6 | 98 | 35 |
| 2001 | Long Beach | Big West | Second | 33 | 1 | NA | NA |
| 1998 | Penn State | Big Ten | Second | 34 | 1 | 104 | 6 |
| 2003 | Florida | SEC | Second | 36 | 2 | 109 | 8 |
| 2005 | Nebraska | Big 12 | Second | 33 | 2 | 101 | 15 |
| 2009 | Texas | Big 12 | Second | 29 | 2 | 91 | 13 |
| 2007 | Stanford | Pac 10 | Second | 32 | 3 | 101 | 24 |
| 1999 | Stanford | Pac 10 | Second | 31 | 3 | 95 | 18 |
| 2000 | Wisconsin | Big Ten | Second | 33 | 4 | NA | NA |
| 2008 | Stanford | Pac 10 | Second | 31 | 4 | 95 | 23 |
| 2006 | Stanford | Pac 10 | Second | 30 | 4 | 92 | 19 |
| 2010 | California | Pac 10 | Second | 30 | 4 | 95 | 23 |
| 2004 | Minnesota | Big Ten | Second | 33 | 5 | 105 | 34 |
| 2002 | Stanford | Pac 10 | Second | 32 | 5 | 102 | 27 |
| 2003 | Hawaii | WAC | Semi-finals | 36 | 2 | 109 | 16 |
| 2002 | Hawaii | WAC | Semi-finals | 34 | 2 | 102 | 12 |
| 1998 | Nebraska | Big 12 | Semi-finals | 32 | 2 | 99 | 16 |
| 2000 | Hawaii | WAC | Semi-finals | 31 | 2 | 95 | 16 |
| 2001 | Nebraska | Big 12 | Semi-finals | 31 | 2 | 94 | 14 |
| 1998 | Florida | SEC | Semi-finals | 35 | 3 | 107 | 24 |
| 2002 | Florida | SEC | Semi-finals | 34 | 3 | 105 | 17 |
| 2009 | Hawaii | WAC | Semi-finals | 32 | 3 | 100 | 17 |
| 1999 | Pacific | Big West | Semi-finals | 32 | 3 | NA | NA |
| 2008 | Nebraska | Big 12 | Semi-finals | 31 | 3 | 97 | 21 |
| 2000 | USC | Pac 10 | Semi-finals | 29 | 3 | 87 | 20 |
| 2004 | Washington | Pac 10 | Semi-finals | 28 | 3 | 89 | 23 |
| 2006 | UCLA | Pac 10 | Semi-finals | 33 | 4 | 104 | 24 |
| 1999 | Long Beach | Big West | Semi-finals | 31 | 4 | 95 | 23 |
| 2008 | Texas | Big 12 | Semi-finals | 29 | 4 | 94 | 24 |
| 2006 | Washington | Pac 10 | Semi-finals | 29 | 5 | 92 | 26 |
| 2007 | USC | Pac 10 | Semi-finals | 29 | 5 | 91 | 35 |
| 2005 | Santa Clara | WCC | Semi-finals | 27 | 5 | 88 | 30 |
| 2001 | Arizona | Pac 10 | Semi-finals | 25 | 5 | 79 | 25 |
| 2010 | USC | Pac 10 | Semi Finals | 29 | 6 | 91 | 36 |
| 2010 | Texas | Big 12 | Semi Finals | 27 | 6 | 84 | 34 |
| 2004 | USC | Pac 10 | Semi-finals | 23 | 6 | 76 | 32 |
| 2007 | California | Pac 10 | Semi-finals | 26 | 8 | 87 | 36 |
| 2009 | Minnesota | Big Ten | Semi-finals | 28 | 9 | 88 | 41 |
| 2003 | Minnesota | Big Ten | Semi-finals | 26 | 11 | 85 | 49 |
| 2005 | Tennessee | SEC | Semi-finals | 19 | 12 | 70 | 49 |