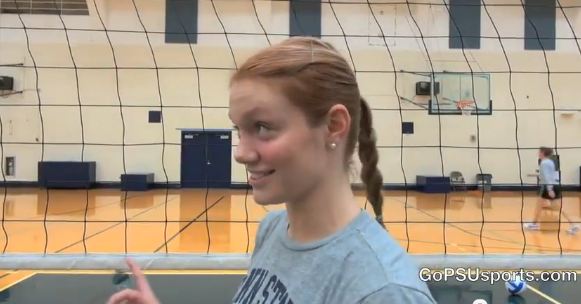 What's Micha Hancock's favorite thing about setting?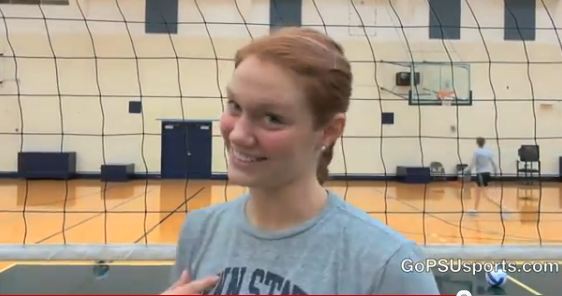 She's the one who knows where the ball is going!
Deja Talks with Micha about Setting
Earlier this week, after the B1G named Penn State's 5-11 So. S Micha Hancock as its Player of the Week and Setter of the Week, we interviewed a club coach who has coached top club and college setters (and top players at other positions, as well), to give us his thoughts about Micha Hancock (who was ranked #41 in the country as a high school senior — behind six other high school senior setters) and the challenges of evaluating high school setters.  Here's some of what he had to say:
Hancock is a work in progress, with unlimited upside. She came to Penn State more a great athlete in the setting position than a great setter, much the way Alisha Glass, and Salima Davidson did. Her play-making ability, athleticism, competitiveness and, certainly, her serve were ahead of her "pure" setting skill. That gap closes each time she takes the court. Although it is difficult to compare her as a college setter with the players ranked ahead, she made an immediate impact in her first weekend, and being named BiG Ten POW and SOW shows that although she is still an impact player, she is also establishing herself as an elite setter.

Coach Rose likes to have great athletes at that position. He also is someone who is exceptional at developing setters. Salima and Glass are great examples of great athletes who were not highly skilled setters, yet who developed into great setters. Hancock, on top of being a great athlete, has the "it" factor. While coaches may not be able to explain what "it" is, you just know it when you see it.
But don't take Club Coach's word for it.  Judge for yourself from the video interview of Micha Hancock (by intrepid reporter Deja McClendon) below (courtesy of GoPSUsports.com).

What A. Scott and Deja are Blogging
From A. Scott's 9-5-12 Blog Post

It was a long preseason and we were all ready to put ourselves to the test against other top-ranked teams. This is what we work for all year. None of us could wait for the challenge. Monday rolled around and campus was buzzing. The air was thick with excitement. It was the home opener for football, the pep rally, and the Nike Big Four; what more could one ask for? Home games also mean the opportunity for us to see our friends and family. For many of us we saw our parents for the first time since the start of preseason. This, in addition to the commotion around football, we had to work extra hard to stay focused on what was important. We had a week of productive practices and preparation, and finally it was show time.
From Deja McClendon's 9-5-12 Blog Post

The weekend before classes began we were invited to play in the Active Ankle Challenge against WKU, Moorehead State, and U of L at the YUM Center in none other than my hometown, Louisville, Kentucky. Knowing that we were going to play in Kentucky made the end of preseason that much more motivating and exciting. We packed up our bags Thursday morning and headed to the airport anxious to play our first game of the season.
For the complete blog posts, Click Here.
Why Russ Rose Loves Chicago
Why does Russ Rose love Chicago? Well, for one thing, it's his hometown — he grew up on Chicago's North Side and graduated from William Fremd High School. And, as he told The Daily Collegian's Matt Bufano in an interview published today, it's a great recruiting area, he loves visiting family and friends there, and he enjoys eating at Portillo's Hot Dogs. (For Matt Bufano's complete article, Click Here.)
We thought it important to provide a bit more information on Portillo's Hot Dogs, for non-Chicagoans who might be going to the Chicago Classic this weekend to cheer for the Nittany Lions. Here's what Portillo's has to say about Portillo's:
Welcome to Portillo's Hot Dogs, Inc., started in 1963 by Dick Portillo in a small trailer and soon will be operating in 45 locations. His dedication to serving "the best food" and "the best service" available will make it worth your visit. Requests for his "type" of food and "service" are received daily at the corporate office from many of the 50 states (including Alaska) and many foreign countries. Calls from Taiwan, the Philippines, Singapore, China, Europe, and Korea are just a few. Customers in the Chicagoland area also call frequently requesting a store just "a little closer to our house."

So, come enjoy what we hope you will find to be the best Hot Dog, Italian Beef, Maxwell Street Polish, Tasty Burgers, Fresh Salads and more at any of our locations. Bring the kids and ENJOY!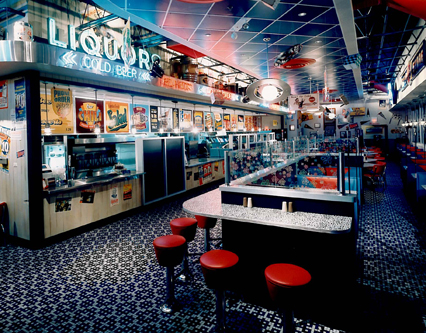 We can't make it to Chicago this weekend, but we'll definitely check out Portillo's on our next vist. 
Go Penn State!