Here are selected team and individual stats for Penn State and its two opponents this weekend: Michigan and Michigan State. Keep in mind the usual caveats of differing schedules which makes direct comparisons risky, at best. But we've decided to throw caution to the wind and make some comparisons anyway.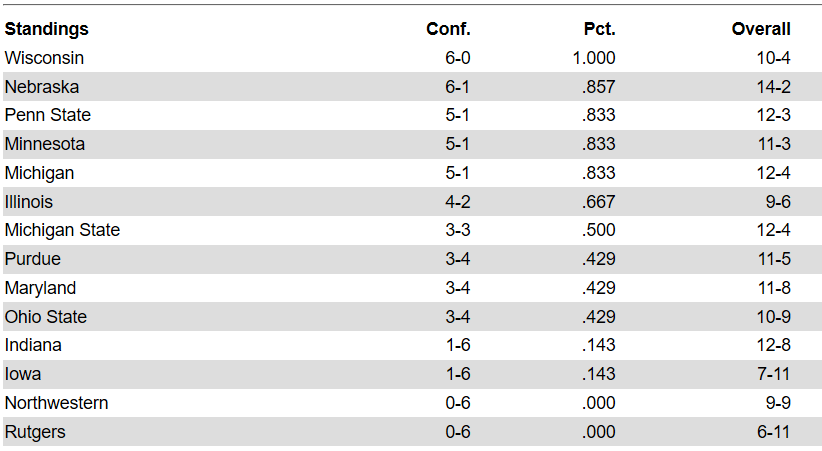 Team Hitting and Opponents Hitting
Penn State (.282) and Michigan (.269) rank 2nd and 3rd, respectively, in team hitting percentage — not surprising given that they are tied for third in the B1G with 5-1 records.  Michigan State lags a bit behind at .247, but is certainly a dangerous team, as reflected in their 12-4 overall record (3-3 in the B1G).  Kaitlyn Hord and Serena Gray continue to lead the way for Penn State, while Rebecca Poljan and Naya Gros are the statistical leaders for MSU.  Jess Robinson leads Michigan.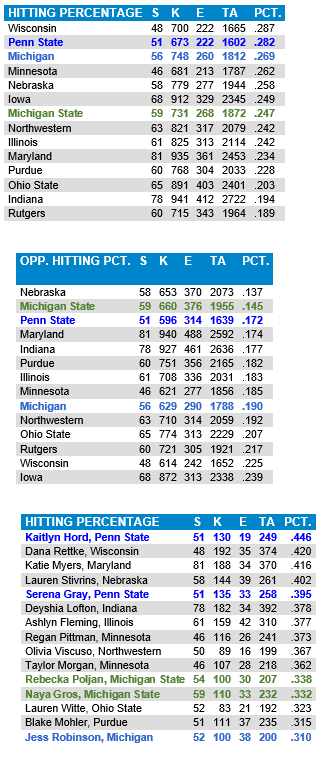 Kills-Per-Set
Each team has one hitter among the B1G leaders — Paige Jones in 6th for Michigan, Jonni Parker in 8th for Penn State and Meredith Norris in 14th for Michigan State.
Blocking
Statistically, at least, Michigan State is a very good blocking team, perched atop the B1G (though just barely ahead of Purdue and Minnesota).  Coach Rose has commented that the Spartans are a very physical team, and they certainly presented some challenges for Penn State in their Rec Hall match.  Penn State is not a great blocking team, statistically, and Michigan sits next to last in the conference.  Where Penn State excels (and also, to an extent, Michigan State and Michigan) is in minimizing opponents' blocks, a category in which Penn State is second best in the B1G.  Gros and Poljan are the leaders for the Spartans, while Kaitlyn Hord is tops for the Nittany Lions.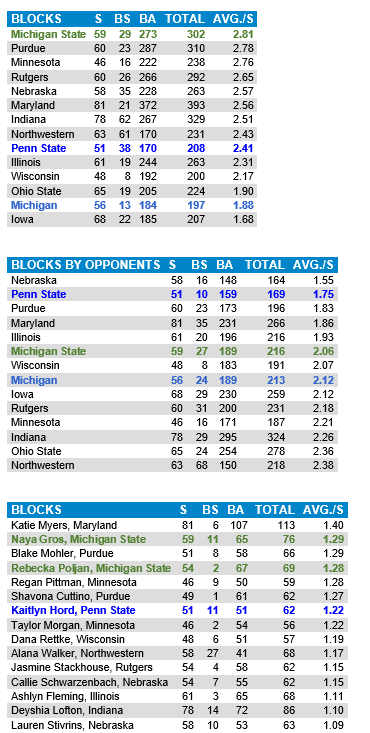 Service Aces
Friday night's match between Penn State and Michigan will feature a battle of strength versus strength, as the Wolverines rank 1st in the B1G in aces-per-set and the Nittany Lions are statistically the best in minimizing opponents' service aces.  Michigan State and Penn State are both in the lower tier of the B1G in aces-per-set.  The Spartans rank 6th in service aces by opponents, with Michigan sitting in 10th place.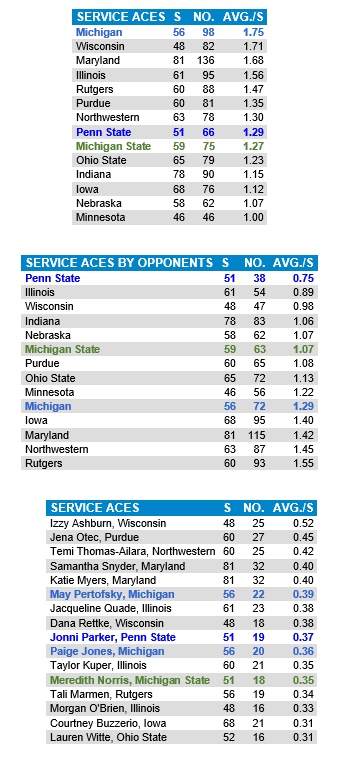 Digs
Jayme Cox of Michigan State is a fingernail ahead of Penn State's Kendall White in digs-per-set, with a 3.85 average compared to Kendall's 3.84.  Natalie Smith of Michigan averages 3.15 digs-per-set.