Here are selected team and individual stats for Penn State and its two opponents this weekend: Maryland and Ohio State.  Keep in mind the usual caveats of differing schedules which makes direct comparisons risky, at best.  Nonetheless, with our Slacker Staff cheering us on, here we go with some comparisons.
Team Hitting and Opponents Hitting
Penn State is perched in third place in the B1G in hitting percentage (.281) all-matches, with Maryland (.235) and Ohio State (.202) trailing significantly.  It's a similar story with opponents' hitting percentage, with Penn State again in the #3 spot in the B1G (.168), Maryland  at #5 (.176) and Ohio State in the bottom tier at .198.  If our Slacker Staff weren't quite so consistently slacker, we'd have a full table showing hitting percentage differential, but for these three teams it's Penn State +.113, Maryland +.059 and Ohio State +.004.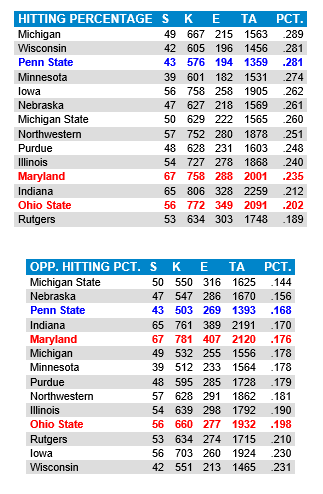 Hitting Percentage and Kills-per-Set
Not surprisingly, given Penn State's advantage on team hitting percentage, Kaitlyn Hord and Serena Gray continue to sit atop the B1G in individual hitting percentage.  Katie Myers places third (she also leads the B1G in blocking and is among the B1G leaders in service aces).  Although Jonni Parker's season hitting percentage has dipped a bit (to .267), she remains among the leaders in the B1G in kills per set (3.58).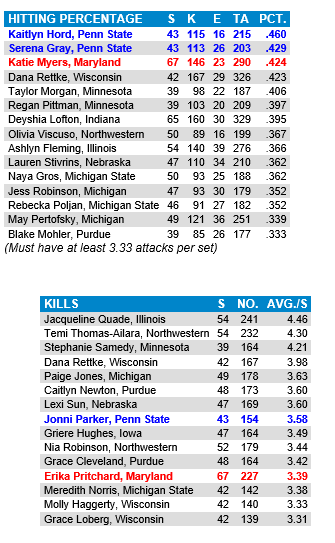 Blocking
Statistically, Maryland has been better than Penn State's (with both having outperformed Ohio State).  The star for the Terps has been Katie Myers, who leads the B1G in blocks-per-set.  Penn State's Kaitlyn Hord ranks #4 in the conference.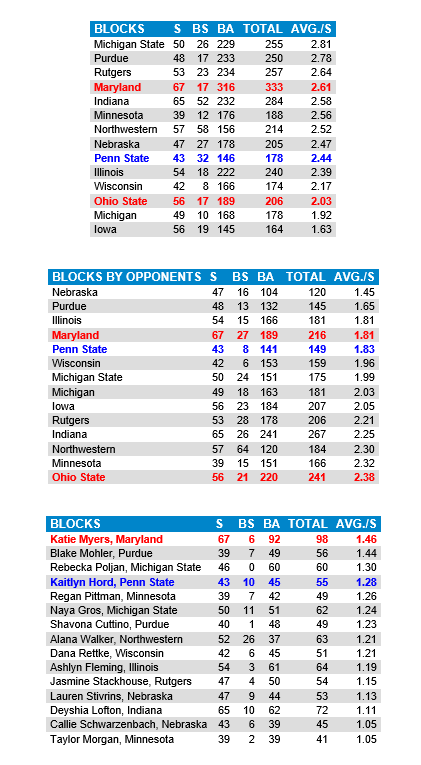 Service Aces
Maryland really stands out, statistically speaking, in serving, where they lead the B1G with a solid 1.78 service aces-per set average.  Penn State (1.30 aces-per-set) and Ohio State (1.11 aces-per-set) are in the bottom half of the B1G's service ace statistics.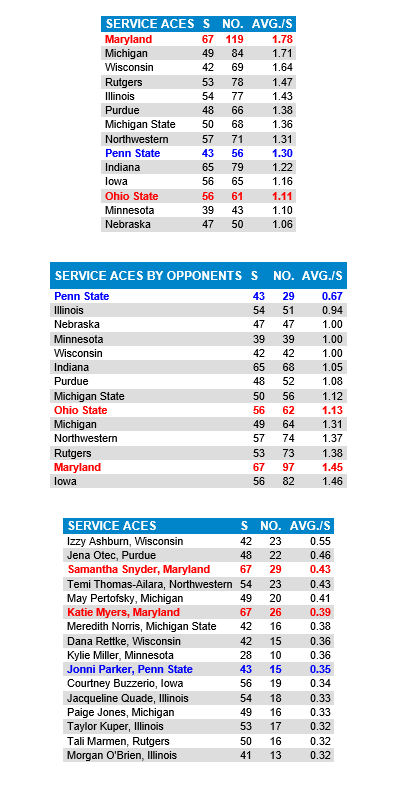 Digs
Ohio State's Kylie Murr leads the B1G in digs-per-set, which makes some sense given the Buckeye's poor (statistically) blocking and serving.  She's probably had a lot of attacks coming her way.  Kendall White is in the middle of the pack — 7th — while Maryland's Allegra Rivas clocks in at the #9 spot.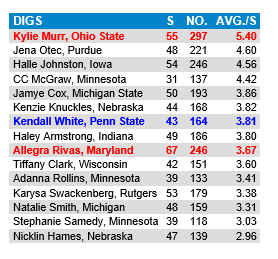 Credits
Jousting knights, by Clinton & Charles Robertson from Del Rio, Texas & College Station, TX, USA. This file is licensed under the Creative Commons Attribution-Share Alike 2.0 Generic license.