Penn State women's volleyball held its 14th weekly media availability of the 2021 season Tuesday. Russ Rose and graduate senior outside hitter Erika Pritchard fielded questions ahead of the final weekend of the regular season.
Rose said the program will honor its nine seniors following Saturday's match against Iowa at Rec Hall in order to have the proper time to recognize them. The Nittany Lions, who checked in at No. 15 in the AVCA rankings for the fourth week in a row, will host No. 10 Minnesota Friday at 8 p.m. on the Big Ten Network.
Pritchard missed nine matches due to injury this season, wearing a walking boot on the sidelines while she was out, but has returned to the starting lineup recently, and could be a key contributor down the stretch. Pritchard currently has 140 kills, 63 digs, 33 total blocks, and 13 aces in 19 matches (16 starts).
Pritchard entered this season as the Big Ten's active kills leader after finishing up a dominant, record-setting career at the University of Maryland. Pritchard, who hails from Middletown, Maryland, had a season-high 18 kills in Penn State's 3-1 road win over Michigan on November 12.
Russ Rose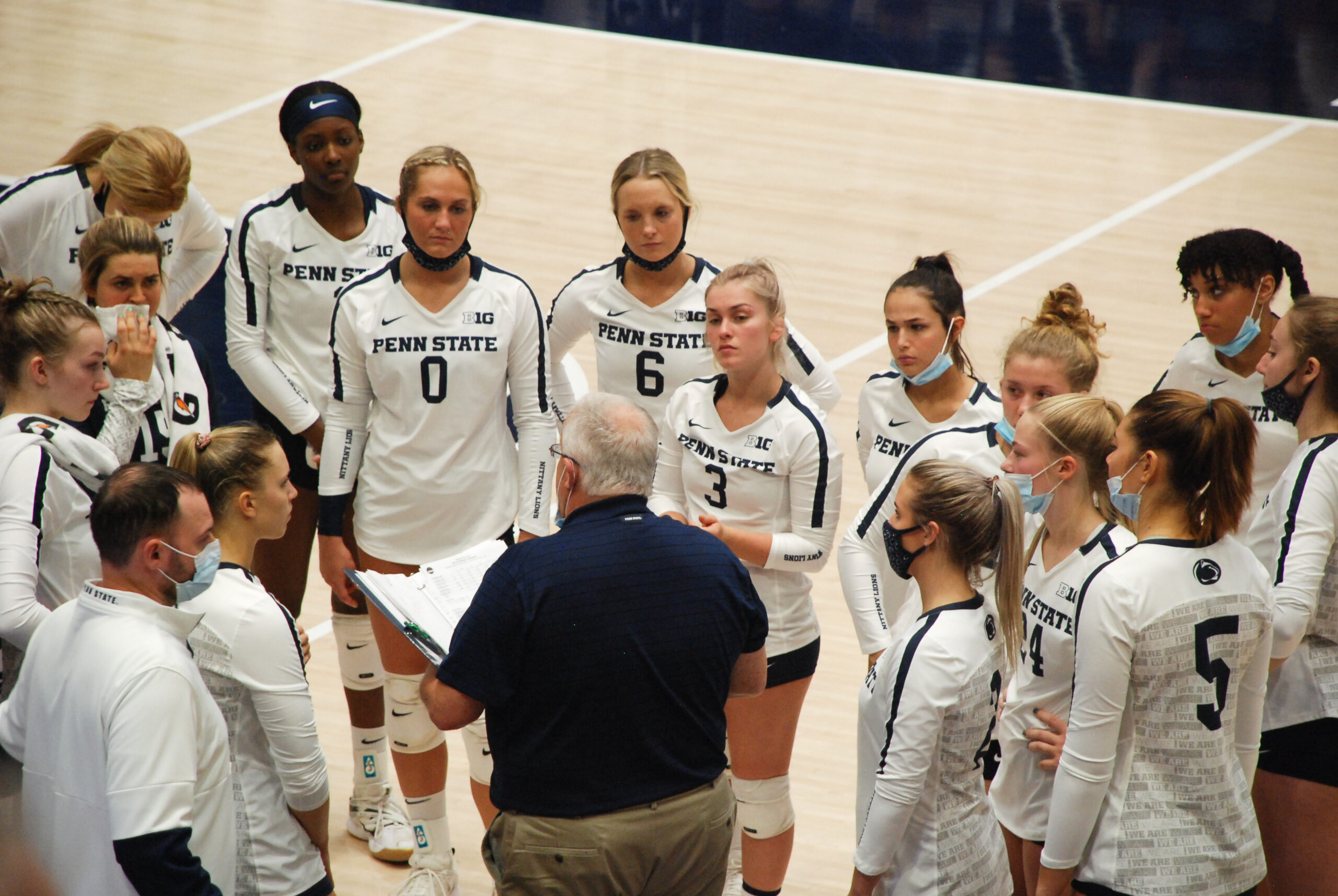 What are your thoughts on last weekend's matches against Nebraska and Ohio State?
"I thought we started really slow against Nebraska, had a sizable lead in the second game, gave it away, and lost a deuce game. The third game was a deuce game. I thought we had a couple of matches where we didn't have the connection in the middle attack that we've had previously. Whether that's because of passing or setting or hitting, whatever it was, it put a little more pressure on the outsides. Jonni [Parker] still scored well, but she was the only one in double-digit kills against Nebraska, so even though the two games were deuce games, we certainly hit far below what we've been hitting previously. It carried over a little bit into Ohio State. I thought we did some things well with Ohio State. The same thing, we had a little lead. We were up 18-14 in the one game and lost. It's a challenge when you can't put teams away when you have an opportunity. Everybody in the conference is good and especially good [when you're] on the road. I thought that, again, Jonni and Adanna [Rollins] had good days offensively. We'll move on to the last week of the regular season. We have Minnesota and Iowa."
What are some things you would like to see from your team in practice after a pair of losses?
"Well, I mean, surprising for having so many older players, they're fragile in some areas. Instead of taking ownership of certain things as seniors, they just kind of check the box instead of really making it significant and trying to end in as positive a note as you can. A week ago, we were one game behind first place. It's a conference that forces you to be good on each and every night. We played a really good match the last time we played Ohio State, and we didn't replicate that at Ohio State. We played a good match the last time we played Minnesota. They have arguably the top player in the country in Stephanie Samedy, who had 30 kills and 77 swings against Wisconsin. She's an incredible talent. Their team is a really good team. They do a number of things that cause you to work really hard on your side of the net. They keep the ball in play. When they have a chance to take a quality swing, they do. When they have a chance to get it to Steph, she's capable of scoring against every team in the country."
What's your impression of Minnesota setter Melani Shaffmaster?
"I saw her play, because her and Jonni were setters on the same club team. She committed maybe as an eighth- or ninth-grader to Minnesota. She's a really talented setter. She has good size. I think she executes their system really well. Jonni knows her way better than I do, but as an opposing coach, I'm a fan of how she plays and maintains control of her own emotions and controls the team as the setter."
What would you say are Nebraska's biggest strengths as a team?
"First off, it's a challenging place to play. I think they're a really good serving team. I think because they're a good serving team, their passers have to work on dealing with good serves all the time. They pass well and they're just one of the more physical teams. I think their serving, passing, and back-row defense is really good. I think they have two liberos, for sure, in [Lexi] Rodriguez and [Kenzie] Knuckles in the back row. When [Keonilei] Akana is in there, they have some rotations where you really need to earn a side-out to get a side-out. I think Nebraska is as they are a lot of years. They're put together well, they train hard, and they play hard. They're one of the conference's stronger teams."
What stands out to you about Minnesota? What are some of their strengths?
"I think probably the biggest strength is always that they're very error-conscious. They don't make a lot of service errors. They keep the ball in play. They have three really good outside hitters who take quality swings. CC [McGraw] is one of the top liberos, for sure, nationally and has always been able to play that position well. I think Minnesota is really strong, and I haven't even started looking at Iowa yet, because I'm still working on Minnesota."
You're going to recognize your senior class on Saturday. What stands out to you about them?
"Well, it's kind of a mixed bag, because you have four girls who were here for four years and a few others who left other schools and didn't have their senior night at their [previous] institutions. Certainly, whether you're a senior here or a senior somewhere else, it's senior night for those individuals. It's an opportunity for them and their parents to share the floor for a second and get a little applause from the crowd and be recognized for a job well done. It's what senior night is. This is the first time I think we're doing it after the match, because we have so many people. We didn't want to prolong the match at the outset."
Did you see the news about Ole Miss offering academic bonuses to its student-athletes? Do you think that's something the Big Ten should implement?
"I did see what they're doing. I'm sure that it's probably being discussed in the conference office and then institutionally among the ADs on how they're going to implement it, if it's going to be standard across the board for everybody. Is it going to be scholarship athletes? I think somebody, at one point, said they were going to keep the money and then when [the athlete] graduates, they'll get the money. I'm sure that there are a lot of conversations that are existing about that. I'm not going to really venture into a different lane."
How important is it for your players to be able to hit from different spots in the front row?
"Well, I mean, I always think the more range that you have and the more experience you have hitting all along the net, the better you are to help the team you're playing on. When Blair Brown was here, she was one of our earlier players who had the ability to hit from the left pin to the right pin and everywhere in between. I think, when you have that sort of range, it gives you a little better opportunity. If you're looking at a certain matchup or you're trying to avoid, ideally, you might want to get one of your better hitters hitting. If they're hitting into the opponent's best block that many times, it can neutralize even the top hitters. I think when you have the ability to do some other things along the net, it gives you some opportunities to score."
How closely do you follow your former players competing in Europe and how their seasons are going?
"I hear from them at times. Sometimes, I hear from them when things aren't going great and they need a little conversation about what their responsibilities should be in the equation. Being a professional athlete is a lot different than being a college athlete. A lot of college players say they want to be a professional athlete and they don't do all the things you need to be a successful college athlete, which makes it hard. For a lot of the players in the past, when they were here, the ones who identified that that was something they wanted to do, I always try to point out to them that it's a full commitment. It's everything you do every day. You have to get proper rest, you have to watch your nutrition, you have to get in the training room, you have to get in the facility and work on your skill set. It's different than college where you just have a block of time. If it's on you, there's always going to be somebody younger and better coming down the road, so if you want to defend your turf, you better be fully committed to accomplish that."
What are some things you would like to see the team improve on as far as the overall season in general?
"I think the year has been filled with ups and downs. We've had some matches that we lost that I thought we should have done better in, because we were winning 2-1, and we've had some matches where we went out and we played a complete match. I would say, if I were able to wave a magic wand, it would just be to have some consistency in their approach and their ability to play the game and play it together."
What's your relationship like with Karch Kiraly? What's your impression of him as a coach?
"I've known Karch for a long time. Early, of course, my exposure was when he was one of the top players in the world. I've had lots of conversations with Karch and certainly he's really extended his expertise to the craft of coaching to be able to guide the U.S. to a gold medal. Winning indoors and then on the beach, obviously, identified him as an incredible player and competitor. It took some time, I think. He worked with Hugh [McCutcheon] for a number of years when he was first getting into coaching. He works closely with Marv Dunphy, who is one of the top coaches in the world and a former coach of the gold-medal men's team. He has some good mentors and people who he can bounce thoughts off of. Our players who play for the national team and were a part of that gold-medal team speak really highly of Karch and the staff. Those of us who are fans are thrilled that they won the gold medal."
What's it going to be like to have Thanksgiving with the team? I know you guys always do that.
"Every year is different. Some years, we would do it at the Nittany Lion Inn or something. We're going to a different place this year. The players need to spend time with the players. It's their team, you know? It's always their team. It's not my team, it's their team. They need to be responsible for all of the incidentals that are necessary for a team to be a really good team."
When you were deciding whether to go to BYU or Penn State, what were some of the factors in that decision?
"Well, I was going to go to BYU and get my advanced degree and teach classes and have an opportunity to be involved in a real nice group of people who were involved in volleyball, but the Penn State job opened up and I came to Penn State. But certainly, had I gone to BYU, I think I would have, in time, earned the advanced degree and would have probably been a real challenge for the main guy there, because he saw things a certain way and I'm not sure I was the perfect model of doing those things. But I certainly had great respect for what was going on there. My mentor, Jim Coleman, went there and got his doctorate, so he was the one who said, 'Hey, you can kill two birds with one stone. You can get an advanced degree.' Because 40 years ago, they wanted you to have advanced degrees for coaching and teaching. But it also was a real hotbed of coaches and sharing ideas, kind of like they had where I fell into when I went to my undergraduate."
What are your thoughts on how the top teams in the Big Ten are performing this far into the season?
"Two weeks ago, there were five or six teams that were within one game of the top spot. We moved out of that with losing two matches last weekend. It's going to come down to the last weekend with Nebraska and Wisconsin tied. Purdue and Minnesota are right on their tail and Ohio State. It's always competitive at the top. I think those teams will all be formidable opponents once the NCAA bracket comes out."
What are some things that stand out to you about Iowa?
"I haven't really looked at it. I know [Courtney] Buzzerio has been a really strong player for them for a number of years, but the pile [of information] is right there. I'm still doing Minnesota."
The NCAA said they're going to allow the whole team to be on the sidelines during the tournament. What do you think of that decision?
"I would say that for every year that we were in the NCAA tournament, I voiced that — that I thought it was the wrong message to say, 'We're offering a women's sport and yet we're only going to let you travel with X amount of players and dress X amount of players.' Kids who were on the team all year long were now being asked to sit in the crowd. I think better late than never, but I think it's a good thing. It's not to say that everybody is going to play, but everybody should share in the excitement if their team makes it to the NCAA tournament that they can say that they were actually a member at the event and on the floor helping their team succeed."
Erika Pritchard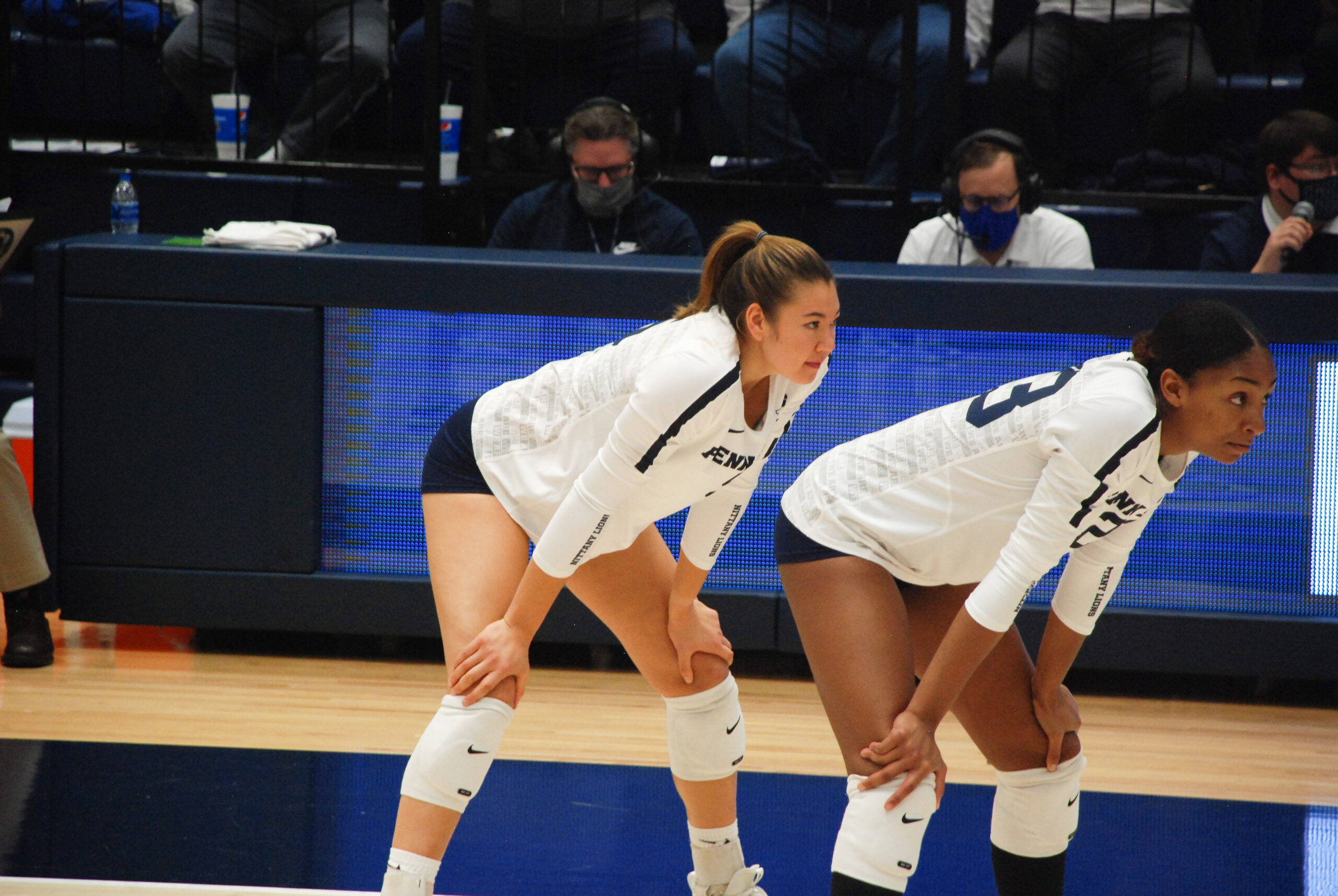 What do you love most about playing volleyball?
"Oh, wow. That's a great question. I love that it's a team sport and that you need everyone involved to have success. The camaraderie that the sport brings is something very special. It's just a fun game, too. It's a fun game to play."
What's your relationship like with the rest of the senior class?
"I think that we're really close. They're so supportive of each other and they bring the best out of us every day. The energy they have is just unmatched. We just have a lot of fun together. They're great people."
What are some of the best things you've learned from Coach Rose?
"I think that he's taught me that everything matters. Just going hard after everything and having confidence in myself and my abilities is something that he's always told me. That accountability has pushed me to be better and take ownership of my role here."
What are you getting your master's in? What's a class that you've really enjoyed this semester?
"I'm actually not getting my master's, I'm just taking undergrad classes right now. I really enjoy taking my sociology class and my architecture class, which is pretty funny, because I don't know anything about architecture. I think it's just a really fun class to take and it's something different. It's just interesting to learn about this new topic."
Do you have pro volleyball aspirations after school?
"Yes, I do want to play professional volleyball after."
What are some things you've enjoyed about being back in the starting lineup after missing a few matches?
"It's been fun. It's been good. They push me to be better. I just want to do everything I can for the team and this program and give everything I have to help in any way I can. Although this injury has been very challenging this season, especially mentally, I'm learning from this experience and every experience I have. I want to just try to help in any way I can."
What kind of advice do you have for the underclassmen on what it takes to succeed in college?
"I would say to never lose that joy of playing and curiosity for the game. I would suggest having that intentionality not only every day in practice, but also in life, being intentional with what you want to accomplish and improve on and where you're trying to go. Having that mindfulness has helped me a lot in my college years."
What do you enjoy most about playing with AC Fitzpatrick and Anjelina Starck?
"They're awesome. They're two of my favorite people. They're just so encouraging and fun to play with. They're so sweet and great humans."
What are you most looking forward to about having Thanksgiving with the team?
"I'm really looking forward to just spending time together outside of volleyball to bond and just be thankful for each other and kind of rest in these moments."
Who's the best hair braider on the team? How important are those pre-match rituals?
"I would say Lexi Skripek. She has a lot of different really good hairstyles that I've seen that were pretty impressive, I'd say. I think it's unifying and it gets us hyped up. It kind of goes back to the tradition and the way we do things here. It's exciting. It's fun."