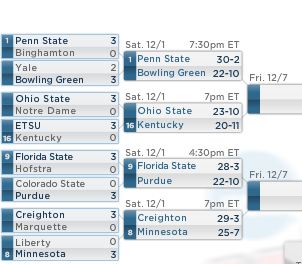 What: NCAA Second Round Match – Penn State (30-2) vs. Bowling Green (22-10)
When: December 1, 2012, 7:30 p.m. ET
Where: Rec Hall
About Bowling Green
From BGSUfalcons.com:
NCAA TOURNAMENT HISTORY
Playing just its second match in NCAA Tournament history, Bowling Green beat Yale 16-25, 25-15, 25-21, 13-25, 15-11 Friday night. The Falcons' only other appearance came in a 15-8, 15-4, 16-14 loss to Wisconsin in 1991.
MOST IMPROVED
A year ago, Bowling Green was the most improved team in the Mid-American Conference, going from 8-24 in 2010 to 19-12 in 2011. With 22 wins this year, Bowling Green is the second-most improved team in the MAC again. Only Akron's 12-win increase is larger in the conference this year.
M!V!P!
Paige Penrod was named Most Valuable Player of the MAC Tournament after posting double-doubles in all three matches. She had 12 kills and 19 digs in the sweep of Eastern Michigan and followed that up with 14 kills and 20 digs in the semifinals against Western Michigan. In the championship, Penrod had 17 kills and a career-high 28 digs. Lindsey Butterfield was also named to the all-tournament team after recording at least 12 kills in each match and picking up the first two double-doubles of her career, finishing with at least 10 kills and 10 digs in the semifinals and the championship.
RECORD VS. THE FIELD
Bowling Green has faced five schools this year that advanced to the NCAA Tournament, going 1-4. The Falcons were swept by Purdue, Marquette, BYU and Cleveland State but in the most important match defeated Yale Friday night in the first round.
RANKED OPPONENTS
Penn State will be the third ranked team the Falcons face this year. Bowling Green lost to then-No. 14 Purdue and then-No. 21 BYU in straight sets earlier this year.
AGAINST THE BIG TEN
Bowling Green has faced three Big Ten schools this year prior to playing Penn State. The Falcons defeated Indiana in four sets, but lost to both Purdue and Northwestern. BGSU, though, has defeated a Big Ten team in each of the past two seasons, beating Michigan State a year ago.
THE DYNAMIC TRIO
Bowling Green had three players named first team All-MAC in voting by the league's 12 head coaches. Junior outside hitters Danielle Tonyan, Paige Penrod and Lindsey Butterfield were all selected to the squad prior to the MAC Tournament. Those three all have more than 350 kills this year.
Read the entire release at  BGSUfalcons.com.
Bowling Green 2012 Roster