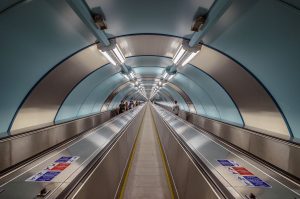 Two players from Penn State's 2016 team, Wilma Rivera, a 5-10 Jr. setter, and Jelena Novakovic, a 6-3 RS So. Opp, are transferring to other schools.
The University of Louisville announced Rivera's transfer on April 6th.  From GoCards.com:
Wilma Rivera, a 5-10 setter from Penn State and member of the Puerto Rican National Team, is set to transfer to the University of Louisville.

The native of Carolina, Puerto Rico spent two seasons with the Nittany Lions. As a sophomore, she saw action in 19 sets and had two assists, four aces and 16 digs.  She served up two aces and three digs in the season opener against West Virginia and logged eight digs against No. 19 North Carolina.

"I had the opportunity to watch Wilma when she was playing for the Puerto Rican Youth National Team," said Dani Busboom Kelly, UofL head coach. "Her athleticism is impressive and it is obvious that she is a leader. Wilma will be a great addition to the 2017 team and we can't wait to get her on campus."
For the complete release, Click Here.
The University of Virginia announced Novakovic's transfer on April 13th:
CHARLOTTESVILLE, Va. – Head Virginia volleyball coach Aaron Smith announced the addition of transfer Jelena Novakovic (Belgrade, Serbia) for the 2017 season.

"I anticipate Jelena making an instant impact this coming fall," Smith said. "We graduated a few point scorers this year and I believe Jelena will be able to shoulder that role for the team. Her high level of experience, both internationally and in the Big Ten, will bring intensity to our gym that I expect to raise everyone's game. I am excited to get her to Grounds and officially join the team."

Novakovic will join the Cavaliers after spending two seasons at Penn State. The right side hitter appeared in five sets for the Nittany Lions in 2016 after redshirting in 2015. Novakovic brings a wealth of experience, having played club volleyball for Red Star Belgrade. There she helped the team to the National Cup in 2014 and a silver medal at the 2014 championship. She made back-to-back appearances in the European Champions League with Red Star.
For the complete release, Click Here.
Is 2017 Roster Final?
Both Wilma and Jelena seemed like terrific young women, enthusiastic and good teammates.  We wish them well and thank them for their contributions to Penn State Women's Volleyball.  Based on nothing but pure speculation (would you expect anything else from our slacker staff?) we think these are the final changes to the 2017 roster.  If we're right, here's what it will look like for the 2017 season:
Penn State 2017 Roster - 8-15-17
Number
Name
Position
Year/Class
Height
State
(Hometown)
Career
Stats
1

Cather, Kathryn

RS/Opp
3/Jr.
6-2
AL
(Hoover)

2
Sciorra,
Emily

DS
2/So.
5-4
VA
(Chantilly)
3
White,
Kendall

L
2/So.
5-5
IN
(Indianapolis)
5
Frantti,
Ali

OH
4/Sr.
6-1
IL
(Spring
Grove)
6
Reed,
Nia

OH
3/Jr.
(RS)
6-1
NJ
(Fort Lee)
7
Detering,
Abby

S
4/Sr.
6-0
OH
(Mentor)
8


Captain

Pierce,
Lainy

DS/L
4/Sr.
5-8
NY
(Eden)
9
Halterman,
Jennifer

DS
4/Sr.
5-3
PA
(Dillsburg)
10
May,
Cami


MB
1/Fr.
6-2
TX
(Katy)
11
Gorrell,
Tori

MB
2/So.
(RS)
6-2
Ontario,
Canada
(Oakville)

12
Holcomb,
Keeton

DS/L
3/Jr.
5-7
TX
(Bellville)
14
Krause,
Kristin

DS
2/So.
5-7
PA
(Allentown)
15


Captain

Washington,
Haleigh

MB
4/Sr.
6-3
CO
(Colorado
Springs)
17
Putnicki,
Michaela

OH
1/Fr.
6-1
CO
(Aurora)
18
Farrell,
Allison

DS
2/So.
5-6
IL
(Lombard)
19
Thelen,
Heidi
MB
4/Sr.
6-2
KY
(Edgewood)
21
Weiskircher,
Bryanna
S
3/Jr.
(RS)
6-0
IL
(Loves Park)
22


Captain

Lee,
Simone


OH
4/Sr.
6-1
WI
(Menomonee
Falls)
23


Captain

Powers,
Clare



OH
3/Jr.
(RS)
6-3
CA
(Aptos)
Credits
Sportivnaya subway station in Saint Petersburg, Travelator Tunnel, by Alex 'Florstein' Fedorov, CC BY-SA 4.0, https://commons.wikimedia.org/w/index.php?curid=40599516.  This file is licensed under the Creative Commons Attribution-Share Alike 4.0 International license.