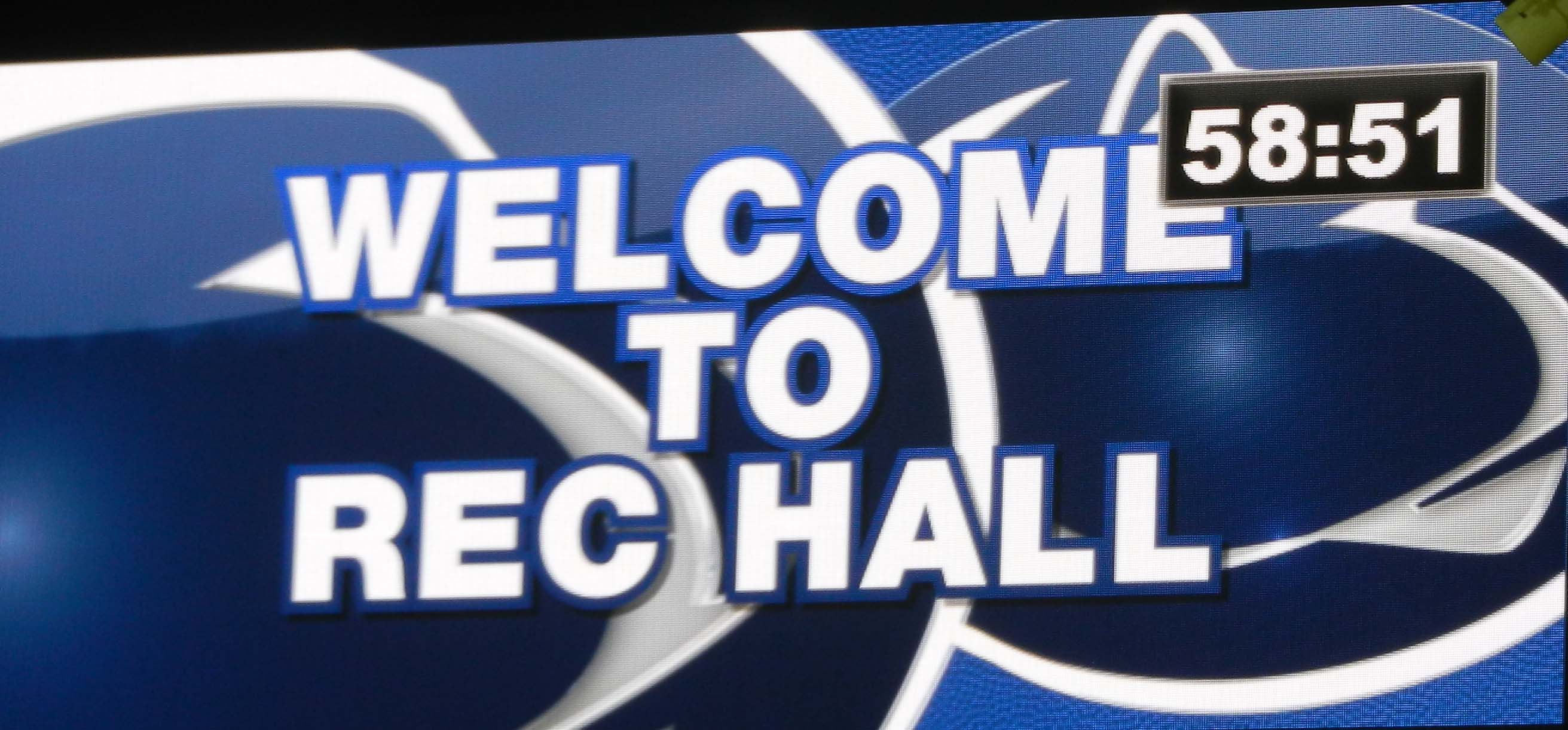 This page lists the players we are aware of who have publicly announced their verbal commitment (or have signed letters of intent) to join the Penn State Women's Volleyball team for the 2015 season. The players are listed alphabetically. The listed positions are from published reports, and do not necessarily reflect the positions they will play in college. The table is sortable by clicking on the arrows at the top of each column.
2015 Recruiting Class - as of 6-23-15
According to a post on the Defensa Volleyball Club website, Tori Gorrell, a 6-2 MH from Abbey Park, Ontario, has verbally committed to play for Penn State starting in 2015. Here's the post:
Following the Penn State tournament, Tori was shown the campus, all cool stuff and then asked her thoughts on committing to Penn State over pretty much everywhere else. She knew the answer, as it was her dream to play for Russ Rose since grade 6.
Last year, Tori and her Defensa teammate Sarah Williams (both under-15 players at the time) were selected for Ontario's under-16 beach volleyball team.
News and Videos for Tori Gorrell
Here's a recruiting video featuring Tori: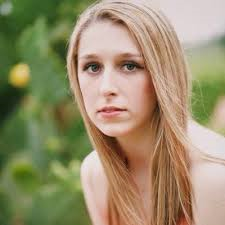 Keeton Holcomb originally committed to West Virginia, as announced by WVUSports.com on November 14, 2014:
A native of Bellville, Texas, Holcomb comes to Morgantown after playing for Susan Brewer at Bellville High School and Courtney Head at Houston Juniors 18 Elite. In 2013, Holcomb, a libero/defensive specialist, was a TCGA First Team All-State honoree, an AAA State All-Tournament Team member, first team all-state honoree, first team all-district and a MaxPreps Second Team All-American. She was named the Texas Sports Writers Association AAA First Team libero and was named to the Under Armor All-American Watch List. Holcomb is a two-time district defensive MVP and a three-time academic all-district honoree. She boasts 2,535 career digs through three seasons and 182 career aces. The daughter of Thomas and Stacy, Holcomb intends to major in business.
At the time, Jill Kramer was the head coach of the Mountaineers, but just six weeks later, on December 29, 2014, WVU announced that Kramer had resigned.
MORGANTOWN, W.Va. – West Virginia University volleyball coach Jill Kramer has resigned to accept a position as Director of Volleyball at TCU, her alma mater, as announced by TCU on Monday. Kramer recently completed her fifth season with the Mountaineers and led the squad in its transition from the Big East to the Big 12. She guided WVU to a 66-83 mark during her tenure, including its first-ever Big 12 win with a 3-1 triumph over Kansas State on September 27, 2013. Under Kramer's direction, West Virginia posted its first 20-win season since 1991, going 20-13 in 2013 and finishing 118 spots higher than 2012 with a final RPI of 74. The Mountaineers set several new marks in 2014, including a program record for Big 12 wins with six after a five-set upset of Kansas State in the season finale. WVU finished the year with an RPI of 70 and, for the first time in program history, had a pair of AVCA All-America Honorable Mentions in Nikki Attea and Jordan Anderson. "As people like Coach Huggins and Oliver Luck can attest to, having the opportunity to give back to your alma mater is one that goes unmatched," said Kramer. "The Director of Volleyball position overseeing both Indoor and Sand Volleyball is one I just couldn't pass up.
Kramer was replaced by Reed Sunahara on March 2, 2015, but a parade of transfers had already begun (1-26-15, 6-3 Sr. Nikki Attea to Arizona; 3-3-15, 6-0 Jr. OH Jordan Anderson to UCLA; 4-27-15 5-6 Sr. libero Anna Panagiotakopoulos to Arizona; 4-27-15 6-1 So. setter Lamprini Kostantinidou to TCU, and 5-29-15 6-0 Sr. OH Hannah Sackett to Montana.) So it wasn't a huge surprise when Keeton Holcomb announced via Twitter that she was verbally committing to Penn State. Welcome to Penn State! Here are her aggregate varsity stats (courtesy of MaxPreps — for complete stats for Keeton from MaxPreps, Click Here):

Videos
Jelena Novakovic (6-2 Opp.) Belgrade, Serbia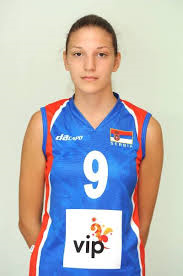 The addition of Jelena Novakovic Penn State's 2015 class may have been months in the works, but to we fans, it came as a surprise. Apparently, Jelena had made it known last winter, through the berecruited website, that she was interested in playing volleyball for a college in the United States.  Apparently, the Penn State staff did its homework, liked what they saw, and invited the 6-2 lefty opposite to play for Penn State.  As one observer put it:
Jelena lists herself at 6'3 and PSU lists her at 6'2. I'm going out on a limb and saying she is not done growing yet and will end up at 6'4ish. The addition of a nice size southpaw to the Nittany Lion program is a long desired prize. She has a high contact point and seems equally at ease cranking line as well as hitting deep cross court. I like that she attacks comfortably from behind the 3 meter line, which would be a huge plus for Penn State once they lose Megan Courtney to graduation. Having a D ball lefty can be devastating. I would say the speed of the game will be the greatest transition that she will have to adjust to, but the girl seems really excited and eager for the new challenge and I'm thrilled that she will be in Blue and White.  She has a lot of the tools Penn State is looking for.
Jelena has had great success training and playing with teams in the Serbian National program, including playing on a European Championship team and earning a few personal accolades herself. Her extensive international experience should be a welcome addition to the Penn State program. We're told that her English is very good and that she is excited to come and play in the states for Penn State.
Videos
    Belgrade, Serbia, December 12, 2014 –  The Serbia women's junior team can add another list of achievements from 2014 to their names after picking up the Serbia Olympic Committee Best Young Team of 2014 on Tuesday. The 2014 European Champions were represented by Jelena Novakovic, Bojan Milenkovic, Katarina Marinkovic, Sara Vucicevic and Aleksandra Brdjović. Tijana Bošković, Aleksandra Ćirović, Sara Lozo, Maja Aleksic, Milena Dimic, Jovana Kocic and Katarina Lazović were all absent as they were all playing in CEV Champions League fixtures. The ceremony took place at the National Assembly in Belgrade with first and second coaches Marijana Boričić and Milan Gršić and team manager Dragan Todorovic also in attendance.
Wilma Rivera (5-10 S)
The third member of Penn State's 2015 recruiting class is Wilma Rivera, who has signed a Letter of Intent to play for the Nittany Lions in the 2015 season. Wilma was the starting setter (and team captain) for the Puerto Rican Girls' Youth National Team that competed for the FIVB World Championship played in Thailand last year. She also participated in the U-20 tournament in the Czech Republic. If we've done our conversions correctly, she is listed at 5-10 — but we don't know if that's current or accurate. She was quoted in the article below as saying that she is "very happy with this opportunity and ready to enter a new phase of my life." Wilma will graduate from St. Francis Academy in May 2015. She joins an impressive list of Puerto Rican athletes who have played for Penn State, including Ramón 'Monchito' Hernández, Javier Gaspar, Edgardo Goas, Carlos Ortiz, Dennis Del Valle, Guillermo Silva, and Jorge Pérez, among others. Welcome Wilma! Below is a photo of Wilmarie signing her letter of intent, along with the full Spanish language version of the article from which we cribbed this story: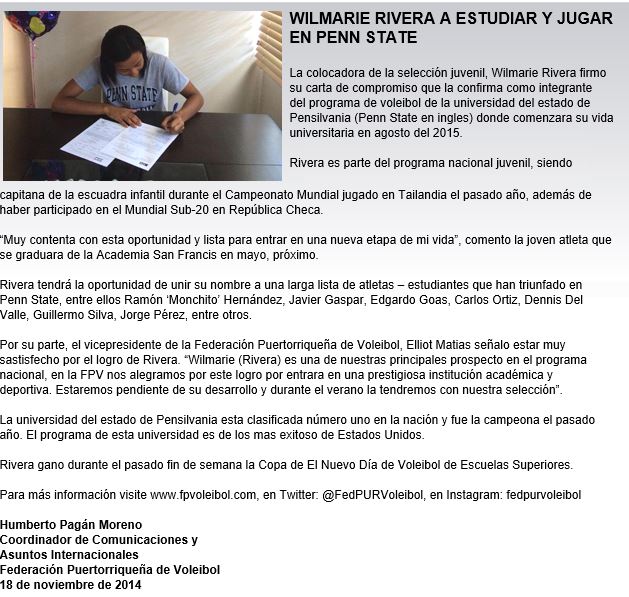 Video Jukebox
Here's a short video of Wilmarie — seems like a genuinely nice young person: Here's a video of the Poland vs. Puerto Rico match at the Girls Under-18 World Championship in 2013: And here's a video of Wilmarie (in red shirt — #11) playing for Puerto Rico against the Dominican Republic in the 2013 Pan Am Cup:
Wilmarie's biography from the FIVB website
Puerto Rican Team Roster
Here's the roster from the Puerto Rican Girls' National Team, where Wilmarie was a teammate of, among others, Minnesota's Daly Santana and Dalianliz Rosado:
PUR / Puerto Rico – Team Composition
| | |
| --- | --- |
| Team manager | Rigel Colon |
| Head coach | Eric Gonzalez |
| Assistant coach | Jose Barcelo |
| Doctor | |
| Therapist / trainer | Katherine Carrion |
| Journalist | |
| | | | | | | | | | | | | | |
| --- | --- | --- | --- | --- | --- | --- | --- | --- | --- | --- | --- | --- | --- |
| | | No. | | | Name | Last name | Shirt Name | Birthdate | Height | Weight | Spike | Block | Club |
| | C | 1 | | | Daly | Santana | Santana | 19.02.1995 | 185 | 65 | 300 | 274 | National Team |
| | | 2 | | | Pilar Marie | Victoria | Victoria | 11.10.1995 | 182 | 53 | 301 | 268 | National Team |
| | | 3 | | | Kanisha | Jimenez | Jimenez | 28.11.1995 | 185 | 56 | 295 | 291 | National Team |
| | | 4 | | | Dalianliz | Rosado | Rosado | 17.11.1995 | 170 | 56 | 298 | 292 | National Team |
| | | 5 | | | Lucia | Castro | Castro | 06.06.1994 | 185 | 63 | 302 | 297 | National Team |
| | | 6 | | | Lorena | Marquez | Marquez | 05.02.1994 | 183 | 61 | 270 | 268 | National Team |
| | | 7 | | | Dianise | Rodriguez | Rodriguez | 14.06.1995 | 174 | 50 | 283 | 268 | National Team |
| | | 8 | | | Stephanie | Massanet | Massanet | 14.10.1994 | 189 | 69 | 296 | 279 | National Team |
| | | 9 | | | Wendy | Flores | Flores | 28.04.1994 | 185 | 81 | 294 | 288 | National Team |
| | | 10 | | | Jizzyan | Gesualdo | Gesualdo | 19.07.1994 | 189 | 74 | 277 | 271 | Ponce |
| | | 11 | | | Wilmarie | Rivera | Rivera | 14.02.1997 | 178 | 58 | 294 | 288 | National Team |
| | | 12 | | | Genesis | Miranda | Miranda | 05.06.1996 | 180 | 56 | 288 | 283 | National Team |
| | | 13 | | | Joscelyn | Coronel | Coronel | 02.01.1998 | 185 | 63 | 302 | 297 | National Team |
| | | 14 | | | Ana Sofia | Jusino | Jusino | 05.01.1994 | 189 | 65 | 310 | 294 | National Team |
| | | 15 | | | Katia | Sanchez | Sanchez | 29.11.1995 | 68 | 194 | 306 | 299 | National Team |
| | | 16 | | | Joahnie | Astacio | Astacio | 06.09.1995 | 182 | 76 | 289 | 282 | National Team |
| | | 17 | | | Alba | Hernandez | Hernandez | 03.10.1994 | 207 | 87 | 305 | 293 | National Team |
| | | 18 | | | Gabriela | Varela | Varela | 26.02.1995 | 182 | 62 | 288 | 282 | National Team |
C=Captain L=Libero