We're speaking today with Talking Head, who played D1 volleyball and has coached the sport for many years, for a recap of the Stanford match and thoughts about what we can look forward to for the 2019 season.

DigNittany: Penn State performed better in the Regional Final against Stanford than they did at the start of the season, when they were swept 25-23, 25-20, 25-20, but that was to be expected given that the first encounter was the third match of the season for a freshman-laden team.  In the Regional Final, Penn State just seemed to run out of gas.  Do you think Stanford's 6′-6″ duo of two-time AVCA National Player of the Year Kathryn Plummer and 2nd-Team AVCA All-American Audriana Fitzmorris, and the rest of Stanford's talented team, just wore the Nittany Lions down?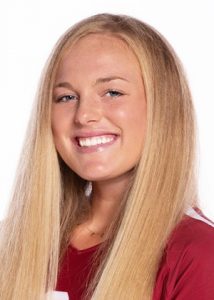 Talking Head: I think that Stanford had an engine that just needed to get started, but once it got going late in the second set, Penn State just couldn't match that.  I don't think that if Penn State played its best, and Stanford played its best, that Penn State was going to be able to hold them off.  We clearly started well, everything was firing, and we looked really confident, and we took the first set 25-18.  But in the second set, with Penn State leading 16-11, Plummer got a kill, then Stanford's two-time 1st-Team All-America setter Jenna Gray recorded back-to-back service aces.  It was like Stanford shifted into another gear.  From then on, the Cardinal slowly fought its way back, taking the lead at 23-22, and winning the set 25-23 — fittingly, on a kill by Plummer.
DigNittany: In his post-match press conference, Stanford Coach Kevin Hambly said that as the match wore on, Jenna Gray had adjusted her sets to help Plummer and the other Stanford hitters find the seams against the Penn State block — which had been very effective in the first set and through three quarters of the second set.
Talking Head: That sounds right.  Good coaches — and Hambly is a good coach — work with setters during a match to make adjustments to who do you want to attack, where do you want to attack them.  It's pretty evident it worked, because Stanford was finding the floor — they weren't finding shanked arms, they were finding the floor.  How do we know that?  Well, after four games Kendall White only had 11 digs.  When does Kendall White only have 11 digs in a match in which she played well?  Kendall was playing well, but Stanford was simply hitting the ball to where she wasn't.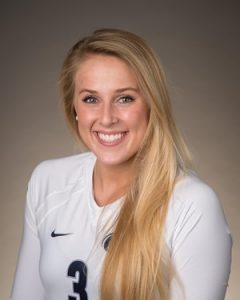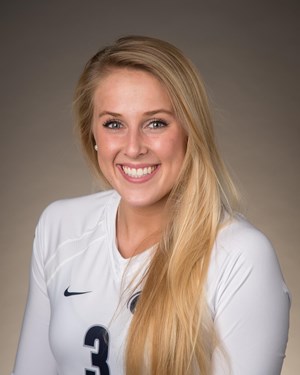 DigNittany: Speaking of Kendall White, Coach Hambly also said he thought she is a great player, and covers more court than anyone on the Stanford team.  (He didn't say she covered more territory than anyone on the Stanford team would be able to cover, if asked).
Talking Head:  I think Coach Hambly's assessment is spot-on.  I think Stanford is a bigger blocking team than Penn State.  I think they take more surface area.  Their libero — Morgan Hentz — is traditionally playing out of the "5" (left back), so she has a smaller area to cover.  She's fast — I don't know if there's anyone in the country who is faster than her.  And not only is she fast, but she plays the ball in control at that speed.
Kendall shifted a lot to the "6" position (middle back) this year. That is a really difficult place to play, especially for a person who is 5'5″.  But with Kendall's explosiveness and strength in her legs, she's been able to lay out and pick up a lot of balls — the most in her Penn State career.  With two freshman middles and a freshman starting at rightside for Penn State this season, there were times when their inexperience showed and there were big holes in the block for opponents to hit through.  Because Penn State had a player like Kendall White (and freshman DS Jenna Hampton too — she doesn't get as much credit as she deserves), they were able to keep a lot of plays alive.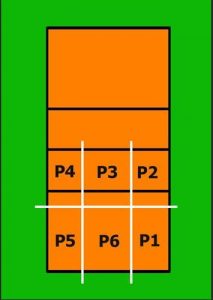 Penn State knew it might not consistently be a great blocking team and the back row players would have to dig a lot of balls.  In baseball, the best, fastest outfielder plays in center field. Playing out of the "6," Kendall was like a center fielder, ready to dive into a seam to keep the play alive.  She is incredibly astute at reading plays before they happen.  In my opinion, there was no other player in the country that was asked to fill the role Kendall filled, and able to fill that role.  She deserved her 1st Team AVCA All-American honor.
DigNittany: Looking ahead to the 2019 season.  Penn State is losing three very important players in starting setter Bryanna Weiskircher, and both starting OHs in Nia Reed and Taylor Leath.  Bryanna provided senior leadership to a very young squad, Nia was the most powerful pin hitter for Penn State, and Taylor Leath added ball control as a six-rotation player and maturity and leadership as a fifth-year graduate student.  All the other players who saw significant playing time will return.  How important were those graduating players to the team this season?
Talking Head: I've watched those three graduating players a lot over the years.  They gave a lot to the program during their careers, they are all wonderful kids with very supportive families.  They all stuck to it as fifth year players — I don't think fans realize how hard it is to still have the energy and still have the drive when all your buds from your freshman class have graduated, and you're on your own with a bunch of freshmen (and I mean no disrespect to the Penn State freshman class — they are great, and will be even better in the future).  But they were all excellent teammates, including DS Bayleigh Hoffman, who transferred in for her senior season and performed well in a more limited role.  They all really helped the freshmen adjust and thrive this season.  I wish all four graduating seniors the best in their future endeavors.
DigNittany: Your thoughts on the outlook for 2019?

Talking Head: You can lay money that every one of the players who are coming back next year is going to be better than they were this year. [see 2019 roster at the end of this Q&A] How do I know that?  Because, in my opinion, we have the best staff in the country.  And I would ask anyone who reads this Q&A to go back and watch and listen to Jonni Parker in the post-Stanford match press conference.   Look at her, watch her body language, and listen to the words that come out of her mouth after what was almost certainly the single toughest loss of her career.  I don't see how anyone, after doing that, will not be impressed.  And if you're a Penn State fan, I don't see how you can't be excited for the future and where this kid is going to be, for the type of leadership she is showing already as a freshman, for the type of drive that comes through in that interview — she apologizes to the seniors for letting them down; think about that for a moment!  Each of you should ask yourself: when you were 18, would you be able to say what that kid said  in that setting after that kind of a crushing defeat?
For me, Jonni Parker is just so driven, and so smart, and so thoughtful about what she wants to do with her career.  Jonni Parker gets it.  And she is a huge, huge get for Penn State University — not just as an athlete, but because of her potential to have a real impact 10 years from now and beyond.  She's the kind of kid that makes me proud to be a Penn State Nittany Lion.  But the freshman class is more than just Jonni Parker — it was the #1-rated freshman class for a reason, and this entire freshman class gets it.  I have to believe that the coaching staff is excited with their potential.  Personally, I think they're going to be really, really good.
DigNittany: Thanks, as always, for your time.  We really appreciate it.
(Updated 8-30-2019)
Number
Name
Position
Year/Class
Height
HS
(Club)
State
1
Clark,
Lauren

OH
1/Fr.
6-00
Champlin Park
(Crossfire
Volleyball)
MN

2

Sciorra, Emily



DS
4/Sr.
5-04
Chantilly
(Metropolitan
Volleyball
Club - DC)
VA

3

White, Kendall



L
4/Sr.
5-05
Cathedral
(Munciana)
IN

4
Bailey,
Gabi

OH
1/Fr.
6-01
Lawrence
Academy
(SMASH)
MA

5
Ferguson,
Sydney

OH
1/Fr.
6-03
North Stafford
(Virginia
Juniors)
VA

6
Walls,
Sophie

S
2/So.
5-11
The Woodlands
(Houston
Skyline)
TX

7
Phegley,
Amanda
RS
2/So.
6-04
Berkeley Prep
(Gainesville Juniors)
FL

8
Hill,
Brooklynn
DS/L
2/So.
5-08
Rancho
Cucamonga
(San Gabriel
Elite)
CA

9

Parker, Jonni

RS/OH/S
2/So.
6-00
Miami East
(Munciana)
OH

11
Gorrell,
Tori
OH/RS/MB
4/Sr.
(RS)
6-02
Abbey Park
(Leaside
Volleyball)
Ontario,
Canada

12

Holcomb, Keeton



DS
4/Sr.
5-07
Bellville
(Houston
Juniors)
TX
13

Blossom, Gabby

S
2/So.
5-09
St. Joseph's
Academy
(St. Louis CYC)
MO

14
Krause,
Kristin

DS/S
3/Jr.
(RS)
5-07
Parkland
(East Coast
Power)
PA

15
Hampton,
Jenna

DS/L
2/So.
5-07
Berkeley Prep
(OTVA)
FL

16
Gray,
Serena

MB
2/So.
6-02
Temple City
(San Gabriel
Elite)
CA

17
Russell,
Molly

DS/L
1/Fr.
5-10
Naperville North
(First
Alliance)
IL

19
Oerther,
Emily

S/OH
1/Fr.
5-10
The First
Academy

FL

21
Peed,
Macall

DS/L
1/Fr.
5-07
Torrey Pines
(Coast
Volleyball)
CA

22

Cathey, Allyson




OH
2/So.
6-01
New Albany
(Lexington
United)
IN

23
Hord,
Kaitlyn

MB
2/So.
6-04
Henry Clay
(Lexington
United)
KY