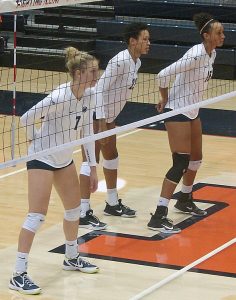 Earlier this week, Talking Head, who played D1 volleyball and has coached the sport for years, spoke with DigNittany about Penn State and its upcoming opponents, Ohio State and Maryland.  Below are his comments:
DigNittany: Penn State played two tough Big Ten opponents last weekend in Illinois and Northwestern, and have a challenging weekend coming up, with matches at Ohio State tonight, and at Maryland on Saturday.  What's your take on the team?  Has the Big Ten surprised you so far?
Talking Head: Well, I'm proud of one of my predictions, and that was about Minnesota, but I guess I got it totally wrong with Nebraska.  I thought we were in a better place than they were.  But I don't think you can put that loss on any one thing.  I think the true answer is that we were beaten by a team that was better that night.  They were better than us in every aspect of the game, and that's the way it goes sometimes.  I think everyone in the Penn State program agrees that they want to make sure that they're the best team at the end of the year.  A game like the Nebraska match — maybe a wake-up call? — really won't determine whether that happens.  Winning in five against Texas A&M, and winning in five against Stanford, those are positives.  You take the good with the bad, and right now the overall good far outweighs the bad this year.
DigNittany: Even with the loss, Penn State was ranked #1 in the first week's RPI [we know, we know, early days].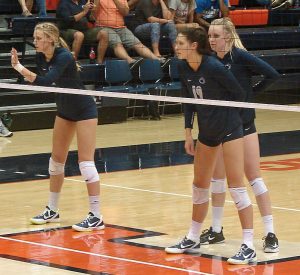 Talking Head:  There have been years when we had a much lower RPI, and we won.  The only thing you can control is who wins the next point.  One take-away from all four Big Ten matches is that we can't play against a team that's pretty good and play "just OK" and expect to win.  We've got to play well.  There may have been Penn State teams in the past that have gotten away with playing "just OK," but this year's team has to play well.
DigNittany: Last season, Penn State went 1-1 against Maryland and Ohio State on the road.  Although they won against the Terps, they dropped the first set, and it was a tough match for the Nittany Lions.  They followed that with a loss to Ohio State in five sets.  Your thoughts on the matchups against Ohio State and Maryland this weekend.
Talking Head: Putting last year's loss aside, we historically have played well against Ohio State.  Sure, that doesn't mean we will tonight (as it didn't last season), we just seem to play really well against the Buckeyes and I think we will tonight.  Maryland worries me a bit because we'll be playing against a coaching staff with Penn State ties — head coach Steve Aird as an assistant at Penn State, assistant coach Adam Hughes as the Director of Volleyball operations at Penn State, and Kristin Carpenter as a player, all of them with experience on National Championship teams at Penn State.  The match last season against Maryland wasn't pretty.  I think expectations at Maryland are pretty high this season — they brought in their second highly-rated recruiting class in a row.  But I think the team has made some mental adjustments, which showed against Illinois and Northwestern.  They were able to put together nice runs in almost every game they played.  There were a couple times in both matches where it was really close, or we were down, and our players didn't look rattled.  Heidi Thelen looked comfortable; Tori Gorrell looked highly-motivated.  When you're getting good production from those players, in addition to Washington, Lee, Frantti and Detering, it really adds to the energy of the team.
DigNittany: Coach Rose has noted that the serving improved last weekend compared to the previous weekend against Nebraska and Iowa.  What are some factors that play into that kind of improvement?
Talking Head: Sometimes your serving goes with your passing — when you're passing better, and siding out at a high rate, it can give your servers a bit more confidence to take more risks.  Whether that's conscious or not, I think it often is the case.  Against Nebraska we were not siding out right away, and I think that made their serving that much better.  Against Illinois and Northwestern, we were passing better and siding out well, and I think that made a difference in our serving.  It can really be that psychological.
DigNittany: Penn State goes into this weekend #3 in the AVCA poll, #3 in the B1G, and #1 in NCAA RPI.  Bottom line, your feeling about the season to-date?
Talking Head: I think you should never be complacent, but I think as Penn State fans we should be pretty darn happy about where this program is.  I think Penn State has as much of a shot to win the NCAA title as any other team.
DigNittany: Thanks again, as always.  Much appreciated.  Talk with you soon.