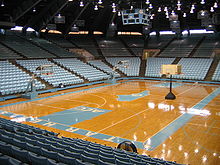 Penn State made it two in a row in the Carolina Classic, sweeping Villanova 25-19, 25-11, and 25-10. Freshman Deja McClendon (fwiw, the writeup on gopsusports incorrectly lists Deja as being from Ridgewood N.J.; Deja is from Louisville Kentucky; Ariel Scott is from Ridgewood NJ), led the Nittany Lions with 13 kills, with a .414 hitting percentage, followed by Senior Blair Brown , with eight kills. Sophomore Kristin Carpenter started at setter and finished with 25 assists and six digs.
After the luxury of watching the North Carolina match on an All Access Webcast, it was a bit of a letdown to be limited to 8/28 vs. Villanova: GameTracker — it's nice when it works (it works for me most of the time; apparently that's not the case for many, as the mere mention of GameTracker in some internet circles lets loose a torrent of frustration), but those animations leave a bit to the imagination.
From the stats, Penn State appeared to have an easier time (as it should have) against Villanova than it did against North Carolina. Or maybe the Nittany Lions simply played better. Again from the stats, it looks like Deja McClendon and Blair Brown stepped it up. But, as I'm certain Coach Rose would point out, there are many important aspects of the game that may not show up in the statistics — like communication, organization, and decision-making. It's nice that Raleigh, North Carolina native Katie Slay got in the match.
For a write-up of the match from gopsusports, Click Here.
For a write-up of the match from The Collegian Online, Click Here
For final statics from the match, Click Here.