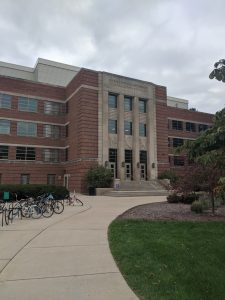 We had a chance to speak with Penn State Women's Volleyball Head Coach, Russ Rose, after the Nittany Lions' 3-0 win over the Spartans in Jenison Field House, after trailing in the first set by 21-14.  Below is a transcript of that interview, lightly edited to clarity:
DigNittany: What's your overall take on today's match?
Coach Rose: It was nice to come back in the first game.  We weren't real sharp at the beginning of the game, but we hung in there and got some opportunities.  We extended the game long enough and came back and won the game.  Then I thought we picked it up a lot in the second and third games.
DigNittany: Kendall White had a very good match, tying her career high for service aces with four.  What can you tell us about her play today and the performance of the other backcourt players?
Coach Rose: I thought we had a lot of good service pressure.  I thought we served really well and passed well.  We had a few problems early in the match, but I thought we settled down late and controlled the ball.  I thought Gabby Blossom did a nice job controlling the ball.  It's always good to get a win on the road.
DigNittany: You subbed in Macall Peed for Jonni Parker to serve near the end of the first set.  She certainly came through, with an ace.  Can you tell us about the thinking behind that move?
Coach Rose: That was Katie's suggestion [assistant coach Katie Schumacher Cawley).  Katie said "Macall's been serving really well, and so we put her in.  Macall came in and did a great job.
DigNittany: Thanks very much for your time.  We appreciate it.