No. 10 Penn State women's volleyball was swept by No. 19 Ohio State 3-0 (18-25, 20-25, 23-25) Wednesday evening at Rec Hall.
After pulling off a reverse sweep of the Nittany Lions on February 17 in Columbus, Ohio State took the season series thanks in part to standout performances from Mac Podraza and Emily Londot, who had a match-high 44 assists and 13 kills, respectively. It was Ohio State's first win at Rec Hall since 2004.
Serena Gray went through pregame warmups before changing into a sweatshirt prior to the match, so freshman Allie Holland made her first career start at middle blocker in Gray's absence. Holland was outstanding with eight kills and zero attack errors. Her .615 hitting percentage led the Nittany Lions by a wide margin Wednesday night.
Anastasiya Kudryashova and AC Fitzpatrick were the lone Nittany Lions to finish with double-digit kills, tallying 11 and 10 in the loss. Kaitlyn Hord added six kills and three blocks, while Jonni Parker had five kills and five digs against the Buckeyes, who remained undefeated at 12-0. Gabby Blossom had 28 assists and a team-high eight digs, while junior libero Jenna Hampton posted six digs and five assists.
Ohio State volunteer assistant coach and former Penn State All-American Nicole Fawcett received a loud round of applause from the small crowd of players' families in attendance. Ohio State outhit the Nittany Lions .380 to .275 and had twice as many aces and half as many service errors as Penn State. The Buckeyes also had 13 more digs and their passing was clearly more polished.
The Nittany Lions (4-4) have a chance to get back in the win column this weekend when they host No. 11 Purdue (8-4) for an important pair of matches Friday and Saturday at Rec Hall. The Boilermakers swept Indiana twice this past week.
Russ Rose's opening statement:
"Well, I mean, it was a very disappointing match on our side. I didn't think we were very good from the first whistle to the last whistle. We had maybe one or two times, a little in the first game and a little in the third game, where I thought we looked like we were playing a game that resembled what we spent time on during the last couple of weeks. That's a real disappointment. A lot of that falls on me as a coach. I'm disappointed in the effort that we put out on the floor today. I thought Allie played well and AC played well at the net and, you know, that probably was about it. I didn't think we got much of a performance from a lot of our older players. I was a little disappointed that they didn't come a little better prepared to compete tonight."
Q: What impressed you the most from AC Fitzpatrick and Allie Holland tonight?
"AC always has a lot of energy. She did a lot better job at the net this time than she did last time against Ohio State. I thought she struggled a lot more at the net [the first match] against Ohio State. She still made a lot of errors from the end line serving. She missed a serve at 21-21, then had a bad pass right after that, and got aced for game point in the second game, but she's a freshman. It's on the older players, in my mind, to try and prevent it from being on her late in the game like that. I thought she did a real nice job, at least, taking swings at the net. I thought Allie did a nice job. She scored well. She hit .600 and had a couple blocks. That was a nice performance for her. She's a freshman. We needed her to go in and play today and I thought she did a nice job and represented herself well."
Q: What are you going to try and take from today's game in the short amount of time that you have before this weekend's matches?
"We're certainly not going to expect to reinvent the wheel. This was the worst effort we had in the matches we played to date. I think one of the things in a situation like that is when you get your butt kicked on the floor, there's no reason to kick their butt anymore than that. You just go into practice tomorrow and see if you can get a little bit better and play Purdue, which is one of the top teams in the conference. I think we're going to have to play way better just to be competitive based on how we finished the match today."
Q: What in particular makes Ohio State such a tough team to play against this season?
"I think they're real relaxed. They're low-error. They keep the ball in play. Londot is a really fine offensive player. The setter does a nice job. They hit close to .400 against us tonight. Every time they got a controlled ball, they just got it in the middle. The middles throw the ball around and if you're not good on the wings to pop it up, they're going to score a lot of points. I thought they did a nice job. One of our plans was to get the ball on the setter, and she had six digs in three games. That would certainly be an indication that we didn't do a very good job of executing in that area."
Q: How awkward was it for the team to have last weekend's matches against Maryland postponed and then try and turn around and prepare for tonight?
"We were playing a lot better right after Indiana and I thought we practiced well in preparation for Maryland. I thought we were doing a lot better. I think emotionally it kind of took a little bit out of the players, but that's no excuse because it's on the schedule. You need to be ready to play and we weren't ready to play. Again, that's on me and the staff for not having the players ready to play. It's the same for everybody. You've got to play. Making up matches, I'm not sure the value of necessarily doing that, but playing the matches that are on your schedule, you need to be ready to play."
Allie Holland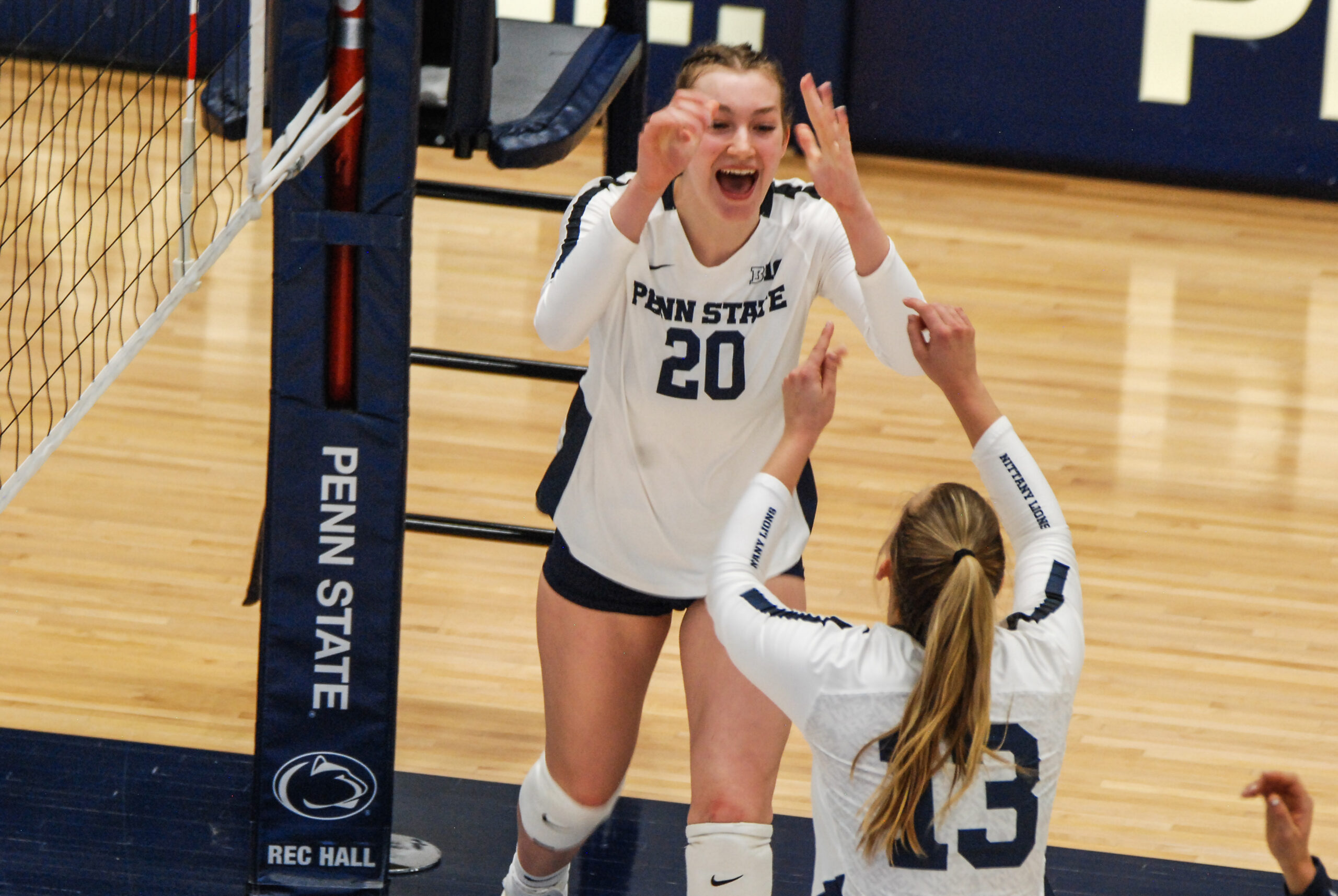 Q: Looking forward to this weekend's matches against Purdue, what do you have to be prepared for facing this new opponent?
"After a disappointing night, we're definitely going to practice tomorrow and get our heads right, recover if we need recovery if we're hurting at all, and really just come together as a team and try and turn this around. Tomorrow, we've got to take it seriously. We've got to get ready, because Purdue's a good team. I think just getting our minds right and recovering if we're in any sort of pain at all, then just really getting ready to turn it around."
Q: Do you think the extended break that you had in between matches had any affect on the team's play tonight?
"We were all really excited to go play Maryland. I thought we had a good week of practice. We were ready and prepared. There are no excuses for how we played tonight. I think that the break did mentally affect us a little bit, but I don't think that's an excuse that we can use for how we came out tonight. Obviously, we were disappointed we didn't get to play, but we had a chance to play tonight, so we've got to come back to practice tomorrow and get ready for this weekend."
Q: How did it feel to get the start tonight and rack up eight kills and a .600 hitting percentage?
"It was very exciting. Obviously, the game was a little disappointing. I had a little nervous energy going on, but I'm learning from the best, Serena and Kait. I mean, I've been their biggest fan since I was 15 years old. It's an honor to play here and to play with those girls. I'm ready to get back this weekend."
Q: What's the biggest adjustment you think you need to make to your game right now?
"I think I've got to get up in transition more. I'm feeling good on serve-receive and in my blocking, but just get confident and get up in transition, and then also just keep the energy going. When we're struggling, we've just got to keep the positive energy going to hopefully turn it around for this weekend."