No. 8 Penn State women's volleyball swept Indiana 3-0 (25-15, 25-21, 25-22) Saturday night at Rec Hall thanks to a balanced performance from the team's offense.
Jonni Parker's match-high 17 kills led a group of three Nittany Lions, including Anastasiya Kudryashova (14) and AC Fitzpatrick (10), who posted double-digit kills against the Hoosiers. Kudryashova and Fitzpatrick were both incredibly efficient with only two attack errors apiece.
The Nittany Lions hit above .400 the first two sets before cooling off a touch in the final frame. Gabby Blossom had a match-high 32 assists, nine digs, two kills, and two of Penn State's five service aces. Serena Gray paced Penn State's defense with four total blocks, but was held to just two kills on nine swings.
Freshman middle blocker Allie Holland made her Penn State debut in the win, tallying four kills, two total blocks, and an ace. The Hilliard, Ohio, native hit .444 with zero attack errors and provided a boost of energy off the bench. Like Gray, Kaitlyn Hord didn't take nearly as many swings as she usually does, finishing with three kills on five attempts.
Fitzpatrick, Blossom, and junior libero Jenna Hampton led Penn State with nine digs apiece, while Parker added eight of her own. Indiana's offense looked better than it did Friday night, but the Hoosiers still hit .170 and were only able to muster one ace against Penn State's serve-receive.
The Nittany Lions (4-3) will rest up before traveling to College Park next weekend for a pair of matches against Maryland (1-9) Saturday and Sunday. The Terrapins split their road series with Michigan this weekend, going five sets in both matches.
Russ Rose's opening statement:
"It's good to get through the week. An eight-day period playing five matches was really challenging. I thought the players were really cranked up. I'm pleased we won and I'm concerned that we have to be really sensitive about making sure we don't get ourselves involved in another scheduling situation like that. I thought we hit the ball well. I thought our serving was disappointing two nights in a row, but I thought the hitting was good. I thought Jonni had a really good night offensively again and I thought Nasta had a really strong evening tonight."
Q: How would you assess Allie Holland's performance tonight?
"I thought Allie came in and did a real nice job. She had a couple of blocks, she hit .400, and had a couple of good serves. We have three middles and two of them are hurt. When that happens, you have to have other people step up. That's one of the challenges with playing, but I was really pleased. I thought Allie did a nice job. She's got good enthusiasm. She's got a nice, strong frame. She works hard in practice. She's alert."
Q: After the loss on Wednesday to Ohio State, how did that match impact the mindset of not only you but the players on the team? How were you able to keep a positive outlook for this weekend?
"I'm not sure I would say I qualify for keeping a positive outlook. I'm not sure that's one of the things I sign on that list. I want to keep the heat on people and have them working hard all the time. Certainly losing was a disappointment, but I think Ohio State played well. I think part of a long season are the learning experiences. I was disappointed more so in the older players thinking that they should have made a bigger impact in the match than they did, but I never take anything away from the other team. I think everybody cares. In sports, you have an opportunity to demonstrate how much you care. You don't have a lot of practice time when you play five matches in a week, so you combine a number of factors. To get through the week at the end with a couple of wins, we'll take that. We'll try and get healthier and try and get better. That's kind of been one of the things that we've had on our mind since we were cleared to start playing."
Q: With so many matches in such a short period of time, how strange was it for you and your team and how do you think they handled it?
"We were ready to play the first match of the season and we got shut down. We literally were packed and ready to go play at Michigan the first weekend and that didn't happen. There are some highs and lows associated with that. I think the players may be better suited to talk about that. I heard John Calipari talking today and he was just saying that all the coaches that he talks to and his staff, they're exhausted because there are just so many moving parts. You're not just trying to coach your team. You're trying to deal with all of the things that COVID has brought into everybody's lives. You're trying to keep everybody healthy and you're trying to keep all the rules in play and still try to keep your program relevant. There are just so many things. There are a lot of things that are unknown that are involved, so I think the players are doing the best they can. We just have to keep battling and do our best. When you get a weekend where you get a couple of victories, you have to feel very fortunate. I hope that we can build some momentum, get healthy, and see where it takes us."
Gabby Blossom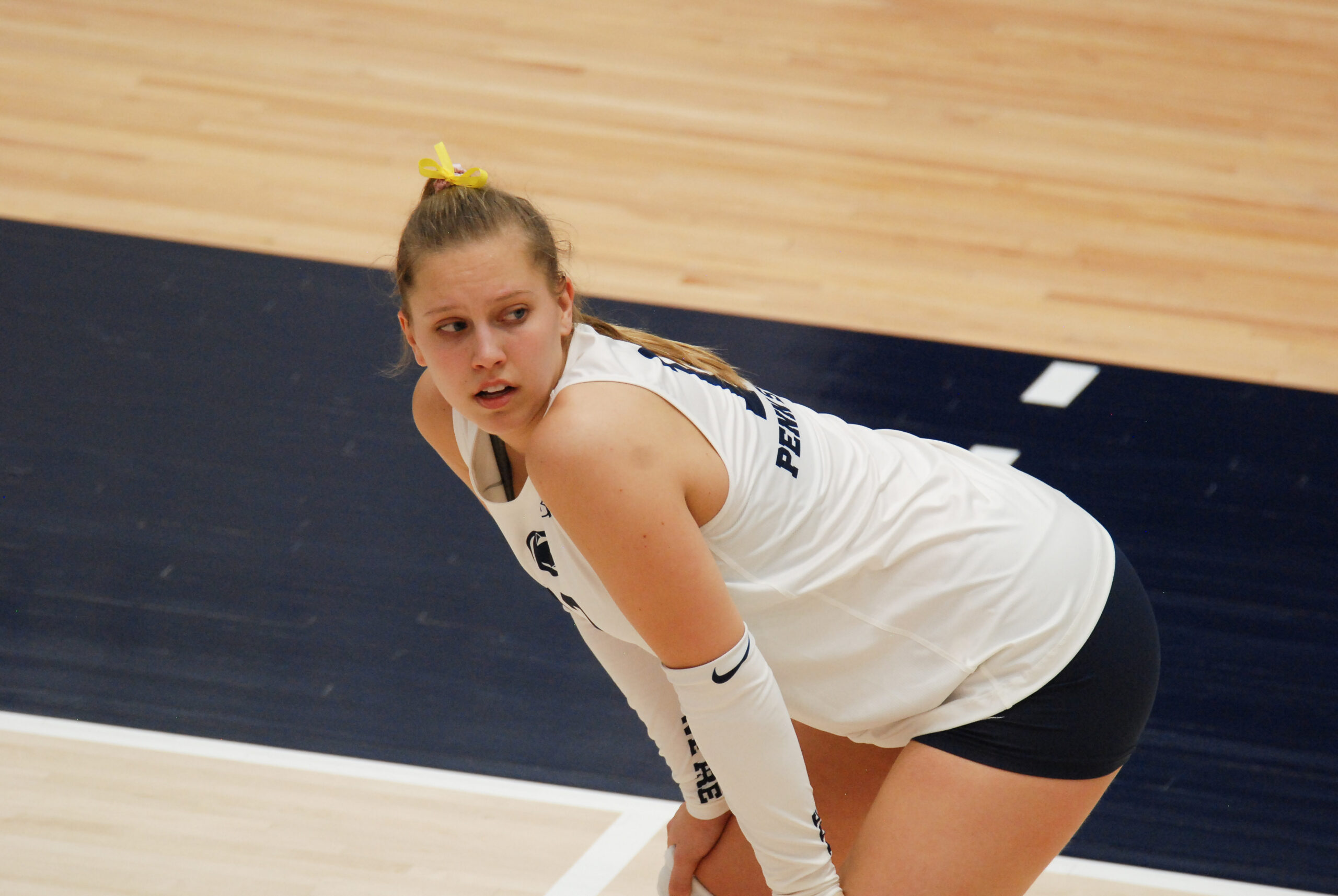 Q: How do you like the new jerseys?
"They were definitely an adjustment. We're really lucky that we're one of the teams that get to wear them this year. We've never had the sleeves before. I know a lot of teams normally wear them. We wore them today at practice. It's definitely fun to have a new look."
Q: Is there anyone in the locker room you could pick out and give a reason why they stepped up and were able to help you out this weekend?
"Coach's point is he wants to win every game. That's why we came to Penn State. Everyone in the locker room wants to compete and we want to win. That's just Penn State volleyball. I don't know if I can pick out individual people, but I think the team as a whole, we knew we didn't play our best. We knew Ohio State was really good that night. We didn't rise to the occasion when we could have. It was just us coming together in the locker room and saying, 'It's okay. It's early in the season. We have to move past it.' Coach always says, 'You can't let a loss beat you twice.' I think that was just kind of our mindset. We're lucky enough we get to play in two days instead of waiting a whole week until we get to play again. It was just us helping each other through it and helping each other out with different things we needed to work on to be better in a short amount of time."
Q: How strange was it for the team to play so many matches in a short period of time and what do you think was the key to staying together and staying focused?
"It's definitely different, because we're not used to playing so many games in a week. I think we're just really excited at any opportunity we get to play. With COVID, it was a long time before we got to play our first match of this season. I think, player-wise, it's just still the excitement of playing and getting to battle and getting as many games in as we can. We're just really lucky and excited for that."
Q: How would you assess Allie Holland's performance tonight?
"Allie's awesome. She came in and was really good for us when we needed her to be. Like coach mentioned earlier, she had a ton of really big blocks for us at key moments. She has great energy. As a setter, she is a middle who's always up and ready for the ball, talking, and letting me know she's there. For her first match, I think she was amazing. I give her so much credit for that win. She's definitely a really good volleyball player and an even better teammate."
Q: What are some things that AC Fitzpatrick does particularly well on the defensive end?
"She's a good blocker. She gets us good touches at the net and talks defensively. In the back row, she just reads really well and she's really quick, so she can chase balls down. She talks. I think, for a freshman, she comes in and just does an incredible job. She's asked to do a lot being a six-rotation outside. That's not easy. For her to come in her freshman year and own it and just be really good is really impressive. Again, she's another kid who has great energy and is a really good teammate. She's talking and asking for the ball and that's really all you can ask for. Her energy is one of her best things. Defensively, just the way she moves to get to the ball and the way she talks is a huge asset for our team on the floor."
Anastasiya Kudryashova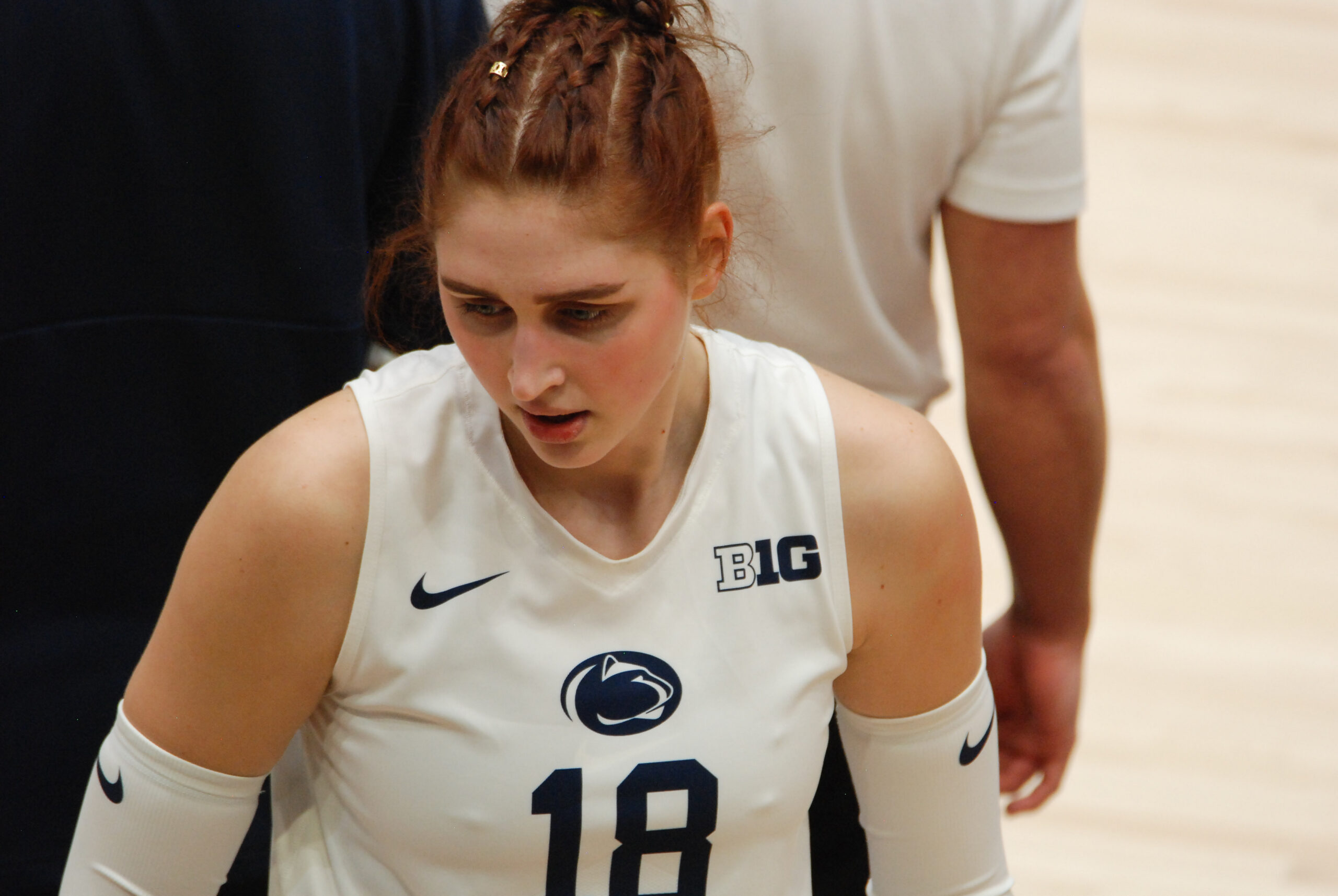 Q: What was the team's reaction to the new jerseys today?
"As Gabby said, we just had to get used to it. There were a lot of concerns about how comfortable it was going to be in the new jerseys, but we got used to it. I think we like it right now."
Q: What do you think was different this series that might have been lacking the last few matches?
"I think the last three matches that we lost, we kind of got relaxed after sets that we won. We remembered that we're in the Big Ten and all the teams are so good. You cannot let yourself relax. You have to always stay focused, stay really aggressive at the net, and just mentally stay more aggressive."
Q: Can you take us back to how you made it to Penn State from Rutgers?
"I think it was 2019 when I decided to transfer. It was not because of the team, it was because of the university I guess. I couldn't major in journalism as I wanted, so I just went into the portal in December. It was December 12. On December 26, Katie [Schumacher-Cawley], our assistant coach, she reached out to me and that's how I got to Penn State."
Q: What do you like most about playing with your new teammates?
"They're just great people. I cannot think of a person who's not working 100 percent. Whenever we go to practice, everyone is working 100 percent. It's so easy to work with them. The communication on the team, the effort, everything. This is the best part — when your teammates work as hard as you. It's so easy to trust them and to work out together and show a great result."