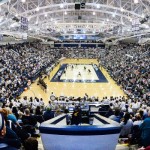 We'd love to see Rec Hall packed for every single Penn State Women's Volleyball match this season, but for those who can't make it to some of the matches, there's good news: you'll be able to watch the Nittany Lions a lot this season, either on TV or via streaming video.  The details from GoPSUsports are in the story that follows:
August 17, 2015, UNIVERSITY PARK, Pa. — In addition to six TV appearances, Nittany Lion women's volleyball fans will have the opportunity to catch the back-to-back NCAA national champions streaming live on BTN Plus during the 2015 season.

A total of 10 PSU home matches will be streamed online via BTN Plus, as well as an additional eight away matches. In total, Nittany Lion fans will have the opportunity to watch all Penn State Big Ten matchups this season either on BTN Plus or live on the Big Ten Network.

BTN Plus is a paid subscription package, available on BTN2go.com, featuring non-televised matches as well as Student U productions produced by participating Big Ten programs. BTN Plus subscriptions do not require BTN TV subscriptions with a television provider. Pricing for subscriptions is available here.

Penn State's five matches set to air live on BTN (Stanford 9/5, Wisconsin 9/23, Nebraska 9/26, Illinois 10/9, Michigan 10/21) will be available online at BTN2go.com free of charge. PSU's ESPNU match at Ohio State Wednesday, Oct. 28 will also be available on BTN Plus.

For the complete release from GoPSUsports.com, Click Here.
Below is the complete 2015 schedule for the Penn State Women's Volleyball team, including listing for all media coverage (TV, BTN2Go/BTN Plus, and GameTracker):
2015 Pre-B
1G

Schedule (Click Images for More Info)
Date (Time)
Opponent
Site

Media
2014
Record
Friday 8-28-15
(7:00 p.m. ET)

Penn State
Classic

Buffalo

Rec Hall
Univ. Park,
PA

No TV










17-15
(6-10
in MAC)
8-29-15
(1:00 p.m. ET)

Penn State
Classic

Stony
Brook

Rec Hall
Univ. Park,
PA

No TV






17-15
(7-5 in
America
East)
8-29-15
(7:00 p.m. ET)

Penn State
Classic

Villanova

Rec Hall
Univ. Park,
PA

No TV




13-20
(6-12 in
Big East)
9-4-15
(7:30 p.m. ET)

B

1G

/Pac-12
Challenge


Colorado

Rec Hall
Univ. Park,
PA

No TV






20-14
(11-9 in
Pac-12
#21 AVCA
Poll)

9-5-15
(8:00 p.m. ET)

B

1G

/Pac-12
Challenge


Stanford

Rec Hall
Univ. Park,
PA
TV -
BTN



33-2
(19-1 in
Pac-12;
#2 AVCA
Poll)
9-11-15
(4:30 p.m. ET)

Golden Dome
Invitational

Eastern
Kentucky


Purcell
Pavilion

No TV






21-14
(11-5 in
Ohio Valley
Conference)
9-12-15
(10:00 a.m. ET)

Golden Dome
Invitational

Mississippi
State


Purcell
Pavilion

No TV






7-26
(2-16 in
SEC)
(New Coach:
David
McFatrich)

9-12-15
(7:00 p.m. ET)

Golden Dome
Invitational

Notre
Dame


Purcell
Pavilion

No TV






6-23
(3-15 in
ACC)
(New Coach:
Jim McLaughlin)
9-18-15
(6:00 p.m. ET)

S. Florida
Invitational
Tampa, FL

No TV




13-18
(5-13 in
SEC)
9-19-15
(1:00 p.m. ET)

S. Florida
Invitational

St. John's

Tampa, FL

No TV




19-14
(8-10 in
Big East)
9-19-15
(7:00 p.m.)

S. Florida
Invitational

South
Florida

Tampa FL

No TV




14-18
(8-12 in
American
Athletic
Conference)
2015 B
1G

Schedule (click images for more info)
Date (Time)

Opponent
Site

Media
2014
Record
9-23-15
(7:00 p.m. ET)

Rec Hall
Univ. Park,
PA
TV -
BTN


31-3
(#4 AVCA
Poll)
9-26-15
(7:00 p.m. ET)
Rec Hall
Univ. Park,
PA

No TV





19-12
(9-11 in B

1G

)
10-02-15
(7:00 p.m. ET)
Rec Hall
Univ. Park,
PA
TV -
BTN


23-10
(#8 AVCA
Poll)
10-03-15
(7:00 p.m. ET)
Rec Hall
Univ. Park,
PA

No TV






14-17
(6-14 in B

1G

)
10-09-15
(8:00 p.m. ET)
Champaign
IL
TV -
BTN
26-8
(#11 AVCA
Poll)
10-10-15
(8:00 p.m. ET)
Evanston,
IL

No TV




16-15
(6-14 in B

1G

)
10-16-15
(7:00 p.m. ET)
Rec Hall
Univ. Park,
PA

No TV





15-17
(6-14 in B

1G

)
10-17-15
(7:00 p.m. ET)
Rec Hall
Univ. Park,
PA

No TV





22-10
(12-8 in B

1G

)
#28 AVCA
Poll
10-21-15
7:00 p.m. ET)
Ann Arbor,
MI
TV -
BTN
13-17
(8-12 in
B

1G

)
10-24-15
(7:00 p.m. ET)
East Lansing
MI

No TV





19-14
(11-9 in
B

1G

)
#26 in AVCA
Poll
10-28-15
(5:00 p.m. ET)
Columbus,
OH
TV -
ESPNU


23-12
(12-8 in
B

1G

)
#13 in AVCA
Poll
2015 B
1G

Schedule Continued (click images for more info)
Date (Time)
Opponent
Site
Media
2014
Record
10-30-15
(7:00 p.m. ET)
Rec Hall
Univ. Park,
PA

No TV








23-12
(12-8 in
B

1G

)
#13 in AVCA
Poll
11-05-15
(7:00 p.m. ET)
College
Park, MD

No TV





10-21
(3-17 in B

1G

)


11-06-15
(7:00 p.m. ET)
New Brunswick,
NJ

No TV




7-26
(0-20 in B

1G

)

11-11-15
(8:00 p.m. ET)
Iowa City

No TV




14-17
(6-14 in B

1G

)
11-14-15
(8:00 p.m. ET)
Minneapolis,
MN

No TV






19-12
(9-11 in B

1G

)
11-18-15
(7:00 p.m. ET)
Rec Hall
Univ. Park,
PA

No TV






13-17
(8-12 in
B

1G

)
11-21-15
(7:00 p.m. ET)
Rec Hall
Univ. Park,
PA

No TV






10-21
(3-17 in B

1G

)


11-25-15
(7:00 p.m. ET)
Rec Hall
Univ. Park,
PA

No TV






16-15
(6-14 in B

1G

)
11-28-15
(8:00 p.m. ET)
Devaney
Center

No TV






23-10
(#8 AVCA
Poll)