DigNittany: Ever since Penn State's 5th-set comeback over Stanford in the 2013 Lexington Regional Final, many fans have been looking forward to an NCAA Tournament rematch. (Here's a link for video highlights of that match: http://pac-12.com/article/2013/12/14/video-stanford-womens-volleyball-penn-state-ncaa-regional-finals).
We got a taste of that when Stanford downed the Nittany Lions in 5 sets on September 6th at Maples Pavilion, (25-18, 23-25, 22-25, 25-16, 10-15).  But exciting as the match was, and as gratifying as the win was for Stanford fans, an early-season win on your home court isn't the same as an NCAA Final Four victory.
Stanford and Penn State fans will get their wish on Thursday, December 18th, when the Cardinal and the Nittany Lions face off in an NCAA Women's Volleyball Tournament Semifinal match in Oklahoma City.  We're talking today with Club Coach and Talking Head, both of whom have played the game at the collegiate level and have long and successful coaching careers.
Comparing the Middles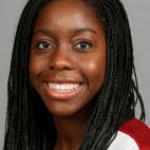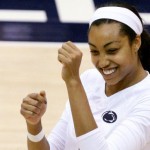 DigNittany: Many observers (certainly most Stanford fans) think that Stanford's middles – AVCA 1st-Team All American 6-3 Jr. Inky Ajanaku and 6-8 RS Fr. MB Merete Lutz – are better than Penn State's – 6-2 Sr. Nia Grant and 6-3 Fr. Haleigh Washington.  In Stanford's win in September, Inky Ajanaku registered 14 kills (.385 attack %) and 4 blocks, while Lutz was a force in the middle, totaling four blocks.  Lutz's offense has been developing quickly – she's much more effective now than she was in September.
Of course, Penn State's middles have developed as well.  6-2 Sr. MB Nia Grant totaled 9 kills (.316 attack %) with 5 digs and 2 blocks in that match, but she's hitting .442 for the season, with 2.34 kills/set, and was a unanimous All B1G selection.  She's no slouch.  And Haleigh Washington didn't play in the first match.  All she's done is hit .487 for the season, with 2.76 kills/set, and win B1G Freshman of the Year.  So she's pretty good too.
Your thoughts on how Penn State's middles stack up against Stanford's?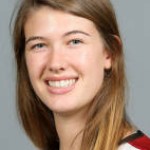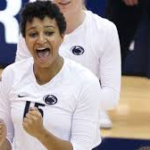 Club Coach:  I think this match features the two best middle units in the country, but the one thing that sets the Stanford middles slightly ahead is blocking. Although both Nia Grant and Haleigh Washington are unreal attackers, I believe Stanford's middles have the edge in blocking.  A big question — and a key to the match — is can Penn State's serve minimize the touches Stanford's middles get.  I don't think either set of middles can stop the other, but I think Stanford may be able to manage Penn State's a little more effectively.
Talking Head: First off, let me say that it is a pleasure to be discussing such high level players from such classy programs.  The young women are so exciting to watch and I am confident we are all going to see a great match.
The match-up of the middles is going to be so interesting and should produce many dynamic plays.  I think straight-up in system, I would give Stanford the edge here, and if Penn State serves like Florida did in their Regional Final, or (to give credit to Stanford)  if Stanford passes like it did in the Regional Final, Penn State could find itself in a world of trouble.  But with that being said, Penn State is not Florida, nor Oregon State, nor Michigan State.  Not only have the Nittany Lions been serving tough, but their errors have gone way down.  Keeping Stanford even slightly out of system might be enough to negate any advantage Stanford has at middle hitter.  I also expect Haleigh Washington to run that slide and go high hands and down the line over both Stanford's OHs.
Comparing the Pin Hitters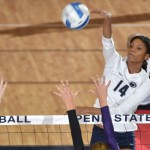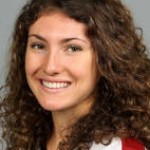 DigNittany: Another big difference from the match in September and now is with the pin hitters.  In September, 6-2 Jr. Megan Courtney was at Opposite/RS, 6-4 RS Jr. Aiyana Whitney  was an MH,  and 6-1 OH Ali Frantti and 6-1 Fr. OH Simone Lee (both part of Penn State's vaunted 2014 recruiting class) were at OH.  Now Whitney has moved to Opp/RS and Courtney has replaced Lee at OH (except for when Lee comes off the bench to replace Courtney or Frantti).
How do you think Penn State's current lineup compares to Stanford's trio of 6-1 Sr. Opp. Morgan Boukather, 6-1 Jr. OH Jordan Burgess and 6-3 Jr. OH Brittany Howard?
Club Coach: Offensively, I like PSU's pin hitters better, as they have a little more firepower and athleticism. Also, having Aiyana Whitney at RS now gives Penn State the luxury of having a high level player in Simone Lee available to come off the bench. So beyond what I believe is a slight advantage for PSU in those starting positions, I like the added depth they have in Lee.
Talking Head: Let's start with the easy one.  For sure we have enjoyed what seems like 10 years of comparing Jordan Burgess and Megan Courtney.  Both are fantastic high IQ and complete players.  Jordan is asked to carry much more of an offensive load than Megan, and she has responded quite well (she's second on the team with 3.10 kills/set and is hitting .268 for the season).  So it is fair and logical to give the nod to Jordan in the offensive category.  Defensively, they are equally good and quite possibly the two best defensive OH's that the game has seen in recent years. Megan clearly outclasses Jordan in blocking, and I would expect that Penn State will run a ton of balls with Whitney and Washington her way.  Passing, although Jordan's touch has improved , if she did have an edge going into the tourney, I think it has disappeared, as Megan is clearly locked in and looks really really comfortable passing right now.   Serving edge goes to Burgess.
The Frantti/Howard comparison will be an interesting one.  In the match in September, Ali went off against Stanford, totaling 22 kills and hitting .405.  I know Penn State fans are concerned that Ali got pulled in the second set against Wisconsin, and maybe she is not going to start and/or do well.  I believe Ali will be fully rested and I fully expect her to be ready to play and hit at a high level.  No question that Howard is the more experienced player and gets the edge in passing and defense, but an "on" Frantti offensively outclasses even an improved Howard.   Defensively, Ali holds her own, but also is shored up by 5-6 Jr. DS Kendall Pierce, who has provided a nice boost to the team's passing efficiency.
BIG BIG point….if one of the Stanford pin hitters goes south, they do not have  a Simone Lee to pick them up, and that is a factor that must be considered.  Wow, has Simone Lee answered the bell when the team needed!
At the Opposite position, I have to give the edge to Aiyana Whitney.  She is bigger and more athletic and certainly in this match presents more of a match up issue.  I noticed that her blocking movement has improved and she has added a secondary drop in move.  In the Wisconsin match, she was successful with this quite a few times, but the Wisconsin team covered so well.
Pin Hitters – Edge and depth to Penn State.
Comparing the Setters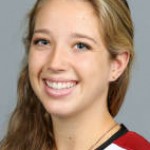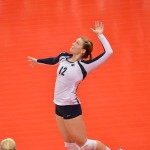 DigNittany: A third point of comparison will be between Stanford's 6-0 Pac-12 Setter of the Year (and 2nd-Team AVCA All-American) Madi Bugg and Penn State's 5-11 (and 1st Team AVCA All-American) Micha Hancock.  Obviously, they are both very, very good.  How do you think they compare, and what impresses you most about Madi Bugg?
Club Coach: I think they compare quite favorably. Madi Bugg, in my opinion, is a little more polished, while Hancock is more dynamic.  Bugg as a player I find to be a little more of a facilitator, whereas I think Hancock asserts herself and pushes the envelope a little more. Although both are great leaders, I like Hancock's compete level, and her serve, of course, is a wild-card and potential match changer.
Talking Head: Maddie Bugg, like Micha Hancock, has made  a very noticeable jump in her setting execution and decision making.  She has lead her team to 33 wins in 34 matches and an impressive .316 team attack %.  Her defense has also improved.  Micha has scored 307 points this season compared to Bugg's 159, and has pushed Penn State to a .348% team attack %.
Setters: For all the intangibles, as well as the measurables – Edge to Hancock.
Comparing the Liberos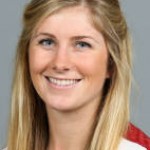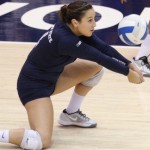 DigNittany: Stanford's libero, 5-7 Sr. Kyle Gilbert, is averaging 4.75 digs/set, and was named to the All-Pacific Northeast Region team.  Many people think Penn State's 5-6 Sr. libero Dom Gonzalez is the most underrated Nittany Lion player.  They are both obviously very good players and fill very important roles for their teams.  Does either team have the advantage here?
Club Coach: They are both exceptional, but I give a slight edge here to Dom, who I think seems to make more game-changing plays than Gilbert. It wouldn't, however, be an edge that would be significant, as both teams are going to get great play out of the libero position. 
Talking Head: They both have become excellent at their craft.  Given what is asked of Gonzales (multiple position – wise), I am so impressed what she brings.  For me, I take the player with 10 return errors on the WHOLE season (Dom Gonzalez) to the one with 38 return errors for the season ( Kyle Gilbert).
Liberos – Slight advantage PSU
Crystal Ball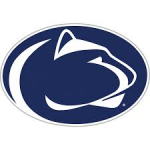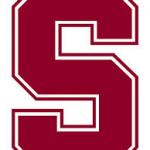 DigNittany:  OK, drum roll please.  Who wins, what will be the most important factor in their victory, and in how many sets?
Club Coach: Well, I am not real sure I can predict who wins, as they are so close, but I will say that it will be the team who manages the stage better. In my experience, these types of matches are won less by standout play by one team, than they are by one team struggling to maintain their poise or trust themselves and their teammates.
I think Stanford may be the steadier ship, whereas Penn State is capable of playing at the higher level.  I lean towards Penn State for the following reasons: they have a little higher compete level in my opinion, and Hancock can bust a game open in a way that no Stanford player can. Could be one for the ages.
Talking Head: Penn State 3-1.  Depth on the roster  and ability to score over Stanford's leftsides.  I believe Penn State will get Stanford out of system just enough to limit their middles, and Stanford doesn't have enough live arms in the pin hitters to get them out of trouble.
DigNittany: Thanks so much, as always, to both of you.  We appreciate it.