Slow Start or Murderer's Row?
DigNittany: Nebraska, which finished 26-7 in 2013 and made it to the NCAA Regional Final – entered the season ranked #7 in the preseason AVCA Coaches' poll and #2 in the B1G coaches' preseason poll.  After 11 matches this season, Nebraska stands at 8-3 (2-0 in the B1G).  Although all three losses were at the Devaney Center, all of them also were against AVCA Top-5 ranked teams: #5 Florida State 1-3 on August 29th, #1 Stanford 0-3 on August 31st, and #2 Texas 2-3 on September 20th.  That's a Murderer's Row in anyone's book.
Still, although Nebraska only lost one starter from its 2013 team, that one starter – 6-2 OH Kelsey Robinson – was an AVCA 1st Team All-American and the 2013 Big Ten Player of the Year.  There are lots of theories as to why Nebraska has failed to pull off the big win so far.  In your view, is it that Nebraska has been underperforming, or did they just run into three really good teams who all played well against them?  And, Part 2 of that question, is there one area on which Nebraska needs to focus and show improvement if they're going to break into the "W" column against a Top-5 team?
Club Coach: There may be as many as five teams in the current top ten who would be 8-3 at this point with Nebraska's schedule. With losses to the #1, #2, and #6 ranked teams, Nebraska's record is significantly a function of their schedule. Having said that, I don't think Nebraska has played as well as they expected. Their setting hasn't been up to par, and they have struggled to kill the ball, which is a function of attackers underperforming combined with inconsistent setting. They are very well coached, have gotten better, and will continue to do so. A win vs Penn State will make those three losses a distant memory, but that is far easier said than done.
Talking Head: The often-heard key to beating Nebraska last year was to focus on Robinson and try and slow her down, on the theory that the Huskers then became one dimensional.  Looking at the three losses that Nebraska has this year, it must be understood that these are indeed all top tier teams.  So a loss to these top teams is not a bad loss. With that being said, it seems the one constant in all three matches was the poor production of the Rolfzen twins.
Which raises the question, is the key to beating the 2014 Nebraska team to slow down, negate or concentrate  primarily on those two?  Are they the key to this team's success, like Robinson was the year before?  I would argue yes, as I am not sure Nebraska has the arms elsewhere to carry the load offensively.
Backrow Domination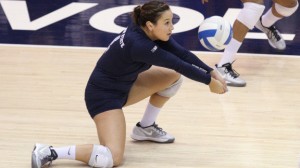 DigNittany:  We've been so impressed with the play of Dom Gonzalez – really holding things together in the back row and for the team in general.  Your thoughts on what she brings to the team – particularly with regards to the freshmen.  It looks like others are thinking that way too, as she was named the B1G's Defensive Player of the Week following the Nittany Lions' road wins over Wisconsin and Minnesota, in which she averaged a team-high 6.71 digs per set.
Club Coach: PSU's defense and passing has been the most underrated thing in college volleyball over their incredible run. Everyone wants to talk about their talent, net players etc., but Penn St.'s passing and defense has been exceptional and Dom is a major reason for that this season. What she brings is a great combination of steadiness as a serve receiver with the added bonus of being a playmaker as well. It's remarkable how people de-value the significance of the libero. As well as Grant is playing, and Whitney, Dom is playing at that level as a six rotation player, while their impact is in only three. Not diminishing what is clearly great play by those two, but pointing out the tremendous value Dom brings to the team.
Talking Head: The term "serviceable" is one that has often been linked to Dom over the years.  That is not a knock, but rather a compliment to how well she has filled her role and how steady she has been in the Penn State system.  Dom has always been a very good passer and possesses an excellent touch on the first ball. This year's squad is faster, more mobile, and slightly less productive in the blocking area, and as a result of this, more is being ask of the back row players.  To me, Dom has "seemingly"  gotten better because she is a Senior who has received first team reps for four years, is passing more of the court, and more importantly, the coaches are moving her to where the opposing team likes to hit the ball.  The game has slowed down for her as she is using her experience to study the opposing players and be ahead of the play. When you give cerebral and ultra-competitive kids like this more freedom, they can really do amazing things.  They have to be mature enough to handle this, but Dom definitely is, and I think this is what you are also seeing in Micha and Megan. All three have done some things in games that most people have never seen them do before and that is really exciting.
Fast Attack?
DigNittany: Is it just us, or is Penn State's offense faster this season than last year?
Club Coach: I think PSU is going a little quicker than they did last year. Grant is able to go behind the setter much quicker than Slay did, which is a big difference this year, and makes their offense look much quicker. I think as Hancock has gotten better and better as a setter, it has allowed her to go to a faster tempo.
Talking Head: The offense is faster because the collective group of players are faster. This team's ability to turn transition or a dug ball to get a good swing from multiple positions reminds me of the Russian Red Army hockey team's ability to pass and score.  Ok, I may have exaggerated a bit there.  Ultimately, they are becoming a fun team to watch, and as much as it's offense that we are talking about, it is crystal clear that this stems first from this group's defensive mantra. They go hard for every ball. 
Penn State to Date?
DigNittany: There's a lot of  season still to be played, but to date, what are two things about this 2014 Penn State team that have exceeded your expectations, and are there any ways in which they haven't done as well as you anticipated?
Club Coach: First is, I think Micha Hancock is the best player in college volleyball. Her confidence and compete level are off the charts right now, and that really shows. While I expected her to excel, her play is at another level. They are also far better defensively than I anticipated, as Deja was probably their best defender last year.  There isn't an area where I think PSU has underperformed with the exception of the situational serving sub's not being very consistent in serving tough or keeping the ball in play.
Talking Head: I am impressed with how well this team moves and flows on the court. Areas of improvement? Make your serve on game point and close the door.
The Rolfzens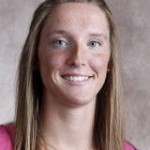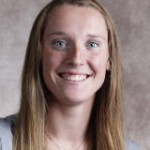 DigNittany: We couldn't let this interview go by without asking about The Rolfzens.  So, are they better than last season?  And if so, is there any way you can confuse them and get them to show up in Iowa City?
Club Coach: I wouldn't say they are better than they were last year, but that is a big function of not having Robinson on the floor, and of course an increase in responsibility, expectations and of course pressure to perform. Amber isn't a great offensive player from the right, but a great blocker, and Kadie got off to a very slow start, but is starting to look like the All-Big Ten player she is. The streets in Lincoln go by numbers north and south, and by letters east and west, not much chance they get lost on Friday!
Talking Head: As said previously, they are the key to their team's success and if they both are not firing I'm not sure Nebraska is ready to take out a top team.  They can be really really good at times, but still show signs of inconsistency.  When they figure it all out it will be fun times in Huskerland.
DigNittany: Thanks so much for your time.  We appreciate it.
____________________________________
Photo Credits
Dominique Gonzalez: Courtesy, GoPSUsports.com
Serengeti Lion Running: Taken by Schuyler Shepherd (Unununium272). Contrast and saturation edited by norro [CC-BY-SA-2.5 (http://creativecommons.org/licenses/by-sa/2.5)], via Wikimedia Commons
Nittany Lion: Anonymous contributor
Rolfzen Twins: Courtesy, www.huskers.com