No. 9 Penn State women's volleyball was swept by Michigan (19-25, 17-25, 19-25) Saturday night in the Stripe Out match at Rec Hall, dropping its first contest of the season.
Kash Williams led the Nittany Lions (12-1, 1-1 Big Ten) in kills for the second night in a row with nine in the loss, which saw Penn State hit .105 as a team and .049 in the second set. Jess Mruzik led Michigan with a match-high 14 kills and nine digs, while May Pertofsky had eight kills (.538) and four aces for the Wolverines (11-1, 2-0 Big Ten).
Middle blockers Taylor Trammell and Allie Holland had six kills apiece, while Anastasiya Kudryashova came off the bench and had three kills (.375) and zero attack errors. Freshmen Alexa Markley and Mandi Morioka also saw some playing time against the Wolverines. Classmate Katie Hurta was wearing street clothes on the bench for the second consecutive match.
Maddy Bilinovic led Penn State's defense with a match-high 12 digs and added three assists. Cassie Kuerschen and Gillian Grimes combined for nine digs. Grimes had Penn State's only ace of the night, as Michigan finished with a 5-1 advantage in that category and outblocked the Nittany Lions 10-5.
Williams made some nice plays defensively and had four digs, but Penn State struggled to gain much momentum Saturday night. Leisa Elisaia finished with a match-high 28 assists, eight digs, and two kills, but had a tough time settling into a rhythm and was occasionally forced to track down errant passes.
The Nittany Lions will head into practice this week with plenty of motivation and things to work on after suffering their first loss of the season in lopsided fashion. The announced crowd of 4,106 provided an impressive atmosphere in Rec Hall, but the match lasted only 1:23. Bilinovic, Trammell, and Katie Schumcaher-Cawley spoke to the media afterward.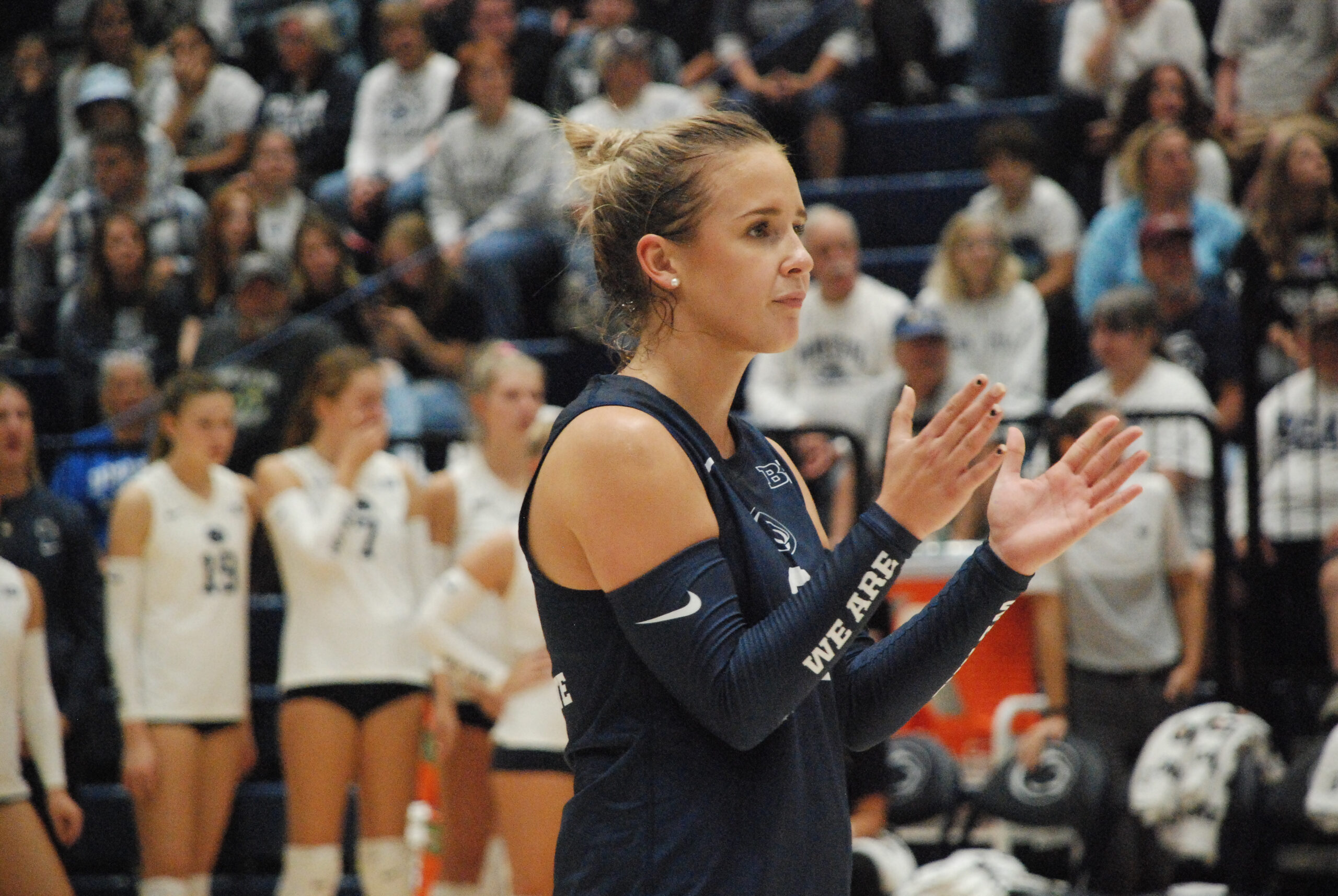 Schumacher-Cawley's opening statement:
"As always, thanks to you guys for coming and wanting to report on volleyball. Apologize for the poor play. But Michigan is a great team, and we knew that coming in here. I think we struggled in all areas of our game tonight. We have a lot of work to do here. We'll get back to practice on Monday and prepare for another hard two matches coming in. Like I said, I think this conference is relentless. You have to take advantage of being at home, and we didn't do that tonight."
Coach, with putting other players in throughout the match, what was the strategy behind that? Were you trying to get a spark from somebody?
KSC: "Hey, we needed to make some changes. I think I've said to you guys before that everyone's expected to be ready to go. We needed some better attacking. We needed a little bit of flying around on defense. Yeah, I was looking to start some sort of fire there."
This is sort of a general question for you guys. This is your first loss of the season. How does that feel?
Bilinovic: "I mean, obviously, losing doesn't feel good. But I think that, as a team and as a program, we need these kinds of hardships to go through and work through together, so we know how to be better the next time."
Trammell: "I think losing, obviously, sucks. From here on out, I think we know the type of competition we're going to be playing. We know how we need to play at our level every night."
What's the biggest thing you want to work on in practice on Monday?
Bilinovic: "I just want to start new. I think we just need to keep [emphasizing] that there are 17 girls on this team, and all 17 of us are going to do it together."
Trammell: "I think everyone's working hard, so just playing to our level, at that point. I feel like tonight, we obviously didn't play at the level we know we can. So just continuing that. Every night, we have to turn it on."
What kind of challenges did Jess Mruzik and May Pertofsky present for you guys?
Trammell: "Well, Mruzik, she's a really good hitter. So is Pertofsky. Going in there, I feel that we were prepared to play against them. Again, it goes back to playing at our level. We just came out tonight a little off."
What was the conversation like after the second set?
Bilinovic: "I think we all say the right things all the time. We all look at each other in the face, and we mean it to our soul, that we have to compete out there and we have to mean it. But it's just a matter of doing it."
Trammell: "I would say there's no BS talk on this team. When we say something, I feel like everyone's listening to each other, and everyone's taking it in personally."
What are some things that stand out to you about Nasta Kudryashova and Mandi Morioka getting in there?
Bilinovic: "I thought, like coach said, we needed a change. I was happy they got to come in and do what they could do and help us out."