No. 11 Penn State women's volleyball swept Howard (25-18, 25-12, 25-18) Friday night at Rec Hall in its first match of the Penn State Classic to remain undefeated.
Allie Holland led the Nittany Lions (9-0) with a match-high 10 kills and hit .429 in the win, which saw junior Macy Van Den Elzen make her collegiate debut and freshman Mandi Morioka make her first appearance at Rec Hall.
Zoe Weatherington and Kash Williams finished with nine kills apiece, while Anjelina Starck and Taylor Trammell added eight and six kills, respectively. Trammell paced Penn State's defense with six total blocks against the Bison. Starck also had five digs, a block, and the only ace of the match.
Junior libero Maddy Bilinovic had a match-high 16 digs and two assists for the Nittany Lions, who outblocked Howard 11-3 and hit .257 on the night. Leisa Elisaia dished out a match-high 37 assists and added six digs, five blocks, and two kills.
Defensive specialists Gillian Grimes and Cassie Kuerschen continued their impressive play in the backcourt with eight and seven digs, respectively. Grimes has started all but one match so far this season, tallying 69 digs, while Kuerschen has also proven very reliable with 49 digs of her own.
The Nittany Lions will be back in Rec Hall for a doubleheader Saturday against Albany (11 a.m.) and Coastal Carolina (7 p.m.) to wrap up non-conference play. Elisaia and Katie Schumacher-Cawley answered questions following Penn State's sweep of Howard. The transcript of their comments can be found below.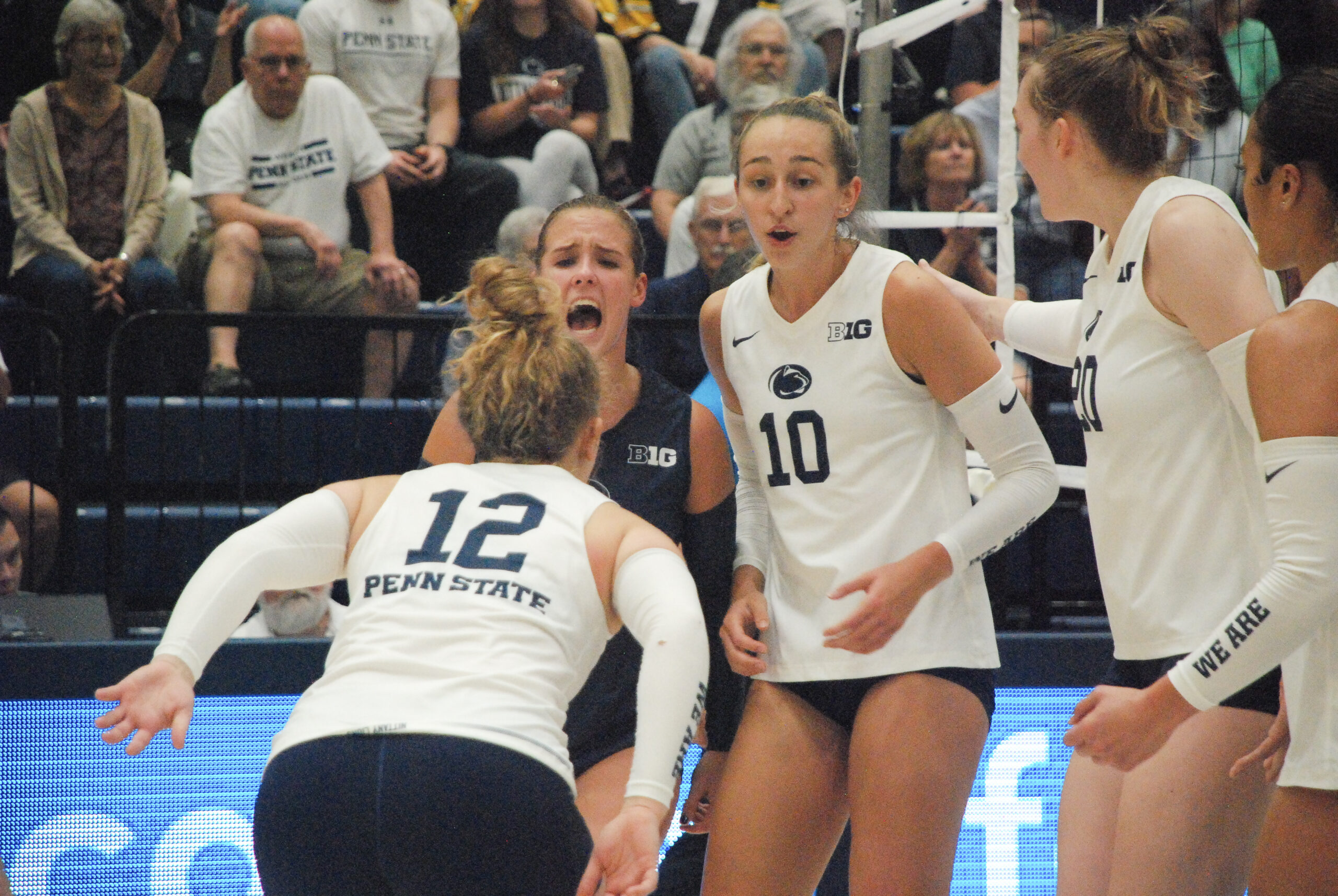 Schumacher-Cawley's opening statement:
"As I always say, it's nice to win. It's nice to win at home. I thought we did some good things tonight. We started off a little slow, but I think Howard played hard, and they're a good team. They're going to do some good things this year. I'm happy we got the win."
What impressed you about the back row and the defensive specialists tonight? It seemed like they were all over the place tonight.
KSC: "I thought Gillian and Maddy both did some nice things digging. I thought Cassie came in and served well and picked up some tips and roll shots. That's something that they work on all the time in practice. We expect them to be aggressive and to give Leisa the best chance to set up the attackers to score."
How would you assess Allie's performance tonight? She led the match with 10 kills.
KSC: "I thought Allie did a good job. She's been working really hard and being available and finding different shots to score. I think her blocking is always on, and she did a nice job tonight, but I think she's finding some other ways to attack. Her connection with Leisa has gotten much better. I think she's doing a great job."
How has the attention to detail from the front row prepared them for matches like this?
KSC: "I think our front row, they're being aggressive. It's knowing who your hitter is and where they are. We do film and give everyone a little bit of a heads-up of what we're doing. I think they're doing a good job working together."
Seleisa, tonight was another great example of everybody contributing. What does it mean to be on a team where all 17 players can contribute any given night?
Elisaia: "I think it makes my job a lot easier, honestly. I think we're pretty well balanced when it comes to our offense, and our defense is doing a really good job of getting the ball where it needs to be, so I can make the good choices that I need to to run the offense."
Going off of that, some of your teammates got in for the first time all year. What's it like seeing them on the floor having success?
Elisaia: "It's super exciting, for sure. We're all rooting for each other, and it's nice knowing that when someone's coming off the bench, we know that they're going to take care of their job."
I know you've stepped up from assistant coach to head coach. How has that been for you, especially now with you guys being undefeated and doing some pretty great things?
KSC: "Thank you. It's been a wild ride, but it's a great place to be here, and it's a special team. We're going to keep working hard to get some Ws and be the best team we can."
What's the most enjoyable thing about coaching this team and has anything surprised you so far this season?
KSC: "I'm surprised every day. No, it's because they're so supportive of one another, and I think they're doing a great job of encouraging one another, but also pushing each other to be better. That's something we talk about every day in practice is we have to get better every single time we step in the gym and hold each other accountable. I'm happy with what they're doing, and we need to build off this. We have to be up early tomorrow and ready to go from the first whistle."
Allie on Tuesday mentioned the dynamic and the atmosphere around this team right now. How would you describe that dynamic?
Elisaia: "I would say that, for a team that hasn't played too much together, we mesh pretty well. We take care of our jobs individually, so it makes it easier when it comes to working together, but I think we're super supportive of each other, and I think that really shows on the court."
Leisa, what are some things you do before the match to get yourself mentally prepared?
Elisaia: "I'm usually in the training room. I have my headphones in. I usually get a good stretch in just to get my body warm before we actually step onto the court, so that I know I'm ready to go beforehand."
Who are some of your favorite artists to listen to beforehand?
Elisaia: "That's hard, because I'm always putting my phone on shuffle. I'll have to say, I'm not sure if you guys have heard of him, but his name is Rod Wave."
Coach, what's the biggest difference between going from the head coach at Penn to coming here to be the head coach at Penn State?
KSC: "I mean, obviously, all the media attention we're getting, huh? No, we travel a little nicer. From school to school, it's different I think, but the atmosphere with the players, for me, is something that I always want to be the same. For me, yeah, it's the level of play from the Big Ten to the Ivy League, but the Ivy League is a competitive conference. UIC is in the [Missouri] Valley now. I think everywhere I've been, I've wanted to win and be competitive and put the best team I can together."
Coach, you mentioned the slow start. What did you think of the team's approach tonight?
KSC: "I think our approach is always the same is that we have to be focused and ready to go. We had a couple of errors to start off with. I think that's something that this team is learning. We have to do a better job with that and coming out and attacking right away. I'm happy with our approach. Like I said, Howard's a great team. I'm going to give them some credit where credit's due. I think they played hard and did some good things and found ways to score on us. Again, we have to be focused and ready to go from the first whistle."