No. 20 Penn State women's volleyball beat No. 11 Stanford 3-2 (25-16, 25-22, 17-25, 23-25, 15-10) Friday at Maturi Pavilion in Minneapolis, MN, on the first night of the Big Ten/Pac-12 Challenge.  Box Score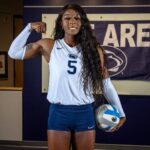 The Nittany Lions (7-0) snapped a five-match losing streak against the Cardinal, cutting Stanford's lead in the all-time series to 14-13. Kash Williams led Penn State's offense with a season-high 16 kills and hit .361 in the win.
Penn State was on fire in the first set, hitting .478 as a team to take an early lead over Stanford, but the Nittany Lions' offense cooled down significantly in the second and third sets, allowing the Cardinal to cut the deficit to 2-1 heading into the fourth set.
Penn State outblocked Stanford 21-13 and finished with an 8-3 advantage in terms of aces. Taylor Trammell, Allie Holland, Zoe Weatherington, and Leisa Elisaia all had at least seven total blocks, as Trammell led the Nittany Lions with 11 in the win over their rivals from Palo Alto, California. Elisaia had a double-double with 35 assists, 10 digs, and three of Penn State's aces.
Williams, Cassie Kuerschen, Quinn Menger, and Alexa Markley were Penn State's only substitutes in the team's first five-set match of the season. Anjelina Starck had 12 kills and nine digs while taking the most swings of any player on the team with 40. Williams took 36 swings and led the team with 17 points.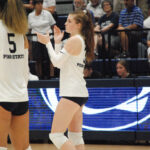 Maddy Bilinovic and Gillian Grimes paced Penn State's defense with 11 digs apiece. The Nittany Lions will return to Maturi Pavilion Saturday when they play No. 18 Oregon at 5:30 p.m. ET. The Ducks lost to tournament host No. 3 Minnesota in four sets in the nightcap.