No. 13 Penn State women's volleyball beat Maryland 3-1 (25-22, 23-25, 25-21, 25-22) Friday night in College Park thanks to a balanced offense and plenty of service pressure with 11 aces.
Allie Holland tied Kash Williams with a match-high 13 kills and four aces in the win, as Holland hit .500 and added five digs and two blocks on a night where the Nittany Lions (16-4, 5-4 Big Ten) hit .239 as a team.
Zoe Weatherington joined them in double figures with 11 kills of her own against the Terrapins (12-9, 3-6 Big Ten), who outblocked Penn State 14-7 and hit .222 in front of a crowd of 2,056 at the XFINITY Center Pavilion. Katie Clark came off the bench and put together another efficient outing with nine kills (.353) and a team-high four blocks.
Freshman outside hitter Alexa Markley took the most swings of any Nittany Lion Friday night with 32, terminating eight of those for kills while adding two digs and a block. Leisa Elisaia had a particularly strong showing with a match-high 55 assists, eight digs, five kills, two aces, and two blocks.
Gillian Grimes and Cassie Kuerschen led Penn State's defense with 10 digs apiece, while junior libero Maddy Bilinovic finished with six digs and two assists to help the Nittany Lions beat a Maryland squad led by its standout blocking.
Taylor Trammell suffered an injury during the match and did not return after being tended to near midcourt by Penn State's medical staff. Trammell only took one swing before being forced to leave the match. She gingerly walked off the court with assistance from the trainers.
The Nittany Lions will be back in Rec Hall Sunday at 1 p.m. against Rutgers (7-14, 1-8 Big Ten) and former Penn State All-American setter Abby Detering, who's in her first season as an assistant coach for the Scarlet Knights. Rutgers lost to Northwestern in four sets Friday in Piscataway, New Jersey.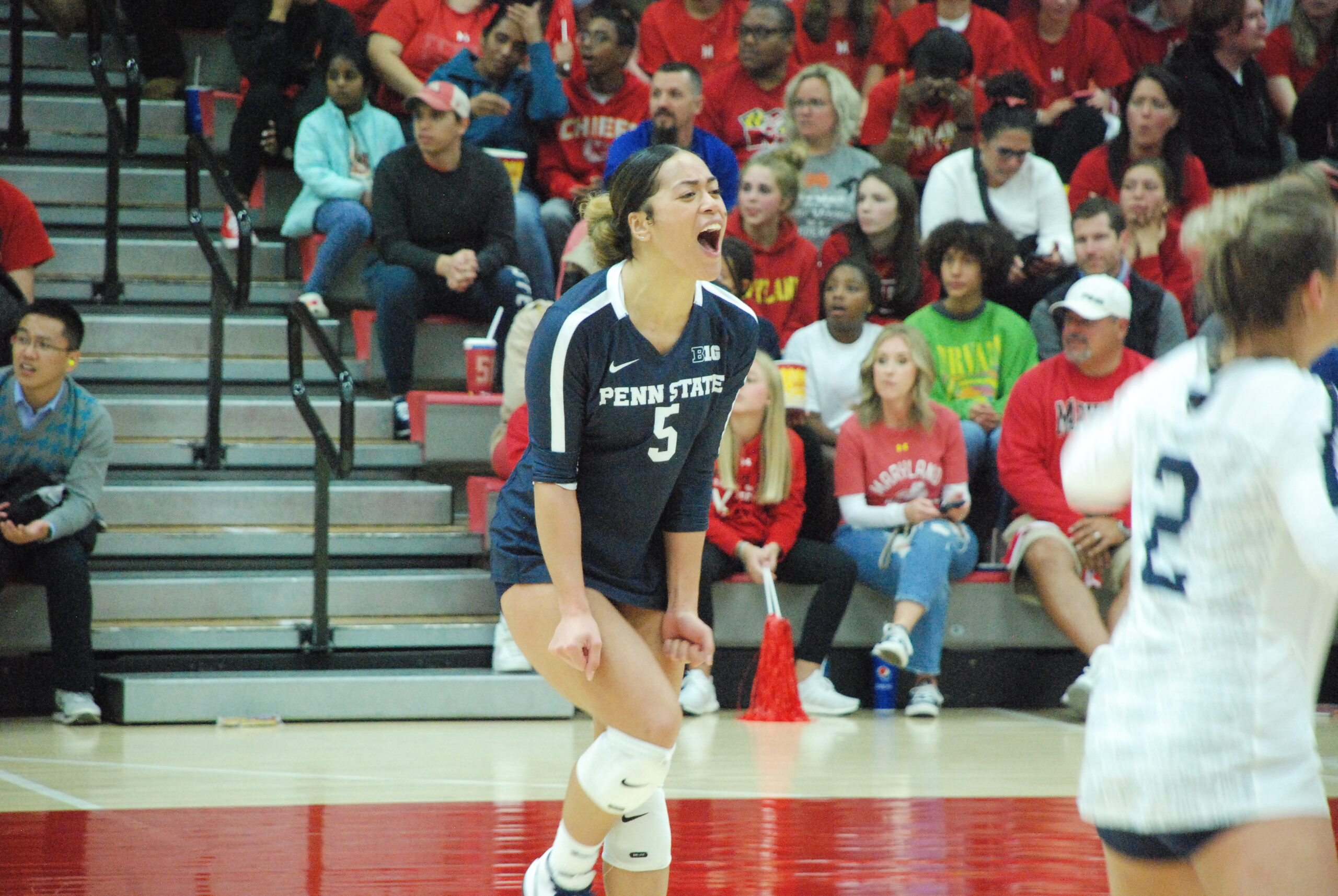 Post Match Q&A
Head coach Katie Schumacher-Cawley graciously took the time to answer a few questions before boarding the team bus for the ride home to State College.
What are your thoughts on the win tonight? What stood out about it?
"Any win in this conference is a great win. I thought our middles played well. I thought Katie Clark came in off the bench and did some really great things. Total team effort in getting this win. I thought Leisa did a nice job in getting the ball to the middles and finding ways to score. I'm happy. It's a great win."
How would you assess your team's serving tonight with 11 aces?
"We served aggressively. We need to keep the ball in play a little bit more, especially when they're struggling passing. You shouldn't be missing serves when teams are having a hard time passing. I thought we stuck to the plan. The girls served who we were going after and moved the ball around a little bit, so I'm happy."
How would you assess Allie's performance and a balanced attack, in general?
"I thought Allie, Katie Clark, Taylor, Erika [Williams], all the middles worked really hard this week with Leisa in getting a better connection and finding different ways along the net to score. I thought Allie was aggressive. It's nice seeing her hit the ball and not tip as much. I thought she did a great job."
What stood out about your defense tonight and defensive specialists, in particular?
"I think we could have dug some more balls, but I thought we steadied out in passing and did a good job in serve receive. I thought we dug some balls at the end there that kept us in the match."