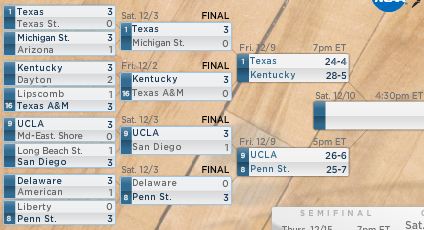 Penn State Quotes
First, here's a video from gopsusports.com featuring Kaleena Davidson, 6-4 So. Opp/RS Ariel Scott and 5-6 So. L Ali Longo:
gopsusports also included the following Stat comparison:

Penn State Head Coach Russ Rose
Opening statement …
It's nice to be here at the University of Kentucky, and we thank them for being a host for this great championship. We are excited to still be playing.
On what challenges face Penn State vs. UCLA …
Well I think whenever you play some of the rosters, especially the California schools, you have to be able to handle their ball handling, serving and passing, and their volleyball IQ. It is a little high than some other players. I think they have a great outside hitter. (UCLA) had a great season. They were ranked number one in the country for two weeks of the season, swept Cal and Stanford, so we know UCLA is very good.
On the competition in the Lexington Regional …
Well, I think the four teams that are here are very representative of a third and fourth-round national championship event. I wouldn't compare the regions because there is no real benefit. This is a region where there are three programs which have won a national championship in Texas, UCLA and Penn State. I don't think that we have to go much further than that. I don't worry about the things that I can't control. The brackets came out and you look at the first weekend, then you look at the second weekend, and that's how it goes. For sure the matches in this region will be very competitive. The people who are the prognosticators are surprised at some of the teams that have advanced. The teams that advanced are there because they won.
On what his team will have to do to beat UCLA …
 Well for us to have success with UCLA, we have to serve well. We have to get good performances from our outside hitters.
On Maddie Martin's play and development …
Well I think Maddie (Martin) played a big role for us last year. I think her responsibilities have expanded this year. She is a good server. She is a good ball handler, with good all-around volleyball skills. I'm not hesitant to rearrange players if someone is not playing well and the other team is exploiting them. We are not a six-player roster. We have 15 players eligible to play in the game.
On the job UK head coach Craig Skinner has done at Kentucky …
I don't know enough about this (Kentucky) team to talk about it. I have known Craig (Skinner) since he was at Ball State. I remember when he was at Wisconsin and Nebraska, so he has done a terrific job with this program as well as his contributions while he was at Nebraska. He has done a great job. The University of Kentucky is pleased, and I remember talking to the athletic director about him. I am not surprised and I am pleased with them having success. I'm sure the benefit of them being at home and having more fans here to cheer on Kentucky will help. If the host team loses, it always has an adverse effect on attendance. Hopefully there will be a good crowd for the first match, and not just the Kentucky vs. Texas match.
On making every NCAA Tournament and keeping his players motivated …
It's a different team every year. They don't care that we were in the first one 30 years ago. They think 30 is ancient. It's about the players. It's about their smiles. It's about them having an opportunity to compete. The hard work starts in August and it goes on all summer long. You try and find players that will be successful, and sometimes you are disappointed by the paths they decide to take. I brought a team many years ago to play here (Memorial Coliseum), because this facility is one of the greatest facilities in the history of college sports. They (his current players) might not know it, their parents may not know, but I know. I made my schedule over the years to go to some great venues. I love doing that. I don't care that there is Sport Court. I care that there was some of the best basketball players diving for balls out there.
On how to avoid the UCLA block …
To avoid those great blockers for UCLA, you have to be able to control the ball. If you control the ball, then that gives us the opportunity to take some swings. They are a really good serving team.
On a possible fourth-round matchup …
If we beat UCLA, we have tons of time to prepare for the next match. But I don't even look at the tape of the next match. I'm old, man. I don't eat green bananas. If I have a banana, I'm eating it right then. We are looking at UCLA. If the block is there, we have to avoid it.
On there being a lot of parity in volleyball today …
I don't know if it's good for our game. If we were the worst team in the tournament, it would be good. I think rally scoring was a great equalizer. Some of the scoring changes have changed the way the game is played. I just think there is a lot of great coaches, there is a lot of talent around the country. It's not at the level it is in men's basketball, where the NCAA Tournament comes around and there are some players who nobody has ever heard of, and they are future NBA players. There are a lot of great players playing with a lot of different schools. There are a lot of different schools who have been able to tap into the international market. In a rally-scoring game, it comes down to the best team and not the best players. If you have some of the players, and you have the mentality of playing as a team, you can string some wins together. That's what we did a couple of years ago where we won two national championships, and didn't lose any matches. We just didn't just have great players, we had a great team. We had great energy, and the kids respected each other and wanted to work hard.
#5 Kristin Carpenter, Junior, Setter/Defensive Specialist
On having added pressure after winning four straight national titles …
As the tournament has shown, this tournament is anybody's game. There has been a number of No. 1 teams. We want to do well, but we are just focused on us.
On playing in Memorial Coliseum and a unfamiliar gym …
Every season we play in new gyms. It's just another gym to us. Everyone is playing on Sport Court now. Besides Kentucky, it is fair to everyone and it's good for Kentucky to host a regional.
On the importance of leadership this time of year …
All I can think of now is what Blair Brown and Alyssa D'Errico (2010-11 seniors) told us when we made it to this time last year. This is what I relay to the young kids now. We have to be confident, trust each other and trust our coaching staff. This part of the year is fun. This is what it is all about. For us captains, we have all at least experienced two national championships so we know what it takes and must relay the message to the young people.
#18 Deja McClendon, Sophomore, Outside Hitter
On being back in her home state of Kentucky (McClendon is a native of Louisville, Ky.) …
It's great to be close to home. It's not quite there, but it's a great chance to have my friends and family come watch me play.
On Penn State working hard to try to become a more consistent team …
Everyone has their good and bad days. Overall, we are having more good days together. If we are all together, we are a better team. This is what we need at tournament time. If we continue to push that in practice, I think we will be good.
UCLA Quotes
UCLA Head Coach Michael Sealy
Opening statement
For our program, this is obviously a great tradition. We have national championships and a lot of success in the past. It's the first time we've been to a regional in a little while since we didn't make it the last two years. It's great to be back. It's obviously a very tough regional. There's the four-time defending national champion and the No. 1 seed. There's a lot of tradition in this bracket. You've got a great Kentucky team as the host. There's no easy match here.
On whether Penn State is the best team he's seen this year…
They're definitely the most physical. I have to figure out where Russ (Rose) keeps cloning these athletes because they are just unbelievable. I'd rather play them this year when they are freshman and sophomores because they are going to be pretty unbelievable in two years when they're juniors and seniors. Physicality wise, I think the PAC-12 is usually strong. I think when Stanford played that Nike Invitational Tournament and beat Penn State and beat Texas and Florida, all of the sudden the PAC-12 got evolved into the upper echelon, which isn't necessarily the case. I think we all think it's a great conference. All of the teams had issues and weakness that we all exploited and after seeing how the tournament is unfolding and watching some of the Big 10 matches, it's a very physical conference.
On how changing time zones affect the team…
 We don't do time zones. We're here and we go. I think we're fine.
On the team's mindset going into this match against Penn State…
What we've been working on the last couple weeks about our opponents is that they're just shirts. They're just people that show up and they're a necessary factor for us to start our match and play our game. It doesn't matter who it is. I thought early on that maybe we'd peaked, but we've been playing great as of late. We're not too worried about who's across the net. The one thing they have going for them is that no one on the floor knows what it's like to lose a match in the tournament. There's some self-fulfilling prophecy that's great for them. We've just got to focus on our game. If we can play the best game of our season and do what we'd like to do as a team then we move on. That's out of our control. We may play our best match and it may not be enough. We may play a terrible match and it may be enough. You just don't know.
On whether he likes the role that his team is in facing the defending national champions…
Once again, it doesn't matter. It doesn't matter who we're playing in the (round of) 16, whether it's an underdog that squeaked in or it's the No. 1 seed or defending champion. We have to play UCLA volleyball. That's all we can focus on.
On what UCLA volleyball is…
I don't know yet. I think we're a nice hybrid of ball control and physicality. Our starting line-up can be 6-foot-5, 6-foot-3, 6-foot- 4, and big enough to compete. I think we've got enough ball control pieces that we don't always have to play 'big-girl' volleyball. If we can stay in system with that physicality, we'll be pretty good.
On his thoughts on the UK program and how well he knows Kentucky coach Craig Skinner…
To tell you the truth, I've been kind of isolated on an island in Hawaii for the last four years before the last season. I try not to spend a lot of time focused on the rest of the country. I just met him really for the first time this summer while out recruiting. He's a great guy, very charismatic. I bumped into this guy at the airport here this morning when we were picking up rental cars and I loved that he had his little country drawl. He was just talking about basketball and how he doesn't really watch too much football but ever since [Craig] Skinner got here, he's been watching volleyball and he's really gotten out and promoted it. He's made this gentleman at the airport a fan in just the past few years. I'm sure that's what he's doing across the state, which is great.
#11 Rachael Kidder, Junior, Outside Hitter
On the strength of the regional…
It definitely is a tough regional, but I don't think we are so much focused on how tough it's going to be. I think we are worried about ourselves more. As long as we do what we're supposed to be doing and play to the best of our team's ability we can handle any team.
On what it will take to beat Penn State…
We have to be able to run our offense no matter what's happening, if we're in system or out of system. They are really physical so out of system plays, which we struggled with in the past, are definitely going to have to be better.
#6 Lainey Gera, Senior, Liebro/Defensive Specialist
On what UCLA must do successfully to take down Penn State…
Everything that Rachel (Kidder) said and on top of that, ball control. I think it's really important because these girls out there are huge. They are very physical girls and I think if we can frustrate them enough with our ball control, that can really mess them up mentally and I think that could definitely play a big factor in tomorrow's game.