No. 6 Penn State women's volleyball swept Texas A&M Saturday night at Rec Hall in the team's last home match in over a month.
Freshman right side Jonni Parker tied her career high with 11 kills for Russ Rose's Nittany Lions. She also had six digs in the 25-14, 25-15, 25-22 victory. Nia Reed and Kaitlyn Hord added seven kills apiece, while Serena Gray chipped in six of her own and a match-high seven blocks. Taylor Leath and Allyson Cathey rounded out the offense with four and two kills, respectively.
"I thought the middles played really well today," Rose said. "Kendall [White], I thought, was really dialed in, passed well, and played great defense. Texas A&M has some really strong offensive players. We knew that we would have to play well. Jonni had a good night hitting and certainly Serena and Kaitlyn did a real nice job at the net."
Bryanna Weiskircher continued her strong play at setter, dishing out a match-high 33 assists. She also collected 10 digs, three blocks, a service ace, and a kill. White had a match-high 15 digs, three assists, and two service aces against the Aggies, who hit a meager .093 as a team compared to Penn State's .290.
The Nittany Lions out-blocked Texas A&M 11.5-4 in the final match of the Penn State Invitational. The team will travel to No. 1 Stanford for an 11 p.m. ET showdown with the Cardinal this Friday as part of the Big Ten/Pac-12 Challenge.
Post-Match Quotes
Serena Gray on Coach Rose's best piece of advice to her:

"I guess it would be, 'Make good choices.' He says that a lot. A lot of the time you can choose to either study the stats in the scouting report or do your own thing. You can take your teammates' advice or you can kind of, again, do your own thing, do what you think is best. I just think that general statement is what it always comes back to."
Jonni Parker on her performance:

"I'm happy because my teammates gave me the confidence to keep swinging away, especially on coverage. I need to keep working on serving and defense and my all-around communication, helping out teammates, making other people better, and myself."
Coach Rose on the program's humble beginnings: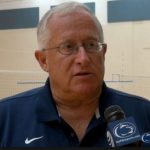 "At the beginning, nobody cared, so it wasn't like there was a choice. It was about the people that were here. Those players cared. So I cared with them. And over the course of time, we established a culture of, 'It's about the team. It's about Penn State.' It's about being the best that they can be and not worrying about what other people have and not wasting energy and time on things that don't make us better."
Coach Rose on creating positive habits:
"When [Serena] says she knows how important it is to make good decisions, it's because I tell them all the time that every decision has ramifications. Every day, everything is a choice. Looking at a scouting report wasn't one of the examples I gave her."
Serena Gray on something that's surprised her about Penn State:
"I would say how humble the girls are. Penn State is such a recognized program. I don't know, you expect some sort of ego, but really all the girls are just there supporting you, holding you accountable, trying to get the best out of you, while at the same time they're going to be there for you at your worst. Or times you need them to pick you up. Or help with homework. There's no division between the underclassmen and the upperclassmen. We all just vibe really well and the team chemistry is great, which kind of transfers onto the court."
Kendall White on how the freshmen have grown: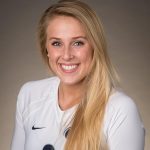 "As a whole, the freshmen have come a long way. Coming in, they were all wide-eyed, and it's understandable coming into a school like ours, but they've made tremendous steps toward communicating on the court. Communication has been so much better, because they came in pretty quiet. Our middles I think especially have gotten a lot better at finding the block, reading, hitting around it, doing things like that — little plays here and there that they just snapped on, which they didn't have before they came."
Kendall White on the freshman class' talent:
"They're talented. We've always had talent here. Talent's not the problem. What we need is team chemistry. What we need is a team that's going to play hard, with heart. Talent only gets you so far. This team, I think, has what it takes. We just have to find it."
Kendall White on whether she feels pressure with a young group:
"Not at all. I'm happy to have the new blood. I love the girls coming in. They have great attitudes coming on the court. I think there's something to be said for girls who don't know what to expect. Like if we're going against a hard opponent, they don't know better. What do they know? They come in, play hard every single time, doesn't matter who it is. I love that about them."
Jonni Parker on volleyball players she admired growing up:
"I've always admired Micha Hancock and Megan Courtney, just because they're both all-around players. I've also admired family as well, my sister just because she's taught me so much. Everybody around you can teach you anything and everything. You've just got to watch and pick up different things."
Credits
Featured image: Ethan Kasales (8/31/18)