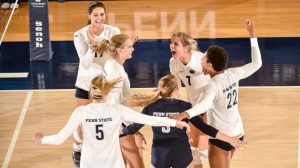 Friday  was  opening  night for the 2016  Penn State Women's Volleyball team, as they swept (25-13, 25-13, 25-17) West Virginia, coached by Reed Sunahara.  The Mountaineers were overmatched (this is Sunahara's second season, but he was hired several months after Jill Kramer, the previous coach, left for TCU, so many members of the recruiting class — including Penn State's Keeton Holcomb — left for other schools.) But the  Mountaineers improved as  the match wore on, putting up a tough fight in the third set, and ending the evening with 6-0 Fr. OH Payton Caffrey leading  all attackers with 18 kills (she set central Florida's all-time kills record as a high school senior in 2015, and was  a Third Team Under Armour All American.)  This is a well-coached team.  Better days ahead.
6-3 Jr. MH Haleigh Washington and 6-1 Jr OH Simone Lee each registered 10 kills, with Washington's .714 attack % tops on the team. RS Fr. 6-2 MH Tori Gorrell totaled six kills (.667 attack %).  6-1 Jr. OH Ali Frantti posted eight kills.  In total, Penn State had six players with at least three kills.
Junior Abby Detering, in her Nittany Lion debut, led the team to a .479 attack %, came up with five digs, and tallied 3 kills.  Freshman Kendall White led the team with 16 digs in her collegiate debut.
Coach Rose had this to say after the match:
I thought it was an OK opening match.  I don't think we can get too over-the-top  about our performance in some areas, but I thought we received a really good effort from two newcomers [Kendall White and Abby Detering, who were the players at the press conference].  Kendall had 16 digs — and that's not as good as [Payton Caffrey] who had 18 kills in  three games against us — but certainly I thought Kendall did a real nice job passing and playing defense and Abbey did a nice job with moving the ball around and getting a few kills at the net.

I didn't think our blocking was very good tonight, but it's the first match of the year and you have to start somewhere, and we'll go from here.

Detering and White both commented on what it was like to play their first match in Rec Hall.  Here's Detering:
It was an amazing experience having all the fans there [3231 of them, with a concert and a soccer game as head-to-head competition!], it felt like everyone  was right there with you — the band was awesome too.  It was a really fun first game, for sure.

Kendall  White had  this  to say:
It was everything I thought it would be, it was a really high  event.  I love that kind of environment, where everyone is surrounding you.  I love when people are close.  I'm all about it, so it was awesome.  It was exactly what I wanted.
Coach Rose then interjected "Because you're an intimate person." To which Kendall immediately replied "I don't know.  Hands on."  To which Rose responded "That's why you're here."  This is  going to be a fun four years.
Rose then gave a brief assessment of the team:
This is the starting point.  This team is what it is.  I think we'll have matches where  we play better and lose, and we'll probably have a couple of matches where we play worse and win.  I'm sure we'll have the full gamut of experiences during this season. . . . Other than we missed alot of serves [9 service errors] I thought we handled the ball pretty well.  They served Ali [Frantti] 90% of the serves and she passed great, so that was good.
Coach Rose also commented RS Fr. 6-2 MB Tori Gorrell:
I thought she was the only one that blocked well.  Tori's a pretty enthusiastic young person.  She's a little undersized for that position in the Big Ten, but I think she can compete a little bit in spurts.  I think there are times she just gets overwhelmed, but I thought she had a good opening night.
Match Stats
(Courtesy of GoPSUsports.com)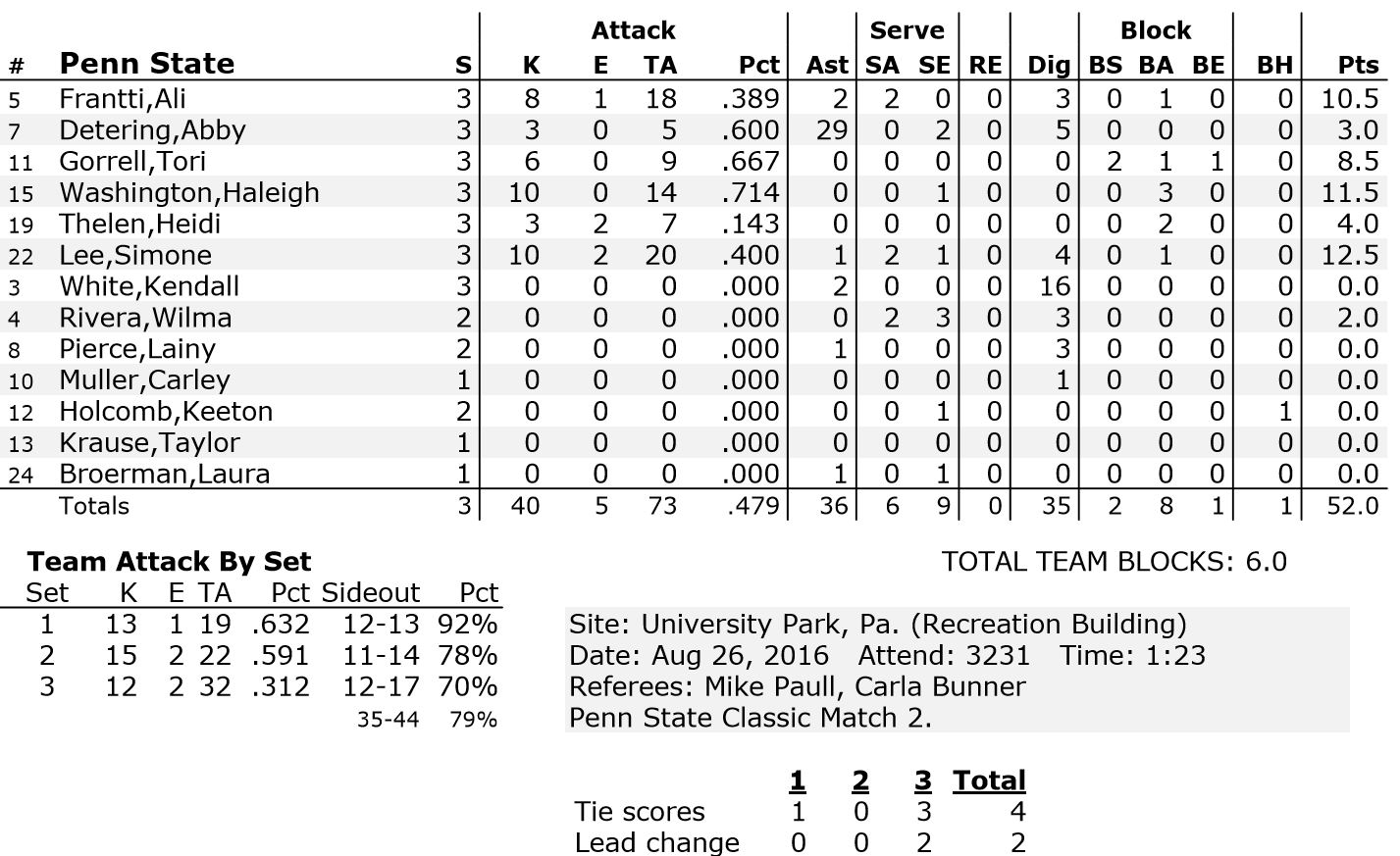 Credits
Penn State against West Virginia in the Penn State Classic on Aug. 26, 2016. Courtesy of GoPSUsports.com.

7 lions spotted along the road in the Masai Mara National Park in Kenya, by The Lilac Breasted Roller from Sullivan's Island, United States – CC BY 2.0, https://commons.wikimedia.org/w/index.php?curid=3961049.