---
Who, What, When, Where
Having taken care of business against Illinois on Saturday, #1-ranked Penn State travels to East Lansing, Mich. for a match against #9-ranked Michigan State at 7 p.m. ET on Wednesday, Nov. 1.  The match will be televised on BTN.
The two teams met previously on October 13th in Rec Hall, with Penn State emerging from the slugfest with a 3-1 victory  (25-17, 15-25, 30-28, 25-18).  6-1 Sr. OH Simone Lee posted a team high 17 kills in that match, with a then-career-high 13 digs.  Haleigh Washington totaled 14 kills (.433 hitting %), with 4 blocks.  Going into Wednesday night's match, Michigan State is 16-5  (9-3 in the B1G).   The Spartans' are led on offense by Autumn Bailey (3.23 kills/set), Brooke Kranda (3.19 kills/set), and Holly Toliver (3.03 kills/set).
Coach Rose Pre-Match Quotes
On facing Michigan State for the second time this season
The team that traveled the first week of the season, when they beat Wisconsin and Minnesota 3-0 on the road is probably the best play that any of the teams in the conference have put together.  The match [in Rec Hall] was a very tough match, and we benefitted by being the home team in the same way I would expect them to benefit being the home team [on Wednesday night].  They have six seniors on the floor.  They're leading the conference in service aces.  They have the #1 and #2 players in the conference in service aces.  If we can do well in the serve-pass game, then we'll have a chance, and if they run points against us like they did other teams, then it's tough to come back.

On whether Penn State is playing like the #1 team in the country

I haven't seen all of the teams.  I've seen a number of teams on television.  I would think there could be eight or ten teams in the country that are capable of winning the national championship, and I might be underestimating [the total number].  I think there are half a dozen teams in our conference that are really strong.  Obviously Stanford is undefeated in their conference.  Florida and Kentucky are doing great in the SEC.  Texas is once again having a great season.  There are always teams that are out there that are under the radar, that are really good, but not everybody knows about them.  I think before we joined the Big Ten we were probably one of those 25 years ago.  We had a really good team, but because we were in the Atlantic 10 it didn't register that we could possibly be very good, because we were in a conference that other people didn't [respect].

Being the #1 ranked team makes the articles probably a little better for the home team.  It is what it is.  I'm not disappointed that we're ranked number 1.  It's an honor to get the respect from the coaches who are voting — that they think that your team warrants their vote.

On whether the team is more focused playing good teams on the road

Every team is good, as Purdue found last week when they went to Maryland.  I just think it's a really competitive conference.  You don't know if the other teams are healthy, what their mindset is.  You hope that practices keep your kids sharp, but not too beat up, because the main players that are doing most of the playing can get pretty dinged up over the course of a long season.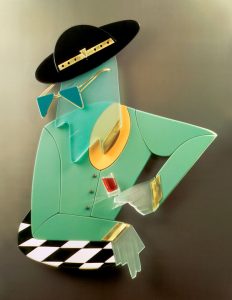 Q&A with Talking Head
We're speaking today with Talking Head, who played D1 Volleyball, and has coached the sport for many years.
DigNittany: Quick thoughts on the Illinois match?
Talking Head: Although going into the match, I thought we matched up  well with Illinois, I wouldn't have guessed that we would dominate the match the way we did after the first game.  But it just seems like there is a collective push on this team right now, where they are just feeding off of each other's energy.  You see an amazing play, and then you see another amazing play by somebody else, and then you see another amazing play, by a third player.  That energy is contagious.
On the other side of the coin, it was kind of disastrous for Illinois after game 1, especially playing at home.  That's a team that will have to shake it off and say "I don't think anybody in the country would have beaten Penn State [that night] because they were just that good, at every skill."  And that may be the case.  Penn State is playing some very good volleyball right now.  We are serving at a very high rate, and we got Illinois out-of-system a lot.  Sometimes getting a team out-of-system like that can be as effective or even more effective than racking up an ace or two.
DigNittany: What kept the first game so close?
Talking Head: I think Illinois was excited.  They were at home.  It's a tough gym to play in.  And they had been playing some pretty good ball.  Even though they had lost to Minnesota, I thought they had played really well.  It looked like a really physical match.  I thought they got some particularly good play from their OH Quade throughout the match.  The interesting statistic, and I'm still scratching my head, is how Penn State held MB Ali Bastianelli to maybe the worst match of her career.
DigNittany: Turning to Michigan State.  We slugged it out with them at Rec Hall.  What do you see playing them in East Lansing?
Talking Head:We've had a history of playing pretty well at Michigan State and I think this team travels very well.  That's due in part to the preparation of the coaches, but it's also that this is a senior-loaded team.  They've got their studies under control.  They clearly have a purpose.  They clearly like each other.  And they're older — they're 21 and 22.  Those are all small things, but they add up.  It's a nice package to have going on the road, because that's where championships are won.

DigNittany: What's your prediction?
Talking Head:  My prediction is very similar to Illinois.  I think Michigan State is as good or better than Illinois, but I think we match up really well.  In the first match, Abby Detering had a tough match offensively against 6-6 RS Sr. Brooke Kranda, but we were able to expose other areas.  We really took it to their 5-10 RS Sr. OH Autumn Bailey.  So I would say comfortably 3-1, with the caveat that we have to play well.  There are no easy matches in the Big Ten.
DigNittany: Thanks for your time.  We appreciate it.