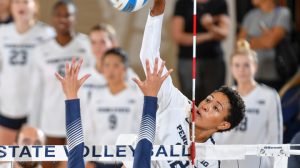 Match Recap
From GoPSUsports.com (for the complete match recap, Click Here)
UNIVERSITY PARK, Pa. – The No. 3 Penn State women's volleyball team moved to 3-1 in Big Ten play after a 3-0; 26-24, 25-14, 25-14, sweep of the visiting Northwestern Wildcats on Saturday Evening in Rec Hall.

Penn State saw both Simone Lee (Menomonee Falls, Wis.) and Haleigh Washington (Colorado Springs, Co.) record double-figure kill evenings as Lee led with 12 kills on a clip of .611, while Washington put down 10 kills with a .474 hitting percentage. Washington also added five blocks and three digs to her stat line.

Washington's middle counterpart in Tori Gorrell (Oakville, Ontario) carried her share of the workload on Saturday evening as she went a perfect seven-for-seven for the elusive 100-percent hitting. The red-shirt sophomore also added two blocks.

Sophomore libero Kendall White (Indianapolis, Ind.) was the lone player in the match to record double-digit digs as she scooped up a game-high 13 balls.
Post-Match Quotes
Head Coach Russ Rose
Opening Statement
I thought we started well in the first game, and kind of hit a bad rotation, similar to [the Illinois match].  We were fortunate to win the first game.  I thought we played much cleaner for the remainder of the match.  Other than the three missed serves in the last game, I thought we played well.  We passed well, good cross-court defense by Kendall [White].  And we hit for probably the highest number for the year for us, so we had a good night offensively.
About what Coach Rose said to the team during the timeout, down 23-21
We were part of the reason we were in that situation.  But everybody in the Big Ten is good.  [Northwestern] had three seniors on the floor who had been on the floor when they beat us previously.  Last year we played two deuce games here with them.  They're competitive, bright kids, and they were in the right position, and we just needed to get a sideout and earn a real point, and that's what happened.  Then we won on kind of a fluke play where Kendall dug the ball that went over the net and scored — something that you can appreciate, but you can't practice.
About the play of the setters
I didn't think the setting was great [against Illinois].  I thought it was a little better tonight, but they need to be in the gym practicing more.  We need to have a little better tempo to the pins, but I thought they played well.  Abby hit well.  She had one rally were she dug two balls in a row, so kudos for her in that rally with two digs.  Heidi [Thelen] was good, but Tori [Gorrell] had probably her best night — seven kills out of seven swings.  You can't do much better than that.  I'm glad because I didn't think last night Tori was involved much [in the offense].
About playing at home
It's great to be home on a football weekend.  It's a great energy — especially when the football team wins.  But we know that being in the Big Ten is about playing on the road.  We've had the luxury of our first four matches at home.  Somewhere down the road we're going to have those on the road.  You play ten at home and ten on the road.  You have to win at home and you have to steal some on the road.  We'll have a tough weekend next weekend at Ohio State and then turning around and being in Maryland.
On the play of Sr. setter Taylor Tashima and Sr. OH Simone Abbott
I think Tashima has been a terrific player for all four years.  I would have liked to have a chance to tell all three seniors [Tashima, Abbott and MB Gabrielle Hazen] that they've been opponents.  Abbott has been phenomenal in the conference.  She's a terrific offensive player.  Hazen was a kid we had in camp, so we have a little more familiarity with her.  She hit .500 but she didn't get a lot of swings.  We didn't do a great job stopping people's big slide hitters this weekend.  But the goal is to win, and sometimes you're willing to give up some points somewhere, if you can try and get them somewhere else.  I'm not thrilled that we couldn't stop those guys, but I'm happy we got a couple of victories.
Tori Gorrell
Thoughts on her offensive performance
I don't really think about it [during the match.]  If I hit well, I hit well.  It contributes to the team so it helps a little bit.  But I don't really know my stats.  When I came off, Coach said "That's what we like to see, but your blocking is horrible."  And I said "Yep, you're right."  So, it's good to hit well, but it's better when the team wins.
Abby Detering
On the team's blocking
Our team did a really nice job setting up blocking tonight, so it made our jobs for the defense a lot easier to know where to go.
Match Stats
(Courtesy of GoPSUsports.com)