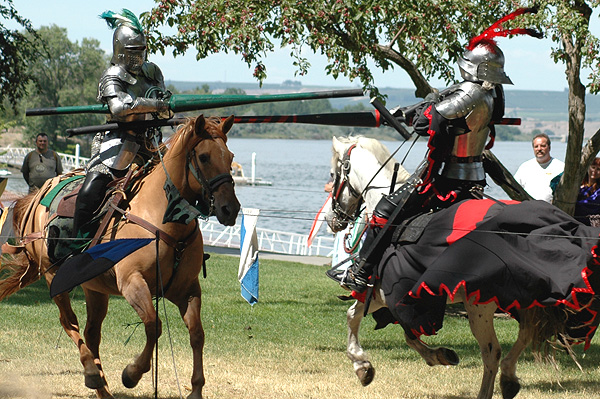 Penn State (24-2, 14-1 Big Ten) takes on Northwestern (15-11, 4-11 Big Ten) tonight at Rec Hall.  The match will be streamed live on the BigTenNetwork.com, with play-by-play with Brian Tripp from GoPSUsports.com, and stats from GameTracker.
Northwestern has enjoyed success on the road this season, with 11 of its 15 wins coming on neutral or their opponent's courts.  Penn State shouldn't let Northwestern's 4-11 record fool them — last season Northwestern forced the Nittany Lions to five sets — the first time Northwestern had won a set at Penn State since 1987.  On October 5th, Penn State downed Northwestern 3-0 in Evanston, though the score is somewhat deceptive, as two of the sets were 25-23 wins for Penn State and there were 12 tie scores and seven lead changes in the match.
Here are selected statistical leaders for Penn State through 11-8-12 (for Penn State's complete listing of statistical leaders, Click Here):
Attack Leaders - 2012
Set/Serve Leaders - 2012
Blocking and Points Leaders - 2012
Below is a comparison of overall team and individual statistics for Penn State and Northwestern, courtesy of the Big Ten:
Stat Joust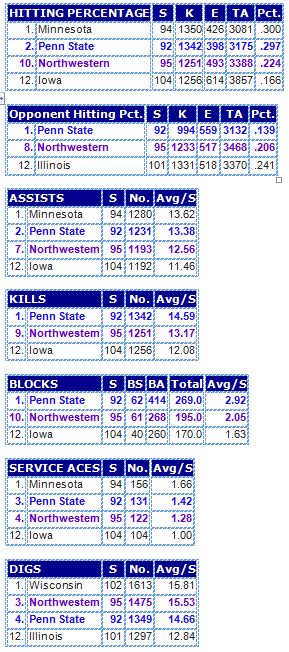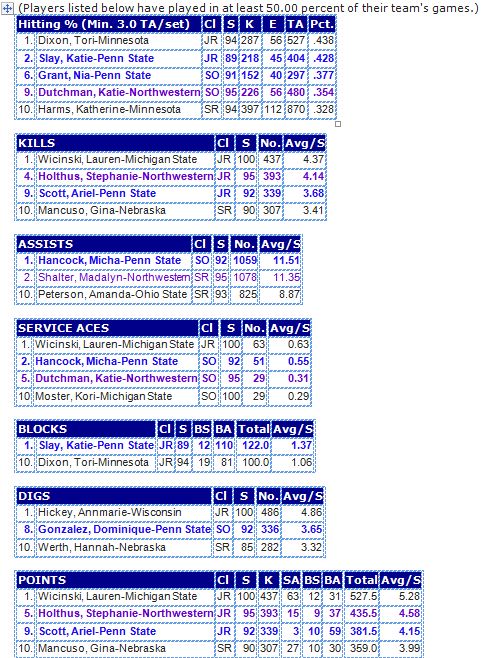 Friday Night Wrap
Michigan State vs. Minnesota
The big B1G match Friday night was between #6 Michigan State vs. #2 Minnesota  in East Lansing.  Sparty looked good at home, defeating the Gophers 3-1 (25-20, 17-25, 25-21, 25-20) for their fourth Big Ten win in their last five tries (and their first back-to-back wins over top-10 ranked opponents since 1995).
The loss dropped Minnesota (20-6, 11-4 Big Ten) into a tie (with Nebraska) for second place.  Michigan State is now 20-7 (8-7 Big Ten) and tied with Michigan for #6 in the B1G.  For the Spartans, 6-1 Jr. OH Lauren Wicinski (who leads the B1G with .63 service aces/set and 5.28 points/set) had 13 kills and 11 digs and 5-4 So. L Kori Moster had 18 digs and six assists. Katherine Harms topped Minnesota with 16 kills (.310 attack %), followed by Dana Knudsen with 8 kills (.500 attack %) Ashley Wittman with 9 kills and Tori Dixon with eight.
Nebraska vs. Indiana
AVCA #9 Nebraska (#8 in DigNittany's North Pole Poll) defeated Indiana 3-1 (25-11, 18-25, 25-13, 25-22), to the applause of 4,109 fans in the NU Coliseum (4106 of them reportedly were dressed in red.  Three were fashion outliers).
 Michigan vs. Wisconsin
Completing a good night for The Great Lakes State, Michigan swept Wisconsin (25-17, 25-22, 27-25), earning its seventh-consecutive 20-win season.  Michigan (20-9, 8-7 Big Ten) remains tied with Michigan State for #6 in the B1G.  Wisconsin (16-12, 4-11 Big Ten) is tied for #9 with Northwestern.