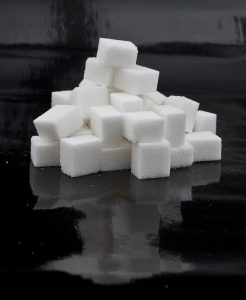 It was a great weekend for Penn State athletics: Men's Hockey beat Michigan twice; Men's Basketball won; Women's Basketball won.  Football won (wow, what a win!).  And, oh yeah, the Women's Volleyball team (24-9) won its NCAA Tournament 2nd Round Match against Pitt  (25-9)3-1 (20-25, 25-16, 25-13, 25-18), coming from behind after Pitt dominated the first set with a .567 hitting %.
Penn State by the Numbers
Penn State registered a .321 team hitting %, while holding Pitt to .147 hitting (including – .214 in the 3rd set).
6-3 Jr. MH Haleigh Washington led the team in kills (14 — .462 hitting %) with 6 blocks.
6-1 Jr. OH Simone Lee totaled 14 kills and 9 digs.
6-1 Jr. OH Ali Frantti registered 11 kills (.308 hitting %).
6-0 Jr. setter Abby Detering chalked up a match-best 42 assists, 5 kills, 4 blocks, and 2 service aces.
6-2 RS Fr. MH Tori Gorrell put down 8 kills (.500 hitting %) with 5 blocks.
Fr. libero Kendall White recorded 18 digs and 6 assists.
Press Conference
Head Coach Russ Rose
I thought it was a very competitive match.  Pitt is a great opponent.  When we lost the first game it was clear that they were better prepared to play at the onset than we were.  But I thought that we steadied out.  We played together well and we had three people with double digit kills that gave us the kind of balance that we needed at that point in time. . . . It's a friendly rivalry.  They played very well and should be congratulated on a great season.  We're excited about the opportunity to advance and play another weekend.

[Asked about the impact of the crowd – chuckling] It was a tough crowd because everyone was watching the football game.  We're appreciative of the fans that were here.  Pitt had a great following, so we're appreciative of the opportunity to host.  It's never a given and the University has to get involved in making a bid, and we're appreciative of that, and we're appreciative of the people that came out and supported our team tonight and supported all the teams yesterday.

[Pitt] is a proud university with a great staff and the players play hard.  We like playing them in the Spring.  It's good for both teams. . . .  In a match like there's alot more pressure and both teams have newcomers that didn't play last spring.  Their outside hitter is a great player.  It was a good match.  It's tough when someone's season ends. . . . We're appreciative of the opportunity to move on and see if we can play well on the road.

[Asked if anything "turned on" the team's block after the first set]  They played a great first game — they hit .560.  It wasn't that we weren't blocking, it's that we couldn't score ourselves.  Neither team had alot of errors.  We maybe had one more error than them in the first game.  It's just we were down big, early.  I don't think it's a blocking thing.  Both teams have different strengths and weaknesses.  Sometimes they're involved in different rotational exposures.

[Asked about the play of Pitt's 5-7 So. setter, Kamalani Akeo]  She's a terrific player.  They wouldn't have had the success they've had this year without the quality of her play.  She's short, but she's big on skill and moxie, and she's a terrific leader, and they've got a great system.  I think she's a really fine player.

[Asked how Penn State turned things around after the first set] Part of it is, we didn't go crazy with losing the first game.  Pitt's good, so it's hard to win 3-0 all the time.  They some things really well, and we needed to be better in some areas.  We didn't hit for a very good efficiency in the first game, and they hit for a really high one.  In the second game, we were a little better and they cooled off significantly.  It's two good teams battling.  That's what it is , that's what happens at the NCAAs.
Kendall White
[Asked whether she enjoyed her first experience in the NCAA Tournament and was it what she expected].  It was fun.  We prepared for every team like we do throughout the season.  It was exactly what I expected it to be — like every other game, except a little bit more pressure.  A little bit more pressure, I think helps us play better because we know that was our last game in Rec Hall tonight, this season.  We wanted to play it for our seniors, we wanted to play it for each other, and focus on our teamwork.  That was really awesome.  It went how I wanted it to.
Haleigh Washington
[Asked about how the team was blocking against Pitt and how she was seeing things]  I think at the start of the first set we were all a little bit high on our block, and then we . . . made the adjustment to be alot lower.  Pitt's contact point is low and really strong and very aggressive.  So if we just bring the contact point down on our block and just make sure that we're low and over, that was the big adjustment that we made.  And it worked.  We were getting more touches, we were more efficient not only getting to the block but closing that low seam.
Ali Frantti
[Asked for her thoughts about the match] I thought it was pretty intense out there.  Pitt gave us a good run.  I just thought we were very fired up to play against them.  We're very excited to advance.  It's an awesome experience for our program and I can't wait for our next match.
Match Stats
Courtesy of GoPSUsports.com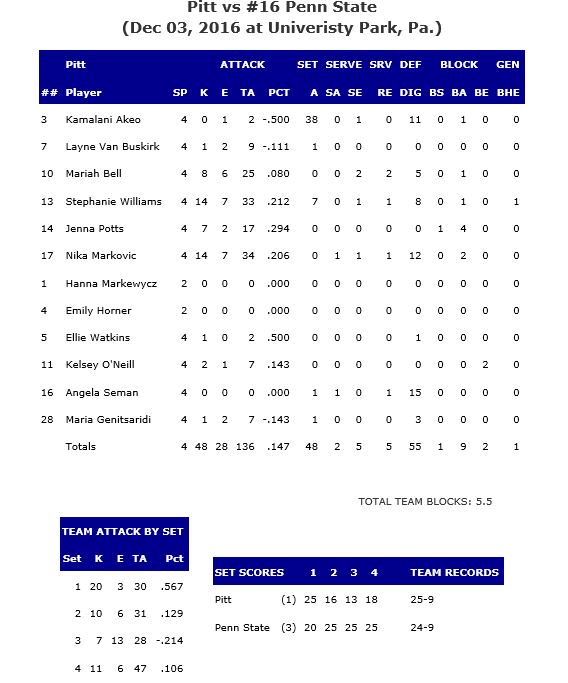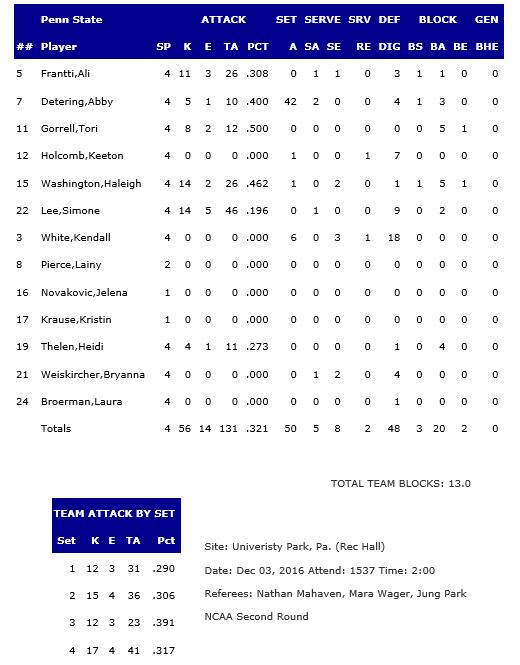 Credits