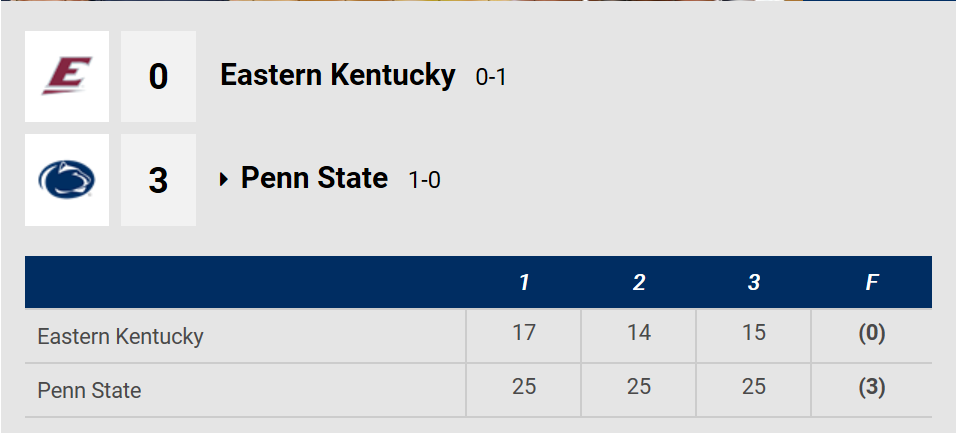 Penn State Head Coach Russ Rose thought it was a nice opening match, and it was.  EKU played hard (as would be expected from a team coached by Lori Duncan — entering her 21st and final season), and kept on competing until the last point in the third set.   But the Colonels don't have the same caliber of talent as Penn State — they finished the 2017 season with a 13-19 mark — and ultimately, talent (albeit young talent for the Nittany Lions) prevailed.
Six freshman played in the match for Penn State, but on offense, the Nittany Lions were led by 6-1 RS Sr. OH Nia Reed (14 kills, .333 hitting %) and 6-3 OH (Grad Student) Taylor Leath (9 kills). 6-2 RS Jr. MB Tori Gorrell added 6 kills on .667 hitting, and 6-0 Fr. OH/RS/Setter (she played all three positions) Jonni Parker chipped in 6 kills, 4 blocks, 3 assists and 3 digs.  Joining the freshman parade were 6-2 MB Serena Gray (3 kills), 6-1 OH Allyson Cathey (4 kills), and 6-4 MB Kaitlyn Hord (1 kill), with each of these three adding three blocks.
Defensively, Jr. libero Kendall White picked up right where she left off last season, scooping up a match-high 19 digs, with 4 assists. Freshman DS Jenna Hampton started her Penn State career with an 8-dig performance.
RS Senior setter Bryanna Weiskircher led the team with 23 assists, adding six digs, two blocks (including a crowd-pleasing solo stuff), and two service aces with no service errors. Freshman Gabby Blossom totaled 10 assists in two sets, with five digs.
Post Match Press Conference
(Courtesy of Ethan K.)
Coach Rose on Opening Match
I thought that it was a nice opening match, especially with how many young people we had. The defense probably was the thing I was most pleased with, but I thought Nia took some good swings and Tori I thought played really well offensively and had some good blocks.

Eastern Kentucky's a team we've played over the years. Their coach is a friend for a long time. I recruited her a long time ago and tried to recruit her at one point to be on our staff here. I'm a big fan of Lori [Duncan] and Eastern Kentucky, so I'm glad that they were able to come here. I think they always play hard and represent their school in a positive way.

I'm happy we won this evening. I saw some things that for sure we need to work on. I thought we played better than we practiced the last couple of days, so that was encouraging to me.
Coach Rose on spreading the ball around offensively:
"We had four players that graduated last year and went and played professionally. That was a veteran group of people, but a lot of players made that team a special team. We have a lot of young people now that we'll have to figure out where we're going to get kills from. Haleigh led the nation in hitting for three years and was second the other year, so her efficiency was great, and Simone was certainly an incredible offensive force."
Coach Rose on Nia Reed and Taylor Leath:
"Tonight, Nia carried I thought offensively, but I thought Taylor took some good swings for her first match as a member of our team. I'm sure that it was different for her having played the majority of her career at North Carolina. She passed well and I think that was the best part of her game tonight."
Coach Rose on Allyson Cathey and Gabby Blossom:
"Allyson is a person I know can generate some points, so I think we're going to have to find a way to get her on the floor. I think we'll have to maybe run a system that requires us to have more offense. The 6-2 will give us more arms on the floor, which will give us the opportunity to get more kills. And it also gives us an opportunity to get Gabby on the floor. I was a big fan last year of Abby [Detering]'s energy. Gabby has great energy. I thought certainly tonight Tori had really positive energy."
Coach Rose on Gray and Hord:
"Serena and Kaitlyn are really athletic. It's going to take them a lot of time to get a feel for playing – the speed of the game, the physical nature of the game – and they haven't even seen the physical nature of the game once we get into next week with Texas A&M and certainly Stanford and Oregon, and then the Big Ten they'll really have a chance to get a handle on it."
Nia Reed on what she needs to work on:
"I think I did okay. I need to control my errors a little bit more. It's like any other day. I consider it like practice. I just need to work hard in practice and that will reflect what I do on the court."
Nia Reed on the freshmen:
"They did a really good job. As coach said, we didn't really practice well. I think every team has their first-game jitters. I'm glad that this was a good confidence boost for the younger players and the older players and just a good way for us to click as a team. First win, good win, probably could have done a lot of things better."
Tori Gorrell on expectations for herself:
"It's always nice to have a well-rounded game. It's not always good when you have just hitting or just blocking. As a middle, you want to be [involved] in both ends of the game. So, yeah, probably a more well-rounded game than I've had in a while."
Jenna Hampton on Rec Hall debut:
"It was good. I had a little jitters at first but I got it out of the way. I saw things I needed to work on, so I'm excited for this year."
Jenna Hampton on Reed's performance:
I think she hit over the block well today. I thought she had really good swings in deep corners and she played smart.
Nia Reed on team's conditioning:
Preseason got us really ready for that. We had three-a-days, so three games in a row is like a breeze. I don't want to say a breeze. Don't quote me on that. I think preseason definitely got us ready. I think most of us, if not all of us, are in really good shape. I think these three games are well needed.
Coach Rose on the season ahead:
It's a long season and we're in a really competitive conference. You can't get too high with an early season victory, but we certainly have an indication on some things we need to work on. We didn't make a lot of errors tonight, which is good, and we'll try and be better tomorrow.
Match Stats
(Courtesy of GoPSUsports.com)