Penn State vs. MSU
From GoPSUsports.com:
In support of and to raise awareness for the International Week of the Deaf, the Penn State women's volleyball team will have a Silent Set during its match against Michigan State at Rec Hall on Wednesday at 8 p.m.

Fans will remain silent from the opening serve until Penn State scores its ninth point in the first set. The ninth point was chosen in honor of Jonni Parker, a sophomore standout on the Nittany Lions who has moderate hearing loss. The All-American wears jersey No. 9.

"I think the Silent Set is an amazing opportunity to bring awareness and support to those with hearing loss," Parker said. "I believe we all should inspire one another to achieve our best every day and encourage others to chase greatness, regardless of the situation."

Helping with the event will be Ryan Perry, a deaf student manager for the Nittany Lion program.
PENN STATE
Record: 7-2
Big Ten: 0-0
2018: 26-8 (14-6 Big Ten)

MICHIGAN STATE
Record: 9-1
Big Ten: 0-0
2018: 17016 (5-15 Big Ten)
* In last year's meeting of these teams, Penn State came into Jenison Field House and took a 3-0 win. Alyssa Chronowski had 10 kills for MSU and Naya Gros had eight blocks in the loss. Kaitlyn Hord and Taylor Leath both had nine kills, and Jonni Parker had eight kills and four blocks.
* The teams met just once a year ago, but will play twice in 2019. Penn State comes to MSU on Sunday, Oct. 20.
MEDIA
Wednesday's match will air live on FS1 with Matt Janus and Jill Dorsey on the call.
Stat Joust
Here are selected team stats for Penn State and Michigan State as of 9-23-2019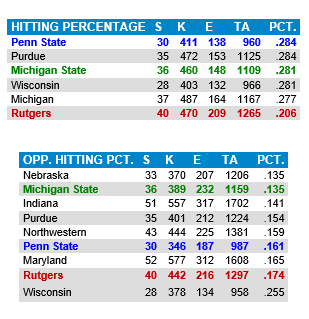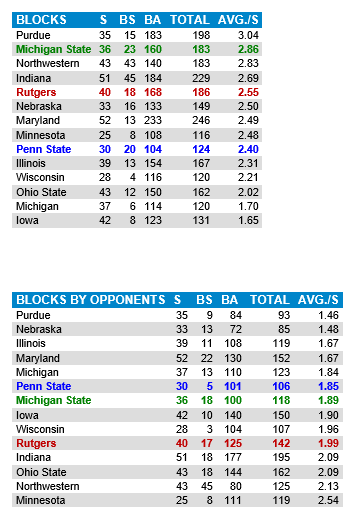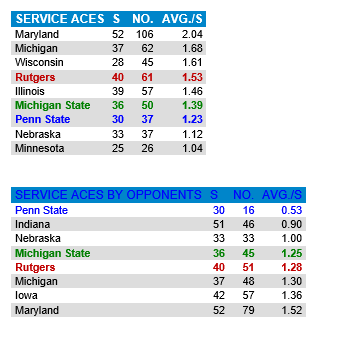 Credits
Sign language "PSU" courtesy of GoPSUsports.com