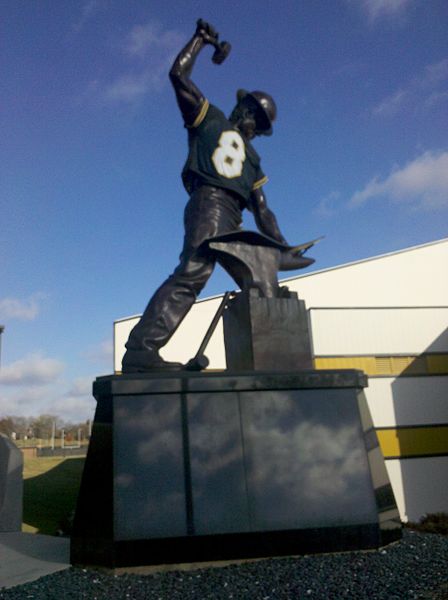 What:  Penn State (11-5, 4-2 Big Ten, #9 AVCA Poll) vs. Purdue (15-2, 4-2 Big Ten, #11 AVCA Poll)
Where: West Lafayette, IN
When: 7:00 p.m. ET
Road Warriors?
It will be interesting to see how #9 Penn State, coming off the tough five-set loss to Illinois last Saturday, performs against #11 Purdue tonight in West Lafayette.  Lots of folks would reverse those rankings, or drop the Nittany Lions out of the Top 20 entirely. 
And those folks may be right.  The fact is, since the USC match — when Penn State pulled out a five-set victory in front of the most enthusiastic Rec Hall volleyball crowd Russ Rose has ever witnessed (and he's pretty much witnessed them all) — the Nittany Lions arguably have performed like a top-ten team only once, when they swept Minnesota on October 1st.  Perhaps not coincidentally, the Minnesota match also was at home. 
So this could be a signature road match for Penn State, against a very tough opponent that already knows it can beat Penn State — they accomplished that last season when they took down Penn State 3-2 in West Lafayette (after Penn State had won the first two sets).   
For the Nittany Lions to come out on top tonight, Penn State will need to find a way to get 6-1 So. OH Deja McClendon more involved in the offense — and more productive when she is involved in the offense.  As shown in the table below, in the last four matches, McClendon is hitting just .121 — not the kind of performance Penn State needs to compete successfully against a team like Purdue.  And although 6-4 So. RS/Opp Ariel Scott has led the Nittany Lions during those four matches  with 4.13 kills/set, her .191 attack % probably isn't what Russ Rose is looking for either.  On the other hand, Katie Slay and Nia Grant have put up very respectable numbers.  If Hancock, Slay, and Grant can communicate well and take some of the pressure off McClendon and Scott, Penn State might be successful against the Boilermakers.   
Actually, for the season, against all opponents, the performance of Scott and McClendon is virtually identical, as reflected in the table below:
Attack Leaders - 10-14-11
Setter Micha Hancock will have her work cut out for her, as she will face an experienced Purdue front line featuring 6-1 Jr. OH Ariel Turner (4.69 kills/set; .76 blocks/set; 2.56 digs/set — and the winner of the last two Big Ten Player of the Week awards), 6-2 RS So. OH Catherine Rebarchak (2.07 kills/set; .78 blocks/set), 6-2 Sr. MB Tiffany Fisher (2.82 kills/set; .98 blocks/set), plus 6-1 wunder-frosh MB Kierra Jones (1.34 kills/set; 1.23 blocks/set).  
In the back row, Penn State likely will counter with 5-6 So. L Ali Longo, who averaged 4.20 digs/set last week (a team-leading 2.52 digs/set for the season), 5-6 Fr. DS Dominique Gonzalez (2.44 digs/set last week, 1.29 digs/set for the season), and 5-7 Jr. DS Kristin Carpenter (2.34 digs/set for the season). 
About Purdue
In addition to Turner, Fisher, Rebarchak, Drewry and Jones, key players for the Boilermakers include 6-0 Fr. OH/S Valerie Nichol (2.00 kills/set) and 6-2 RS So. OH Katie Griffin (1.89 kills/set), 5-10 RS Sr. DS Blair Bashen (3.95 digs/set) 5-6 Jr. DS Carly Cramer (2.70 digs/set), 5-9 Sr. DS Emily Ehlers (2.50 digs/set) and 6-0 RS So. S Rachel Davis(2.43 digs/set; 11.38 assists/set).
Like Penn State, Purdue lost to both Illinois (3-1 at Illinois on October 1st –26-24, 25-20, 23-25, 25-23) and Nebraska (3-1 in Lincoln on October 7th –22-25, 25-20, 25-14 and 25-22).  Not much to separate the two teams based on these showings.
Joust – Big Ten Only
This early in the season, there probably isn't much point in comparing statistics (that might be true even later in the season; there's always that old saw "you can throw the records out for this one").  But here's our Stat Joust anyway.  Purdue's .231 hitting % looks pretty good compared to Penn State's .206, and its 12.90 assists/set (#3 in the Big Ten) is significantly better than Penn State's 11.75 (9th in the Big Ten), as are Purdue's 14.00 kills/set vs. Penn State's 12.79.  But Penn State tops Purdue in Blocking (2.69 blocks/set vs.  2.49 blocks/set) and services aces/set (thank you Micha Hancock). 
HITTING PERCENTAGE

S

K

E

TA

Pct.

1.

Nebraska

24

321

106

782

.275

4.

Purdue

21

294

106

815

.231

8.

Penn State

24

307

132

849

.206

12.

Indiana

22

230

151

715

.110
Opponent Hitting Pct.

S

K

E

TA

Pct.

1.

Illinois

28

352

194

1060

.149

2.

Purdue

21

273

138

848

.159

4.

Penn State

24

275

132

824

.174

12.

Iowa

21

310

95

747

.288
ASSISTS

S

No.

Avg/S

1.

Ohio State

22

288

13.09

3.

Purdue

21

271

12.90

9.

Penn State

24

282

11.75

12.

Indiana

22

217

9.86
KILLS

S

No.

Avg/S

1.

Ohio State

22

311

14.14

2.

Purdue

21

294

14.00

8.

Penn State

24

307

12.79

9.

Illinois

28

348

12.43

12.

Indiana

22

230

10.45
BLOCKS

S

BS

BA

Total

Avg/S

1.

Illinois

28

9

152

85.0

3.04

2.

Penn State

24

16

97

64.5

2.69

5.

Purdue

21

14

76

52.0

2.48

12.

Iowa

21

9

34

26.0

1.24
SERVICE ACES

S

No.

Avg/S

1.

Penn State

24

36

1.50

5.

Purdue

21

24

1.14

12.

Indiana

22

14

0.64
DIGS

S

No.

Avg/S

1.

Purdue

21

372

17.71

6.

Penn State

24

358

14.92

12.

Indiana

22

263

11.95