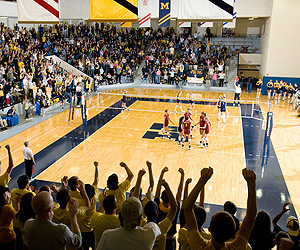 The Match: Penn State (19-4; 9-3 Big Ten) vs. Michigan (20-4, 9-3 Big Ten)
Where and When: Ann Arbor, MI.; Friday, November 5th, 7:00 p.m. E.T.
Media Coverage: Game Tracker; Listen to Michigan Broadcast; Live Stream – ESPN 3; TV: ESPN 2 (Tape Delay)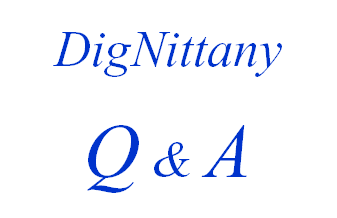 Michigan will be pulling out all the stops this Friday night, with a Maize Out, a Pom Pom Giveaway, a Volleyball Trivia contest, Player Introduction with Mini Volleyballs (we're guessing that doesn't include the Penn State team), a "Kids Line the Court" thingy (do they really make them stand the entire match?), and an "Ace T-Shirts" contest, or giveaway, or something.  And that's before the match even starts!  
If past is predicate, the Nittany Lions better look out.  The last time these teams met in Ann Arbor, the Wolverines came within a whisker of knocking off Penn State, forcing them to five sets. 
This year's Michigan team is even better.  The #15-ranked (AVCA Poll) Wolverines are coming off a big 3-1 win at Wisconsin on Saturday, October 30th  (25-20, 25-22, 22-25, 25-19) — the first time Michigan had won in Madison since 1992.  Offensively, Michigan was led (as usual) by 6-0 Jr. OH Alex Hunt (20 kills), followed by 6-2 RS So. RS Claire McElheny (16 Kills), 6-4 Fr. MB Jennifer Cross (10 kills), and 6-1 Fr. OH Lexi Erwin (8 kills).  5-9 Jr. L Sloane Donhoff had 19 digs and All American 5-10 Sr. S Lexi Zimmerman (heck, we'll give her All World status), dished out 49 assists, totaled 16 digs,and added four blocks and three kills.   Wow! 
Here are video highlights from Michigan's October 23rd 3-2 win over Purdue:

Here's what DigNittany's resident analyst, MaskedFan, has to say about Friday's matchup between the Nittany Lions and the Wolverines:
DigNittany: This one has all the ingredients for an instant classic, and if it's anything like last year's match between these two teams in Ann Arbor, it will be. But Penn State did sweep Michigan earlier this season in Rec Hall. Do you think that previous loss has any bearing on this one – a confidence booster for Penn State? Added incentive for Michigan? – or is this a case where that was then and this is now, and what's on the line is a shot at the Big Ten title, so forget the past and let's play volleyball?
MaskedFan: I think Michigan needs to forget about their last match against PSU at Rec Hall and focus on what they were able to do last season in Ann Arbor. They just need to play volleyball and execute their game plan and focus on their side of the net. If they can keep their errors low, there is no reason that they can't take a couple sets from the Lions, or possibly the match. Penn State is playing the best of any team in the Big Ten right now (arguably) so Michigan needs to be mentally prepared for a battle on Friday.
DigNittany: 6-0 Jr. OH Alex Hunt and 5-10 Sr. S Lexi Zimmerman are both great players for Michigan. Give us your thoughts on the challenges they pose for Penn State and some of the keys for the Nittany Lions in trying to answer those challenges.
MaskedFan: Well, Alex Hunt has gone from a player not on anyone's radar to one of the better attackers in the conference. The improvement she's made in all areas is extremely impressive. Michigan will go as she does. She needs to have a great all-around game for Michigan to stun the Lions.
 Lexi Zimmerman is the premier setter in the country. Mark Rosen has built his program around her and she's delivered on everything during her career as a Wolverine. She's deceptive, offensive, makes great decisions, and makes her cast of average attackers seem like All-Big Ten performers. She's the definition of a leader and she's a player who knows how to win. You can't ask for much more in a setter.
Taking down PSU is a daunting task and these two players need to lead their team and play a great game if they want to make it happen: low error, good, smart decisions, and effective leadership.
DigNittany: Coach Rose had this to say recently on the importance of the seniors taking a leadership role: "It's what they should do. . . . If they don't do that, that's a bigger disappointment because the freshmen, the freshmen need someone to follow. It's not that they don't care but they don't know, and it takes time to know." In the last two weeks, 6-5 Sr. Opp. Blair Brown and the other Penn State seniors have shown flashes of leadership, and some flat moments too. What do you expect from them against Michigan?
MaskedFan: Well, I think the seniors need to lead in this match. The Wolverines are going to remember what they almost did in Ann Arbor last season and use that to help motivate them.  Brown, D'Errico, and Wilson need to embrace their role as the experienced veterans. It's time. They've had enough time to adjust and they need to take on this new responsibility. Penn State is still one of the best teams in the country when they're on and the leadership needs to be there for that to happen. They have all the physical tools. They're extremely talented despite losing two National Player of the Year candidates. It's all mental at this point. I expect them to have finally taken on the role that Megan Hodge, Christa Harmotto, Nicole Fawcett, and Alisha Glass have filled in the past.
DigNittany: This year's Nittany Lion team is very young – three freshman (6-1 OH Deja McClendon, 6-5 OH/MH Ariel Scott, and6-6 MH Katie Slay) and one sophomore (5-6 S Kristin Carpenter), are either starting or seeing significant playing time. How do you think they've progressed this season, and how do you think they'll do on the road against Michigan?
MaskedFan: Kristin Carpenter's development has been amazing. She's doing better than anyone could've expected. She's obviously had her moments of mistakes, but everyone has. For someone recruited as a libero and never planned on setting this team, she's done a remarkable job. She plays so much bigger than her size and she's running a very nice offense for PSU. Stepping into Alisha Glass' shoes is no easy task and she's done very well considering.
Deja McClendon is also playing at an amazing level. Starting for this team as a freshman is a ridiculous thing to ask of a 17-year old girl and she's excelled in every aspect. She's hitting at a very high efficiency for a left-side hitter (and a freshman, no less…), passing very well, which allows PSU to lead the conference in hitting percentage, and is a fantastic blocker. She's one of the premier freshman in the country and is playing at an All-American level.
 Ariel Scott, and Katie Slay are different: Slay plays situationally for blocking and Scott has just started playing in place of Katie Kabbes. Each is performing admirably, but both have so many things that they need to improve on. They need to have big games for PSU to compete with the best.
DigNittany: We've talked about Alex Hunt and Lexi Zimmerman , but Michigan is more than a two-player team. What are your thoughts on Courtney Fletcher, Claire McElheny, Jennifer Cross, Sloane Donhoff and the rest of the Michigan team?
MaskedFan: I'm not an expert on the Michigan team, but after such a great start in the conference, it appears that their team is very talented. Cross is a freshman who is leading her team in hitting percentage, blocking, and is second on the team in points. Donhoff is a standout libero with a great nose for the ball. Michigan is a very good team and they're very well coached.
DigNittany: So, what's your prediction for the match?
MaskedFan: Penn State in 3 or 4. I'd love to see another instant class five-gamer, but I think PSU can close it out sooner than that given the way they've been playing recently.
DigNittany: Thanks for your time. We appreciate it. Go Nittany Lions!
Final Thoughts: Rally in the Valley
We know Michigan is pointing to this match, but what about Penn State?  For the answer to that question, just look at this video of Joe Paterno, leading almost 6,000 fans in a Rally in the Valley last Friday, exhorting the team to Beat Michigan!
OK, so that may have been for the football team, but we're certain Joe has exactly the same enthusiasm for the Penn State Women's Volleyball team. So we're going with it. Joe Knows Volleyball!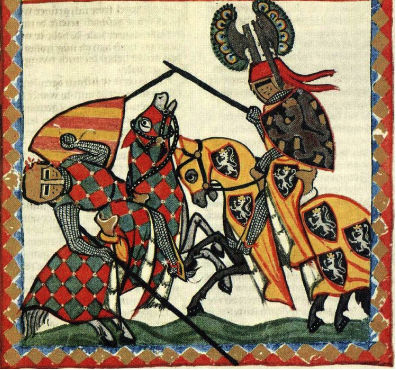 Stat Joust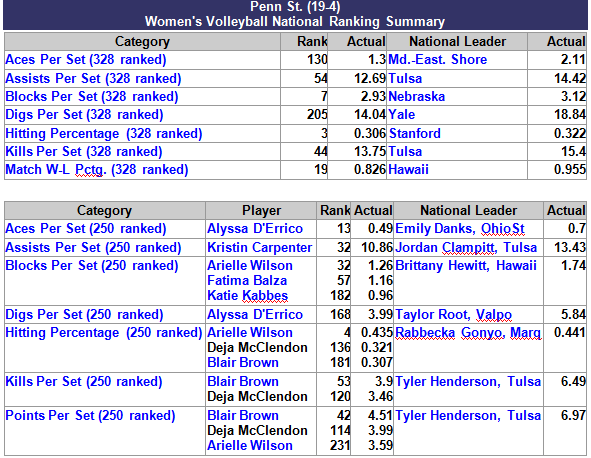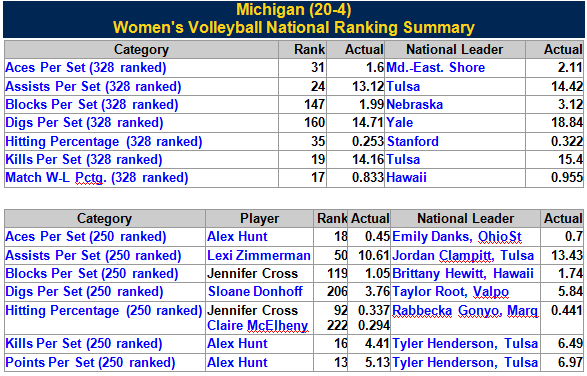 Team Rosters
2010 Michigan Volleyball Roster  
| No. |   | Name | Pos. |   | Ht. |   | Elig. | Hometown (High School) |
| --- | --- | --- | --- | --- | --- | --- | --- | --- |
| 1 |   | Molly Toon | OH |   | 6-0 |   | FR | Middleton, Wis. (Middleton) |
| 2 |   | Jennifer Cross | MB |   | 6-4 |   | FR | Scarborough, Ont. (Birchmount Park Collegiate) |
| 3 |   | Sloane Donhoff | L/DS |   | 5-9 |   | JR | Louisville, Ky. (Assumption) |
| 4 |   | Michelle McMahon | DS |   | 5-6 |   | JR | Grand Rapids, Mich. (Forest Hills Northern) |
| 6 |   | Karlee Bruck | MB |   | 6-3 |   | RS JR | Elyria, Ohio (Elyria) |
| 7 |   | Catherine Yager | S |   | 6-0 |   | SO | St. Michael, Minn. (Albertville) |
| 8 |   | Alex Hunt | OH |   | 6-0 |   | JR | Granger, Ind. (South Bend St. Joseph) |
| 11 |   | Lexi Erwin | OH |   | 6-1 |   | FR | Spring, Texas (Woodlands College Park) |
| 12 |   | Maggie Busch | DS/L |   | 5-7 |   | SR | Toledo, Ohio (Toledo Christian) |
| 13 |   | Ally Sabol | DS/L |   | 5-5 |   | FR | Los Angeles, Calif. (Marymount) |
| 14 |   | Claire McElheny | RS |   | 6-2 |   | RS SO | Westfield, Ind. (Brebeuf Prep) |
| 15 |   | Courtney Fletcher | MB |   | 6-4 |   | JR | Duluth, Ga. (Northview) |
| 16 |   | Brittany Lee | DS/L |   | 5-9 |   | RS FR | Indianapolis, Ind. (Cathedral) |
| 17 |   | Lexi Zimmerman | S |   | 5-10 |   | SR | Barrington, Ill. (Barrington) |
| 19 |   | Amanda Yerke | RS |   | 6-3 |   | SO | Commerce Twp., Mich. (Walled Lake Northern) |
Penn State Roster
2010 Team Roster