UCLA vs. Penn State

(Click images for more info)
Date
(Time)
vs.
Site
Media

12-12-14
7:00 p.m. ET



KFC Yum!
Center

(Click this link or image below for NCAA Interactive Bracket)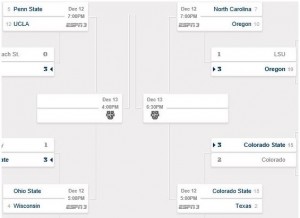 OK, you can toss out the results of Penn State's  September 6th win over UCLA in straight sets (25-19, 27-25, 25-17).  Or, if you're going to look at past performances, look at the last NCAA Tournament matchup between these two teams — a straight set UCLA win in 2011 (25-20, 25-22, 25-21), which ended Penn State's 26-match NCAA winning streak.
But only two players on UCLA's roster played in that match: Zoë Nightingale (4K-0E-10TA, .400, 3B) and Karsta Lowe (1E-1TA in one set).  And the Penn State players who were on Penn State's roster for that match — 5-11 Sr. setter Micha Hancock, 6-2 Sr. MH Nia Grant, 6-4 RS Jr. Opp/RS Aiyana Whitney, 5-6 Sr. libero Dominique Gonzalez, and 5-6 Sr. DS Lacey Fuller — were all freshmen.
So let's go to that tried-and-true test of which team is better (we kid) — comparative statistics.
 Stat Joust
Attack Leaders: Penn State - UCLA
Name
Team
SP

MP
(MS)
K
K/S
E
TA
%
Lowe,
Karsta
UCLA
115
33
(33)
681
5.92
245
1440
.303
Frantti,
Ali
Penn
State
110
35
(35)
360
3.27
100
811
.321
Buechler
Reily
UCLA
115
33
(24)
336
2.92
146
887
.214
Whitney,
Aiyana
Penn
State
102
35
(30)
322
2.88
93
627
.365
Washington,
Haleigh
Penn
State
65
22
(18)
177
2.72
29
301
.492
Strantzali,
Olga
UCLA
79
28
(13)
191
2.42
83
464
.233
Grant,
Nia
Penn
State
111
35
(35)
263
2.37
56
457
.453
Felix,
Claire
UCLA
99
31
(27)
198
2.00
54
427
.337
Penn
State
Penn
State
113
35
(35)
1654
14.64
426
3463
.355
UCLA
UCLA
118
33
(33)
1778
15.07
676
4173
.264
Penn
State
Opp.
Penn
State
opp
113
35
(35)
1126
9.96
648
3409
.140
UCLA
Opp.
UCLA
Opp.
118
33
(33)
1434
12.15
572
3916
.220
Serving Leaders: Penn State - UCLA
Blocking/Points Leaders: Penn State - UCLA
Name
Team
SP
BS
BA
TB
B/S
Pts
Pt
/S
Lowe,
Karsta
UCLA
115
7
68
75
0.65
754.0
6.56
Frantti,
Ali
Penn
State
110
10
45
55
0.50
417.5
3.80
Washington,
Haleigh
Penn
State
65
14
65
79
1.22
223.5
3.44
Whitney,
Aiyana
Penn
State
112
4
86
90
0.80
372.0
3.32
Buechler,
Reily

UCLA
115
5
42
47
0.41
367.0
3.19
Grant,
Nia
Penn
State
111
14
110
124
1.12
348.0
3.14
Strantzali,
Olga
UCLA
79
0
23
23
0.29
220.5
2.79
Felix,
Claire
UCLA
99
11
66
77
0.78
242.0
2.44
Penn
State
Penn
State
113
64
474
301.0
2.66
2181.0
19.30
UCLA
UCLA
118
52
376
240.0
2.03
2145.0
18.18
UCLA
Opp.
UCLA
Opp.
118
70
521
330.5
2.80
1883.5
15.96
Penn
State
Opp.
Penn
State
Opp.
113
20
289
1164.5
1.46
1344.5
11.90