By Lionsfan
B
1G

Upsets (Chaos?)

Chaos reigned in the Big Ten last weekend, and unfortunately for Penn State fans, the Lions ended up on the losing end. In front of nearly 3,600 fans in Rec Hall, Penn State dropped a 4-set decision to Illinois. One of the Fighting Illini's set wins came in the first, when they were down 8-19 but managed a remarkable comeback to win 26-24: "That's pretty miraculous," said Illinois coach Kevin Hambly. "That had a lot to do with both of us; I think we started to play better and they started to relax a little bit. They made some errors that gave us some chances, and I don't think that happens again if we play that match over. I think we were pretty fortunate."
The win was Illinois' third victory at Rec Hall ever, and the first to come in less than five sets. Illinois last won at Penn State on Oct. 8, 2011—and the Lions had since gone 44-1 at home (the only other loss to Michigan State in the conference opener last season). Penn State has won 94 of its last 97 Big Ten home matches.
Also from the Illini SID:
"I was proud of the kids for fighting the way they fought and continuing to punch and punch," said head coach Kevin Hambly. "This is a tough place to win. To come in here and play the way we played, we did a good job. After some big runs by Penn State, in the past I think we would have gone down, and I think we handled it great."
Penn State—which dropped two spots in the poll to #7 in the AVCA poll — next hits the road for a dangerous match at #14 Purdue (see it on BTN). Meanwhile, in Ann Arbor, unranked Michigan pulled off an equally surprising result, sweeping then-#8 Nebraska 25-19, 32-30, 25-21. It is the Huskers second loss to an unranked conference foe this season, having previously lost in five to (then-unranked) Ohio State at home.
Nebraska has now failed to win both matches of the Michigan/Michigan State road trip for the third time in four seasons. Wolverine sophomore Abby Cole was named the Big Ten Player of the Week after hitting .621 for the match, committing just one error while notching 19 kills on 29 swings. Senior teammate Lexi Dannemiller was named Setter of the Week, while Adeja Lambert won Freshman of the Week.
Nebraska next faces Northwestern and Illinois. Husker coach John Cook told Lincoln Journal Star: "Northwestern is better than these guys (the Wolverines), so we'll have our hands full."
On A Rampage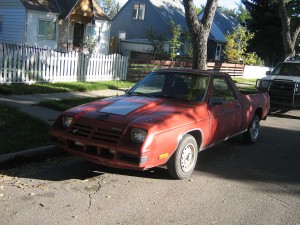 With wins over Illinois and Northwestern, Ohio State has made history. It is the first time the program has ever notched three wins in a row over ranked teams, coming off their upset of Nebraska two weekends ago. The Buckeyes are now 13-5 and 4-2 in conference, and are ranked for the first time this year at #22. Ohio State was ranked in the first eight polls of the 2013 season (from 12 to 24) before dropping out. Sophomore Valeria León was named Big Ten Defensive Player of the Week, averaging 3.44 digs, .56 aces and 1.11 assists per set. Like Penn State, the Buckeyes are on the road this weekend at Indiana and Purdue. The Buckeyes and Boilermakers are deadlocked 41-41 in their series. Ohio State sophomore MB Taylor Sandbothe may be the difference maker; she ranks third in the B1G with 1.32 blocks per set (trailing only the Trapp sisters from Minnesota). Sandbothe missed a few weeks of competition earlier this season with illness.
Centennial State Celebration
Has Colorado finally found its groove? Much was expected of the Buffaloes this season after putting a scare in Minneosta in the tournament last year. After getting swept by Southern Cal, Colorado beat UCLA on the road (its first Pac road win of the season). It was the Buffaloes second straight win over the Bruins, having defeated them in five in their only meeting last year (in Boulder). It also marked Colorado's first road win over a ranked opponent since 2005, when it beat #8 Missouri and # 24 Texas A&M.
Following their recent upset of Arizona (and their near-upset of Arizona State), the Buffaloes (11-7, 3-3) are proving to be more dangerous…can they put a scare into Stanford this weekend in Boulder?
"What a great team effort today…and coming away with another win against a ranked opponent is another step forward for this program," coach Liz Kritza said of the UCLA win. "For the first time all season, at different points during the match, all four of our pin hitters were hot, as well as our middles. When that happens, we are a tough team to slow down due to our offensive options."
Meanwhile about 55 miles north in Fort Collins, Colorado State notched two more wins to up its record to 18-1. The Rams moved up a spot to #6 in the poll after beginning the season at 18. It is the Rams highest rank since Oct. 29, 2001, when they were also #6. All-time, Colorado State has been ranked in 257 of the 469 polls (good for 14th place) and holds 68 appearances in the top 10—tied momentarily with Arizona for 18th place. Colorado State holds the nation's longest road winning streak and will play at New Mexico and Air Force this week. From the Rams' SID: The Rams haven't lost a true road match since Oct. 25, 2012, a span of 24-consecutive road wins. Overall, CSU's 13-match win streak is tied for the fourth-longest in the NCAA, and its 18 victories lead the nation.
The Willie Shuffle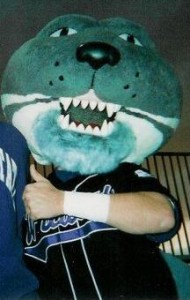 Fun fact: You already knew that Northwestern and Kansas State shared a mascot (the Wildcats) and a color (Northwestern lists its official color as purple, while Kansas State opts for royal purple). But did you know that both of their Wildcats are nicknamed Willie?
Northwestern gets to call dibs, as its Willie was first spotted in 1933 (their first mascot was a live, caged bear cub from the Lincoln Park Zoo named Furpaw…an ill-advised choice of name, which lionsfan gleaned from Wikipedia), while K-State's costumed Willie was first spotted in 1947 (previous mascots included a Labrador named Boscoe and a bobcat called Touchdown).
Northwestern's Willie received a makeover in 2007 (or, according to blogger, a "makeunder"), while K-State's Willie got into some trouble that same year. Apparently there's only room for one Willie in the poll.  Following losses to Penn State and Ohio State, Northwestern dropped from the poll. Sitting directly above them at #25 is Kansas State — ranked for the first time this season (and the first time since November 19, 2012, when it was also #25) following a three-match win streak to put them at 16-2. K-State has wins at Kansas and Michigan this year.
Which Willie will roar louder in next week's poll? K-State travels to Texas Christian and hosts #2 Texas, while Northwestern travels to Nebraska and Iowa.
Hawaii Heartbreak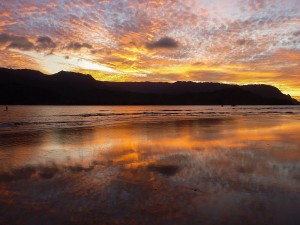 With two road losses to unranked teams (a sweep at the hands of Cal-State Northridge and a five-set loss at Long Beach), Hawaii has dropped out of the poll for the second time this year. Hawaii spent one week unranked this season prior to this week's poll. As noted in the Honolulu Star-Advertiser:
Prior to this season, Hawaii had been ranked in every weekly poll since 1981 except for the final four weeks of the 1992 season. The Wahine finished 15-12 that year and missed the NCAA tournament for the first and only time in program history.
This week's AVCA Top Ten Action
Stanford @ Colorado, @ Utah
Texas @ #25 Kansas State
Washington @ #17 Arizona State, @ #16 Arizona
Florida State vs. Florida A&M, Virginia Tech
Wisconsin @ #23 Minnesota, vs. #23 Minnesota
Colorado State @ New Mexico, @ Air force
Penn State @ #14 Purdue, @ Indiana
Florida @ South Carolina, vs. Arkansas
BYU @ San Diego
Oregon @ #19 UCLA, @ #18 Southern Cal
Other key clashes this week
#11 North Carolina @ #21 Duke (on ESPNU),
#13 Nebraska vs. Northwestern,
#13 Nebraska vs. #15 Illinois (on ESPN3; delayed on ESPN2),
#14 Purdue vs. #22 Ohio State,
#18 Southern Cal vs. Oregon State,
#19 UCLA vs. Oregon State
Upset Alerts
Colorado over Stanford,
Kansas State over Texas,
New Mexico over Colorado State,
Purdue over Penn State,
San Diego over BYU,
LSU over Kentucky,
Northwestern over Nebraska,
Washington State over Arizona,
Washington State over Arizona State,
Oregon State over Southern Cal,
Oregon State over UCLA,
Santa Clara over #24 Loyola Marymount,
TCU over #25 Kansas State
Lionsfan's completely uninformed picks for the big matches
Texas over Kansas State,
Washington over Arizona State,
Washington over Arizona,
Wisconsin over Minnesota (x2),
Purdue over Penn State,
Oregon over UCLA,
Oregon over Southern Cal,
North Carolina over Duke,
Nebraska over Northwestern,
Nebraska over Illinois,
Ohio State over Purdue,
Southern Cal over Oregon State,
UCLA over Oregon State
Lionsfan's Season-to-Date "Big Match" Prediction Record: 43-19
Hottest Teams: Washington, Ohio State
Losing Steam: Texas A&M
RPI Watch
The second RPI rankings should have Purdue and Minnesota breathing a little easier; both teams moved into slightly safer territory:
Stanford,
Florida St.,
Texas,
Washington,
Oregon,
Wisconsin,
North Carolina,
Florida,
Kentucky,
Nebraska,
Illinois,
Southern California,
Colorado St.,
Arizona,
Penn State,
Cal State Northridge,
Kansas State
UCLA
Texas A&M
Kansas
Duke
BYU
Ohio State
Iowa State
Hawaii (30. Northwestern, 33. Michigan, 35. Michigan State, 40. Purdue, 43. Minnesota)
_____________________________________
Photo Credits