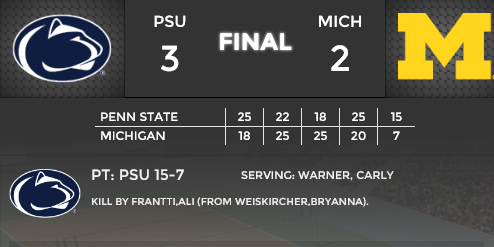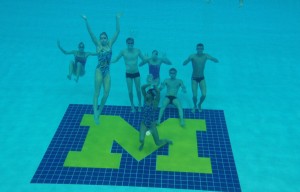 Prior to the start of the season, Penn State Head Coach Russ Rose complimented 6-2 So. MB Heidi Thelen on her play during the pre-season practices, noting that she had played well the prior season before the matches began in September, but that she needed to start playing well "after August."  Last time we checked, it's after August, and tonight, in a match in which #5 Penn State (18-2, 7-2) was trailing 2-1 after three sets,  Thelen definitely played well, matching a career-high with nine blocks, which led the team, as the Nittany Lions took the two final sets for a 3-2 win (25-18, 22-25, 18-25, 25-20, 15-7) over a resilient Michigan squad (15-5, 5-4) at Cliff Keen Arena.  Which formerly was a pool.
6-4 RS Sr. Aiyana Whitney led the Nittany Lions with a career-high 18 kills, followed by 6-3 So. MB Haleigh Washington's career-high 17 kills (.593 attack %) and 6-1 So. OH Simone Lee's 13 kills (her fourth consecutive match with double digit kills).
6-0 RS Fr. setter Bryanna Weiskircher totaled 53 assists, as she guided Penn State to a .268 team attack %, and added 12 digs for a double-double.  6-2 So. OH Ali Frantti came up with a team-high 17 digs, with 8 kills and 2 blocks.  Penn State out-blocked the Wolverines 17.0-7.0.  In addition to Thelen's career night, Whitney totaled a  career-best eight blocks, Washington registered 5 blocks, and Weiskircher totaled four.
Match Stats
Courtesy of GoPSUsports.com