UNIVERSITY PARK, Pa. – Despite double-digit kill performances from freshman Ali Frantti and junior Megan Courtney, No. 3 Penn State women's volleyball (14-2, 2-1) came up short in a 3-1 (25-12, 22-25, 20-25, 23-25) loss on the road at No. 8 Nebraska (9-3, 3-0) Friday evening at the Devaney Center.  Frantti led the team with a match-high 19 kills on .486 hitting, adding nine digs and two blocks. Courtney finished second on the team with 11 kills, adding one ace, seven digs and three blocks. Senior Nia Grant followed close behind with nine kills on .389 hitting, while also tallying a team-high five blocks.

Seniors Dominique Gonzalez and Lacey Fuller fueled the defensive effort with double-digit digs. Gonzalez led the team with a match-high 17 digs, while Fuller matched a career-high mark with 13 digs.

For the complete release from GoPSUsports.com, Click Here.
Lincoln – The No. 8 Nebraska volleyball team rallied from a first-set defeat to take the next three sets and beat No. 3 Penn State, 3-1, Friday night at the Bob Devaney Sports Center.

The Devaney Center crowd of 8,585 – a record under the new seating configuration – did everything it could to spur the Huskers to victory, and Nebraska used the energy to rebound from a 25-12 loss in set one with three straight victories: 25-22, 25-20, 25-23.

The Huskers (9-3, 3-0 Big Ten) posted their first win against a top-five opponent since a 3-0 sweep of No. 5 Washington in the 2012 NCAA Tournament. Nebraska had been 0-4 against top-five teams since then. Penn State (14-2, 2-1 Big Ten), the defending national champion, suffered its first loss in four sets since the 2012 NCAA Semifinals.

For the complete release from www.Huskers.com, Click Here.
Match Stats (Courtesy GoPSUsports.com)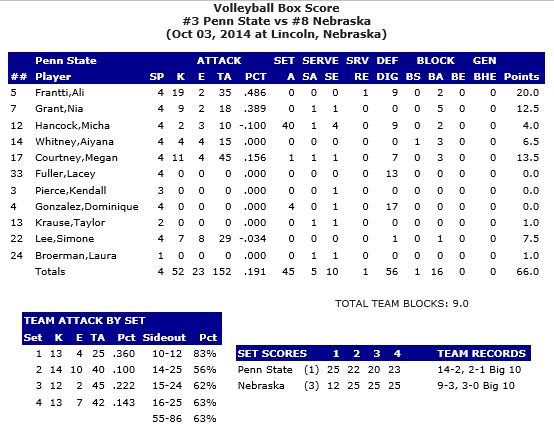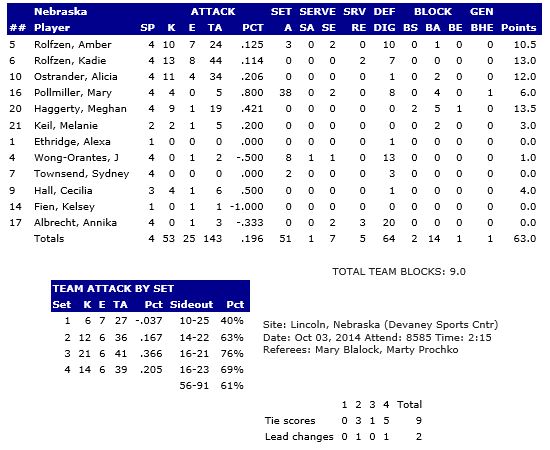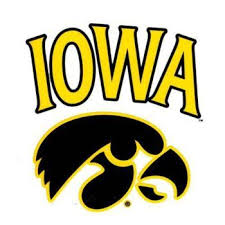 IOWA CITY, Iowa – No. 3 Penn State women's volleyball (15-2, 3-1) concluded a four-match Big Ten road swing with a straight set victory (25-15, 25-14, 25-11) at Iowa (8-7, 0-4) Saturday evening at Carver Hawkeye Arena.  A trio of Nittany Lions powered the offense with double-digit kills. Senior Nia Grant and junior Megan Courtney tallied 11 each, while freshman Ali Frantti recorded 10. Courtney matched a career-high mark with two aces, while also posting four digs to go along with a.611 hitting percentage.

Defensively, senior Dominique Gonzalez led the way with eight digs. Grant added four digs, while Frantti finished second on the squad with six digs. Senior Micha Hancock paced the team to a .360 team hitting percentage, dishing out 33 assists to go along with four aces and five digs. She also notched five kills on eight errorless swings, finishing with .625 hitting clip.

For the complete release from GoPSUsports.com, Click Here.
No. 3-ranked Penn State (15-2, 3-1) defeated the University of Iowa volleyball team, 3-0, on Mediacom Court in Carver-Hawkeye Arena Saturday night. The defending national champion Nittany Lions never trailed in the match. With the loss, the Hawkeyes drop to 8-7 overall and 0-4 in Big Ten action.

"Playing a team like Penn State requires you to be nearly flawless and our group looked a little timid early on in the match," head coach Bond Shymansky said. "Toward the end we started to hit our stride, but being the reigning national champion, they played like a championship caliber team. We did not show the will power to match them, so that is really something that we are going to work to bolster within our program and within our team.

For the complete release from www.HawkeyeSports.com, Click Here.
Match Stats (Courtesy of GoPSUsports.com)