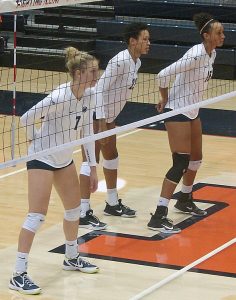 This was a strange one.  The Penn State women's volleyball team dominated host Ohio State in game 1, 25-13, dropped game 2 23-25, followed that with another deuce loss in game 3, 28-30, then stormed back in game 4 with a 25-9 win, and continued their dominance in game 5, racing to an 8-0 lead in the 15-7 win.
For a five-game win, the statistics were oddly one-sided.  Penn State hit .333 as a team to .197 for the Buckeyes.  Penn State had 17 team blocks to Ohio State's 4 team blocks.  Same story for service aces — 7 for Penn State, 3 for Ohio State.  One difference that stands out — attack errors — where the Buckeyes totaled 29 for the match to 18 for the Nittany Lions.
Individually for Penn State, 6-3 Sr. MB Haleigh Washington had a spectacular performance, with a career-best 20 kills (.500 hitting %), 8 blocks and 2 digs.  6-1 Sr. OH Simone Lee  joined Penn State's 1,000 kills club in the second set (the 27th member) with her seventh kill of 18 kills for the match, adding 10 digs and 3 blocks.  6-1 Sr. OH Ali Frantti, already a member of the 1,000 kill club, totaled 13 kills (.357 hitting %) along with 7 digs, 3 blocks, and 2 service aces.  6-2 RS So. MB Tori Gorrell had a terrific night, with a career-best 8 blocks and 6 kills (.556 hitting %).  6-0 Sr. RS/setter Abby Detering finished with 28 assists, 12 digs, 6 kills, 3 blocks and one service ace, while  6-0 RS Sr. setter Bryanna Weiskircher registered 31 assists, six digs, 1 kill and a service ace.  5-5 So. libero Kendall White effectively prowled the backrow with a match-high 19 digs, 2 aces and 2 assists.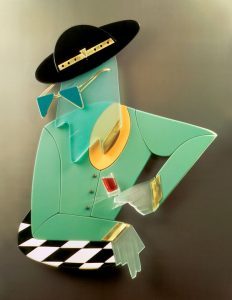 Q&A With Talking Head
We had a chance to catch up this morning with Talking Head, who played D1 volleyball and has coached the sport for many years, for his thoughts on Penn State's 3-2 win over Ohio State.
DigNittany:  Penn State came away last night with a win, but looking back, it seems the match was closer than it should have been.  The two games won by Ohio State were both deuce games, and the three games won by Penn State were all blowouts.  In game 2 — won by Ohio State 25-23 — the last three points by Ohio State were all from Penn State errors ( an "attack error" by Kendall White on a pass that appears to have gotten away from her, a service error by Simone Lee, and an attack error by Heidi Thelen).  In game 3, Penn State was up 14-11 and appeared to go up by 15-11, but Ohio State successfully challenged that there had been a touch by Penn State (we still don't see it, but our eyes aren't high-speed cameras), making it 14-12 Penn State.  Ohio State won eight of the next 10 points to go up 20-16.  Although Penn State rallied late, the deficit proved to be too much, and Penn State dropped game 3, 30-28 (with a total of 10 attack errors in the game). In your opinion, what happened to Penn State in games 2 and 3 that led to their inconsistent play and those two deuce losses?
Talking Head: I think we all should remember, and maybe our girls forgot at times against Ohio State, that this is the Big Ten.  Every program, every team, has really good athletes and volleyball players.  That being said, Penn State opens up the match, on the road, against a team that the Nittany Lion players believe they should win against.  Penn State takes it to Ohio State pretty hard in game 1 and all cylinders seem to be firing.  Sometimes when that happens — at any level — there's a tendency to take the foot off the gas pedal, to relax a bit, and to forget "this is the Big Ten.  Everyone is good."  Plus, Ohio State's players have a lot of pride, and they start to play better.  The result — Penn State found itself in a battle, and for whatever reason — frustration, distraction, demons in their minds — they made errors at the end of game 2.
Moving to game 3, we came out and played better than in game 2.  We looked a little more comfortable.  We had a 13-9 lead, which is a comfortable lead on the road.  Then, as you pointed out in the intro, we had a 14-11 lead that could have gone to 15-11, but Ohio State wins its challenge, and all of a sudden it's 14-12.  Again, maybe we forgot that the opposing team is going to play hard, and sometimes in a situation like that, the better team can play what I'll call "annoyed" — annoyed that the match isn't going the way the better team thinks it should be going — and when you play "annoyed," you don't play well.  And Penn State didn't play well, losing 8 of 10 points, to go down 20-16.  They made a comeback, but is was too little, too late.  So congratulations, absolutely, to Ohio State, for not rolling over.  Great effort on their part.  But shame on us for not approaching games two and three with a sufficiently professional mindset.
Having said all that, I think it's important to keep in mind that Penn State won the match, and that it was an away match.  I think last season, or the season before, Penn State might well have lost that match — maybe even lost it 3-1.  But this year's team seems to have an extra gear that maybe the 2015 and 2016 teams didn't have.  They certainly are doing better in five-setters — they're 3-0 this season compared to 1-6 in five-setters last season.  In games 4 and 5, they were determined, and maybe even a bit angry — but a controlled anger.  Penn State sided-out at 100% in game four.  100%!!  You could sense during those games that both teams knew what was happening — we knew where we were, and Ohio State knew where they were.  There was an absolute attitude change for both teams.  And those mindsets resulted in an 8-1 Penn State lead in game 5, with a number of unforced errors by Ohio State.
DigNittany: Combining the last two games, Penn State outscored Ohio State 40 to 16.  Final thoughts on the match?
Talking Head:  The turnaround by Penn State was particularly impressive to me because it was on the road, in a packed arena, with 3,500 Ohio State fans providing an environment that had to be very exciting for the home team.  I don't think there are that many teams in the country that have the ability to absolutely take momentum balloons, like Penn State took Ohio State's balloons after game 3, and just pop every one of them, one after another, until there's nothing left.
Final thought — this Ohio State team has some talent.  They took down Purdue 3-1, in West Lafayette, on September 23rd, a match in which Ohio State's 6-1 Sr. OH Luisa Schirmer and 6-3 So. MB Madison Smeathers combined for 41 kills.  Although the Buckeyes were missing Smeathers last night (and that was a big loss),  5-11 So. OH Bia Franklin, who had no kills against Purdue, had 10 kills against Penn State (hitting .450), and 6-3 Sr. OH Ashley Wenz, who hit .222 against Purdue with 7 kills, hit .300 against Penn State, totaling 9 kills.   Don't let their 9-7 record fool you.  The Buckeyes are a dangerous team.
DigNittany:  Thanks, as always, for your time.  Much appreciated.
Match Stats
Courtesy of GoPSUsports.com