The Penn State women's volleyball program held a formal introduction for head coach Katie Schumacher-Cawley Tuesday afternoon at Rec Hall, hosting a press conference and meet-and-greet.
New assistant coaches Daniel Gwitt and Brian Toron were also in attendance alongside the majority of this year's team. Penn State athletic director Sandy Barbour gave opening remarks before passing the microphone to Schumacher-Cawley, who discussed her excitement for the future and a few things she's learned from Russ Rose and her previous coaching stops that prepared her for this moment.
Schumacher-Cawley, a 1999 national championship winner and 2002 graduate of the university, was named the third head coach in the 46-year history of the Penn State women's volleyball program on January 10 after Rose retired a few weeks earlier on December 23. Check out the full transcript of everything Barbour and Schumacher-Cawley said at the event below.
Sandy Barbour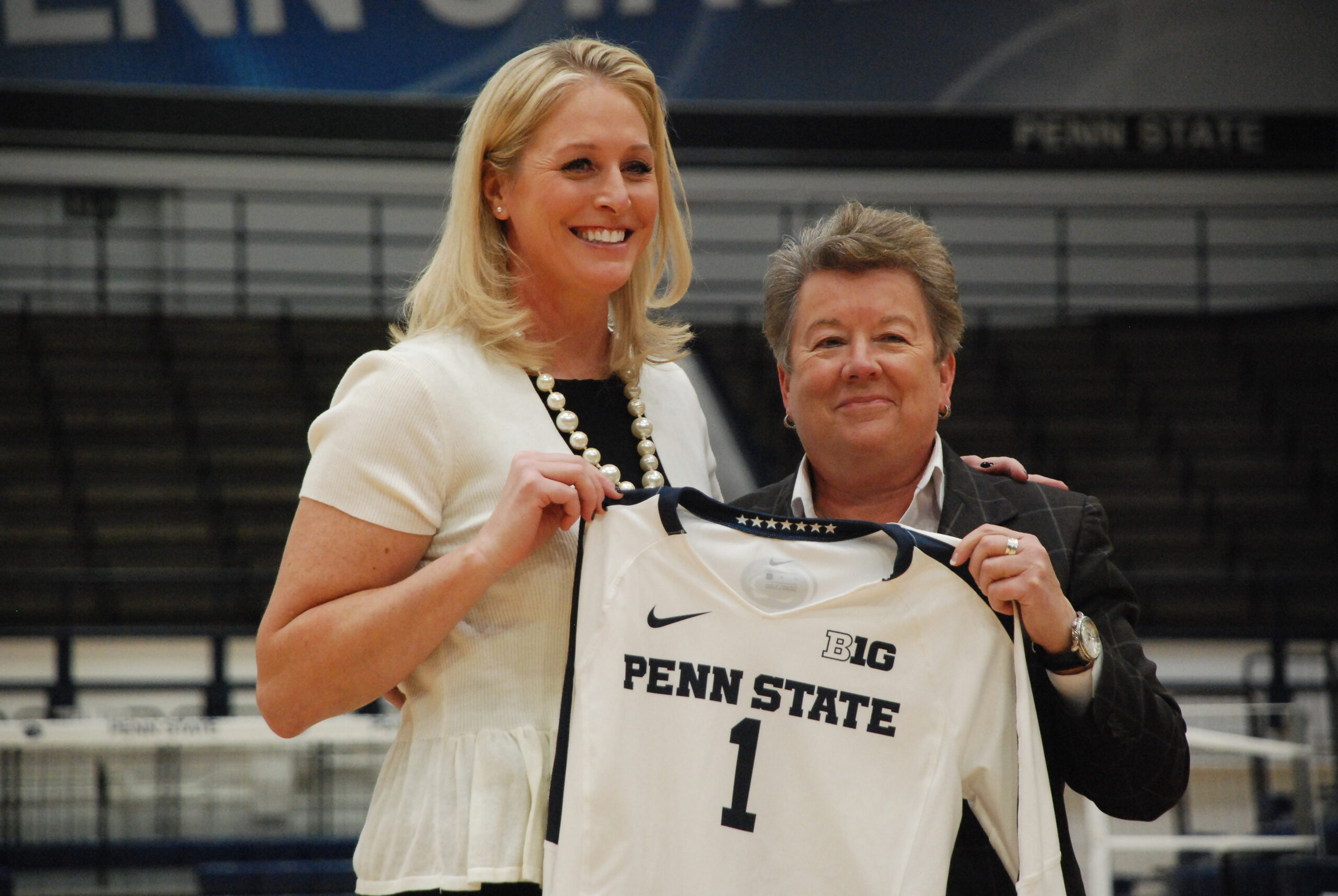 "This is an exciting time for all of us. I'm thrilled to have the opportunity to do this today together with Katie. Thank you all for being here. I want to take this opportunity to say thank you to our community, which continues to play such an important role in the success of Penn State women's volleyball, past and present, and I know, the future. George Weigand, the president, and the executive committee of the Penn State volleyball booster club are present today. I want to say a big thank you to you for all that you have always done for this program, and I know will continue to do so.
Our community and the support you've shown our program is such a point of difference, and I know that that will continue to grow under new leadership. I also want to take an opportunity to thank the wRECking Crew, our Rec Hall student support group. There is none like the wRECking Crew anywhere else in the country, and I know that our student-athletes, our coaches, and our staff appreciate you so much.
We're here today to officially introduce the third head coach in the 46-year history of Penn State women's volleyball. When Russ Rose announced his retirement on December 23, 2021, Penn State women's volleyball embarked on a search for a head coach for the first time in 43 years. Think about that for a minute. The first time in 43 years. How many times do you get to say that when it relates to the time a head coach has been in a position in a program?
As you might imagine, we had an abundance of exceedingly qualified candidates who coveted the opportunity to lead one of the most storied programs in all of collegiate women's volleyball, in a conference that has won 10 of the last 16 national championships, six of those that belong to Penn State. No candidate embraced that opportunity, which some may call a challenge, more than Katie Schumacher-Cawley.
From the minute Russ began talking about retirement, Katie stepped forward and made it clear that, if that time had indeed come, that she was the right person to carry forward the legacy of success of Penn State women's volleyball that was made prevalent during the Russ Rose era.
She was prepared to take everything that has made Penn State women's volleyball a success. And make no mistake, that success is defined by national championships, it's defined by Big Ten championships, it's defined by Olympians and Olympic medals, but it's also defined by stellar academic achievement and honors, both individually and program-wide, as well as consistent community and campus engagement, and local, national, and global leadership in the sport. That's how Penn State women's volleyball defines success.
Katie is uniquely prepared to carry on and build upon all the things that have made Penn State women's volleyball, well, Penn State women's volleyball. That may mean different things to different people, but it means sustained excellence, excellence everywhere. It means sustained excellence to everyone. Katie is prepared to continue that success, while applying her own personality, character, approach, and strategic vision to continue to innovate and evolve the program to continue creating success.
For a program of this stature, we were looking for a candidate who had experienced the rigors and the pressures of being a head coach, had played and coached at the highest level, who could connect with today's student-athlete, and understand the daily environment that they live in. We needed someone who had demonstrated the ability to recruit the most talented students from the country and across the world, and who shared our Penn State values and a burning desire for Penn State to compete for national championships, while also serving as a point of pride and connection point for our campus and our community.
And if that weren't enough, our current students made it very clear that they wanted a leader who would continue and honor the history and traditions of this program. All signs kept coming back to Katie. Katie was an All-American as a collegian, helping lead Penn State to its first of seven national titles. She's honed her collegiate coaching craft for the last 20-plus years, serving as an assistant coach, then a head coach, at the University of Illinois at Chicago and Penn, before returning home to spend the last four years as an assistant coach for the Penn State program. But today, she has the opportunity to lead.
At every stop, she's been lauded for her leadership and connection to the young people in her program, her command of the sport, and her ability to recruit talented young women and develop them, ultimately leading to their success on the court and in life. From the beginning, we were looking for the candidate who had the key characteristics, skills, passion, and commitment needed to embrace our notion of 'proud past, bright future,' the vision for intercollegiate athletics, and women's volleyball, in particular.
And there is no better person, no one who better understands all that has gone into making Penn State volleyball, well, Penn State volleyball, who can now execute on a vision forward; no one better than Katie Schumacher-Cawley. So, with that, ladies and gentlemen, I present to you your third Penn State women's volleyball head coach, Katie Schumacher-Cawley."
Katie Schumacher-Cawley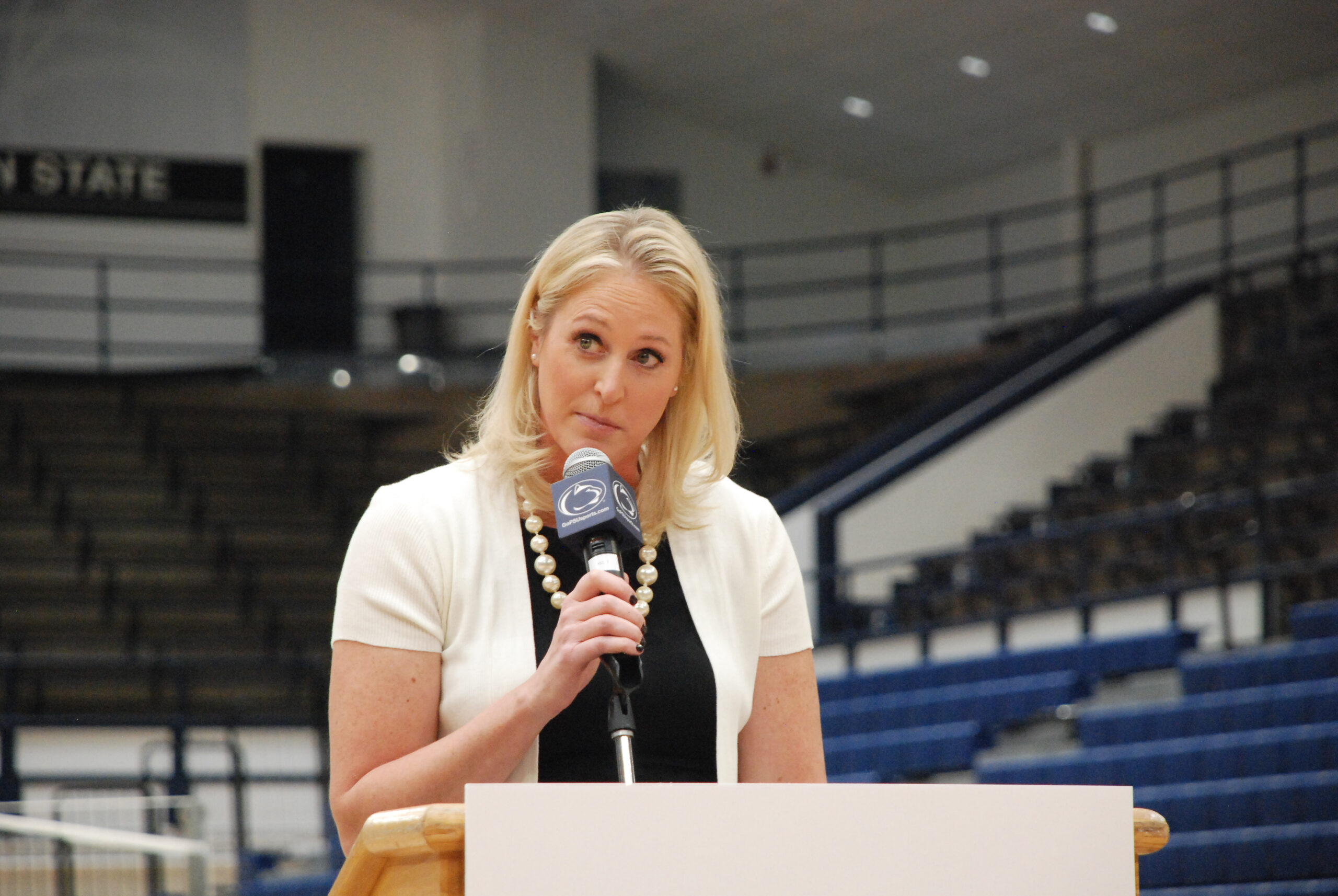 Schumacher-Cawley's opening statement:
"That's very nice of you, Sandy. First off, I just want to thank Sandy, Dr. [Eric] Barron, and Dr. Lauren [Rhodes] for this amazing opportunity to lead this group of women. I want to thank Coach Rose on his unforgettable career and, obviously, wish him all the best as he's enjoying some Florida sun. To my mom, my husband, Mike, my daughters, Stella, Nora, and Shea, and my entire family, thank you for your unwavering support and strength. I'm truly humbled and honored by all the love and encouragement.
I promise to always honor the past and build on the foundation and tradition that was built by Coach Rose. I wanted to recognize Daniel Gwitt and Brian Toron, our new assistant coaches. To the alums, this team will continue to honor you and all of your success, but will also work to raise the bar of excellence for those to come. I'm grateful for all of you and the sisterhood that we have. To the Penn State booster club, I salute you and thank you for everything you've done for me as a student-athlete, coach, and for this program. You truly are one of a kind. To the current team and coaches, I'm encouraged by your drive to make each other better every single day. I want you to be the best at what you do, excel on the court and in the classroom, while serving as role models for young girls in this community and country.
Penn State is a special place that I care deeply for. I look forward to working with the assistant coaches, support staff, and all the fans that we have here, the wRECking Crew, thank you. I just want to carry on this Penn State way of success with honor. I can't thank you enough for all your support, and look forward to seeing you all this fall."
In her remarks, Sandy talked about how you made it clear that if this opportunity were to come up, that you would be prepared and that was something you were ready for. How did you go about doing that? How did you show that to Coach Rose, to Sandy, to the program?
"Well, you know, coming back here was a dream come true. I think being a part of Penn State, no matter what position I was in, I was fortunate to have that. I think that this has always been home to me, and to have the opportunity to even go through the interview process was something special and I'm just — I'm overjoyed it was me. I never came back here saying, 'Oh, I'm going to be the next head coach. I'm going to be this.' I wanted to give my best effort for these players and for coach, to have the same experience that I had here as a student-athlete, one with playing and community, and just being a part of this university."
The transfer portal is a big thing in today's college athletics. How aggressive do you plan to be there? Have you developed a strategy early in your career here?
"The transfer portal. Everyone likes to hear that. That's a hot topic. Yes, we're going to have to recruit some players out of the transfer portal. It's something that myself and the coaches look at daily for new players who are looking for a change and a new environment. We've had quite a few conversations with players, and we will continue to until we find the best fit for this group."
What are some of your favorite qualities about Brian Toron and Daniel Gwitt? What made you want to hire them as assistant coaches?
"These ladies are lucky to have coaches like Dan and Brian. They both bring high energy, positive energy, are excellent coaches, are students of the game, and have tremendous experience from both of them, at some point, being a head coach to assistant coaches to tech and operations. They bring a wealth of knowledge to this program, and they're going to be so helpful for these girls."
You said that Penn State is home. Beyond the volleyball program, what is it about Penn State and State College that makes this place home for you?
"First off, I like your [Chicago] Cubs hat. Beyond playing here, I think that we're surrounded by a community within this athletic department and the neighboring people in town that want to see these women be so successful, not just women's volleyball, but Penn State athletics as a whole. I'm lucky to be a part of it, and I know that these players are, and will continue to take advantage of the opportunities that they have to help them be successful, not only on the court, but their next step in life, whether it's professional or grad school. They're all really intelligent and have big goals and dreams. I know everyone here can help them with that."
Do you view this as a daunting task taking over for someone like Coach Rose? If you view it that way, is it something you're trying to embrace?
"Oh, gosh, yeah. Of course. There's never going to be another Coach Rose. There's never going to be another coach who has been able to do what he's done in his time period. I'm excited about it, though. It doesn't scare me, and it doesn't scare this group. We're ready to get to work and take all the lessons that I had learned from him as a player, as a coach, and as a mentor."
When you look at your previous head coaching experience, what kind of lessons can you take from that and apply to this program? How do you make this your own program and put your own stamp on it?
"I've been fortunate to be in other programs and different types of athletic departments. I've learned a lot and I've been able to kind of mold myself into learning from every individual that I've been in contact with. I think that experience is great, my playing experience, for sure, but I think the experience in leading people and coaches and high school coaches and young athletes is something that — I want to connect people and help them."
You said you've learned a lot from Coach Rose. How did he help prepare you for this moment?
"I think I learned something every day from coach in our daily conversations. I think that, from a player, from him being a mentor, he was someone I always kept in contact with when I was done playing, but I think, for me, he always reminded me to be myself and to always stay true to who I was. Besides the Xs and the Os, we could talk volleyball forever, but I think it's more so for me to be myself and to always stay true to who I am."
How do you take what you learned from Coach Rose and honor that, while still trying to start your own regime here with your own style? Where does that balance lie?
"We will always honor the things that coach has done. I think, with this new coaching staff, we'll have new ideas in the gym, new ideas for the strength training and conditioning. I think we're always trying to change a couple things here and there, but as far as the work ethic of this team, that will never waver. I think that that's something that the alums and the past has provided for the future."
What are some important qualities you look for in recruits? What can you tell us about your incoming freshmen, Alexa Markley and Mandi Morioka?
"Well, I think the first thing is that we always want players who want to be here at Penn State. I think both Alexa and Mandi are hard-working, committed to the program, committed to their teammates. I think both are going to be able to contribute. We're looking for players who are committed to what we're trying to do, and it's getting better every day. It's being a great teammate, it's being helpful within the athletic department and the community. We want players who are going to compete every day."
I just wanted to know if you have a specific goal in mind for this program. Is there something that comes to your head that you really want to see come out of this as the next head coach?
"A goal? It's always to win here. You can ask every single player who's here. Their goal coming to Penn State is always to win. Of course, that is my goal is to always win and be successful, but I think if we start attacking every day and getting better, then the wins and all that are going to come. My goal is to have the best team that we can have and to do our very best as coaches to put them in the right position to be successful."