Penn State women's volleyball held its first weekly media availability of the 2022 season Tuesday afternoon before practice at Rec Hall.
Head coach Katie Schumacher-Cawley, junior defensive specialist Maddy Bilinovic, who's competing for the vacant libero job, and sophomore outside hitter Anjelina Starck fielded questions ahead of the Nittany Lions' season opener against UConn this Friday at 7:30 p.m. at Rec Hall.
Schumacher-Cawley, Bilinovic, and Starck covered a wide variety of topics, including how the program's freshmen and transfers performed during preseason training camp, as well as some insights on the setter competition and what Schumacher-Cawley is looking for in a team captain.
The Nittany Lions were ranked No. 20 in the preseason AVCA coaches' poll and are among seven teams from the Big Ten within the initial rankings. They will also play Loyola (Maryland) and West Virginia in a doubleheader Saturday as part of the Penn State Invitational. Penn State volleyball alumna Bayleigh Hoffman is in her first season as an assistant coach at Loyola and will make her return to Rec Hall this weekend.
Katie Schumacher-Cawley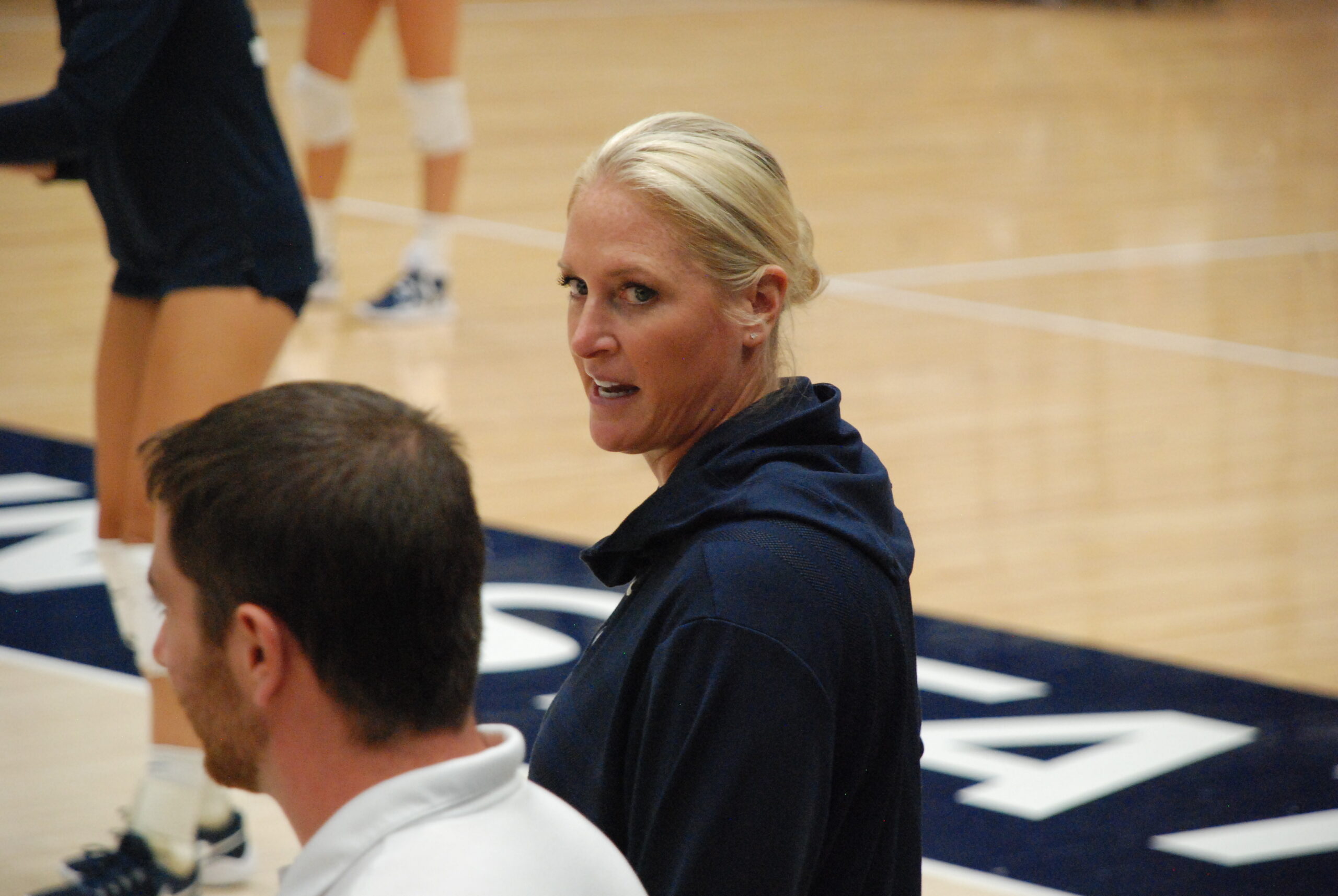 How has preseason camp been going for you so far?
"It's good. I thought we had a good preseason. I'm glad we have a couple more days here to prepare for the weekend, but I thought the team did well, got better. Lots of new faces, but I think they're gelling well together."
How have you seen the returners bring those newcomers along?
"The returners, I think each of them — I said at the beginning of the year, all 17 of them will make an impact on the team. They've done a great job of integrating and welcoming the new players, and I'm proud of them for that."
It's a new era for Penn State volleyball. Is there pressure that comes with that?
"Sure. But pressure's great. I'm excited. I'm fortunate to be here and I'm excited to lead this team and be a part of the program."
This is your school. You played here. Is this the dream-come-true kind of thing? Is that how it feels?
"Yeah, absolutely. I think there's no better place than Penn State. I was so happy to be able to come back and work for coach [Russ] Rose and to be able to stay here and lead this next group. Obviously, the goals are the same. Yeah, it's pressure, but it's fun pressure. It's college volleyball. I wouldn't want to be in any other town than Happy Valley."
How close are you to your college teammates and what do you recall about that 1999 championship team?
"Oh, jeez. Well, it was a fun team. I still talk to a lot of them regularly. Nadia Edwards was my roommate for all five years here. We talk just about every other day. Yeah, it was a great group, it was a fun team. It was a team that I thought worked hard every day. I don't think it was one of the best teams I played on here, but we just were able to get along well and figure some things out. We had a really good time together."
How have Tina Readling and Sydnie Mabry positively impacted the program so far?
"Yeah, you know, everyone on this staff has made such a positive impact. Tina does everything, anything that needs to be done with this group. She keeps the program moving. Sydnie has been a phenomenal addition to helping the players and all the stats that she does. It helps a lot with practice."
As a coach, what has been the hardest thing to adjust to as the person now in charge?
"Well, I think talking to you guys all the time. No, I just think it's the everyday decisions that, now, I'm making them. I always want to be making the best decision for the student-athletes."
Is WWRD (what would Russ do) in the back of your mind?
"Always. I just had coffee with him. Yeah, I mean, I ask him so many questions and he's always wanting to help and give advice. Of course, I always take that."
What are some of the qualities you look for in your outside hitters?
"Find a way to score. You have to be able to pass a little bit. I think, right now, for us, Anjelina is a six-rotation player who can pass and play the whole game. I think it's getting a few of the other ones to be able to contribute a little bit more. I think all of them have done a great job."
What are some things you look for in a captain?
"A captain, it's interesting, because, you know, I've said all 17 of these girls will make an impact. I've asked each of them individually to do certain things to help the program, to help themselves, and to help their teammates. It's a good quality to be a leader. I think people lead in different ways. We have quiet leaders, we have the cheerleader leaders, and I think we have a little bit of that on this team."
You said you're glad there are a few more practices before you play, but you didn't say why. What gap needs to close?
"Yesterday was our off-day. It was the first day of classes. I know their lives are getting way more busy now. I'm hoping that we use these next couple days to feel good about what lineups we're going to be trying and just being comfortable."
What are some positive things you've seen from the freshmen so far?
"Hey, the freshmen, all four of them I think did a phenomenal job. They're really high-energy. They make you laugh. They work hard. And I think they're going to do some great things here."
How do you feel about your serving and passing right now?
"Oh, jeez. That's a question. You tell me. Serving and passing is something we talk about every day, so we've been really consistent on that. We'll get a couple more days of that in and hopefully feel better by Friday. That's a big part of the game. It's something that we'll continue to work on no matter what."
Has anyone kind of taken the reins at setter and libero just yet or is it still open?
"Still open. Yeah, it's still open. And these players know that. All of them are going to have an opportunity this weekend to play and see where they're at against someone else, besides scrimmaging ourselves all the time. I'm excited for all of them to have the opportunity to display their skills here."
Are you comfortable with open lineup spots with the season being right here?
"Oh, yeah. We have quite a few who can play different positions and hop in. I'll feel more comfortable by Friday."
A lot of coaches have pushed for an expanded preseason. What would you look to see as far as that's concerned from the NCAA?
"I definitely think the summer access should happen for us. I do think it was a short preseason. I think being able to train with the girls in the summer for a couple hours, just to kind of get them acclimated to practice, I think that would be a great thing. I mean, preseason was short, but I will say, I think we made the best of it."
What are some things you like about Brian Toron and Dan Gwitt's personalities?
"I think Brian and Dan are great coaches. They're great people. I think that they go above and beyond for the program and for the players. I think they give their best effort every day."
We're going to be talking to Maddy in a little bit. What are some things you've seen her improve from her first year on campus to now?
"I think Maddy has improved since she's been a freshman here. I think she understands the game a little bit more. One thing about Maddy that's consistent is that she's always talking and aware of the game and trying to help the player next to her. I think she's really grown into a better leader."
You said in Chicago how Anjelina is always in the gym getting extra work. How does that manifest itself?
"I mean, she's stronger. She's committed to her daily routines and she brings people along with her in the gym. I think, to get better, you have to be doing extra."
What are your thoughts on your middle blockers?
"I think, right now, between Allie Holland, Taylor [Trammell], Erika [Williams], Katie Clark, even Macy [Van Den Elzen], I think they all do an excellent job of pushing each other in practice. I think they're good blockers. We're trying to do some different things attacking, but I'm happy with all of them."
Maddy Bilinovic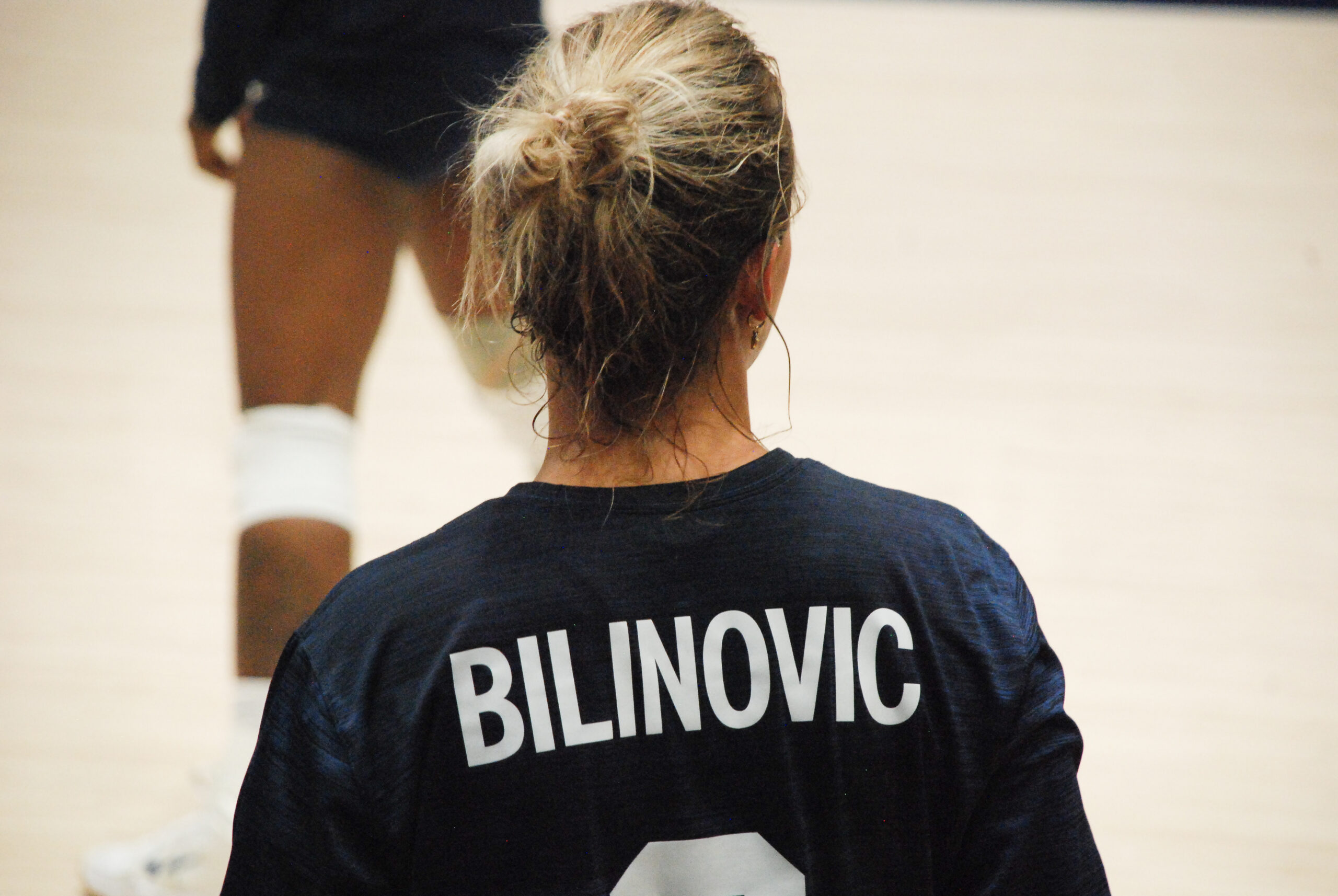 How has preseason been going for you so far?
"Preseason was good. It was a grind. We're finally done. Now, we're into just our regular 20-hour weeks. Our first game is on Friday and we're super excited for that. We're just ready to show all the hard work we've been doing."
Coach said she's happy there are still practices before this weekend. Where do you think you need to close the gap?
"I think it's just about harping down on the little things. I think we also have been doing a bunch of different lineups, so we still need to be comfortable working next to different people and things like that. But it's just a matter of giving your 100 percent every single day."
What have you seen from the other defensive specialists in camp?
"Our two freshmen coming in at DS have been working super hard, and then, obviously, Cassie [Kuerschen] and Quinn [Menger], too. They're making great strides. I think that, every day, everyone is competing against each other, but that's a good thing, because it just elevates our level of play that much more."
How have the returners helped bring along the newcomers and incorporate them into the program?
"That's been our main focus this whole past summer and then, obviously, into preseason. Our big thing was inclusivity, so we needed everyone to be on the same page from the start. I think that everyone does that every day."
Is there an adjustment period getting used to a new voice?
"I think that we're used to Katie here. She was our assistant coach, obviously. Even the new assistant coaches, every single day we respect them and trust them. I mean, everything they're telling us at practice, we're really just giving it our all."
What are your thoughts on Brian and Dan? What do they bring to the team?
"I think that they are both great additions to this staff. Brian and Dan have both been super consistent in telling us what they expect from us, what our roles are, so yeah, I think they're a great addition."
You and coach mentioned the different lineups. Maybe there's some ignorance here, but is it common to be going into a season kind of not knowing what the lineup is going to look like?
"At least, in my experience, yeah. Every single day, we're competing our hardest. Every coaching staff ever wants their best six out there. Everyone else, too, they still have a huge role of supporting everyone. Everyone has a role, no matter if you're on the court or not."
Your freshman season, when did you find out you were going to be starting opening weekend at libero? What was that experience like?
"It was an awesome experience. I was happy to step up and do what I can for the girls. It was probably a week's notice, I don't know. We had some difficulties, whatever, with some protocols and COVID and whatnot, so I think I did everything I could to step up to the plate."
What are some things you learned from Jenna Hampton the last couple years?
"Jenna was a great mentor. Jenna always, every single day in the gym, her body was always on the ground. She's going 110 percent. I couldn't have learned from anyone better than her."
What was your experience like at the NIL Summit and what are some things you brought back from that?
"The summit was awesome. Penn State was the most-represented school there. We had probably close to 20 athletes go, so it was great to be with kids from my school, as well as meet so many others from across the nation. They did a really good job. I thought it was super beneficial."
What's it been like using that NIL opportunity that you have and working with some of the collectives? How has that experience been?
"NIL has been super beneficial. I think that with social media growing so much, too, we all do our best to grow our brand and get our name out there to hopefully make a name for ourselves, with the ending goal of making some money."
What's your impression of the new outside hitters who came into the program this summer?
"I think they're awesome. I think that they're really buying into our culture and what our coaches are asking them to do. I think that they have really taken this experience as a great opportunity, and they're showing it on the court."
Getting back to Mandi Morioka and Gillian Grimes, what are some things that they do particularly well, in your eyes?
"I think that their communication with our outsides, whoever they're passing next to, I think that's been a main focus for them in preseason. It's always good to have a person next to you constantly talking. And then also, I think that they're both great ball-control players."
What have you seen from the setters, Leisa Elisaia and Katie Hurta?
"I think that they have been working super hard to pick up their connections with all of our hitters. I think that that was our main focus, at least, for them, for preseason to really just get comfortable with all of our new hitters, new faces, and they've been really taking responsibility for all that."
What are you most looking forward to about this weekend?
"I'm just happy to see Rec Hall packed again. We have such a great fanbase, and I know that everyone's going to show up and be supportive to us. I'm just happy to finally be playing again."
What kind of advice do you have for young liberos about what it takes to play this position in college?
"My advice to any younger player would just be to get in the gym as much as you can. I think that you have to really love what you do to be successful, and I think that shows by you always getting in the gym and getting reps no matter what time of the day, no matter where you are. If you want to be good, you'll make an effort to be good."
Anjelina Starck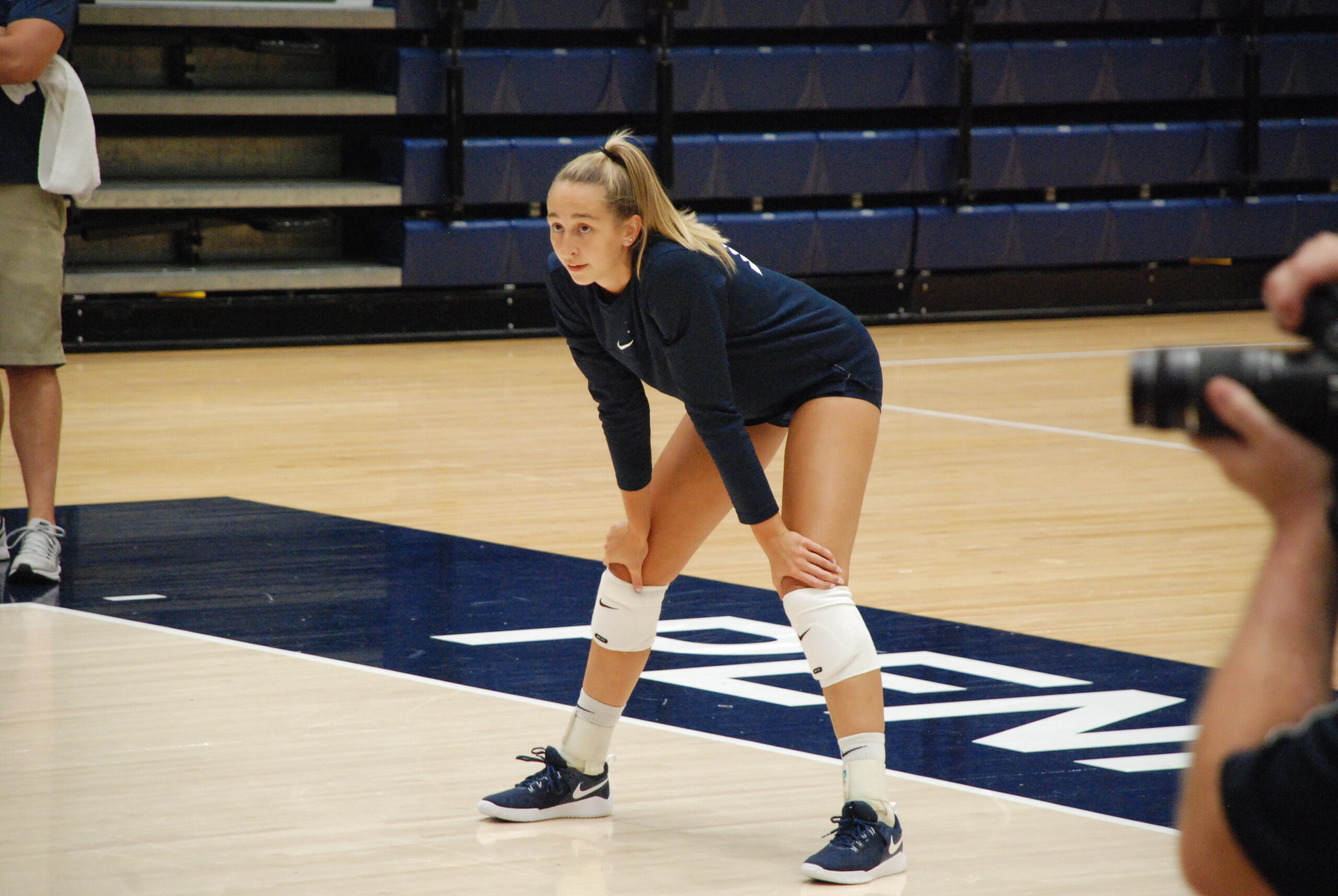 How has preseason been going for you so far? What are some of the things you've been working on, in particular?
"Preseason so far has been going really well. We've been getting in the gym. We've all been working super hard, working on playing next to each other and being comfortable next to each other. I think both on and off the court, our team has gelled really well."
What was your experience like last season getting on the court as a freshman?
"At first, I was really nervous, but once I got on, everyone on the court made me feel comfortable, made me feel like family. It was so much fun."
How much different is it coming into the season this year compared to last year when you were a freshman?
"This year, I kind of know how Rec Hall is packed. I know what it's like going to different schools playing and it's not as nerve-racking, because I've played in front of that many people before."
What have you seen from the setters so far this preseason?
"I think the setters have really been very vocal with us, and they take feedback very well. If it's too low, we can tell them and they'll try to fix it."
What's it been like incorporating some of the newcomers to the team? How have you helped bring them along?
"They came in super easily. It's like they were already here. We've been doing a lot of team breakfasts, lunches, and dinners, and just making sure that we all know each other on and off the court really well."
What's your impression of Kash Williams and Zoe Weatherington?
"I love them so much. They're both super strong. They have very high court IQs. I love playing with them."
What was it like watching your sister, Izzy, win gold at the U19 Pan American Cup? What's it like having her as a training resource when you're back home?
"I thought that was awesome. I was so happy I was given the opportunity to go and watch her play, because she's worked so hard. When I go home, it makes it super easy to go into the gym. We go into the gym every time of the day. She can set me, I can pass, she passes, and we both can do everything."
Coming from a volleyball family, how have your parents influenced the two of you in that regard?
"Because they both played, I started when I was in second grade, and they started coaching me. I played for my dad until I was 16 years old. Whenever I would have a hard game in high school or when I go home, we just have privates and work on whatever I think I need to work on."
What are you looking forward to most about getting back out there and playing matches this weekend?
"I'm definitely looking forward to the crowd, because when we play scrimmages in Rec Hall right now, there's no one and it's super quiet. I'm excited for all of our fans and the band to come back and watch us play."
Coach said you're always in the gym getting extra work. What motivates you to wake up early and get those extra reps in?
"Whenever I step on the court, I try to be the best player I can be. I just remember why I started playing, because I love the sport so much and I have so much fun."
Passing seems to be a strength of your game. What are some other things you've been working on?
"I've definitely been working on more out-of-system hitting, and I think that's really improved since last year. In the spring and preseason, we've done so many drills to work on it. I've also really worked on getting in the weight room and getting stronger, which has helped."
What's your impression of the middle blockers? What do they bring to the team?
"All the middle blockers are very vocal and let us know where the hitters are. It's super easy to play defense behind the block, because they're closing the holes. They talk to us when they see things."
What stands out to you about the freshman class?
"Oh, they always have fun playing. No matter what they're doing, they're enjoying the sport, and they bring so much fun energy on the court."
What have Brian and Dan brought to the team from a coaching perspective?
"They've really brought the more technical side. When we do drills, they explain why we're doing it and how it really focuses on parts of matches, so I think they've helped with that."
How have Sydnie and Tina come in and helped the program?
"Oh, they've helped. Sydnie's been great with stats. She does all the VolleyMetrics stuff, so we can go back and see what we need to work on. Tina's always getting us food and always is there whenever we need stuff. They've been a huge help."
What's your favorite part of living in Colorado?
"I love hiking the mountains and going out to the lakes and paddleboarding."
Any mountains, in particular, you like to hike?
"I really want to hike Pikes Peak. It's the mountain right next to where I live. I haven't done it yet, but I want to do it next summer."
Have you ever done the Manitou Incline?
"I've done half of it, but it got too dark, so I had to stop."
I know you're into photography. When did that start?
"My grandpa always loved taking photos, so I've always done it since I was little. We would always go out, when I lived in Las Vegas, to the desert and take photos. When I got my own camera a few years ago, I would just love going out. I found it relaxing sitting in different places in nature and just taking photos."
Have you decided what you want to study yet?
"I want to go into geobiology."
What would that look like as a possible future career?
"It's either working with national parks or the oil industry. I just like being outside, so any jobs that let me be outside."