Penn State women's volleyball held its fourth weekly media availability of the 2022 season Tuesday afternoon before practice at Rec Hall.
Head coach Katie Schumacher-Cawley, junior middle blocker Allie Holland, and graduate senior setter Leisa Elisaia fielded questions ahead of the Nittany Lions' final non-conference tournament at the Penn State Classic this weekend.
Holland was named Big Ten Defensive Player of the Week on Monday after tallying 18 total blocks in wins over Stanford and Oregon last weekend in Minneapolis, Minnesota. Elisaia recently took home Big Ten Setter of the Week following Penn State's 3-0 showing at the Tiger Challenge in Baton Rouge, Louisiana.
The Nittany Lions (8-0) jumped nine spots to No. 11 in this week's AVCA coaches' poll after beating the Cardinal and Ducks in five sets during the Big Ten/Pac-12 Challenge. Holland and Elisaia are among the conference's top players at their positions, and their connection on the court has been fun to watch.
Katie Schumacher-Cawley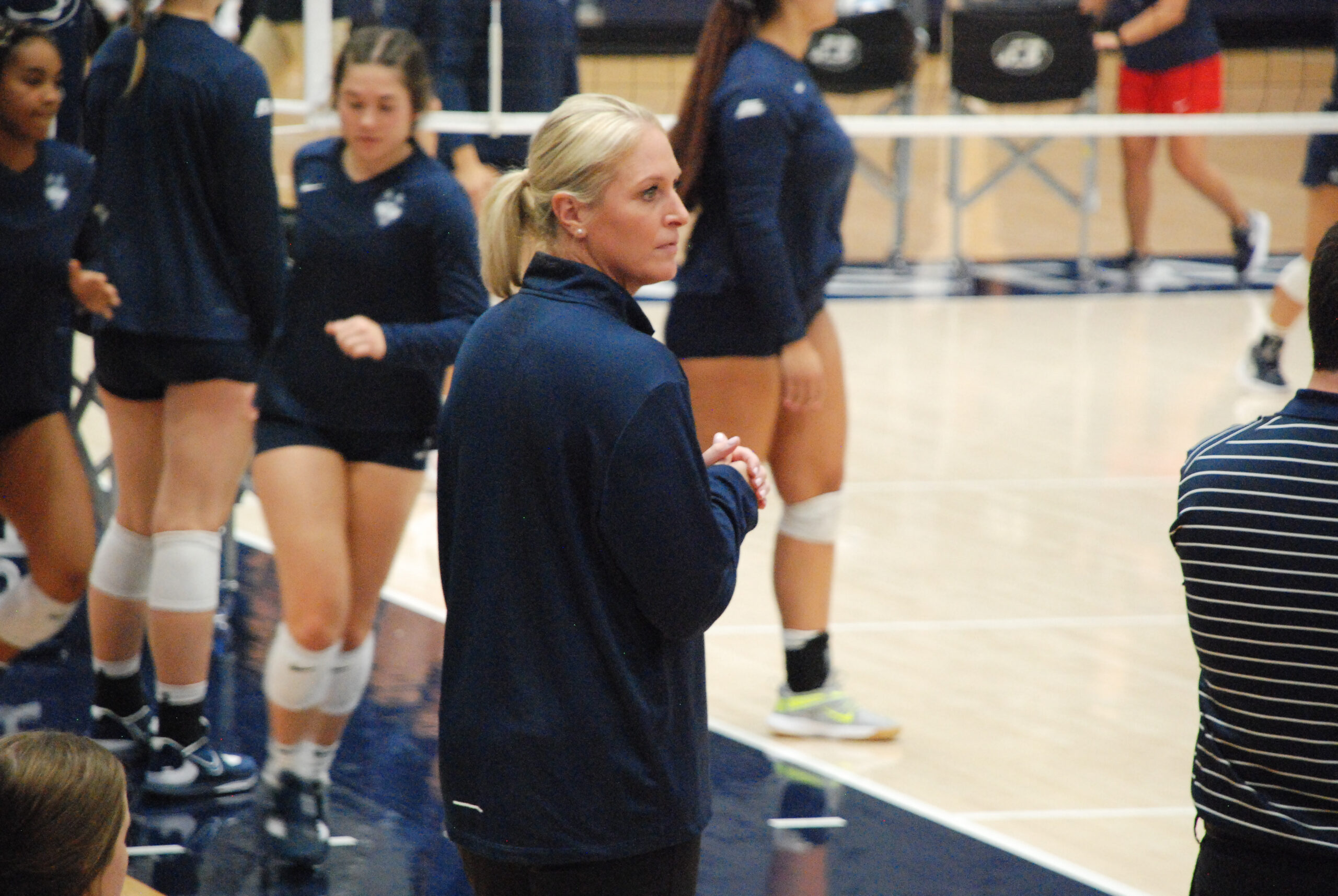 Huge weekend for you guys with two ranked wins. How much confidence does that give this team this early in the season?
"I mean, I think I told you guys last week, I think anytime you can win is a big deal. Obviously, beating teams like Stanford and Oregon, I think it builds good confidence. We have a big weekend at home, one more weekend before Big Ten play. So I think it's being able to take these wins, but also learn from them and get better and keep building for conference [play]."
Just kind of bigger picture, what's the difference between you coaching as a head coach versus being an assistant or even playing here?
"I make the final decisions now. I think that's the different part of being a head coach. I think, for me, though, going from an assistant coach to a head coach is just being consistent. How I think of myself as a person or how I talk to the players or treat them, that doesn't change from my role as an assistant to head coach. I think it's sometimes having those harder conservations of, 'Why am I not playing?' or 'What do I need to do?' and being able to go more in-depth with those. I think I have a lot of pride, obviously, in Penn State, being a player here and working for coach Rose, but also having the opportunity to stay here."
What did you learn from coach Rose that allowed you to step into this position?
"I think it's just to be myself. He's always told me that. Be yourself and be who you are. I'm really competitive. I think that you can be really competitive and caring and all of those things at one time. I expect the players to go hard all the time, and I think that's something that he did as well with the players, but the staff as well. My expectations for the team never changed what his was — to win and be successful. But I think when you surround yourself with a great staff and they have the same vision and care for the program and the players, I think you can do some special things."
How important was it to have Allie Holland back and how would you assess her performance last weekend?
"I think Allie is a great player. Having her back, she brings great energy. Obviously, she had a great weekend of play. I say it every time, I think all 17 players will make an impact on this team's success. Last weekend when we were at LSU, Katie Clark stepped in and played really well. And that was something, because she's in practice every day and expected to do the same things, whether you're starting or not, it shows that we can still win and be successful. But, you know, Allie came in and I thought she did a great job blocking, serving, and found some ways to score."
Kash Williams also had a nice weekend. How would you assess her play?
"I think Kash is a dynamic, fun player to watch. She's an offensive threat and finds ways to score. The crowd really gets into it because of her ability to be quick off the floor and find some spots on the floor to score."
How do you guys avoid getting wrapped up in last weekend's success and focus on the three matches this week?
"We were off yesterday. We didn't get back until really late on Sunday, so we haven't been in the gym yet. It's something I will, obviously, keep them in check in terms of like, 'Hey, we have to get better.' Those are great wins. Howard, Albany, and Coastal Carolina, I don't think they care that we beat those teams. They want to come here and win, so we need to take these couple days of practice and get better and we need to compete and play well this weekend."
How important was it to see some of those five-set matches finally go your way after some close calls the last few years?
"I think it's, 'Find a way to win.' I think we had some players step up and score some points. We served well. I thought our passers did a great job. It's nice to be on the other side of a five-setter."
Howard showed pretty good offensive and defensive presence in its last match against Fairfield. How do you guys match that? How do you match their intensity?
"I think Howard's always a good team. The last couple years, we've played Howard, and they're a tournament team. I know they'll play hard. They're coached well. I think if we stick to our game plan and serve aggressively — we talk about our serve and pass game all the time — I think if we can do those two things, we can score a lot of points."
Just on a more micro level, what are the expectations of being the No. 11 team in the country?
"You know, it's funny. The rankings, I mean, obviously, I look at them. I don't put a whole lot of stock in that. I think that's more for you guys to write about. And it's awesome that we moved up all of these spots. It's nice to see, but it's not where you're ranked now, it's at the end of the season. I hope that we can continue to get better as a group. Whatever the rankings are going to be again next week, it's going to be what it is. It's us being prepared for Big Ten play is what our goal is right now."
And sort of on a more macro level, there are all these trophies behind you. Quite a few of them you've been a part of, in one form or another. What do those expectations carry?
"The expectation is always to win here. I know that if we put forth our best effort, we can be in a good position, but the [Big Ten] conference is highly competitive, top to bottom. I think understanding that every night is going to be a battle, and it's going to be the team that's most prepared and that will have the grit to win will be successful. I would love for this team to win something big and to be a part of that, and to know that it's hard. It's really hard to win. I think doing things daily to help themselves in the gym and taking care of themselves off the court is part of it. So far, I think we're doing a good job of that."
How do you feel about the leadership on this team?
"You know, again, I feel like I'm repeating myself. I put a lot on all of them to take part in that. I don't think it's always the leaders who you see, the ones who are playing, I think we have a lot of role players. For me, it's important for all of them to know their role, whether they're playing or not playing all the time, and that it's always about the team. What they're doing, the team always has to be the focus."
You guys are seventh in the country in blocks per set. What does it mean to set the tone at the net and just prevent the other team's attack? 
"I think we're big and physical at the net. I think maybe that's something that we haven't had the last couple years across the net. Blocking is something that we've been working on every day. I think the team is getting itself prepared and paying attention to more smaller details in practice to be better at that. I think, defensively, if we're going to be good, then we'll find ways to win."
What do you enjoy most about coaching, during the week and in-match?
"I mean, obviously, during the week is I think the day-to-day. I love being in the gym in practice. I love doing some individual skill work with the players and film. Interacting with our staff on how we're going to attack the week and what we can do better as a staff to help the players. And then, on the weekends, I like to see the team compete. It's about them on the weekends. It's not the coaches telling them everything to do. The week is what we use to prepare, then on the weekends, it's nice to be able to see them compete and do the things that we've been talking about and working on in practice. And, obviously, being at Rec Hall. There's nothing like this place. I'm happy we're home the next two weekends."
Albany got off to a slow start on the year, but they're coming off a very good 2-0 weekend at the Cornell Invitational. How do you approach a team that has momentum like you guys?
"It's us being prepared. It's us doing film on all the teams we're playing this weekend and getting better at our skills. I think that the staff does a great job of preparing with film work and individual skill work to be successful."
Who are some of the Chicago athletes who you looked up to growing up?
"Come on, [Michael] Jordan. I mean, I grew up in the era where the Bulls were, like, the best ever, right? I'll say one who's younger than me is Curtis Granderson, who was a Major League Baseball player, grew up in Chicago, and went to UIC, where I coached. I just have a lot of respect for him because of what he gave back to the community. I mean, the stadium's named after him, but not even that, it's like, he did kids clinics all summer. Every summer I was there, he did a bunch of stuff and I think always gave back. For me, that was something I saw first-hand that I respected, because he went out of his way to do a lot of things for the neighborhood kids, so that was special. I don't know, Dick Butkus, right? The Bears won [Sunday]. Let's go. There are a lot of great athletes in Chicago. I was fortunate enough to see a lot of them. It's a great town."
You're not new to this program, but there are quite a few transfers who you have this year. Is there a growing process that you're doing together with them?
"I think it's been the whole recruiting process with them. We had them on recruiting visits, getting to know them and talking to them about the program, even before they were here. They all were here this summer and had the experience of working out with their teammates, not the coaching staff, but I think preseason was a growing experience for everyone. We had two weeks of preseason where that was the first time that the coaches and all the players were together. It was different, I'm sure, for all of them, but I think that the returners did a great job of including everyone, not just the four transfers and the four freshmen, into what it is that they wanted to do this season. I think that everyone feels that they have ownership now, which is what you want."
From a volleyball-specific standpoint, those transfers have been pretty involved in your wins and have gotten weekly honors out of that. What made you pick these specific transfers and how did you know that they would be able to step in and have such a big impact?
"I think, athletically, all of them are very gifted and good at their position. I think when you're in an atmosphere where you know the coaches have your back and are working with you to achieve your goals, I mean, some of them have goals to play professionally, so I'm holding them accountable to doing things that might be a little uncomfortable. But, hey, if you want to be successful and play pro, these are things that you're going to have to do. So I think it's maybe a trust factor and them wanting to come here. Obviously, Penn State is Penn State. For them to be a part of this, they knew that that was special, but they wanted to make an impact. I think my job is to help guide them along the way and help them on some things that maybe they can improve on. But, you know, I'm happy with all of them. I think that, not just the four transfers, the four freshmen, and the nine returners, I think all of them have stepped up and taken part in what it is that this team will need."
How valuable is it for Katie Hurta to learn from Leisa this season? What stands out about Katie's game?
"You know, I think it's both. They both come in and get extra reps. They do the work, and they work together. I think they're both learning from one another, but, you know, obviously, Leisa has a different experience playing. Katie Hurta's doing a great job. She can hit and set. We'll need her along the way here, so I think she has a lot on her plate being able to play two positions. She's a tough kid and competes every day in practice. I'm looking forward to what she can do eventually."
Allie Holland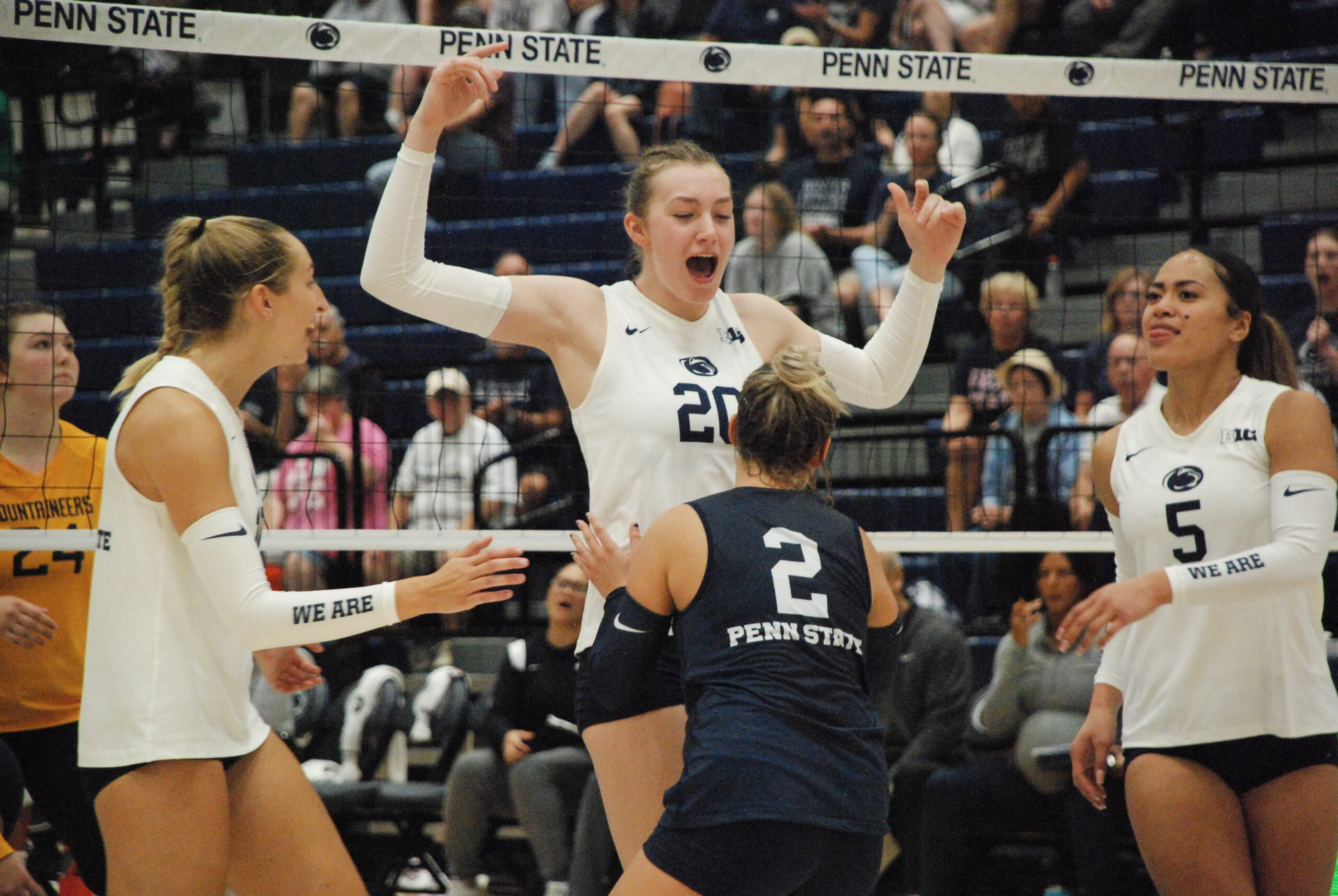 How did it feel to be back in the lineup last weekend?
"It was very exciting to be back. It was my first away trip of the season and my third time being at Minnesota. It was kind of nice to be in a familiar city. I also have some friends on the opposing team, so that was really exciting also, but mostly just being back with the girls was great."
Who are your friends on the other teams? Did you have a chance to meet up with them after the match?
"Not really. Sami Francis from Stanford and I used to do a lot of camps when we were little together. We didn't really have much time to talk, but I was able to text her before and after."
What does it mean to you to be the Big Ten Defensive Player of the Week?
"Well, it's my first weekly award, so that was very exciting for me. It definitely made my day yesterday when coach Katie reached out to me to tell me about it. I think it's exciting, because as a middle, a lot of times, we don't get too many sets, because it has to do with the pass and everything. So it's nice that I can contribute in another way other than offense, if we're struggling to get a good pass. So that was really exciting for me to get the defensive player of the week."
Obviously, you've played for Russ Rose and you've played for Katie. How do you think her transition has gone from an assistant coach to a head coach?
"I think it's been great. I mean, clearly, we're getting the results that we want right now. But she has a lot of experience in this gym, obviously, playing here and coaching here for so long. I think it was a really smooth transition, because a lot of the players had known her from her assistant coaching years. I've known her now for three years. So I think it was a really good, smooth transition, and she's been great."
Kind of bouncing off of that, with the transfers, how do you think their transition has gone?
"I think it's been great. We were lucky enough to be here a little bit in the summer and get some work together then, so I think that made it a lot easier to transition in. But I think that all of the transfers were great pickups for us, and I think that they're great teammates and friends as well."
After a big weekend like that, it's pretty easy to take your foot off the gas and be focused on Big Ten play. How do you guys stay mentally locked in for this weekend?
"Yeah, that's a great point. I think the thing that's most exciting for us right now is we just got two good, ranked wins, but we're excited because we still have a lot of stuff to work on. It's exciting to get those wins, but it's more exciting to know that we could be even better. We're hungry. We're still going after it."
What stands out to you about Taylor Trammell's game?
"Oh, I mean, she is just such a good defensive player. When we're going at each other, she is such a great blocker. It's really hard for us when we're scrimmaging against each other. But additionally, her offense, she gets up there. She can go over the block. She's super impressive. And she's also just a great friend and teammate."
What's it like playing on a team that can contribute up and down the lineup?
"I mean, it's really exciting. I literally get chills from you saying that. I think the atmosphere of our gym is great, because everyone's going hard all the time, no matter what position you are, no matter what age you are. I think we have a really good dynamic going."
I saw you had a chance to take a trip to Belize this summer. What was that like? What's the story behind that?
"I was studying abroad. I was in Belize for about three weeks. I'm a geography major. I was studying environmental science while I was there. It was honestly one of the best experiences of my life, very eye-opening. The people who I met while I was there were the kindest people I've ever met in my life. Just very eye-opening to see what they have and how kind they are, versus what a lot of people in America have and the kindness in America. It definitely was great, and I really, really want to go back."
What are some of the lessons you guys learned as a team last weekend?
"I think a big lesson we learned was stamina. You know, two long five-set matches, I think that's an exciting opportunity for us to see how we perform throughout the course of two-to-three-hour-long matches. So I think it was exciting to see the way we perform in a fifth set."
What expectations does it carry being the No. 11 team in the country?
"I mean, you know, Penn State volleyball, no matter what, we're going to have a target on our backs. I think the rankings are a cool thing, for sure, but I think that anyone that we play, that we come across, we never take them for granted. Because no matter what the rankings say, everyone's coming and bringing their best to play Penn State."
What are your thoughts on Maddy Bilinovic, Gillian Grimes, and the other defensive specialists?
"They're great. I mean, Maddy, I've known her for five or six years now. I've lived with her. She's one of my best friends in the world. So having her play behind me is very exciting from a friendship standpoint, but also knowing that all of our DSs, every single one who comes in, I can trust them to get the ball up behind me, and that lets me get up and take an attack. I think that Gill's doing great. Her energy that she brings to the court when she comes on is so great, turning around and seeing her running and jumping at you is great. And I think Cassie [Kuerschen] is doing a great job, too. But then again, every single sub who we have is coming in and doing their job."
Leisa Elisaia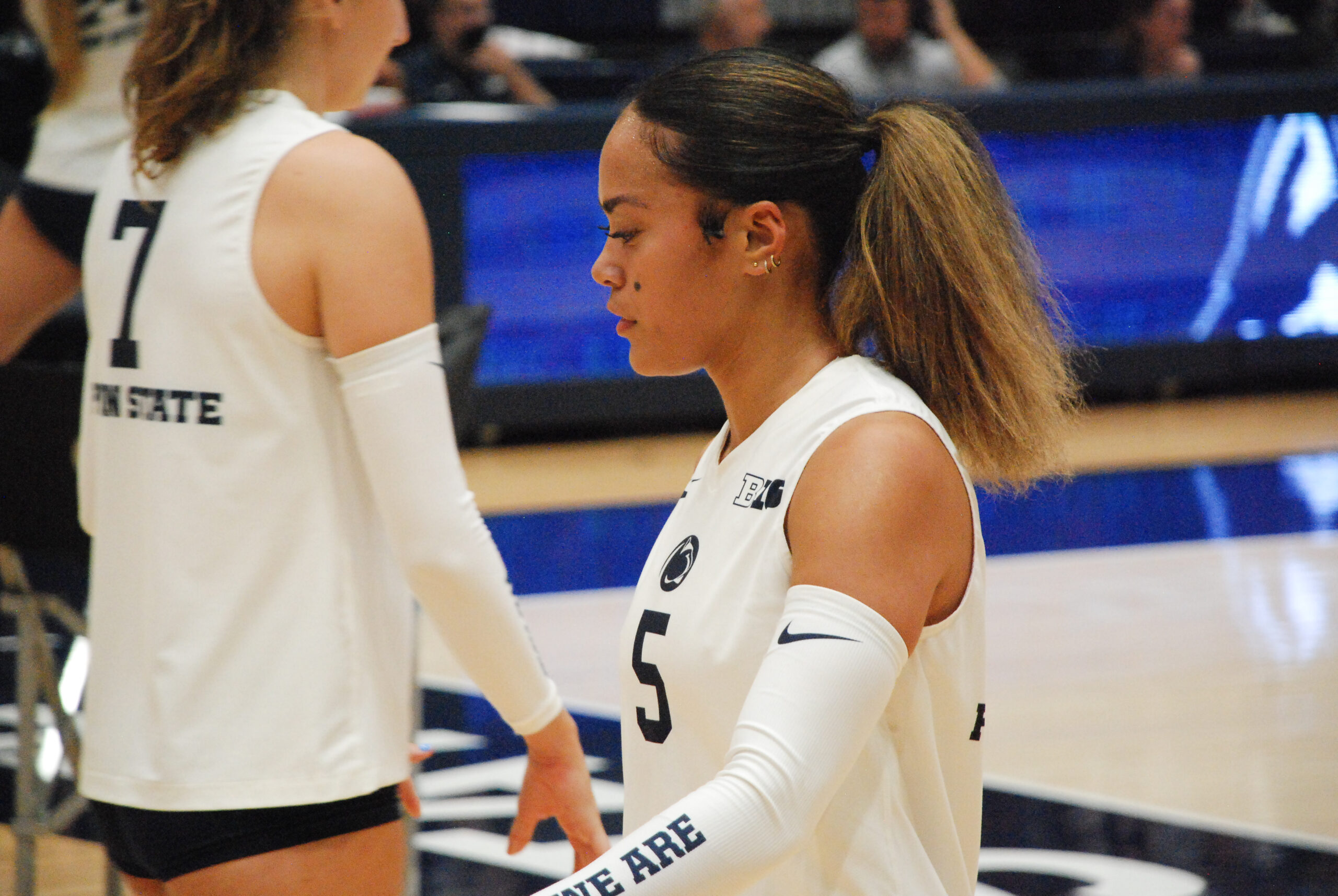 What were some of the positive takeaways from last weekend for you guys?
"I think that just the overall wins that we got over this past weekend really gave us some confidence going into the Big Ten, obviously. And then I think we did really well defensively, both front row and back row. So I think we can keep developing those things in practice before we head into our last preseason tournament."
What were some of the keys that helped you pick up two big wins?
"I think that, as a team, we really focus on communicating our needs for each other, both front row and back row, and really communicating on what they need from us in the back row. My hitters are also talking to me about what they need. So I think that continuous communication really helped us figure out where we need to go, as far as during the games."
What has the transition been like for you from CSU Bakersfield to here?
"Right, I think the biggest change, obviously, is tighter competition, for sure. I mean, it's all a grind always, but I would say the biggest takeaway is probably the competition aspect."
How did you manage all the ups and downs of two five-set matches and manage all the momentum swings?
"I think that we're helping each other out on the court. We're motivating each other to just keep pushing and keep pushing. We're always saying, 'We can be tired after the match, but right now, we need to finish this out and get this win.'"
What stands out to you about Katie Hurta?
"I think she has a really good IQ as a setter, and I think it's awesome that she's also able to be a right-side hitter, too. So I think she's going to be an awesome player to be watching the rest of this season and the next couple years, for sure."
What was it about Penn State's message that stood out to you during the recruiting process?
"I think that where they're headed with their culture and what they want to create here as a volleyball program is what really stood out to me. And then the coaches being really supportive of their players and making me feel at home. I think that was the biggest thing."
How has coach Katie, specifically, helped you with that transition?
"She's really helping me be super comfortable being so far away from home, coming all the way across the country. She's always checking in on me and making sure I'm okay outside of the facility. Just having that comfortability of knowing that someone's there for me, even though my family is all the way across the country, is the biggest thing for me."
How has your dad's background as a strength coach helped you?
"I think that's helped me, for sure, develop my strength, obviously, growing up. And then it kind of made it easy as a transition going into college, too, because the lifts that we did, some of the other freshmen, when they first got in, they weren't used to those kinds of lifts. So I think having my dad helping me as I was growing up made that transition easier from high school to college."
How do you plan to prepare for this weekend's matches?
"We're just going to continue to work hard in the gym, and then just keep building on, basically, the momentum that we created this weekend. I think it's easy for teams to kind of get a little complacent after a big win, but I think if we keep pushing, we can keep going in the right direction."
What stands out to you about Kash Williams and Allie Holland?
"Kash and Allie, they work hard. Their energy is always up top. They're both someone I can look at on the court and always just trust that I can get the ball to them and they can put it away. I think being able to trust your hitters on the court is something that's super important as a setter."