Penn State women's volleyball held its 10th weekly media availability of the 2022 season Tuesday afternoon before practice at Rec Hall.
Head coach Katie Schumacher-Cawley, junior middle blocker Allie Holland, and freshman defensive specialist Gillian Grimes answered questions ahead of the Nittany Lions' trip to Illinois for a televised match Wednesday at 7 p.m. ET on Big Ten Network.
No. 11 Penn State (17-4, 6-4 Big Ten) climbed two spots in this week's AVCA rankings, after beating Maryland 3-1 in College Park Friday night and sweeping Rutgers at Rec Hall Sunday afternoon. Leisa Elisaia was named the Big Ten Setter of the Week Monday due to her standout performances in the wins.
Holland, who hails from Hilliard, Ohio, a suburb of Columbus, is currently 10th in the Big Ten with a .342 hitting percentage, is third on the team with 139 kills, and leads the Nittany Lions with 90 blocks. She's also tied with Elisaia for the most aces with 19 apiece and has added 40 digs.
Grimes, a Westchester, Illinois, native, has played in all 21 matches so far this season, including 17 starts. She's third on the team with 143 digs (1.88 per set) — trailing only libero Maddy Bilinovic (257) and Elisaia (160) — and has 17 aces and 13 assists. Grimes and outside hitter Alexa Markley have both made significant impacts as true freshmen.
Editor's note: A couple of reporters attended this week's media availability. The transcript of questions and answers, lightly edited for clarity, can be found below.
Katie Schumacher-Cawley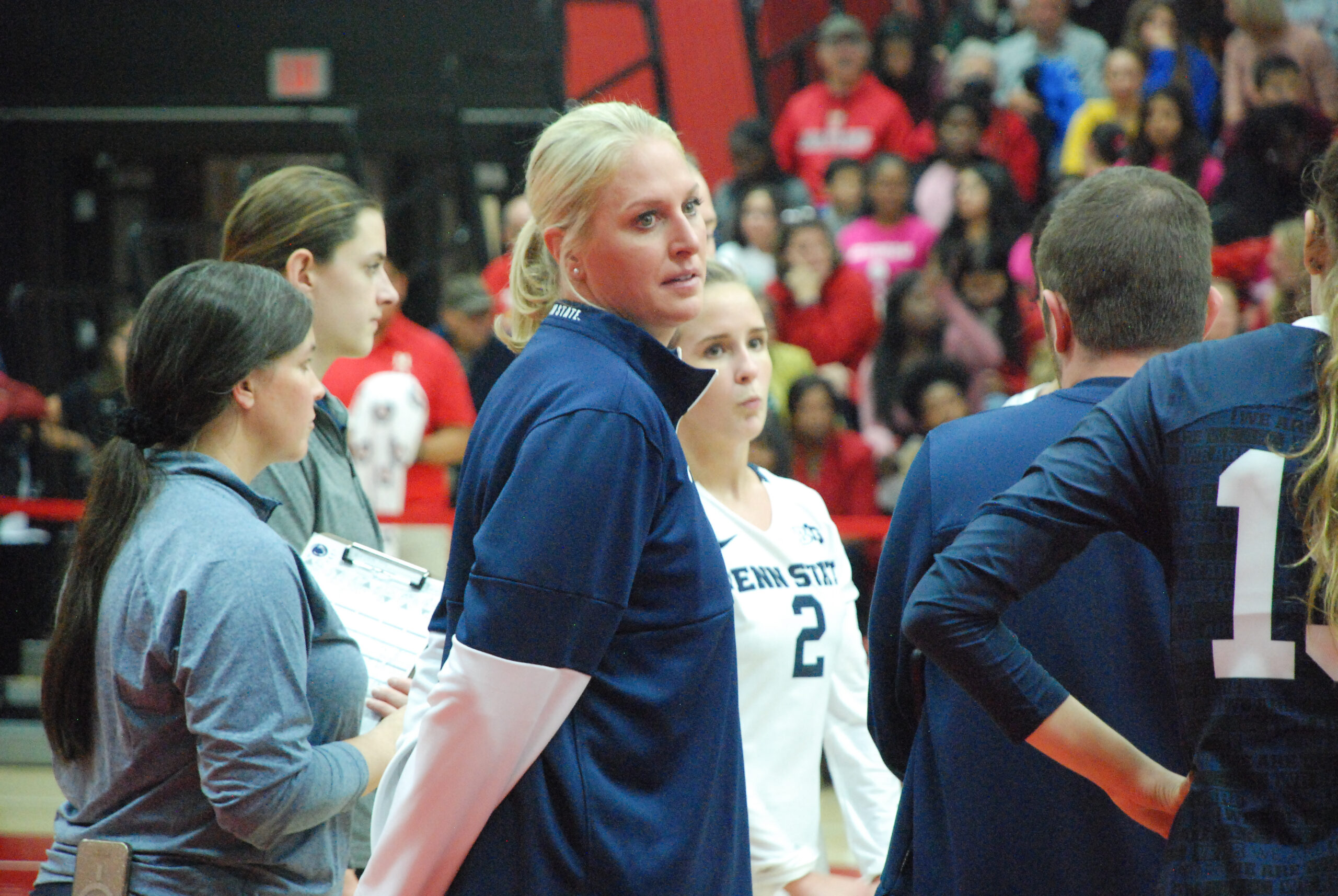 What are your general thoughts on how the weekend's matches went? What stood out to you?
"Well, we won two. I think it was a really good team effort. I thought Katie Clark came in and did some nice stuff. It gives us a lot of options. I think she did some really nice things and stepped right in ready to play."
How do you continue the momentum of back-to-back victories heading into Illinois tomorrow?
"We have to win tomorrow. Having a couple good days of practice. We're leaving today after. We'll get a little work in today. Just trying to keep the team healthy and focused on one match at a time."
What stands out to you about Illinois?
"I think Illinois always plays well at home. I think that they get a good crowd. I think they've had some tough losses, but they're a very good team. I don't really look at their record or what they've done. We played well against them here, but they play well at home. We need to be focused and ready to go."
How do you prepare for another matchup against Illinois? As you mentioned, you played against them here.
"They might have a couple new players playing who weren't here the first time. I think, for us, we need to be good on our side and serve aggressively. I think our passing game has been pretty good in allowing Leisa to move the ball around. I think just being consistent on our side and playing great defense."
Who's going to have to step up in Taylor Trammell's absence now?
"I think Katie Clark has. I think she's done a great job. Allie's gotten better and is finding ways to score. I think Katie will be great. We still have Erika [Williams] on the bench, too, who should be ready to go. She gets a lot of work in in practice. I think between them, and Macy [Van Den Elzen] being able to help out a little bit, we should have enough people who can come in and assist."
How impressive has it been that everyone has been prepared for the next-player-up mentality?
"I think that's something we talked about in preseason, that everyone was going to have to help and contribute. I think it's something I say every day in practice that everyone needs to be ready to go and work to get better. If it's consistent, and the expectation is for all of them to work hard and get better in their skills, there shouldn't be questions when they get called in."
What do you think Leisa's doing well lately?
"I think she's doing a great job. I think she's doing a lot of great extra work with Brian [Toron] in the gym. I think she's getting with her hitters. I think everyone's just getting comfortable with the different tempo. I think she's seeing the game a little bit better. It's been new for her being here in a different environment within the conference, but I think our passers are putting her in a position to be able to set all along the net, and for her to be able to score herself. I think she's just gotten better every match we've played in."
Are there any adjustments to the game plan for Ohio State on Saturday?
"Ask me after tomorrow. No, our focus is, we talk about it, it's one match at a time. Like I said, Illinois is very good at home. They have some great players. We need to take care of business there and then get back to town and readjust and go through maybe what worked well for us the first time and things that we need to adjust for Ohio State."
What was it like getting to catch up with Abby Detering Sunday?
"Oh, it's great. I think Abby's a great person. I think she's doing a really nice job at Rutgers in helping out. I think she's doing a great job there. I know she's excited to be in the Big Ten. I think she's a great coach."
What are the main points you take from your last match against Illinois?
"I think we need to serve aggressively. I think when we serve and pass well, we can find ways to score. I think we need to stay aggressive in all areas and, if we're in the lead, be able to sustain that and continue to earn points."
Alexa Markley made her first two career starts recently. How have you seen her gain confidence throughout the season?
"Alexa works hard in practice. She gets extra reps and knows that she has great opportunities ahead of her. I think she's a special player, and she's going to do some great things. She's really improved since preseason here. I think she brings great energy to the floor."
What are some things you want to see from your defensive specialists moving forward?
"We have to get some more digs. I think they're doing a great job passing, all of them. I think, defensively, we can get a few more digs per set and put ourselves in a better position. A lot of that is just being focused and paying attention in between plays. It's something we've talked to them about."
What are some things that have surprised you this season or stood out to you in a positive manner?
"I think every day there has been a new challenge and a new opportunity that is exciting. I'm proud of the team and the work that they've been putting in. Obviously, with 10 matches left in conference play, I think they understand the importance of every match, and what it means and where you can position yourself to hopefully host the first round of the NCAA tournament. I think just to embrace the time you have. Unfortunately, with Taylor [Trammell] getting injured, you never know when your opportunity is going to arise and possibly, at some point, when your season is going to end. I think just being mindful of what we're trying to do and take each day and get better."
How have the defensive specialists been working on getting more digs in practice?
"I think, for them, it's being able to put themselves in a position around the block, but also to do some film work and to really know their opponent. I think just to be a little bit aggressive. I think there are a couple balls we can run down. They're aware of that. Just being a little bit more focused and locked in between plays."
What are your thoughts on your outside hitters lately?
"I think we put a lot on them. We want them to find ways to score. I think that the middles have been doing a great job of holding the block and letting the pin players be one-on-one. I think that's something that goes back to the pass and Leisa being able to move the ball around, but I think our pin players like to hit. I like to see us being aggressive, but also being able to have a little bit more range and keep the ball in play if it's not a perfect set for them. I think that they've done a good job with that."
How has your experience at that position helped you as a coach?
"I was similar in that I wanted to hit every ball I could. I think it's just being able to understand the game a little bit more. I think the more experience you have, the better you see the court. I think our job as coaches is to help them move that along a little bit quicker. I think they've responded well."
Especially when it comes to Big Ten competition, how have you used that experience to help communicate with the players?
"It's film work. It's talking in practice. It's making them learn to hit different shots and to work on that. It's a little bit of everything. It's the effort, not just on the court, but doing a couple extra things off the court as well."
This is kind of a curveball. What's your favorite Creamery ice cream flavor?
"You know what? Lately, the [WPSU] Coffee Break has been one I've liked. I wouldn't turn down any ice cream, though."
Allie Holland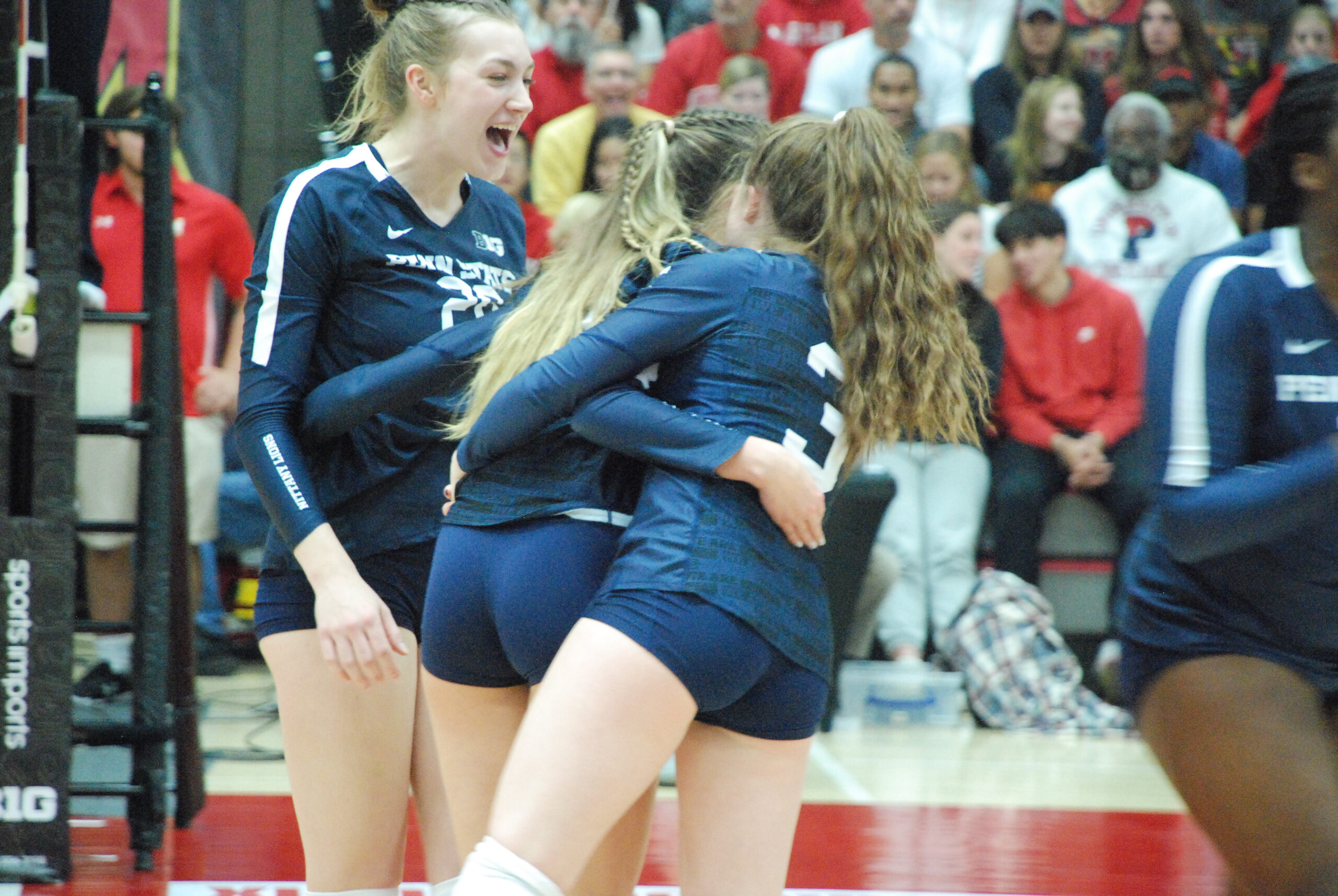 What were some positive takeaways from the weekend for you?
"It was nice to be back at home, for sure. We were on the road for a while, so I think being back at home was super nice. It was also a really nice weekend for me connecting with my setters. I think that was a good confidence boost for all of us, and I think that it just goes to show how much extra work we were putting in last week."
How important is that connection with the setters going into Illinois and Ohio State?
"Oh, it's so important. Working with Leisa extra has been the biggest game-changer for me, because I think when the setting is on, when the passing is on, that's when I can be productive. I think that connection really is key for my game."
How has she helped you as a hitter and blocker?
"She's been great. She has a lot of experience. This is her fifth year, so she's older than me. She's been great. I think that she's been really helpful with me mixing up my shots, mixing up the sets. I think that she's been super helpful."
How have you taken her experience to help elevate your game?
"I think that her having so much experience only benefits my game, because her having a couple more years of experience than me is only going to help push me forward and make me even more successful."
What are some things you've learned about college volleyball so far during your career?
"That it's hard and it's exhausting. Time management is key to keep up with classes. But also, it's so rewarding. I've met my best friends and made such a community here. I think that I've made such a family away from home here. It's hard, but definitely rewarding."
What are some of the biggest things you guys are working on heading into Illinois tomorrow?
"I think that we're always working on our serve-pass game, limiting our errors but still being aggressive. I think that's pretty much every game that we go into, we're working on that. But also, working again on that connection with Leisa. That has been the biggest key for me this week in practice, so we'll see how that goes."
How would you describe the volleyball culture growing up in Ohio? How did that prepare you?
"It's definitely competitive. I think that I came from a great club, Elite VBTC. They prepared me really well for college with lifting and competition. But the environment in Ohio is definitely competitive. I think that it's also fun to see the girls I used to play against in high school and club across the net in college."
Do you think that experience can help you playing against Ohio State?
"Playing against OSU is always fun for me, because I'm from right there. I'm from about 15 minutes away from campus, so definitely playing at OSU was super fun, because all my family was there. Any time we get to play against them, I think it's a great game. They're a great, talented team, so that's always very exciting to go into a match like that."
What was the turnout like when you played there having friends and family in attendance?
"It was awesome. It's seriously one of my highlights of the year is getting to go back home to Columbus and getting to play in front of everyone who doesn't usually get to see me in person. After the game, getting to hug all my family and friends just gives me that boost of energy that I need."
How do you take the experience from your previous matchup against Ohio State to prepare for Saturday night?
"Right now, all eyes are on Illinois for us. We're going one game at a time. Ohio State's a good team, so I'm excited for Saturday, but I'm just focused on Illinois right now."
How have you seen Alexa Markley and Gillian Grimes step up throughout the season?
"They're just great teammates already, but they're so energetic and so fun. I think seeing them get more comfortable on the court as they get more experience has been great. I just remember my freshman year looking up to the older girls, so I'm really trying to be there for Alexa when we're in the front row together. But I think that they're both really impressive and they've done really well."
What's your relationship like with Maddy Bilinovic? Did you guys ever play against each other in high school?
"We played against each other in club and went to a few camps together when we were younger, so I've known her for a few years. Now, she's one of my best friends. I live with her. Getting to have her playing behind me and being the libero is just so amazing. It's great."
Gillian Grimes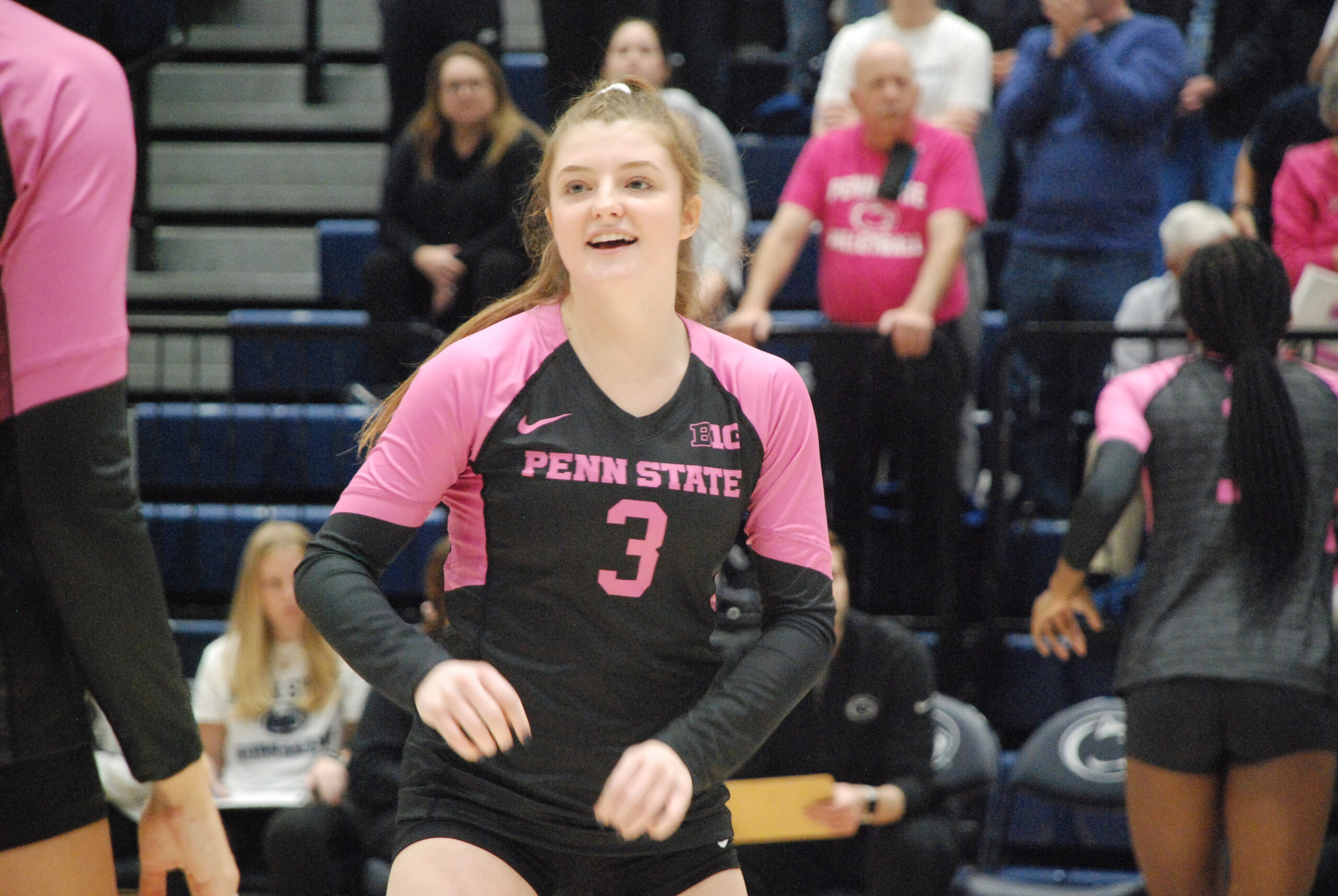 How would you describe your comfort level 21 matches into the season?
"I would definitely say I'm a lot more comfortable with the girls and getting the flow of how the season is going against Big Ten players. I've definitely gotten a lot more comfortable with the pace of the game."
How important is that comfort when it comes to Big Ten matchups like Illinois and Ohio State this week?
"I would definitely say being comfortable allows myself to be confident when I play. Having a lot of confidence when you play Big Ten matches is really important."
What tips do you have for high school liberos about what it takes to succeed in college?
'"I would say definitely having that confidence that you're good, and just playing with that confidence at all times, but also talking a lot. Like coach Katie says, we talk a lot during practices. When the games are in tough situations, talking loud can really help you calm down and bring that confidence back."
What do you think is the biggest improvement you've seen in your game from the beginning of the season until now?
"I would definitely say probably my serve receive, just because I was a little frantic in the beginning of the season, because I was playing a new position with new players, too. Knowing that I just have trust with Maddy [Bilinovic] and Anjelina [Starck], who I'm passing next to, I would definitely say that's where I've gotten better over the season."
Your club coach, Melissa Masterson, was recently honored as the AVCA 18s Club Coach of the Year. What was it like playing for her?
"Oh, my gosh, I love coach Melissa. She was my coach all four years of high school. I transferred clubs to be with her, too. She's one of my favorite coaches. She's so fun to play for."
How do you use the preparation from last weekend to go into a matchup like Illinois on the road?
"I definitely think that we watch a lot of film. Illinois is a really good team, too. We watch film  on the serves. Just taking those matches and knowing that we were getting better really will help us prepare for Illinois."
Do you think you and Katie Hurta will have a lot of friends and family at the match tomorrow?
"Yeah. I wish it were on a weekend, because I feel like a lot more people would come, just because it's on a Wednesday night. We'll have a lot of family there, which will be good to see them."
Do you know any of the players on the Illinois team?
"Hurta and I know one of our club teammates, Bianca May. She was a setter on our team, so we'll get to see there. We got to see her when they played here at Penn State. It was fun."
How does it feel when you go up against teams and you have experience playing with some of them?
"It's definitely unreal just knowing that you're not playing with them. You're playing against them. It's kind of cool. But it's definitely something special, knowing that you're both playing at a top-level school, just against each other."
What are some things you've learned from the older players so far this season?
"I would definitely say I've learned how to be a better teammate. I would say all of my teammates on the Penn State volleyball team really care for each other and really trust each other, so that's definitely a big thing that I've learned."