Penn State women's volleyball held its 13th weekly media availability of the 2022 season Tuesday afternoon before practice at Rec Hall.
Head coach Katie Schumacher-Cawley and freshman outside hitter Alexa Markley answered questions ahead of the Nittany Lions' home matches against No. 9 Minnesota and No. 3 Wisconsin this weekend. Both contests will be broadcast on Big Ten Network.
No. 14 Penn State (21-6, 10-6 Big Ten) climbed two spots in this week's AVCA rankings after sweeping Indiana for the second time this season last Friday in Bloomington and beating Purdue 3-1 Saturday in West Lafayette. Markley was named the Big Ten Freshman of the Week after tallying 21 kills, five blocks, two digs, and an assist last weekend.
Markley, a 6-foot-2 standout from Peachtree City, Georgia, has the versatility to play both pin positions for the Nittany Lions. She has showcased her impressive skills as a blocker and has appeared to gain confidence throughout the season. Markley has 116 kills, 24 blocks, 17 digs, and four aces in 19 matches, including seven starts.
Editor's note: A couple of reporters attended this week's media availability. The transcript of questions and answers, lightly edited for clarity, can be found below.
Katie Schumacher-Cawley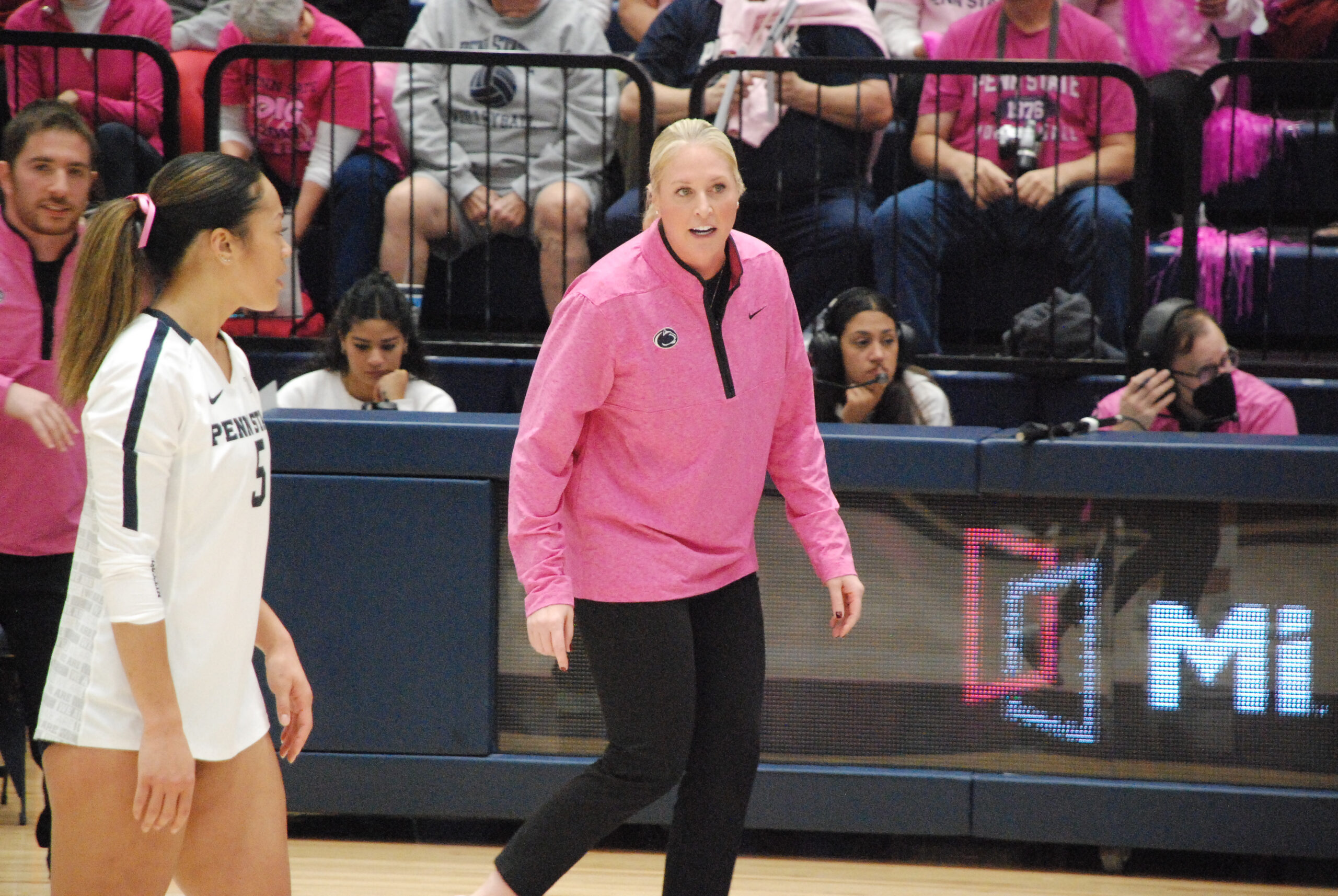 What are your thoughts on the wins over Indiana and Purdue? How important were those?
"Every win is an important win for this group. It's hard to win on the road. I thought we did a nice job both nights and competed hard, stuck to the game plan, and came away with two wins. I'm happy with it, and hopefully the momentum carries over and we have a good week of practice. Obviously, we have two tough matches this weekend. With four matches left, it's pretty wild. I think we need to get better and continue to work on the things that need improvement."
From the second set on against Purdue, it seemed like it was a dominant performance from you guys. How big of a momentum boost does that give you going into this week?
"After winning, obviously, you feel good about it, but I think the team knows that there are a lot of things we could have done a little bit better, or maybe have a little bit more focus. There are definitely things to work on. Winning on the road against two teams that have been playing really well, I'm happy for the group."
What are your thoughts on Alexa Markley being named Big Ten Freshman of the Week?
"Oh, it's great. I'm happy for her. She works hard. I think she's gotten better throughout the season. That's definitely what you want to see. You want to see your players getting better. She puts the time in. I think it's a well-deserved honor."
What are some of the biggest improvements you've seen in her game from the beginning of the season until now?
"I think she's just way more confident in her skills and being able to mix up her shots, finding different ways to score. She's a good blocker. It's something that she's been working on more and more. I think just playing the overall game. She got to play back row a little bit and serve. I think, for her, it's just continuing to get better this week and feeling confident against two great teams this weekend."
What are your thoughts on the Athletes Unlimited exhibition tour match that's going to be held at Rec Hall this spring?
"It's awesome. I'm really excited about that. I think Cassidy Lichtman is doing a great job with that. I'm honored that we're one of the schools that they called to come here and to compete. Obviously, with Alisha [Glass Childress] and Deja [McClendon] still involved in it, I think it's great for the sport, I think it will be great for our community and people to come see some professional volleyball."
When it comes to Minnesota this weekend, it's a balanced team [throughout the lineup]. How does your team prepare for that?
"I think Minnesota's a great team. Obviously, we're only playing them one time this year. We got to see them early on in preseason [at the Big Ten/Pac-12 Challenge]. I think they're a team that's gotten a lot better throughout the season. We're going to have to be really sharp, and we're going to have to be on top of our game from the start. I think, for us, it's collectively, everyone's going to have to do their job and be focused."
What stands out to you about Wisconsin having played them already?
"I think, like Minnesota, they're a team that has gotten better throughout the season as well. They have a lot of great players. They play hard. It's going to be a battle for us. We're going to have to have a great game to compete with them."
How are you using the previous matchups against teams this season to help prepare yourselves to play them again?
"I think Wisconsin has gotten a lot better. I think we've gotten better from the first time we've played them as well. Obviously, Alexa [Markley] is playing a lot more. I think we have to continue to get our middles going and keep them scoring. Between Zoe [Weatherington], Kash [Williams], Alexa [Markley], and Anje [Starck], they have to find ways to score, too, and continue to play good volleyball."
How do you feel about your serving and passing right now?
"I've been all over our serve-pass game since the beginning of the season. I think that the players have taken some real ownership in it. I'm really happy with our passers. Gill [Grimes], Maddy [Bilinovic], Cassie [Kuerschen], Anje [Starck], I think they've all stepped up and done a great job. I think serving is something that we talk about every day. It's a skill that needs to constantly be worked on. I think that this weekend that will really come into play."
What do you expect the environment to be like this weekend with the White Out match and Silent Set?
"I hope it's a good crowd. You never know with school getting out. But I'm excited. White Outs are always great. I'm excited to have Jonni [Parker] back here. Supporting her foundation, [Chasing Greatness], I think is really special. I'm really looking forward to it."
Kash Williams had 22 kills against Purdue last weekend. How has the addition of her to this offense helped make it more multi-dimensional?
"Kash is a special player. She's an exciting player. She hits a heavy ball and is quick off the floor. I think she's worked on her skills a lot. I think she's gotten better. I'm excited. I hope her performance Saturday night [against Purdue] carries over to the rest of the season. I think she can do some really great things. It's just being able to find that consistency."
The program announced Karis Willow's signing on social media. What stands out to you about her as a player?
"Karis hits a heavy ball as well. I think she's a really good athlete. She'll be able to play multiple positions. We're happy she's a Penn Stater."
What do you recall about winning the 1999 national championship and the feeling of flooding onto the court with your teammates?
"You're bringing it way back. It's special to win. I think being in Hawaii was extra special. My parents were there. That was a great team to be around, on and off the court. I have fond memories of it."
Alexa Markley
What did it mean to you to get your first Big Ten weekly recognition?
"It meant a lot to me. That was a goal I set in the beginning of the season. To be able to achieve that was really cool."
You had 13 kills against Purdue. What was your mindset going into that match?
"Going into any match, my mindset and the team's mindset is to win. But against Purdue, we were really focused on tough serving and defense. I thought the team did a really good job with that."
How did playing for A5 Mizuno Volleyball prepare you for college?
"A5 was one of the best experiences of my life. I was super close with my team. We were always pushed mentally and physically. I think that really has helped me in college. I wouldn't change it for anything."
Who are some of your close friends on different teams around the country?
"We still all talk every single day. Emma Farrell just got ACC Freshman of the Week. Every single person on that team is absolutely amazing."
How has the veteran leadership on this team helped you throughout your first season here at Penn State?
"The leadership on the team really helps me, because it gives me a lot of confidence. In the game, especially, I'll always look to Maddy Bilinovic, our libero, and she'll be next to me hyping me up. Or Allie Holland will come and give me a big hug. And Katie Clark will be at the net telling me and reassuring what to do. It helps a lot."
What are some things you think you've improved upon throughout the season?
"I think, for sure, confidence, especially coming in as a freshman against all these older girls. I think that's a big thing I've improved on. My teammates and my coaches have helped me with that. But also shots and being more consistent. You come from playing club, where you can hit a ball straight down, but then you go to a conference like the Big Ten, and you can't really do that. You have to change your whole mindset. It's not about hitting as hard as you can all the time or hitting the ball straight down. It's about using the block and finding different ways to score than I would have in the past."
You've seemed more and more comfortable in competition with every week that's gone by. What are some of the key things that have helped you get to that level?
"Obviously, more experience makes me more comfortable, but again, my teammates have been such a big part of that. Everyone is so supportive of one another. I think my teammates have been a really big part of that."
What are you most looking forward to about this weekend's matches at Rec Hall?
"I'm looking forward to the White Out match. The White Out match I feel like is a big legacy here at Penn State. We have so many supportive fans. It will be really cool playing at home with all that support. Obviously, the Silent Set with Jonni Parker is for such a great cause. I'm so lucky to be a part of that."
What do you admire about Jonni Parker?
"Jonni is an amazing player, on and off the court. She's so competitive and always goes so hard. She's one of the players who I've always looked up to and watched in high school and middle school. It's really cool to follow in her footsteps and be a part of the legacy that she helped to build."
What are you looking forward to about the Athletes Unlimited exhibition coming up this spring?
"I think it's really cool. It will be really exciting to meet Alisha and Deja in person as well, some amazing alumnae from Penn State. To play against them and learn from them is going to be really cool."
Is this your first time seeing snow being away at school or have you had a chance to visit some snowy places before?
"I used to live in New York, so I did get to experience the snow, but I haven't in seven years. We would get some flurries back in Georgia and everyone would go crazy. But this is the first time I've actually seen a lot of snow in so long. I'm so happy it's finally snowing. It's really cool. We were all excited. Mandi [Morioka] and I were talking about how we're going to make some snow angels later."