Jenna Hampton had arguably the toughest shoes to fill of any libero across college volleyball heading into this season, but the junior from Tampa, Florida, has proven she's more than capable of carrying the mantle as Penn State's defensive stalwart.
After missing the Illinois series opening weekend, Hampton returned to the starting lineup for Penn State's top 10 road matchup against Minnesota. Although the Nittany Lions lost both matches, Hampton was outstanding in Minneapolis. She had 35 digs and nine assists that weekend and currently leads the team with 160 digs this season.
Hampton saw significant playing time her first two years on campus and was one of Penn State's most reliable defensive specialists. She and Kendall White quickly built a rapport and were constantly wowing the Rec Hall crowd with spectacular hustle plays. White, a three-time All-American and two-time Big Ten defensive player of the year, finished her Penn State career as the program's digs leader with 1,994.
"I think playing with Kendall has given me a lot of confidence and I've learned a lot from her, because she's a great player," Hampton said.
Hampton has recorded double-digit digs in seven matches so far this season and set a new career high with 25 digs in a road loss to Ohio State on February 17. She's also been a steady presence at the service line with 10 aces. Russ Rose discussed Hampton's performance of late during his Tuesday press conference earlier this week.
"I thought Jenna has been improving each week that we've been playing," Rose said. "I think Jenna always plays hard. She has a great feel for the game. I think she's maybe missing a few more serves than I'd like at that position, but I think she makes up for it a lot of times by just how hard she plays. She's a real valuable member. The libero position is a really important one, and I think she plays it well."
Following a 3-1 win over Purdue on March 6 that saw Hampton lead the Nittany Lions with 17 digs, junior captain Jonni Parker reflected on where Hampton has improved the most as a player.
"This season, I think Jenna is doing a great job," Parker said. "She's all over the floor, taking what she can. She communicates with the other people in the back row and lets them know what they can take and what she can control. She's doing a great job calling shots back there, too, and her out-of-system setting is one of my all-time favorite things that she does."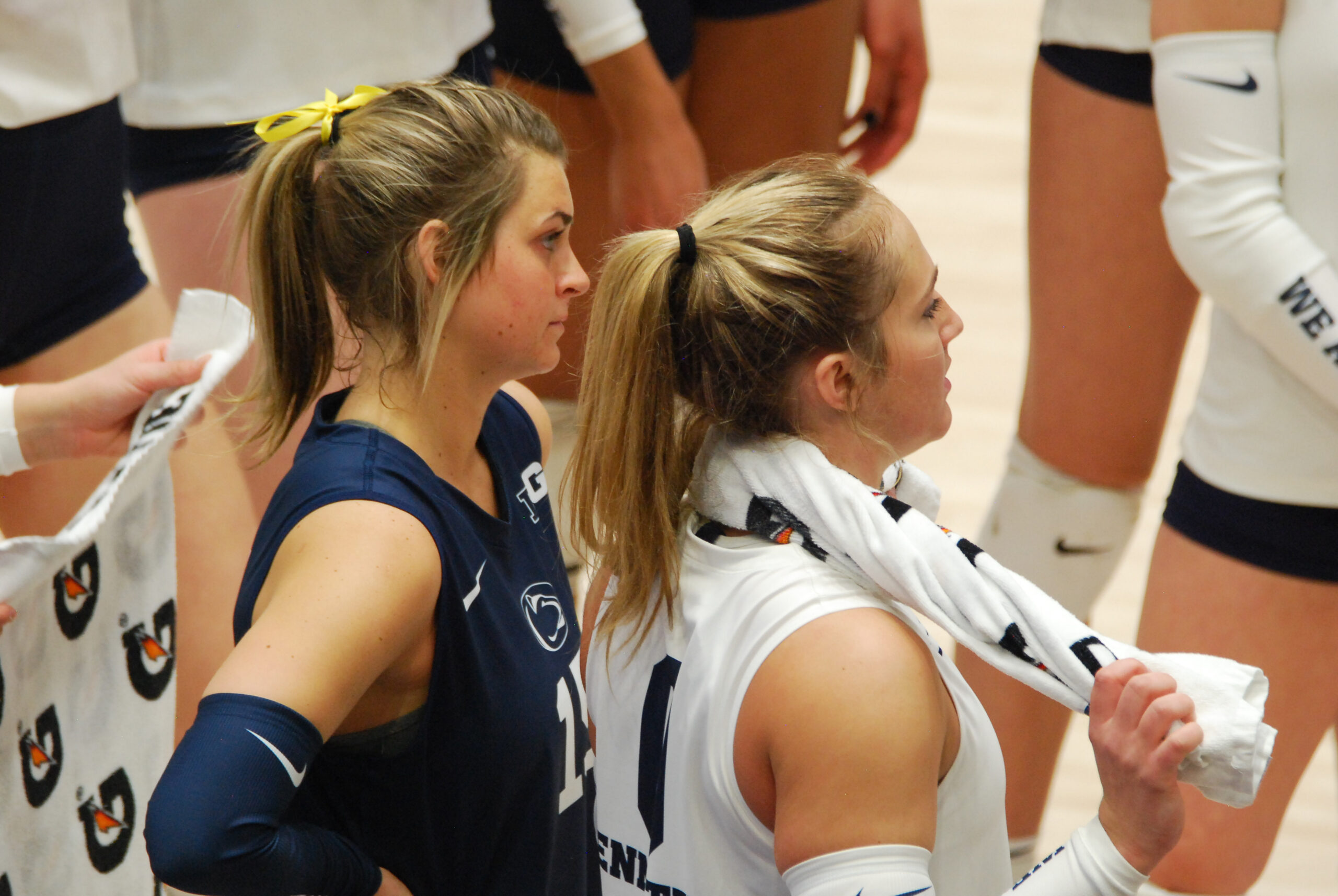 Hampton, who's listed at 5-foot-7, has 109 career assists heading into next weekend's final home series of the season against No. 1 Wisconsin at Rec Hall. Her setter-like touch on the ball has often helped the Nittany Lions remain on the attack when teams try to serve Gabby Blossom and interrupt Penn State's flow.
"I worked on it a lot in the offseason, because a lot of game plans, even our game plan sometimes, is to hit to the setter," Hampton said. "I think Gabby just puts up a really nice ball for me to get to the hitters, so yeah, that's something I've definitely been working on and improving."
Hampton has taken freshman defensive specialist Maddy Bilinovic under her wing this season, much like White did for her, showing the Independence, Ohio, native a few tricks of the trade in practice and helping her scout opponents. Hampton said she's been particularly impressed by Bilinovic's vocal nature and enthusiasm for the game. Bilinovic is fifth on the team with 86 digs so far.
"She's just a little firecracker," Hampton said. "She brings so much energy. Something that stands out to me a lot with her is how much she talks. It's just really easy to play alongside her. I think one of the biggest things is definitely how much energy she brings, especially since there's no crowd, so she kind of is that little beast out there."
Hampton and the rest of Penn State's backcourt performed extremely well in a pair of sweeps over Michigan State this weekend in East Lansing. The Nittany Lions surrendered only five aces during the series and had just three reception errors in Friday's win (and zero Saturday).
After Penn State beat Indiana 3-1 in Rec Hall on February 19, junior middle blocker Kaitlyn Hord gave her take on Hampton's versatility and what she does well as a player.
"Jenna's a great setter, Jenna's a great passer, Jenna's a great digger. I could go on and on," Hord said. "She was flying all over the place, making plays, and running into the bleachers. That's one thing about Jenna, she doesn't let balls fall. You can trust her back there, because she's going to go for everything. That's one thing that I love."