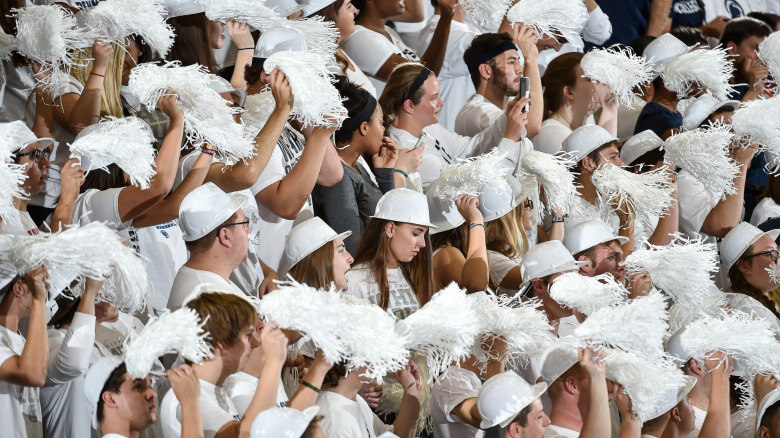 Who, Where, When
Both Illinois and Northwestern will be looking to upset Penn State this weekend, and it's fair to say that if either team accomplishes their goal, a lot of people will be upset in Happy Valley.
The Illinois match is this evening at 7:30 p.m. in Rec Hall.  TV: BTNplus; Stats: GameTracker.
The Northwestern match has been moved to 7:30 p.m. Saturday night. TV: BTNplus; Stats: GameTracker.
About Illinois
Illinois last lost to  Colorado on September 9th (23-25, 26-24, 26-28, 25-12, 15-17).  Since then, the Illini have won five straight matches — including a sweep of Northwestern, Penn State's opponent tomorrow night.
The Illini are a young team, starting 6-2 Jr. setter Jordyn Poulter, 6-3 Jr. MB Ali Bastianelli, 6-2 OH Jacqueline Quade, 6-3 RS-So. OH Beth Prince, 6-0 Jr. MB Blayke Hranicka, 6-4 Fr. MB/Opp Megan Cooney, and lone senior, 5-8 libero Brandi Donnelly.  And it showed in the Colorado match, which really was Illinois' to lose, and they did.  The fourth set 25-12 win by the Illini, showed just how good they can be when things are clicking for them.  If Penn State takes them for granted, it could be a disappointing night for the Nittany Lions.  With a lot of upset people when it's done.
New Time for Northwestern Match
Saturday's match versus Northwestern has been pushed back half an hour to a 7:30 p.m. start to give fans more time to get across campus to Rec Hall from Beaver Stadium.
Stat Joust