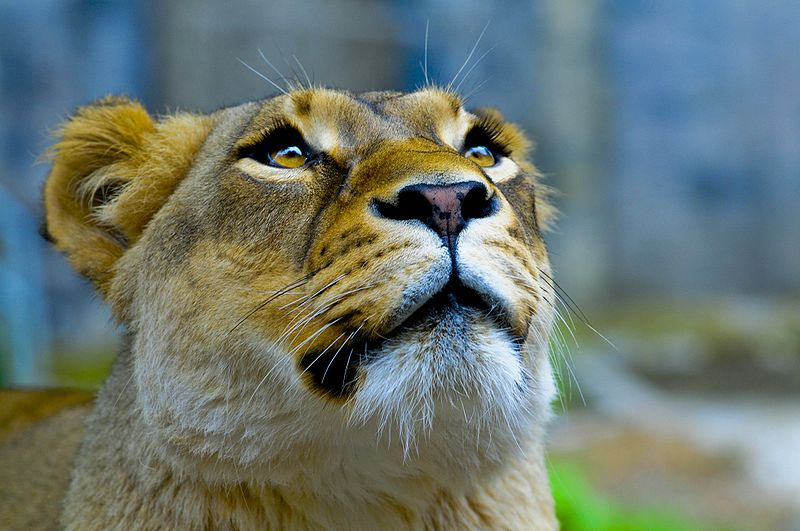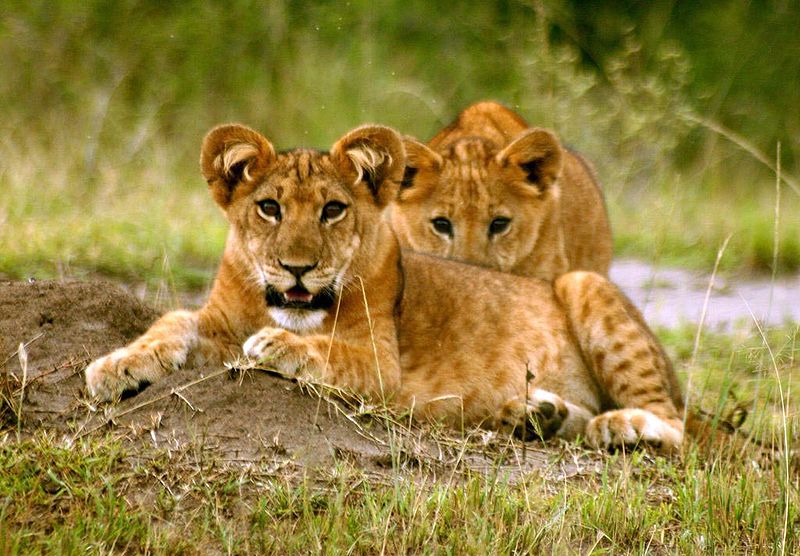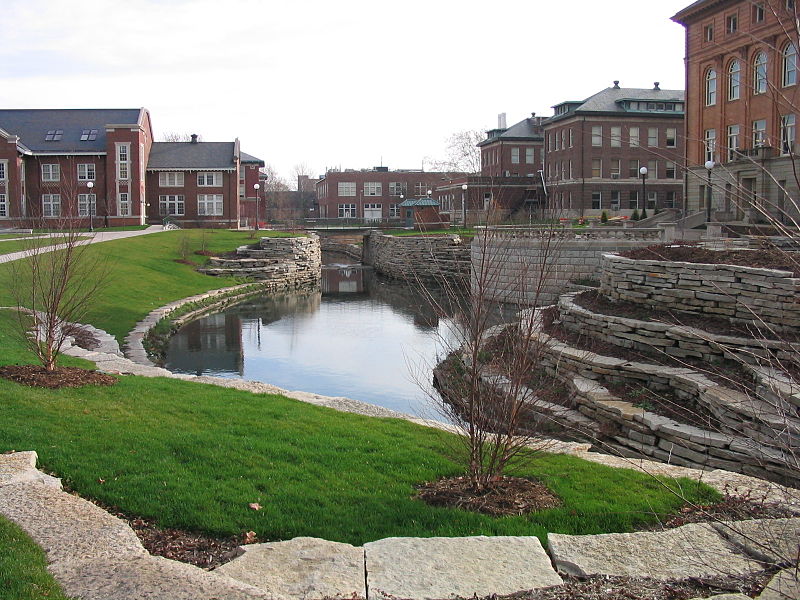 Where: Champaign-Urbana, IL  (Huff Hall)
When: Friday — 10-18-13 (8:00 p.m. ET)
Media: TV: Big Ten Network; CBSsports.com's GameTracker
The Buzz on Illinois:  Illinois (7-9, 3-3 in the B1G) in Huff Hall, which is only two years removed from an appearance in the NCAA Finals, has seven losses to teams that were ranked in the AVCA Top-20 at the time of the loss (#14 San Diego, #6 Washington, #2 Texas, #15 North Carolina, #12 Nebraska, #9 Michigan State, and #20 Purdue), but have four wins against teams that were in the AVCA Top-20 at the time (#18 Florida State, #17 Kentucky, #11 Iowa State and #14 Michigan.)

The Illini are led by 6-2 So. OH Jocelynn Birks, with 3.95 kills/set (hitting .179.). 6-6 Jr. OH Liz McMahon, second on the Illini with 2.98 kills/set, is hitting .156.  6-4 RS Fr. MB Maddie Meyers is averaging 1.67 kills/set (.247 attack %), and 6-1 Jr. OH Morganne Criswell is averaging 1.70 kills/set (.223 attack %).  As a team, the Illini are hitting .197, which ranks 11th in the B1G. Here's what Club Coach had to say about the Illini in a post for DigNittanyVolleyball:

"When you look at Illinois offensively, it's their lack of balance that has hurt them.  Birks and McMahon are great offensive players, but opponent defenses are very good when they know where the point of attack is coming from.  Unless you are Tori Dixon, it is extremely difficult to score on a defense that has a solid block and defense set up when you are attacking.  There are very few Bailey Websters, Megan Hodge's, Destinee Hookers, where you can just say "you know where its going, now try to stop it."  Birks and McMahon are terrific players, but they aren't that type of player.

I think Illinois is a very good team capable of beating very good teams – especially at home.  While I think their pre-conference schedule prepares them to face teams of PSU's caliber, not winning matches can hurt a team's confidence.  I think the keys to the match are PSU's serving and what type of match Illinois' two outside hitters have.  Illinois has not impressed me as a particularly strong passing team.  Service errors, which have really hurt PSU,  are a great equalizer.  If PSU can serve tough and manage their free passes, Illinois will struggle."
The Buzz on Penn State: If Penn State (14-2, 5-1 in the B1G) wins tonight, it will move into a two or three-way tie for 1st place in the B1G (depending on whether Nebraska defeats Indiana tonight in Lincoln).  If it loses, its jittery fans will be edging towards the ledges.

The Nittany Lions are coming off two solid performances last week, having defeated then- #11 Minnesota 3-2 and then-#19 Wisconsin 3-0 (a match that was closer than that result would suggest).  On offense, they are led by 6-4 Sr. RS/Opp Ariel Scott (3.40 kills/set, .282 attack %),  6-2 So. OH Megan Courtney (2.54 kills/set, .311 attack %), 6-1 Sr. OH  Deja McClendon (2.48 kills/set, .249 attack %), and 6-6 Sr. MH Katie Slay (2.26 kills/set, .444 attack %).  On defense,  5-6 Jr. libero Dominique Gonzalez has averaged 3.32 digs/set, followed by Deja McClendon (2.73 digs/set), Megan Courtney (2.22 digs/set), and 5-11 Jr. setter Micha Hancock (1.93 digs/set). Hancock also leads Penn State (and the B1G) with 0.72 service aces/set.

Club Coach's take: "Illinois isn't a team that can beat an opponent of PSU's caliber if their left side players aren't having big nights. It will take a special effort from them to pull this off. I see PSU winning in 3 or 4 games.
Quote of the Day
Both Illinois and Northwestern have very talented players. Illinois' students section is a very animated active group. Every weekend it's the same thing: if you don't play well you have no one to blame but yourself.
Penn State Head Coach Russ Rose, in an interview with Jake Somerville, The Daily Collegian.
Stat Joust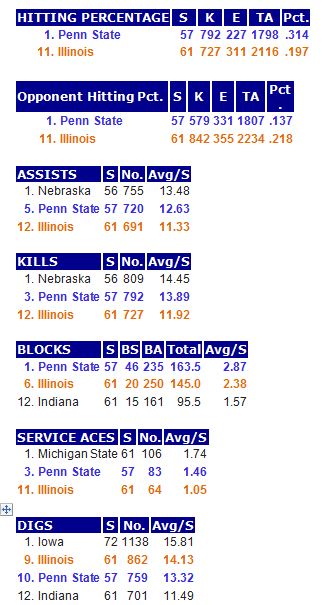 Rosters
Illinois Roster
| No. |   | Name |   | Ht. | Position |   | Class | Hometown (Last School) |
| --- | --- | --- | --- | --- | --- | --- | --- | --- |
| 1 |   | Morganne Criswell |   | 6-1 | OH |   | JR | Decatur, Ill. (Lutheran School Association) |
| 2 |   | Julia Conard |   | 5-10 | DS |   | SO | West Chicago, Ill. (West Chicago) |
| 3 |   | Jennifer Beltran |   | 5-9 | L |   | SR | Reseda, Calif. (Marymount) |
| 4 |   | Michelle Strizak |   | 6-1 | OH |   | FR | Cincinnati, Ohio (Mount Notre Dame) |
| 5 |   | Anna Dorn |   | 6-3 | MB |   | RS JR | Munster, Ind. (Munster) |
| 6 |   | Maddie Mayers |   | 6-4 | MB |   | RS FR | Fort Wayne, Ind. (Bishop Dwenger) |
| 7 |   | Jocelynn Birks |   | 6-2 | OH |   | RS SO | Willow Springs, Ill. (Lyons Township) |
| 8 |   | Alexis Viliunas |   | 6-1 | S |   | SO | La Grange, Ill. (Lyons Township) |
| 10 |   | Danielle Davis |   | 5-9 | DS |   | FR | Bloomington, Ill. (Central Catholic) |
| 11 |   | Katie Roustio |   | 6-2 | OH |   | FR | O'Fallon, Ill. (O'Fallon Township) |
| 12 |   | Katie Stadick |   | 6-3 | MB |   | FR | Watertown, Wis. (Watertown Unified) |
| 13 |   | Ali Stark |   | 6-1 | OH |   | RS SO | Mount Vernon, Iowa (Mount Vernon) |
| 14 |   | Liz McMahon |   | 6-6 | OH |   | JR | Liberty Township, Ohio (Lakota West) |
| 16 |   | McKenna Kelsay |   | 5-7 | S/DS |   | FR | Wheaton, Ill. (St. Francis) |
| 17 |   | Kathryn Polkoff |   | 6-4 | MB |   | SO | Wilmette, Ill. (New Trier) |
| 18 |   | Courtney Abrahamovich |   | 5-8 | DS |   | SR | Naperville, Ill. (Naperville Central) |
Penn State Roster
Penn State 2013 Team Roster
| Number | Name | Position | Year/Class | Height | Hometown | State/Nation |
| --- | --- | --- | --- | --- | --- | --- |
| 1 | Scott, Ariel | RS | 4/Sr. | 6-4 | Ridgewood | New Jersey |
| 2 | Caraway, Lara | DS | 2/So. | 5-4 | Evans City | Pennsylvania |
| 3 | Pierce, Kendall | DS | 2/So. | 5-6 | Eden | New York |
| 4 | Gonzalez, Dominique | DS | 3/Jr. | 5-6 | San Antonio | Texas |
| 6 | Martin, Maddie | OH | 4/Sr. | 6-2 | Tampa | Florida |
| 7 | Grant, Nia | OH | 3/Jr. | 6-2 | Warren | Ohio |
| 8 | Denny, Erica | MH | 3/Jr. (RS) | 6-5 | Centennial | Colorado |
| 9 | Prieto Cerame, Paulina | OH | 1/Fr. (RS) | 6-2 | Miami | Florida |
| 10 | Muller, Carley | DS | 1/Fr. | 5-7 | Manhattan Beach | California |
| 12 | Hancock, Micha | S | 3/Jr. | 5-11 | Edmond | Oklahoma |
| 13 | Krause, Taylor | DS/S | 1/Fr. | 5-6 | Allentown | Pennsylvania |
| 14 | Whitney, Aiyana | OH | 2/So. (RS) | 6-5 | Ridgewood | New Jersey |
| 15 | Harding, Maggie | DS | 4/Sr. | 5-6 | State College | Pennsylvania |
| 16 | Slay, Katie | MH | 4/Sr. | 6-6 | Raleigh | North Carolina |
| 17 | Courtney, Megan | S/OH | 2/So. | 6-2 | Dayton | Ohio |
| 18 | McClendon, Deja | OH | 4/Sr. | 6-1 | Louisville | Kentucky |
| 23 | Robertson, Kelly | MB | 1/Fr. | 6-0 | Allentown | Pennsylvania |
| 24 | Broerman, Laura | DS | 1/Fr. | 5-4 | Colorado Springs | Colorado |
| 33 | Fuller, Lacey | DS | 3/Jr. | 5-6 | San Diego | California |