What: Penn State @ Minnesota
Where: Minneapolis, MN (Sports Pavilion)
When: Saturday — 11-16-13 (8:30 p.m. ET)
Media: TV: Big Ten Network; CBSsports.com's GameTracker
The Buzz on Minnesota: The AVCA #11-ranked Minnesota Golden Gophers tuned up for tonight's match against Penn State by sweeping Ohio State (25-19, 25-19 and 25-15).  It was an impressive performance against a good Ohio State team (we know they're 4-11 in the B1G, and they have their weaknesses, but the Buckeyes are not pushovers).  Minnesota hit .336 (and limited Ohio State to a .175 attack %), almost doubled-up the Buckeyes in blocks, 9.5 to 5.0, and sided-out at 70% compared to Ohio State's 50%.

Minnesota was led by 6-0 Sr. OH Ashley Wittman (13 kills, 15 digs, 3 blocks), 6-3 Jr. Opp Adrianna Nora (12 kills, 3 blocks, 4 digs), 6-3 Sr. MB Tori Dixon  (.643 attack %), 6-2 Fr. MB Hannah Tapp (6 blocks, 7 kills, .417 attack%), and Daly Santana (3 service aces, 5 kills, 14 digs). .
The Buzz on Penn State: Head Coach Russ Rose on Big Ten conference matches (interview with Wynton Jake Somerville of The Daily Collegian): "They're all hard. There's not one you look forward to. You better be ready to play because you're going to be challenged."

Notwithstanding Coach Rose's view (which we share), some folks think Penn State has already established itself as the best team in the B1G — one that can pretty much "make a meal" of its opponents.  After last night's match against Wisconsin, in which the Badgers pressed the Nittany Lions to the max in set 1 (which Penn State won 25-23 after leading 19-12) and set 2 (which Penn State managed to grind out a 27-25 win), no one should be harboring that kind of culinary fantasy.

Still, Penn State (23-2, 14-1 in the B1G ), did win the match 3-0.  6-2 So. OH Megan Courtney (15 kills, .400 attack %, 11 digs) was a difference-maker throughout the match, as were 5-11 Jr. setter Micha Hancock (32 assists, 12 digs, 2 service aces), and 6-6 Sr. MH Katie Slay (8 total blocks).  6-1 Sr. OH Deja McClendon totaled 8 kills and 15 digs, 6-2 Jr. MH Nia Grant registered 7 kills (.312 attack %), 6-4 Sr. Opp/RS Ariel Scott had 7 kills, 4 digs and 4 blocks, and 5-6 Jr. libero Dom Gonzalez totaled 9 digs.  Penn State won the block battle with 12 team blocks to only 4 for the Badgers.

And one could point to statistics that illustrate, at least on paper, how dominant the Nittany Lions have been since the 3-2 loss to Michigan State . Penn State is ranked #2 in the latest AVCA poll , it sports a 23-2 overall record (14-1 in the B1G), a .323 team hitting % prior to the Wisconsin match (1st in the B1G) and has limited its opponents to a .128 hitting % (also prior to the Wisconsin match, 1st in the B1G).

But Minesota has racked-up some impressive statistics of its own, and from a statistical perspective, there's virtually no space between the two teams in so many areas.  Penn State's .323 attack % was tops in the conference as of 11/10/13, but Minnesota was right behind at .287. Penn State had limited its opponents to a .128 attack % (best in the B1G), but Minnesota had held its opponents to a .1569attack % (3rd in the B1G).  Blocking is much the same story: Penn State is first in the B1G with 3.10 blocks/set; Minesota is 2nd at 2.82. The Nittany Lions have a bit of an edge in serving, ranking 2nd in the B1G with 1.42 aces/set (thank you Micha Hancock – leading the league with .71 aces/set), with Minnesota at 1.13 aces/set (6th in the B1G), but Daly Santana (.38 aces/set — 2nd in the B1G) and Tori Dixon can both bring it from behind the line.

We're going with Penn State in five sets — and we think it will be a hard-fought five sets. 
Stat Joust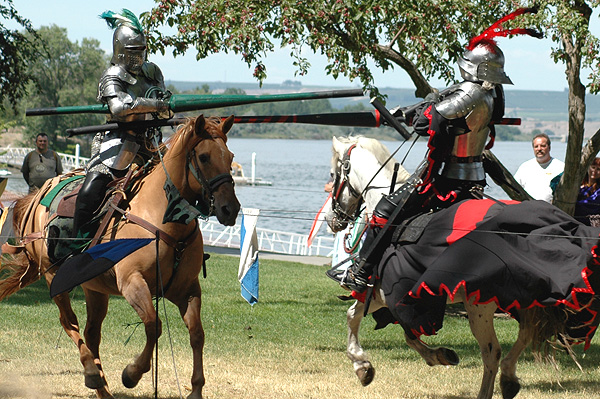 B
1G

Team Stats (as of 11/10/13)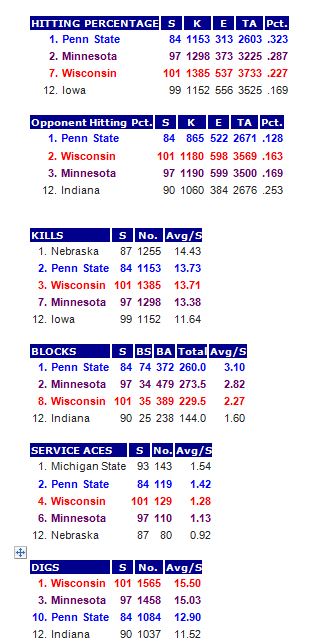 B
1G

Individual Stats (as of 11/10/13)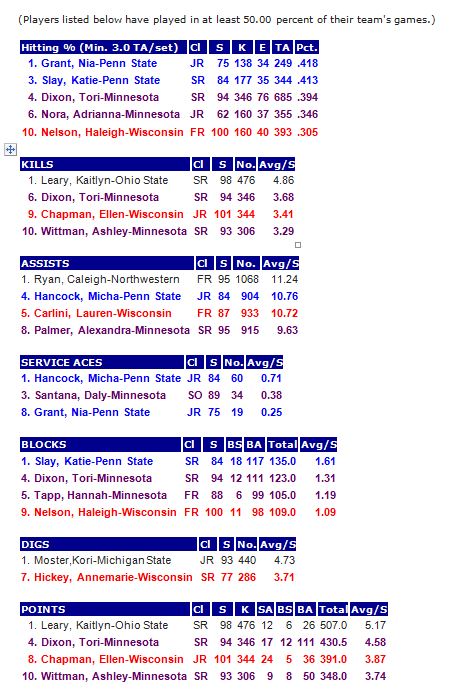 Minnesota Roster
| No. |   | Name | Pos. |   | Ht. |   | Yr. | Hometown (Last School) |
| --- | --- | --- | --- | --- | --- | --- | --- | --- |
| 12 |   | Bohl, Morgan | Outside Hitter |   | 6-0 |   | JR | Centennial, Colo. (Eaglecrest HS) |
| 18 |   | De Felice, Clelia | Middle Blocker |   | 6-2 |   | SO | Milan, Italy (Oregon) |
| 6 |   | Dixon, Tori | Middle Blocker |   | 6-3 |   | SR | Burnsville, Minn. (Burnsville HS) |
| 2 |   | Hauer, Karlie | Outside Hitter |   | 5-11 |   | SO | Andover, Minn. (Andover HS) |
| 20 |   | Howard, Sydney | Setter |   | 5-11 |   | SO | Cedar Falls, Iowa (Cedar Falls) |
| 9 |   | Israel, Karyn | Setter |   | 6-0 |   | SO | Huntington Beach. Calif. (Edison HS) |
| 14 |   | Jack, Brittany | Defensive Specialist |   | 5-5 |   | FR | Sydney, Australia (Bridgeway Academy) |
| 11 |   | Lawmaster, Lindsey | DS/Libero |   | 5-5 |   | SO | Los Alamitos, Calif. (Los Alamitos HS) |
| 10 |   | Mau, Kalei | Outside Hitter |   | 6-1 |   | FR | Kahaluu, Hawaii (Henry Kaiser) |
| 16 |   | Nora, Adrianna | Middle Blocker/Opposite |   | 6-3 |   | JR | Stillwater, Minn. (Baylor) |
| 21 |   | Palmer, Alexandra | Setter |   | 5-7 |   | SR | Laguna Beach, Calif. (Santa Clara) |
| 1 |   | Santana, Daly | Outside Hitter |   | 6-1 |   | SO | Corozal, Puerto Rico (Bayamon Military Academy) |
| 3 |   | Schau, Katie | Setter |   | 5-8 |   | FR | Richland, Mich. (Gull Lake HS) |
| 7 |   | Tapp, Hannah | Middle Blocker |   | 6-2 |   | FR | Stewartville, Minn. (Stewartville HS) |
| 4 |   | Tapp, Paige | Middle Blocker |   | 6-1 |   | FR | Stewartville, Minn. (Stewartville HS) |
| 5 |   | White, Kalysta | DS/Libero |   | 5-5 |   | SO | Laguna Beach, Calif. (Laguna Beach) |
| 8 |   | Wilhite, Sarah | Outside Hitter |   | 6-1 |   | FR | Eden Prairie, Minn. (Eden Prairie HS) |
| 13 |   | Wittman, Ashley | Outside Hitter |   | 6-0 |   | SR | Shakopee, Minn. (Shakopee HS) |
Penn State 2013 Team Roster
| Number | Name | Position | Year/Class | Height | Hometown | State/Nation |
| --- | --- | --- | --- | --- | --- | --- |
| 1 | Scott, Ariel | RS | 4/Sr. | 6-4 | Ridgewood | New Jersey |
| 2 | Caraway, Lara | DS | 2/So. | 5-4 | Evans City | Pennsylvania |
| 3 | Pierce, Kendall | DS | 2/So. | 5-6 | Eden | New York |
| 4 | Gonzalez, Dominique | DS | 3/Jr. | 5-6 | San Antonio | Texas |
| 6 | Martin, Maddie | OH | 4/Sr. | 6-2 | Tampa | Florida |
| 7 | Grant, Nia | OH | 3/Jr. | 6-2 | Warren | Ohio |
| 8 | Denny, Erica | MH | 3/Jr. (RS) | 6-5 | Centennial | Colorado |
| 9 | Prieto Cerame, Paulina | OH | 1/Fr. (RS) | 6-2 | Miami | Florida |
| 10 | Muller, Carley | DS | 1/Fr. | 5-7 | Manhattan Beach | California |
| 12 | Hancock, Micha | S | 3/Jr. | 5-11 | Edmond | Oklahoma |
| 13 | Krause, Taylor | DS/S | 1/Fr. | 5-6 | Allentown | Pennsylvania |
| 14 | Whitney, Aiyana | OH | 2/So. (RS) | 6-5 | Ridgewood | New Jersey |
| 15 | Harding, Maggie | DS | 4/Sr. | 5-6 | State College | Pennsylvania |
| 16 | Slay, Katie | MH | 4/Sr. | 6-6 | Raleigh | North Carolina |
| 17 | Courtney, Megan | S/OH | 2/So. | 6-2 | Dayton | Ohio |
| 18 | McClendon, Deja | OH | 4/Sr. | 6-1 | Louisville | Kentucky |
| 23 | Robertson, Kelly | MB | 1/Fr. | 6-0 | Allentown | Pennsylvania |
| 24 | Broerman, Laura | DS | 1/Fr. | 5-4 | Colorado Springs | Colorado |
| 33 | Fuller, Lacey | DS | 3/Jr. | 5-6 | San Diego | California |
Stat Joust